A Great Little Helper: The Free Hand System
If you aren't using your Free Hand System to raise and lower the presser foot of your machine, here's only some of what you are missing:
Faster Sewing: It has been proven that using the FHS will speed your sewing by 20%. Think of what you could do with that time – a trip to the spa, read a steamy novel, or sew more fun things!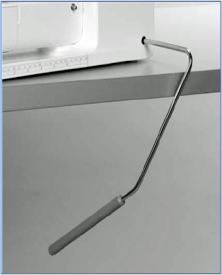 Ease of Sewing Extra-Thick Projects: When you use the Free Hand System to raise the presser foot, it gives you extra room between the foot and the machine. The lift is higher than when you do it by hand and the feed dog lowers at the same time so you have the most room possible for putting multiple layers, thick quilts, and heavy upholstery fabrics under the needle. For BERNINA sewing machines with a "manual" presser foot height of 7.5 mm, raising the foot with the FHS provides an additional 3 mm of lift, for a total of 10.5 mm! (7 Series and 8 Series models have an extra lift that doubles the amount of lift, for a total of 15 mm of space under the foot!)
Using the Free Hand System, you can place twelve layers of denim under the presser foot!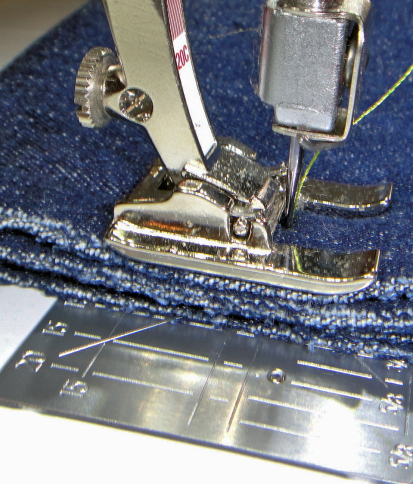 Exact Control for Sewing Curves and Corners: Pivoting with the needle in the fabric is the trick that gives sharp corners and smooth curves. Leaning on the FHS when you need to makes it easy to pivot as needed without having to take your hands off of your project!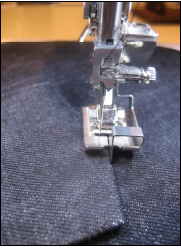 One more thing – When sewing with cord (for couching, corded pintucks, etc.), the FHS makes a great home for the cord, letting it flow freely as it stitched.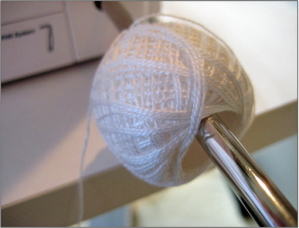 What you might also like