Creative Surroundings
I recently had a milestone birthday (I'm not saying which one) and when my husband asked me what I wanted as a gift, I didn't ask for diamonds, an ocean cruise, or a new wardrobe…more than anything, I wanted a sewing room makeover! So I took myself off to IKEA to see what possibilities I could find. I wanted furniture that was beautiful, calming, and most of all, functional (plus reasonably affordable). What I had before was dark, and somewhat functional, but mostly a pieced together hodge-podge collected over the years. I have a fairly large work area (10′ x 20′) with an office in one end and a sewing space at the opposite end. I ended up selecting four pieces that, so far, seem to be exactly what I had in mind!
Two Tables
http://www.ikea.com/us/en/catalog/products/60251340/?query=60251340
http://www.ikea.com/us/en/catalog/products/20146105/
I opted to go with tables rather than a sewing cabinet because I am often switching machines, moving them in and out, depending on what class I am teaching or what type of project I am working on. These two tables are about four feet long and right now I have them end-to-end along a wall. They are sturdy but fairly lightweight and easy to move so if I want an L-shape or need more support behind the needle for a large project, it will be simple to rearrange them.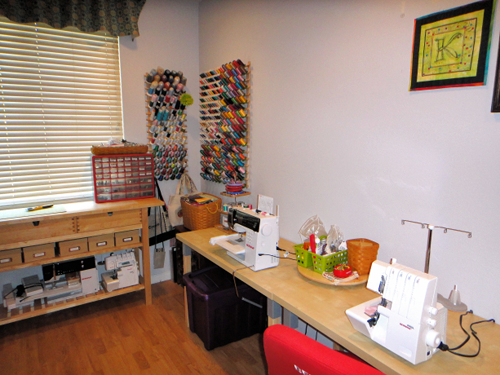 Console
http://www.ikea.com/us/en/catalog/products/40245741/
This 74" table is counter height and perfect for small cutting jobs and quick pressing steps. The three roomy drawers hold a large collection of stabilizers and interfacing. Best of all, I can put a few machines on the lower shelf to tuck them out of the way when it isn't their turn to play. I used the upper shelf to sort and store items such as adhesives (fabric glue, glue sticks, craft glue, etc.), laces & trims, and buttons. Of course, I labeled the boxes so I know exactly what's in them and if I remember to put things back, it will stay that way!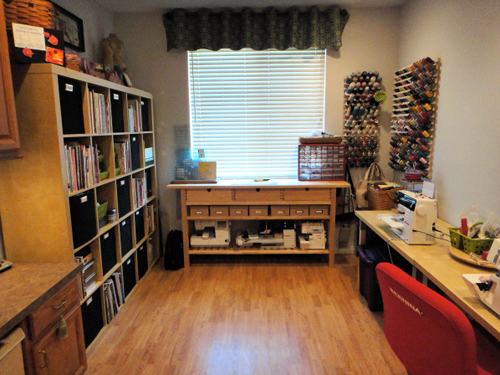 Wall Unit
http://www.ikea.com/us/en/catalog/products/80208652/#/00208646
Being a visual person, I like having all of my tools, gadgets, books and notions out in the open so I can see them, making it easy to find them (sometimes), and using them for creative inspiration. The problem with having everything out in the open is that before long, clutter takes over and it's hard to even think straight in the middle of it, let alone be creative. The answer to that dilemma for me is to have open cubbies (just like preschool…) so there is order and organization but everything is readily available. Some of the cubbies have labeled fabric boxes that hide the clutter but easily pull out to show off what's in them.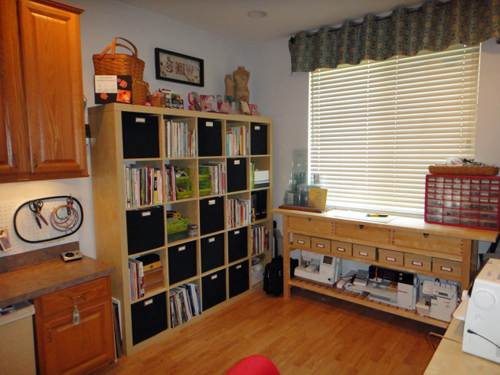 One of my favorite things about my new sewing room is the color of the furniture. It brightens up the entire space and feels modern but warm and cozy at the same time. I love how clean and organized it is and I have all kinds of ideas for projects I can create here. The real question is, "Can/will I keep it this way?" I'll check in about six months from now and let you know…wish me luck!
Projects

home décor
What you might also like
11 comments on "Creative Surroundings"