Double Pot Holder with Hand Pockets
Nothing's worse than placing a delicious meal or sweet dessert in the oven, waiting for the timer to finally sound, and then realizing you need 2 hot pads to pull your large dish or pan out of the oven, but you can only find one. Or even worse…..you can't even find ONE! And then you know what happens next—you scramble for a kitchen towel, awkwardly wrap it around the edges of the pan and then try to lift it out of the oven without getting burned. Boo. It's tragic!
Here's a solution for that…..a Double Pot Holder with Hand Pockets! Just hang it over the oven bar, keeping it handy at all times!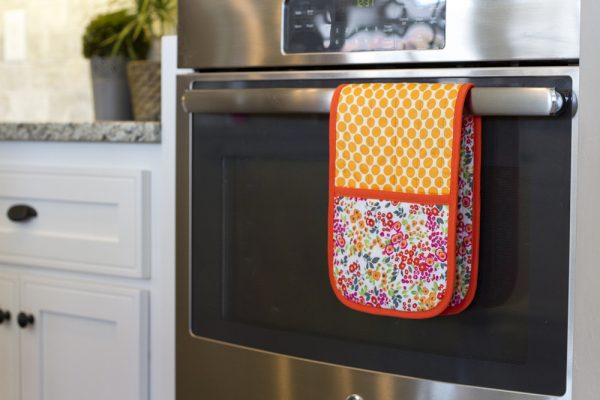 Once you're ready to use it, just slide your hands in each end pocket and grab any of your large pans, dishes, hot trays, etc. Or hey, just use one end for your smaller items. It's the only hot pad you'll ever need!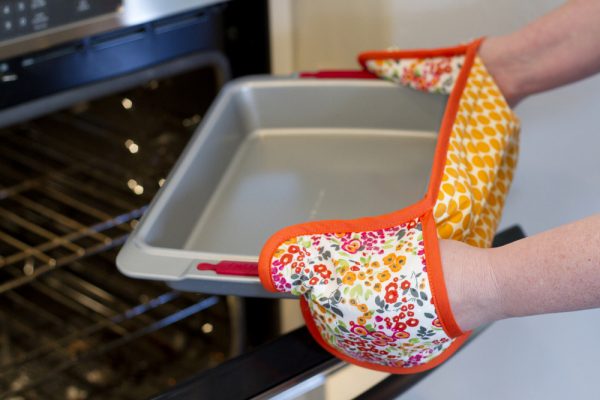 Ready to make one for your kitchen?! (And your friend/mother/neighbor's kitchen?)
Materials to make a Double Pot Holder
100% cotton fabric, outer fabric
100% natural cotton batting (Pellon makes something called Wrap-N-Zap that's microwave safe)
100% cotton 1/2-inch double fold bias tape (if you'd like to make your own, HERE'S a Bias Tape Tutorial)
100% cotton thread
Start by cutting 2 large pieces of cotton fabric and 2 pieces of batting that are all 8 x 24 inches for the main portion of the hot pad. Then, cut 4 smaller pieces of cotton fabric and 2 pieces of batting that are all 6.5 x 8 inches for both pocket sections.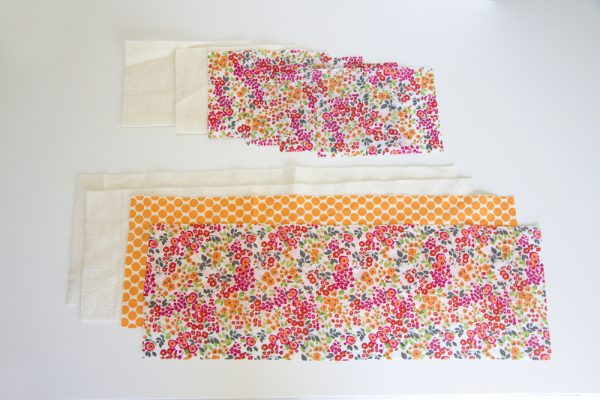 Now, round all 4 corners of the bigger rectangles and round the 2 bottom corners of the smaller rectangles.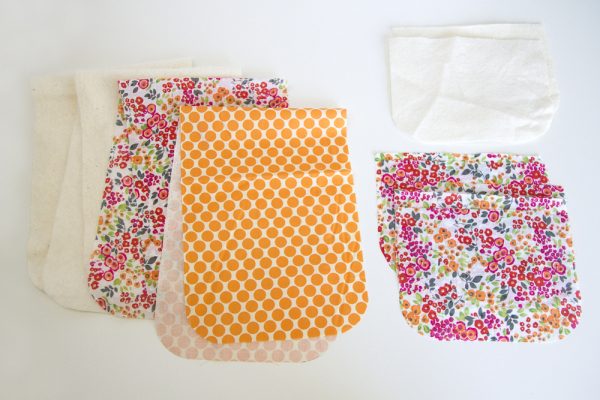 To create a simple rounded corner, use a mug or small bowl and trace around it…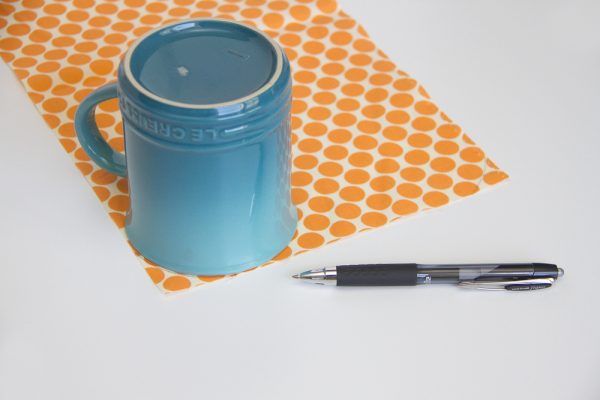 …then cut around it.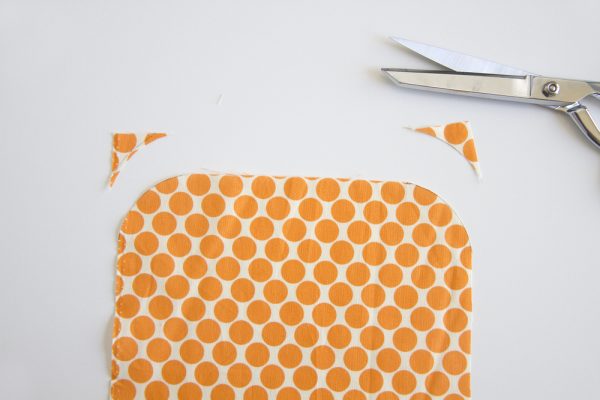 Next, place your large rectangle pieces together with the 2 batting pieces in the middle and the cotton fabric sandwiching them together, facing outward.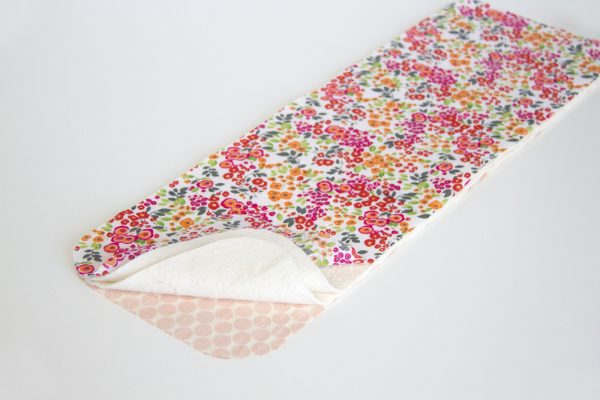 Pin all the layers together and then sew some parallel lines down the length of the fabric, about 1 1/2 inches apart.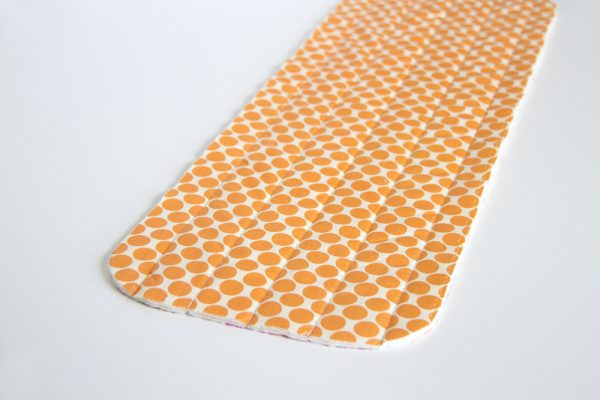 It's common for the layers to shift slightly, so trim as needed.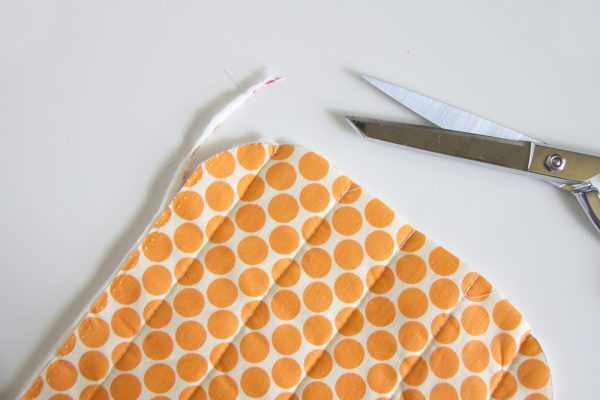 Next, grab 2 of the smaller rectangles and sandwich it around one of the smaller batting pieces, with the RIGHT side of the fabric facing outward.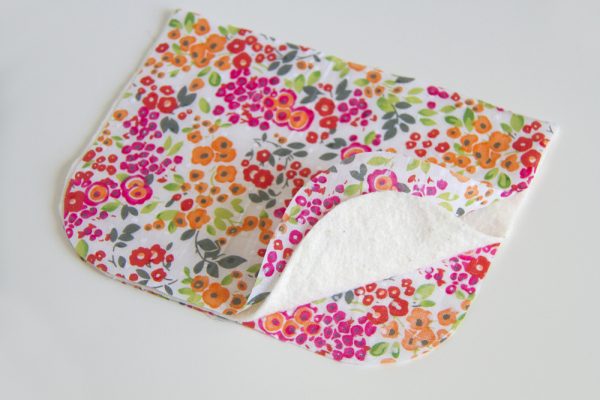 Then baste all 3 layers together around the curved sides with a 1/4 inch seam allowance and then attach some bias tape along the top straight edge. (Need help attaching BIAS TAPE? Click HERE!) Repeat with the other smaller rectangle pieces.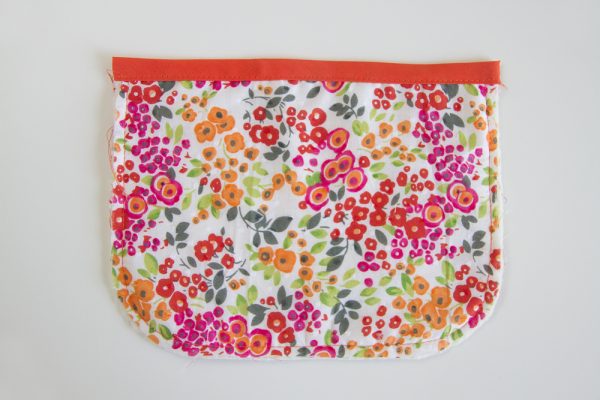 Now, place the 2 smaller rectangle sections at each end of the longer rectangle piece, matching up the curved corners, creating 2 corners.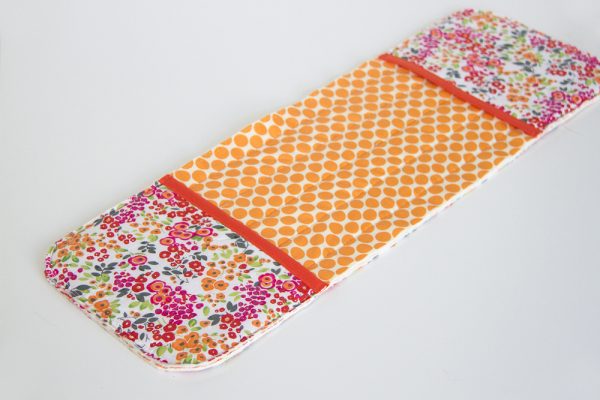 Attach each pocket by sewing around the sides and bottom, using a 1/4 inch seam allowance.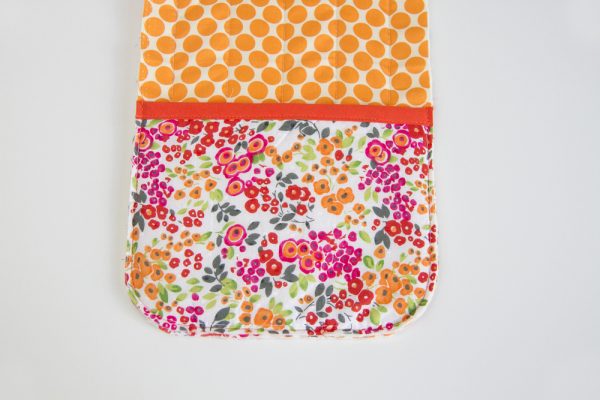 Then, add bias tape around the entire outer edge of the hot pad.
Now, it's time to hang your Double Hot Pad over the oven handle and let it hang there pretty, until it's time to be used! 🙂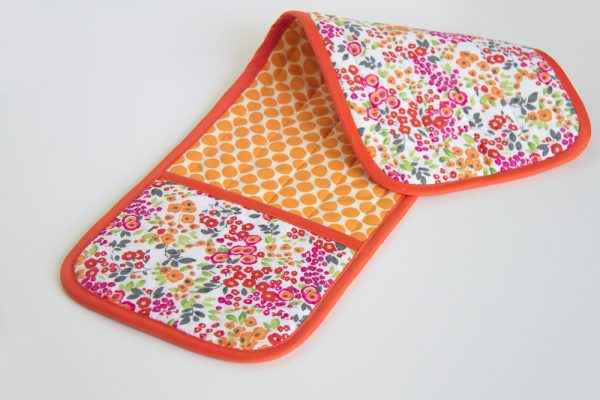 Enjoy!
-Ashley
Difficulty level

Beginner

Projects

home décor

Techniques

sewing
What you might also like
7 comments on "Double Pot Holder with Hand Pockets"