Easy DIY Wool Trivets and Coasters
These wool trivets by embroidery artist Rebecca Ringquist make a quick project for the holidays, perfect for keeping your pot of tea just off of the table. For a thicker trivet more suitable for a pot holder, use pot holder batting, available at craft stores.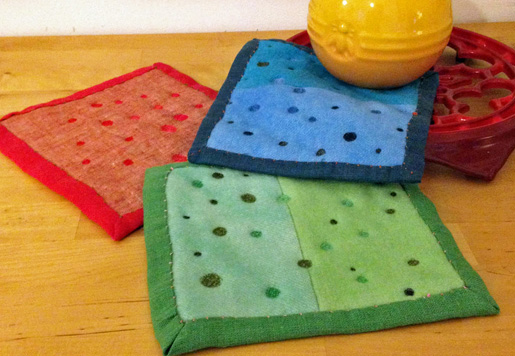 Hi there!  I'm Rebecca Ringquist, a new BERNINA ambassador. In my artwork, I combine found embroideries (things like pillowcases, dresser scarves, etc.) that I find at rummage sales with hand embroidery and machine stitching. You can see more of it on my website and learn about what's new in the studio on my Drop Cloth blog.
I recently upgraded from a very old mechanical machine to the BERNINA 750 QE. I was suspicious at first of all its bells and whistles, since I was such an ardent fan of my old mechanical, but I've gotta tell you, I have fallen in love with this machine.
One of things that I like the most about it is the stitch regulator foot. It has completely opened up the way that I make my artwork. I feel as if I'm only just learning the basics of it, but I am loving the results I've quickly become really excited about making dots, as you can see here in these small studies: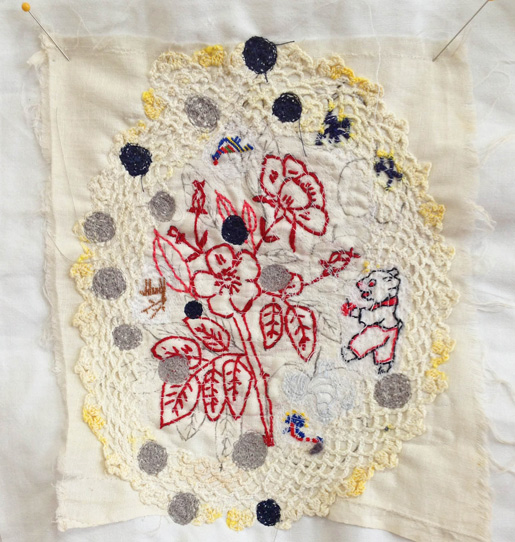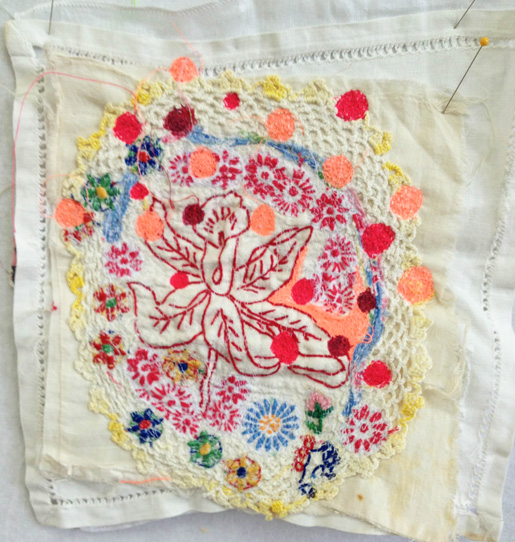 Recently, I got a box of beautiful threads and woolens in the mail from Weeks Dye Works and decided to try stitching on the wool in the same way that I make my artwork to develop a little trivet project.
Supplies
Begin by laying the wool fabric on top of your quilt batting. I stitched two small pieces of wool together to make a monochromatic design. I didn't baste the batting and wool together, as they naturally "stick" together, but if you feel a little basting would help, by all means, do it.
Place them under your free-motion presser foot, and begin stitching around and around to create small dots. You may wish to draw a constellation or other arrangement of dots on your fabric first with chalk or an erasable marker, or make it up as you go along.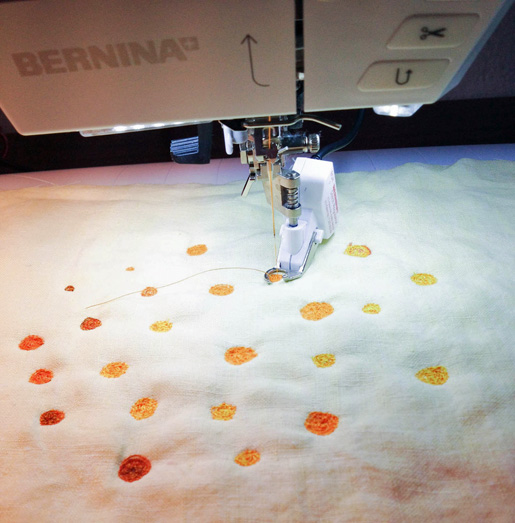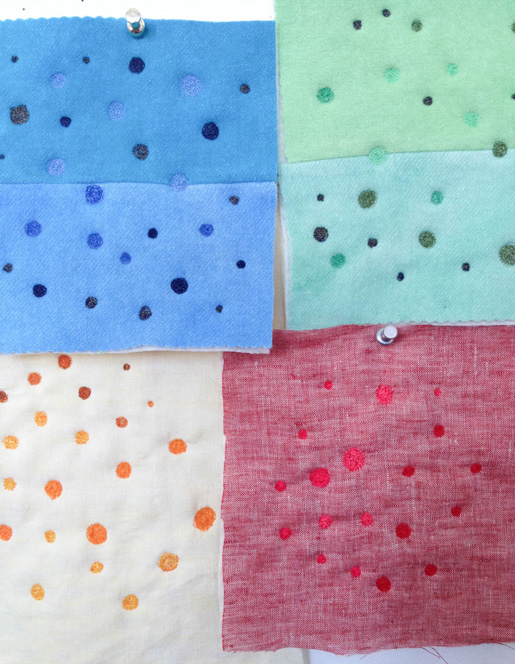 When you've finished sewing all your circles, cut your fabric down to a square. Mine are approximately 6" x 6", but yours could be any size you like. If you sewed them as large rectangles, they would make beautiful placemats. Smaller squares, and they would be beautiful coasters.
Cut out a square of coordinating linen 1" bigger in all directions. Lay your wool fabric on top of the linen. I used a Nina McVeigh's instructions for a cheater fold-over quilt binding method.
Once you've pinned your binding in place, sew it down using a hand-slipstitch and a bit of contrasting embroidery floss. Alternately, you could sew it down by machine.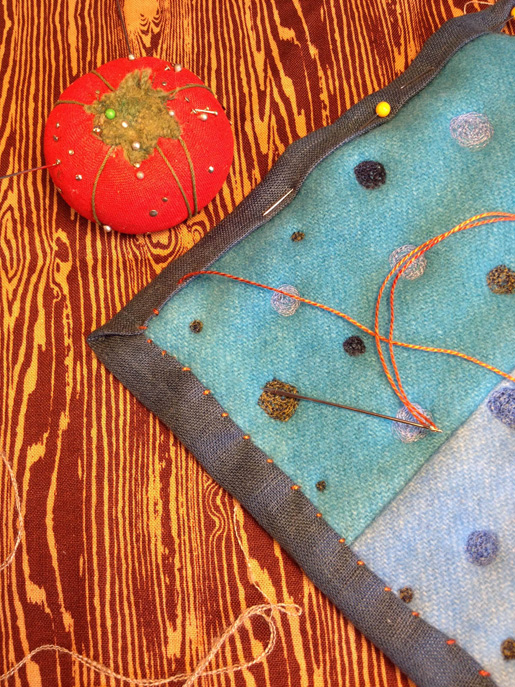 Projects

home décor
What you might also like
5 comments on "Easy DIY Wool Trivets and Coasters"