What to get for the person who has everything? A gift card! I try to sew or craft most of my gifts, but there are some things I just can't make. Books, for instance. Some of my family members are voracious readers, and I'm never sure what they have and haven't read already. So I make a trip to Mr. K's, our favorite book store, where I buy a few gift cards, and, yes, probably one or two books for myself. iTunes is another favorite; I keep one or two $10 cards handy for last-minute gifts. Gift cards are also a space-saver, particularly if you're trying to fit everything you need for a week away from home into one suitcase and a carry-on. There's only so much you can squeeze into a bag without paying that extra $100 luggage fee. (Yikes!)  Kari Carr of New Leaf Stitches (you might know her Clearly Perfect Angles) sent us these nifty gift card envelopes. I'll be making some of these for the holidays, as well as for special occasions throughout the year. But your favorite shop doesn't have gift cards, only gift certificates? No problem, just fold them to fit in the envelopes. Jo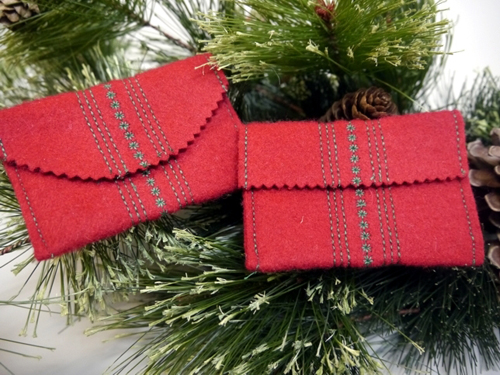 Sew Quick! Sew Easy! Sew Functional!
Why not spruce up your gift giving with these adorable gift card envelopes made with wool? It's also a great way to use some decorative stitches on your machine.
These were so much fun to make I just had to make several. And I bet you will too!
Here's what you will need:
Step 1) Embellish the wool fabric.
Begin by cutting a 4″ x 7″ wool rectangle.
Mark the centers on both the top and bottom of the short edges.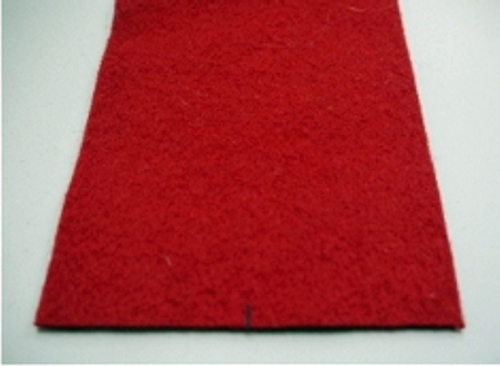 Now, before you start sewing, select your decorative stitches and practice on a wool scrap. Adjust your thread tension, stitch length, and presser foot pressure if needed.
Because this envelope is for Christmas, I choose to use a stitch that looks like a snowflake (#711 on the BERNINA 5 Series machines).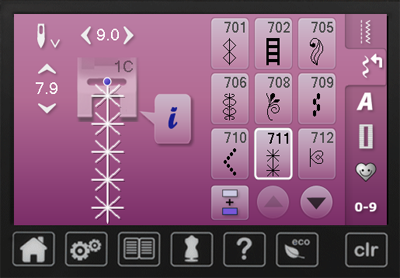 Begin stitching at the top center. Because I always have my Clearly Perfect Angles attached to my machine, I simply align the center mark on the bottom of the wool strip with the center line to stitch down the middle.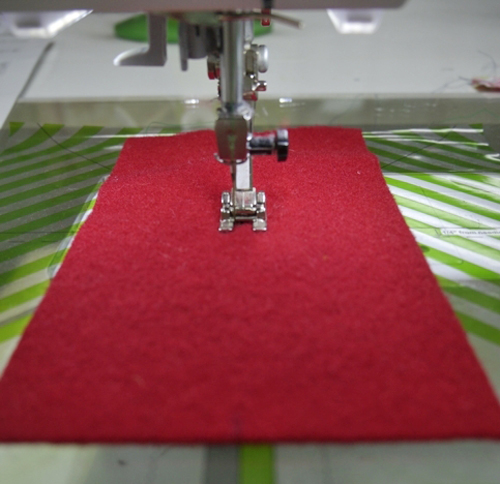 One bit of advice I would share is to sew slowly. I really like using the start and stop buttons for this kind of sewing. If you usually use the foot pedal, I'd encourage you to slow the stitch speed down and try the start/stop button on this project.

Next I switched to a triple straight stitch (#6 on my machine). This makes a thick straight stitch that I thinks looks good on the wool.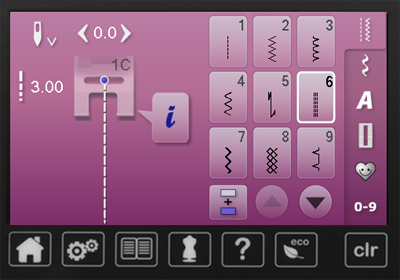 Because I like to use sewing guides that are convenient, I just lined up the left outside edge of the foot on the centers of the snowflakes. Stitch this way on each side of the snowflake line.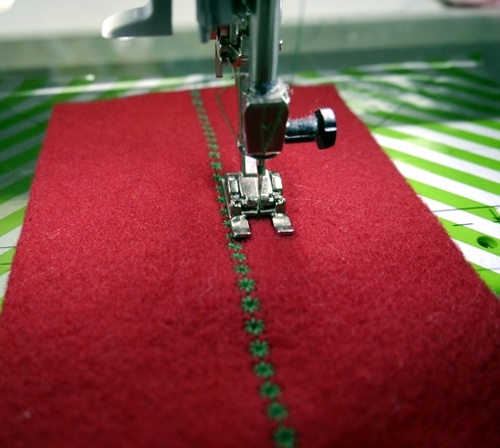 Next, move the piece over and line up the inside left edge of the foot with the straight stitching you just did. Again, sew this way on each side. The sample has three rows of straight stitching on each side of the center snowflakes.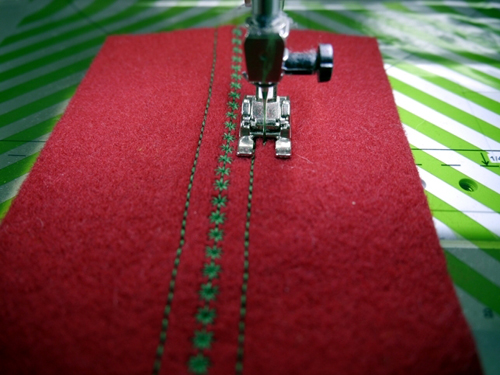 The wool may distort a little bit during this process, so to clean up these edges I used pinking shears to trim each end.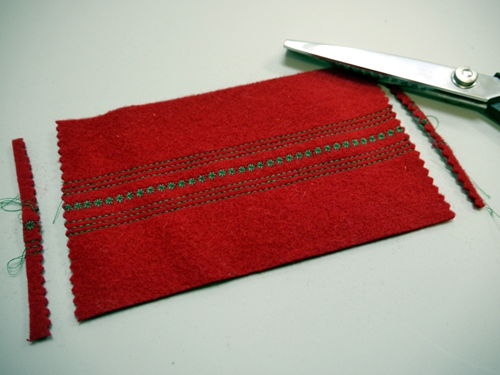 Step 2) Construct the gift envelope.
Fold up one edge approximately 2¼" and press.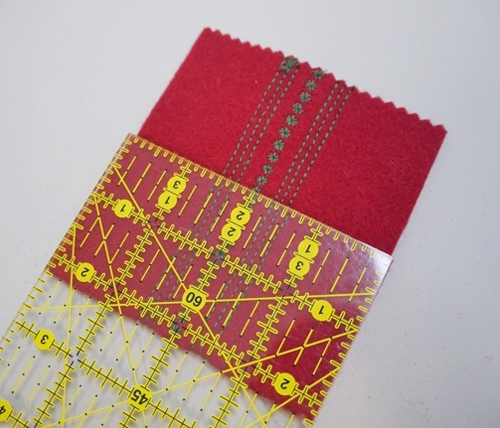 To form the pocket, use the same triple straight stitch, but now use the inside right edge of the presser foot as a guide to sew along the edge. Sew the entire length.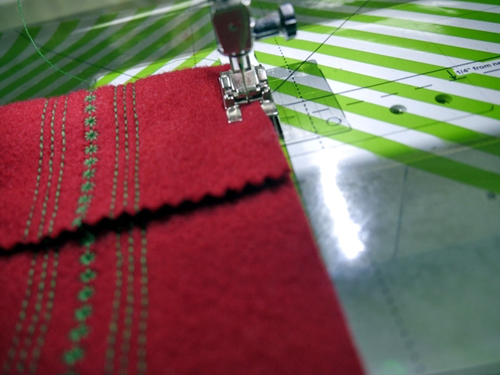 Because the wool may shift, I turned the piece and stitched up the remaining edge from the other side.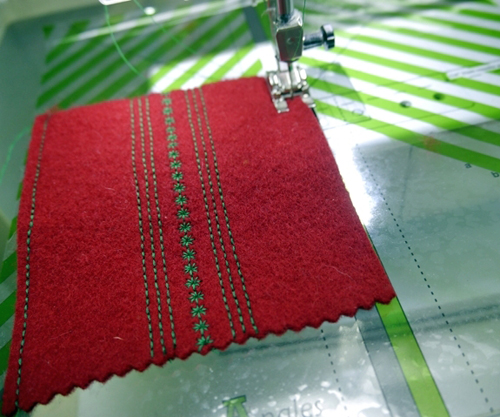 Press the top edge down to form a flap and ta-da! You've made a gift card envelope.
To double check my work, I made a second envelope. This time I pinked the flap in a curve shape.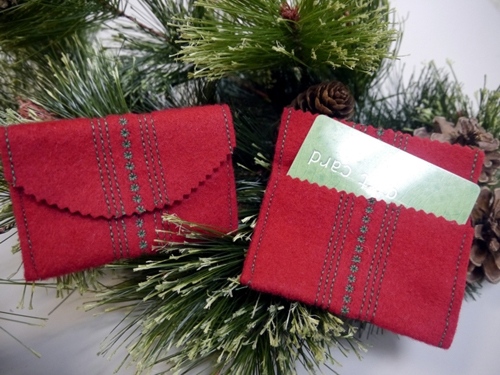 Well, those sure were easy, so I kept on going… Why not make some for other occasions? 
I chose a pretty blue wool and a more geometric stitch for this one.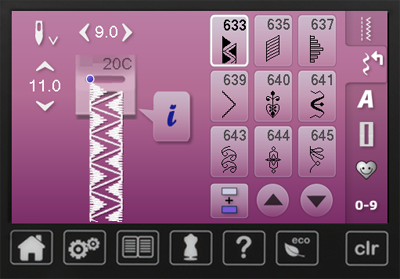 I first stitched down the center, than two double lines (gosh… I could have used a double needle here!), and then the geometric lines on each side. For each of these I used the edge of the presser foot for alignment. I changed it up by trimming the flap edge with a wavy rotary cutting blade. (This one turned out to be my favorite!)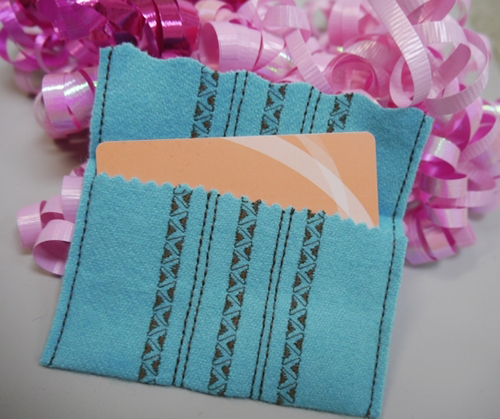 I kept going…. This time with a deep purple wool and a heavier weight bright green thread. Figuring out the tension only took a little bit of time, so don't worry about trying different thread types.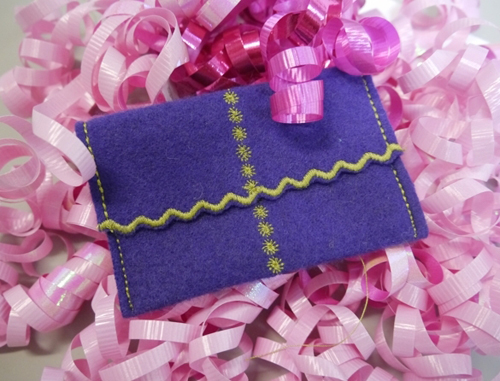 I would suggest cutting the wool a little longer, say about 7½". Instead of first sewing down the center of the rectangle, I used decorative stitch #402 (shorten stitch length by one) and sewed across each of the short ends. In order for the fabric to feed evenly, stitch about ½" from each end. The main thing is that there should be fabric under both sides of the presser foot.

Next I rotated the rectangle, marked the centers, and stitched one time using decorative stitch #651. I started and stopped at the curvy stitched lines so I did not stitch all the way through them.
Before I folded and pressed the pocket and stitched the sides, I used a small, sharp pair of scissors and cut close to the curved stitching, being careful not to snip any threads.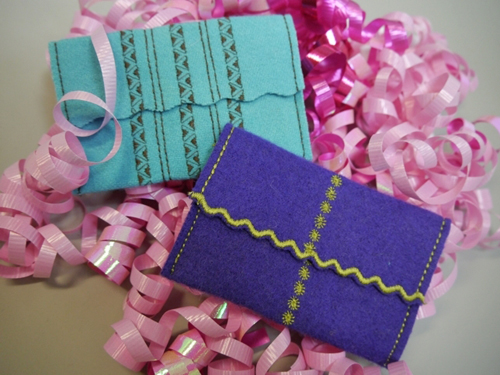 Here are some other options that you might want to try:
Use snaps for closures.
Use the alphabets available on your machine to stitch a name or short message (Ho, Ho, Ho!) on the flap or back of the envelope.
Embellish the envelopes with buttons.
Use a contrasting piece of wool to create a lining. (Cut all the pieces a little bigger for this.)
Use your embroidery machine, if you have one, to stitch a design on the wool.
I think it would be wonderful if you shared your ideas on how you chooseto make these. What stitches did you use? Was there a particular thread you liked? Did you use something other than wool?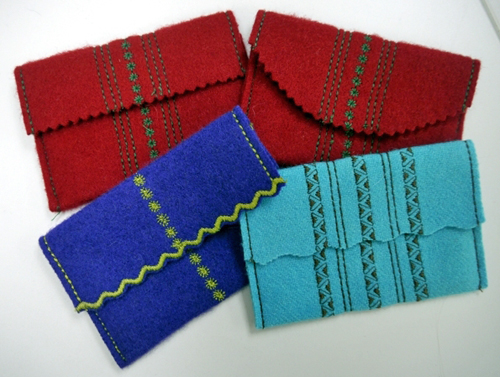 Not only are these fun to make, but I'm sure the person receiving them will appreciate your creativity!
Enjoy and Merry Christmas! Kari
[We'd love to hear about your gift envelope creations. If you'd like to send photos, e-mail them to me at weallsewblog@berninausa.com and I'll create a photo gallery at the end of this post. Jo]