How to Make a Gifting Cone
Any gift wrapped in these cones becomes instantly precious. Simple to construct, they make a striking presentation. Stitch them in elegant linen, rustic burlap, or any fabric that suits your fancy…or the occasion. Take it to the next level with a touch of embroidery. Later, the cone can be used to hang lavender from a door handle, or present cookies, sweets and candies on a plate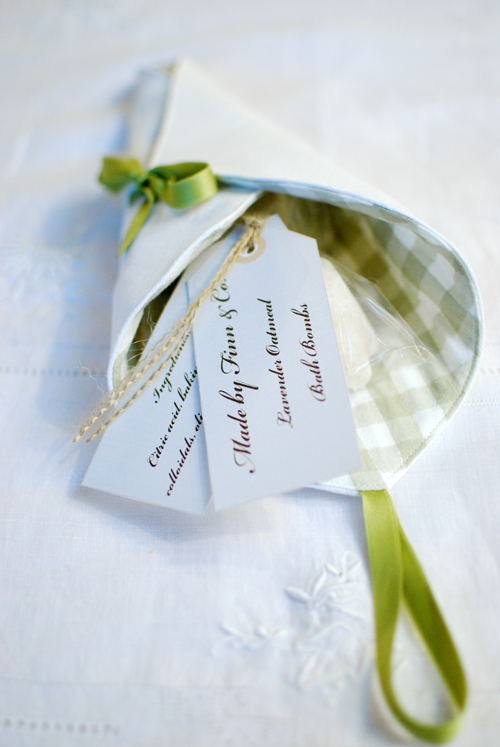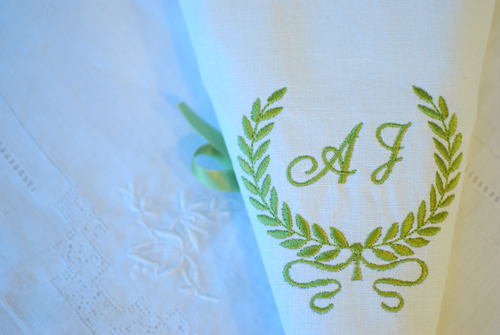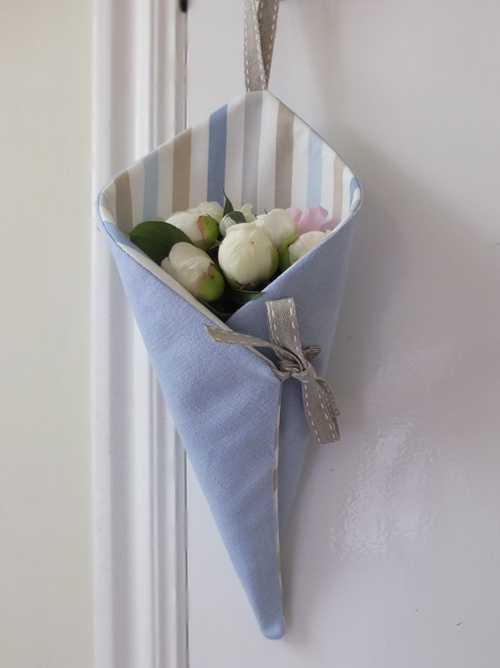 Supplies
16″ x 16″ square of fabric for the outside of the cone; this fabric may be embroidered if desired
16″ x 16″ square of fabric for the inside of the cone; stripes, Liberty prints, shirting fabric and small prints work well for this application
Coordinating sewing thread
1 yard of narrow ribbon
1 yard of mid-weight sew-in interfacing
Dots of hook-and-loop tape
Download, enlarge, and print the pattern: Gifting_Cone_-_template_-_121814.pdf
For Optional Embroidery
HeavyWeight Cut-Away stabilizer
Temporary fabric adhesive spray
Complementary embroidery thread
Embroidery machine
Step 1) Prepare the fabric.
Using the downloaded, enlarged, and printed pattern:
Cut one piece from the outer fabric.
Cut one piece from the inner fabric.
Cut two pieces of mid-weight sew-in interfacing.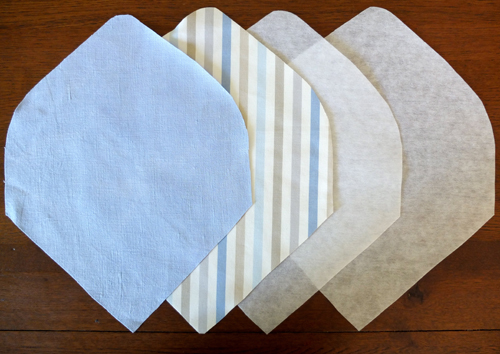 Optional Embroidery
Fold the outer fabric piece in half twice and crease the folds. These marks in the center of the fabric piece will help you position the fabric in the embroidery hoop.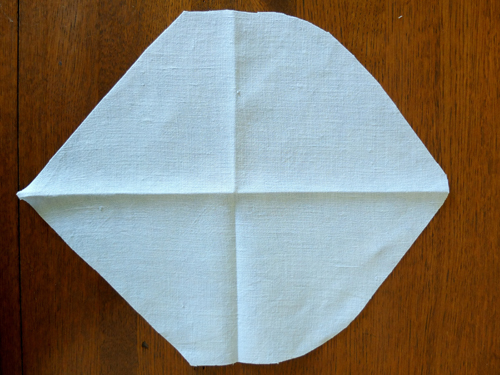 Hoop the stabilizer, but not the fabric. Spray the stabilizer with temporary adhesive and place the fabric on top, being mindful of the upper and lower edges of the cone.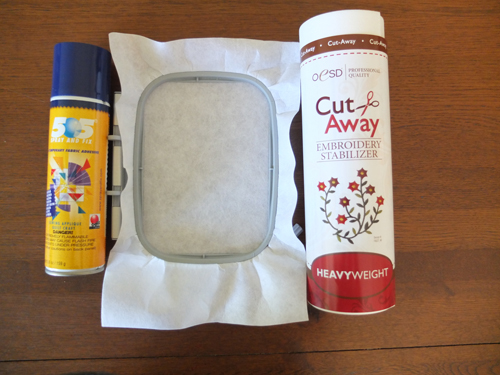 Embroider your monogram (or other design) on the fabric.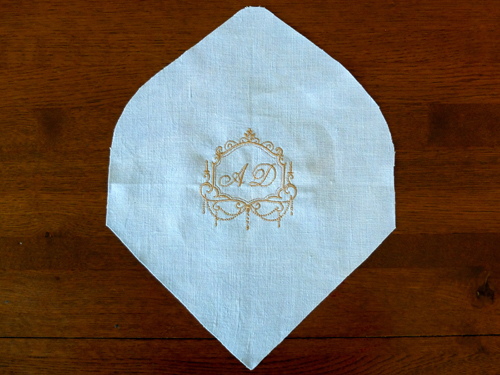 When stitching is complete, cut away the excess stabilizer about 1/2″ from the stitching.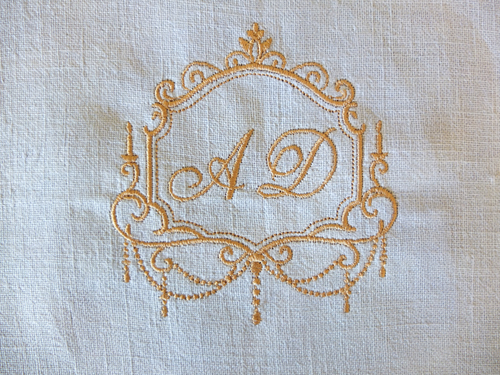 Step 2) Construct the cone.
Cut a 10″-long piece of ribbon and pin it to the right corner of the outer/embroidered fabric piece.
Cut an 11″-long piece of ribbon, fold it in half, and pin it to the top of the outer/embroidered fabric piece.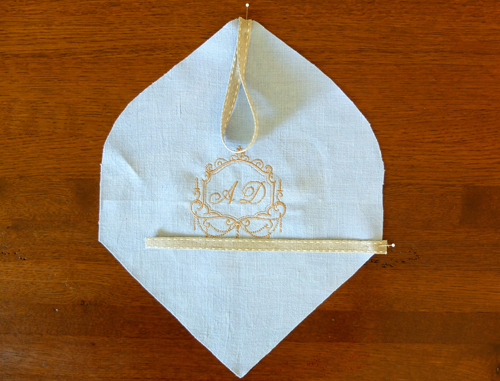 Place the inner fabric piece right side down on the outer/embroidered piece and place the two pieces of interfacing on top. Pin all the layers together very well.
Sew around all sides using a 3/8 ″-wide seam allowance, leaving a 3″ opening in the straight side across from the ribbon as shown in the photo.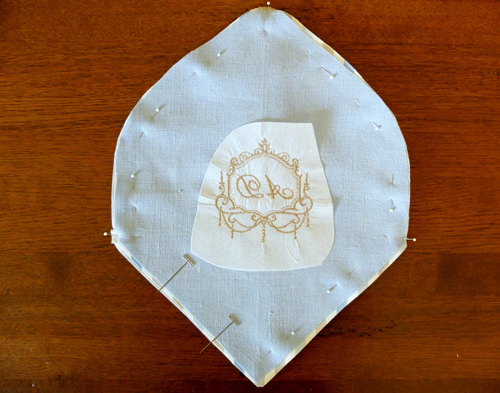 Clip all corners and curves and turn the work right side out. Press well.
Close the opening by edgestitching around the entire piece, which works well for thinner fabrics, or simply by handsewing the opening shut.
Step 3) Fold the cone.
Fold the cone and place a pin where you want to sew the second ribbon for the bow.
Cut a second 10″-long piece of ribbon and sew it securely to the cone.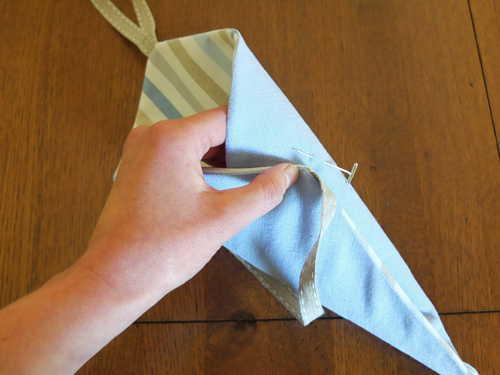 Tie the ribbons into a bow.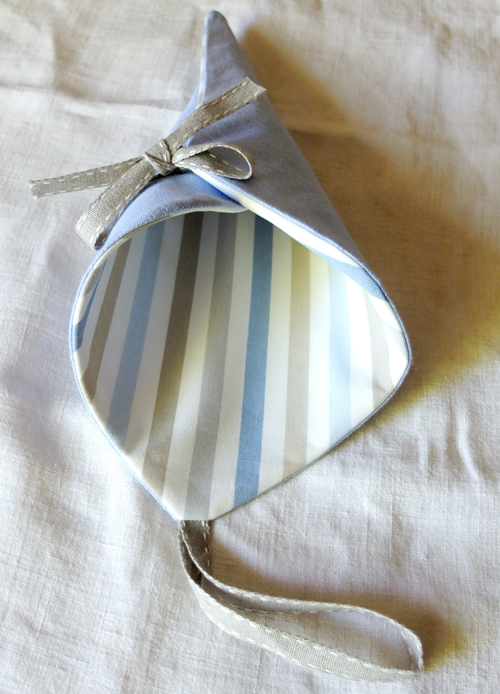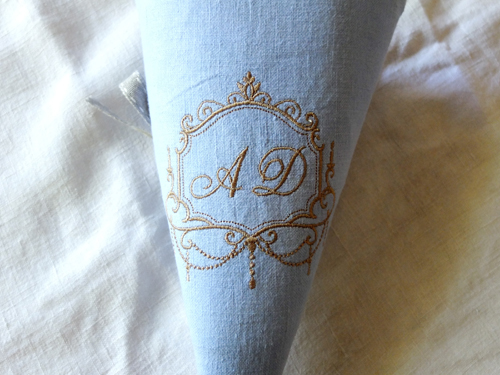 Optional
Depending on the weight of the flowers or gift you place in the cone, you can add a set of hook and-loop dots inside the cone, towards the bottom.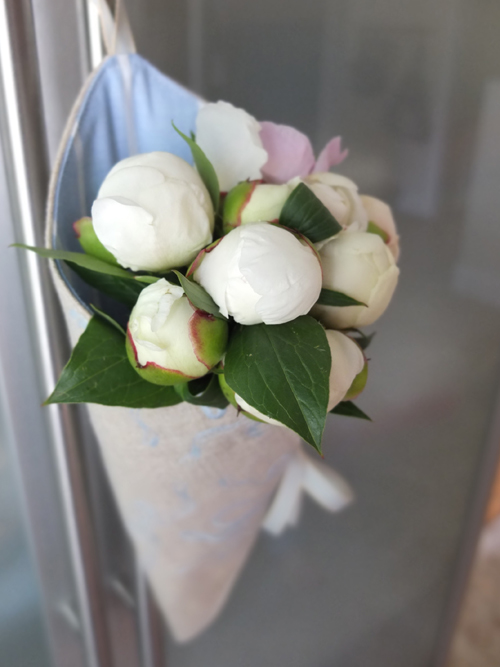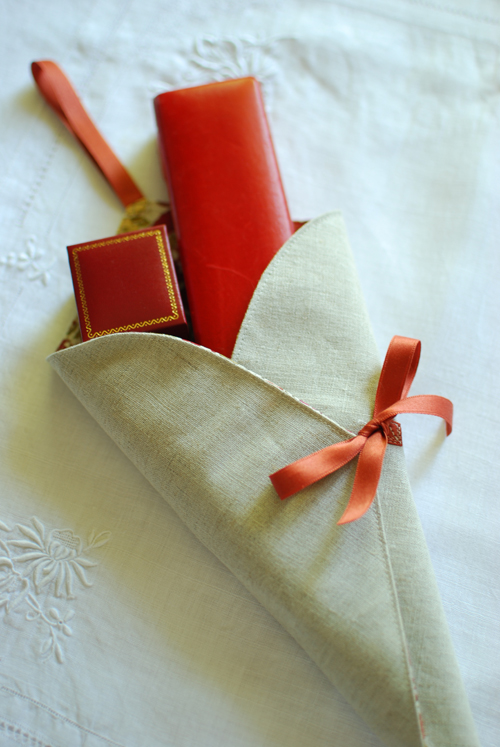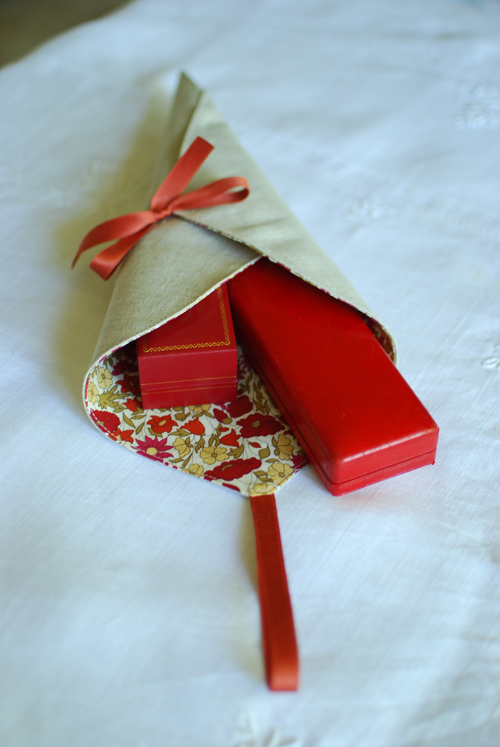 Techniques

crafts, embroidery
What you might also like
One comment on "How to Make a Gifting Cone"