Postage Stamp Patchwork Tip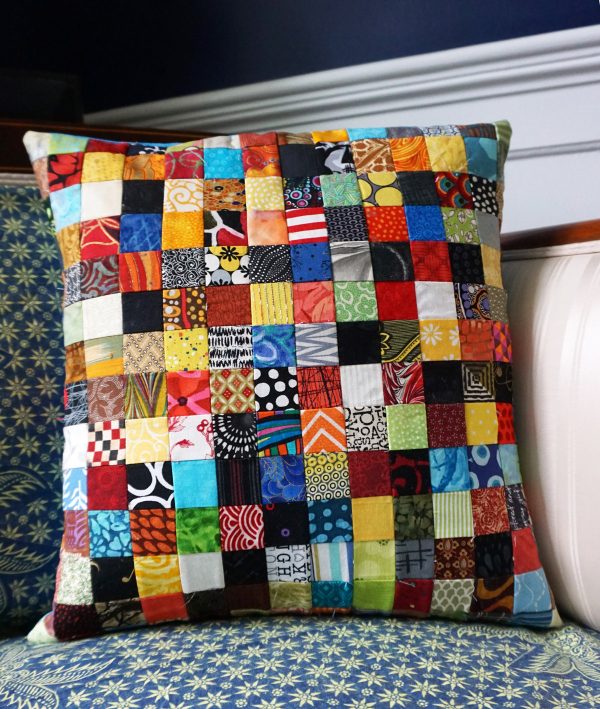 My list of quilts I would like to make in my lifetime includes a postage stamp quilt. If you have never heard of these before, they are quite extraordinary. Each square of the quilt is 1″ finished, and every one of them must be unique to the quilt—no fabric used twice. The result is a symphony of color and pattern, exactly what I love about quilts in the first place.
When I first started teaching I thought it would be fun to save a small piece of every fabric used by my students in my classes, and I did that for awhile, only to find to my dismay that the baggy in which they were kept disappeared in my studio at some point. But not to worry, can anyone say "stash?"
So this being the summer of trying new things, I decided to make my postage stamp quilt. Since every fabric appears only once, there is no way to rotary cut and strip piece this in a quick and easy way. The thought of cutting and sewing all those tiny squares has always been a little intimidating, so my original idea of a queen sized quilt quickly downsized to a lap quilt, then a baby quilt, and I finally settled on the much more manageable postage stamp pillow. I could enjoy the process and cross it off my list without it becoming too overwhelming a project. After all, it is a long list!
I decided on a 14″ square pillow, which means fourteen rows of fourteen squares each, or 196 little squares. First I had to cut rough pieces out of fabrics in my stash to use in this project. I even wondered if that would take my whole stash—and here is a surprise, it wasn't even a dent in the number of fabrics I had! Scary. It did give me a chance to see there are a lot of fabrics I have never used and should probably get rid of, but they are perfect for this project. I started with rough cuts of about 200 fabrics, and since I had way more than that in my stash, I kept to a color story—black, gray, white and brighter colors, with a few others thrown in just to make it look more randomly chosen.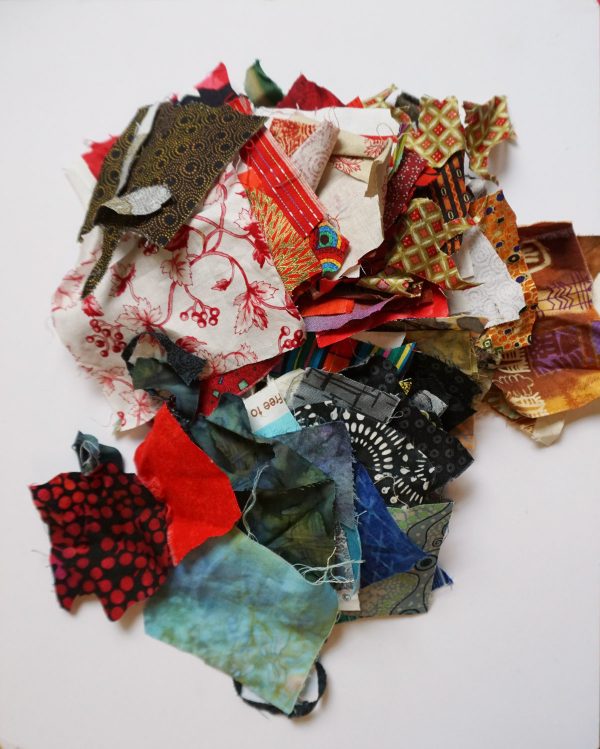 Cutting all these pieces into 1 ½" squares (remember for a 1″ finished square with ¼" seam allowance on each side, I need to cut them 1 ½") seemed like a daunting task. But not so bad—with a new blade in my rotary cutter I could do up to 10 pieces at once. But for the sake of accuracy and fear they would slip while cutting, I chose to do about six at a time. Stack them up, cut up the right side and across the top, then walk to the other side of the cutting table, line up the cut corners with the 1 ½" markings on my ruler and cut up and over again for perfect 1 ½" squares. It didn't take as long as I thought.
I am not about to sew each and every square separately and then match all the corners, but there is an easier way—with interfacing. I purchased a thin fusible interfacing for this project. My local quilt shop happens to carry one with grid lines already printed on it—which is a great help. The one they carry has a one inch grid, but that works out fine, every two fabric squares will take up three squares of the grid (as you can see in the photos, I did highlight every third box with a sharpie and my rotary ruler). You can also easily mark the grid on any interfacing using your rotary ruler and a sharpie. Remember that you are not starting with a 14″ square piece of interfacing, you are starting with one large enough for the cut size of the squares—1 ½" times 14 or a 21″ square of interfacing.
Now I get to lay the squares onto the grid. The placement of squares in a postage stamp quilt is usually random, and I want it to look that way but I always employ a technique I like to call "controlled random" for their placement. Controlled random means the results look as if it came together without a plan but I don't rely on the universe to get it exactly right.
I laid the fusible on the pressing surface with the fusible side facing up, otherwise when I press I will fuse the interfacing to the pressing surface instead of fusing the squares to the interfacing. How do I know this? Let's just say it is a mistake I will not make twice.
I start by sorting the squares by approximate color and value. Taking one pile at a time, I place them around the surface of my pillow in a way that insures each color/value is represented in all areas of the surface. This is not a science, and I don't want it to look too manipulated, but working this way insures that I don't get any unexpected clumps of dark or light or any particular color altogether.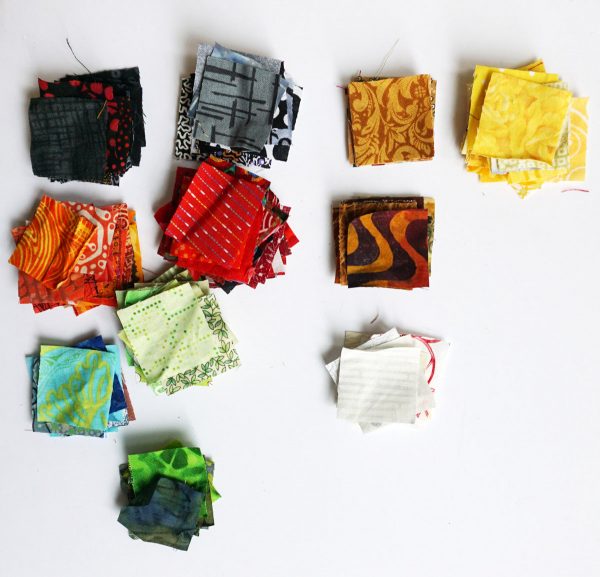 Looking at it I decided to make a few tweaks. This is actually something that can make you insane if you let it, so ultimately I decided I just needed a few more punctuations of very dark fabric. Another trip to the stash, another half a dozen black fabrics to replace some of the beige and paler greens and that is where I stopped, in order to preserve what was left of my sanity.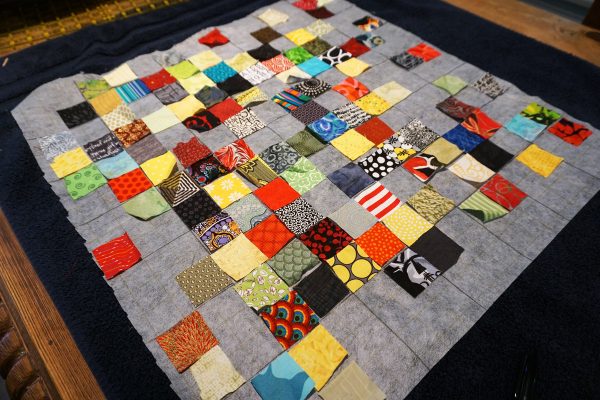 Having decided I like the way it looks, I can now press it onto the fusible. I use a press cloth (actually, any piece of cotton) on top just to keep any fusible from sticking to the iron and to prevent any squares from lifting up while I press. Remember to press (up and down) rather than iron (back and forth) so nothing moves.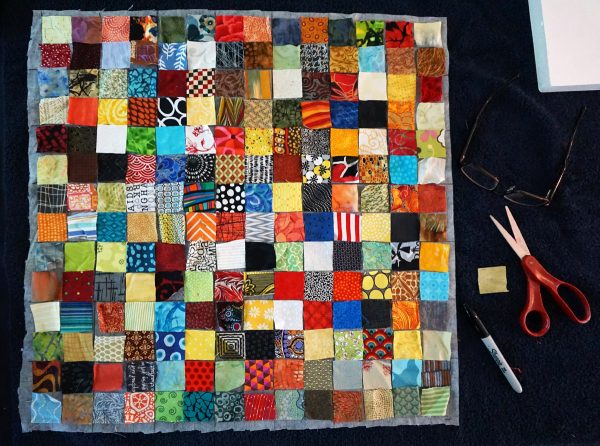 Sewing all these little squares together with perfectly matched corners is easy with the fusible base. I start by folding the first row of squares right sides together with the second row. They fold naturally where the small space occurs between the squares. Using the Patchwork foot #97D for my ¼" seam allowance, I sew all the way down this row, then fold over the next row and do the same. Once the vertical rows are all sewn, the piece looks a little like an accordion. Press from the top to flatten everything out and then again from the back (using a press cloth again) to insure the seam allowances are flat. It does not matter if they all go in the same direction, as long as none of them twist in different directions.
Back to the sewing machine to do the rows in the other direction in exactly the same way; press again, and what do you know—perfect postage stamp squares all lined up! Easy.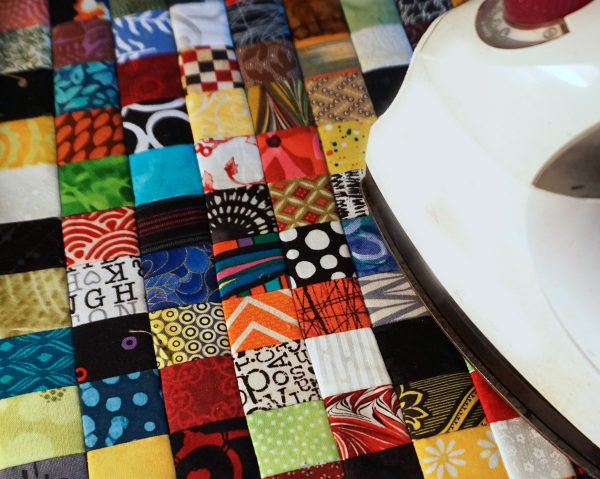 And here is the finished pillow. Beautiful. Now I can cross postage stamp quilt off my list and move onto something else. But, actually, this was faster and easier than I thought it would be, so maybe there still is a bigger postage stamp quilt in my future. How about yours?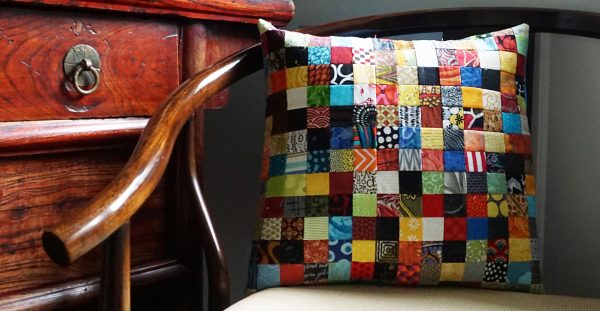 Difficulty level

Beginner

Projects

home décor

Techniques

patchwork, quilting
What you might also like
23 comments on "Postage Stamp Patchwork Tip"