Quilted Postcards with the Chicago Modern Quilt Guild
Have you ever heard of a quilted postcard? I hadn't until our last meeting of the Chicago Modern Quilt Guild! (Click this link to learn about the Modern Quilt Guild and find a chapter near you) Each of us used scraps and trims to stitch our own mini-quilt onto a small piece of  heavy craft interfacing and then attached the postcard backing with fusible webbing. I used some scraps of old men's silk ties along with some cottons and tried the piece as you go method, stitching directly on the heavy craft interfacing. I really liked using this method with the small pieces, and it was fun to see it come together.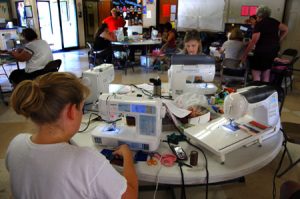 We all had such a blast with this activity! Here's Karen who was working next to me stitching on her "trees in the forest" postcard. And as you can see, everyone worked very hard stitching together their own creations.
At the end of our meeting we assembled all of our little lovelies – aren't they fabulous? I love all the different personalities that these little quilted postcards represent.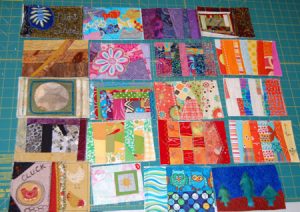 If you'd like to learn more about quilted fabric postcards or experiment with making one of your own, check out these links:
How To Make A Fabric Postcard from Red Shoe Ramblings
Fabric Postcard Tutorial from Patchwork Posse
Techniques

quilting, sewing
What you might also like