Share Your Projects with the WeAllSew Community
How would you like to see your sewing projects featured right here at our WeAllSew blog? Sounds great, right?

Now you can! You have the power to share your very own sewing projects with all of us at WeAllSew by uploading your project pictures to our Community section! If you haven't yet clicked on our Community tab at the top of our blog menu, we highly recommend visiting the gallery. You can see all kinds of projects shared by other WeAllSew readers, and you can add your own projects to the mix.
Sharing your sewing projects with our WeAllSew Community is easy! Follow these steps to upload your own projects to our Community section gallery.
Step 1. Login to the WeAllSew blog.

If you're already registered to our WeAllSew blog, you're ready to start sharing! If you're not registered yet, click on the SIGN UP button at the top right and fill out the form. Look for a follow-up email in your inbox to finalize your registration before logging in.
Step 2. Navigate to Upload Projects
Navigate to our Community tab at the top WeAllSew menu bar, and select Upload Projects in the drop-down menu.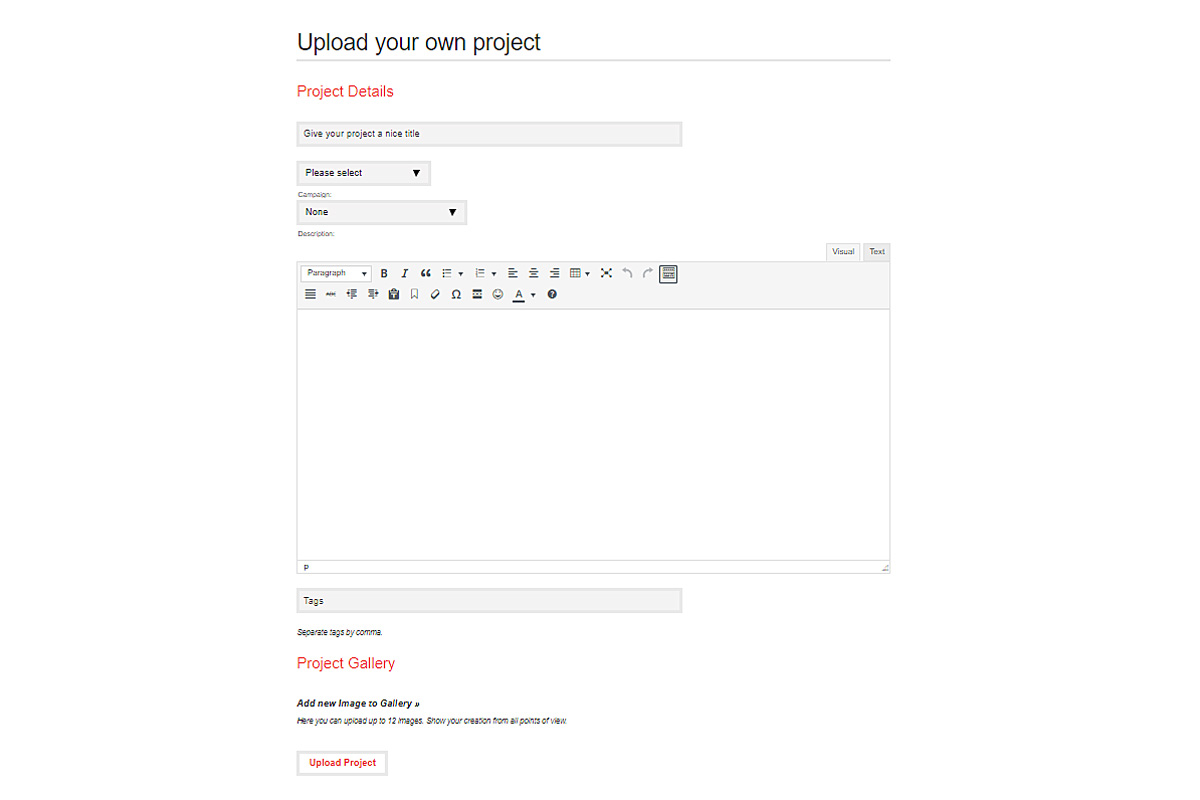 You will see a template to upload your project, including spaces to give your project post a name, a description, and a place to upload your photos. Don't worry, we're walking you through each of the sections in the template below.
Step 3. Project Details

In the top part of the template, enter your project details. Give your project a title or name that clearly describes what it is about.
Choose the type of project you're sharing from drop-down menu (sewing, embroidery and software, or quilting).
The last box labeled "Campaign" is used for posting projects to specific events, like our past BERNINA Presser Foot Contest. You can leave this set at "None" if you're just here to share what you're making. If you are entering a project for a specific event, be sure to choose it from the menu.
Step 4. Your Project Description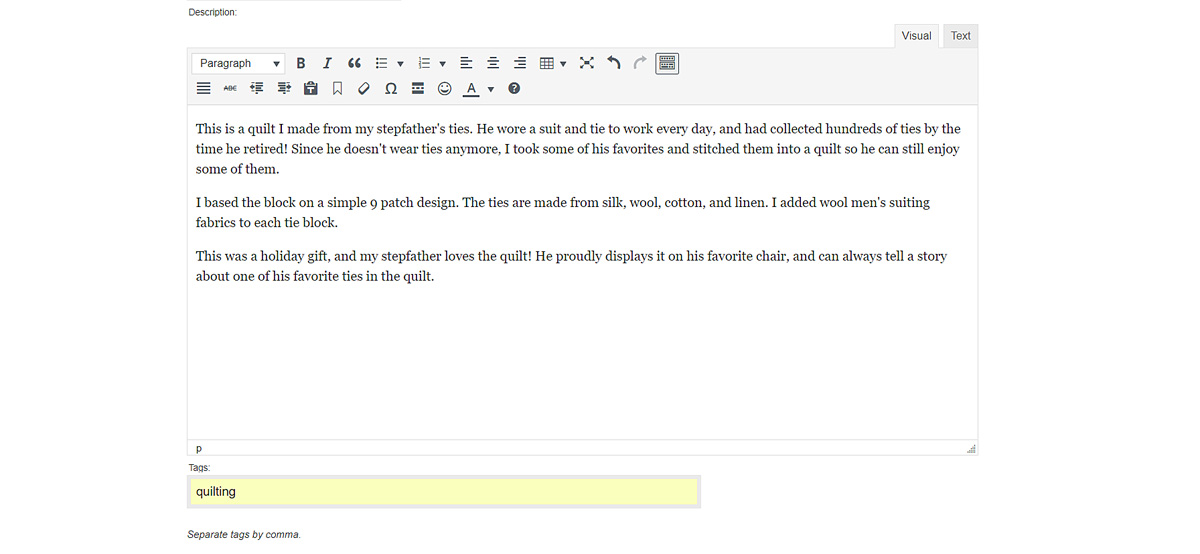 Here's where you tell us all about your project! Just start typing into the blank box, you can write as little or as much as you'd like about your project, what you made it with or how you made it. You don't need to add anything special to the text. However, there are a few editing tools above the text box if you need to use them.
Below the Description text box is a place where you can enter tags for your project. Ideally, this should be one or two words that describe your project. For example; quilt, tote bag, jacket, etc..
Step 5. Upload Your Photos

You are able to add up to 12 images of your project. We've found that horizontal rectangular photos showcase your projects the best in the Community section. The first photo you upload will become the featured photo in the Community gallery, so make sure it really showcases  your project!
Click on the text highlighted in red that reads, "Add new Image to Gallery" to get started.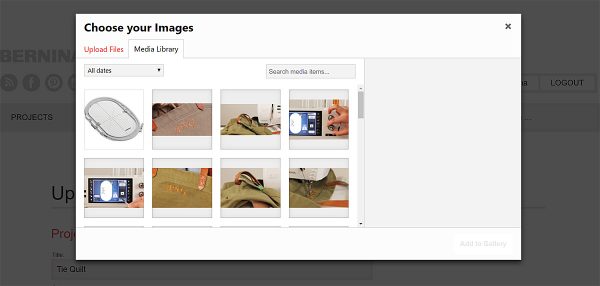 This will open a new navigation box with two tabs; one on the left, titled "Upload Files" and one on the right, titled "Media Library." The Media Library tab displays photos that you already uploaded to WeAllSew. If you want to upload new photos to your post, you will click on the Upload Files tab.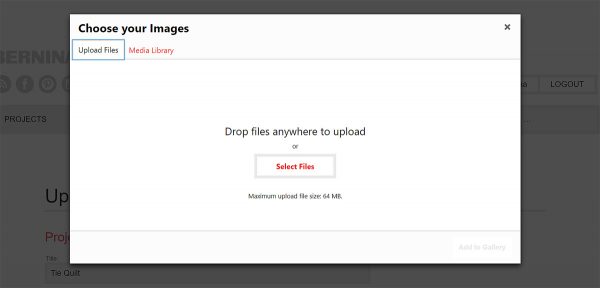 You will see the upload screen where you can click the Select Files button to locate and add your pictures on your computer, or drag and drop your files right inside the box.
Once you have selected a photo to upload, the Upload screen shows the upload status at top right.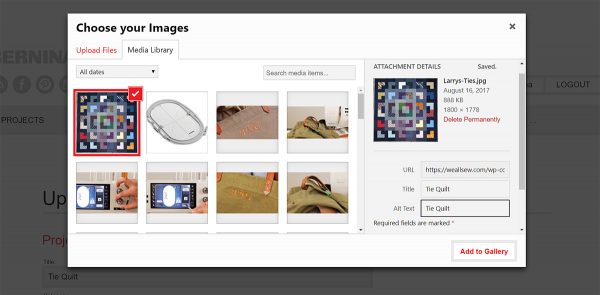 Once your photo has uploaded you will see a thumbnail appear. You can edit or add a Title to the photo on the right side of the box if you wish. Click the "Add to Gallery" button at the bottom right side of the box to upload your photo.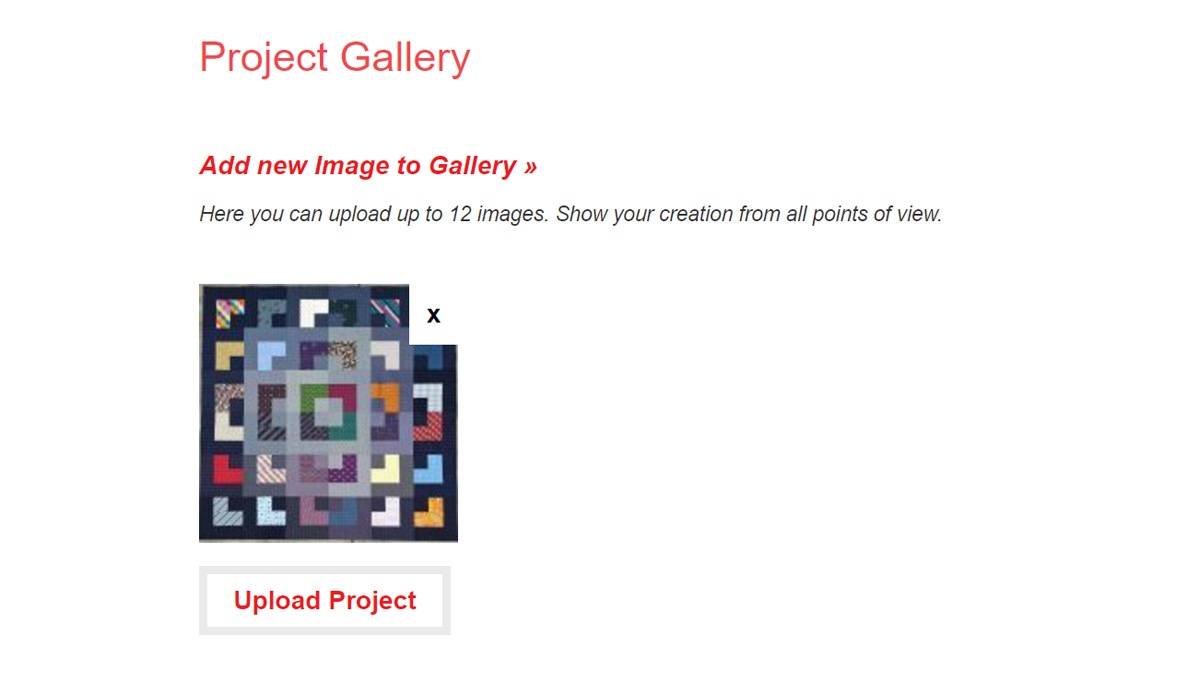 The uploaded photo will appear under the Project Gallery section in the template. Click on "Add new Image to Gallery" to upload additional photos following the directions above in Step 5.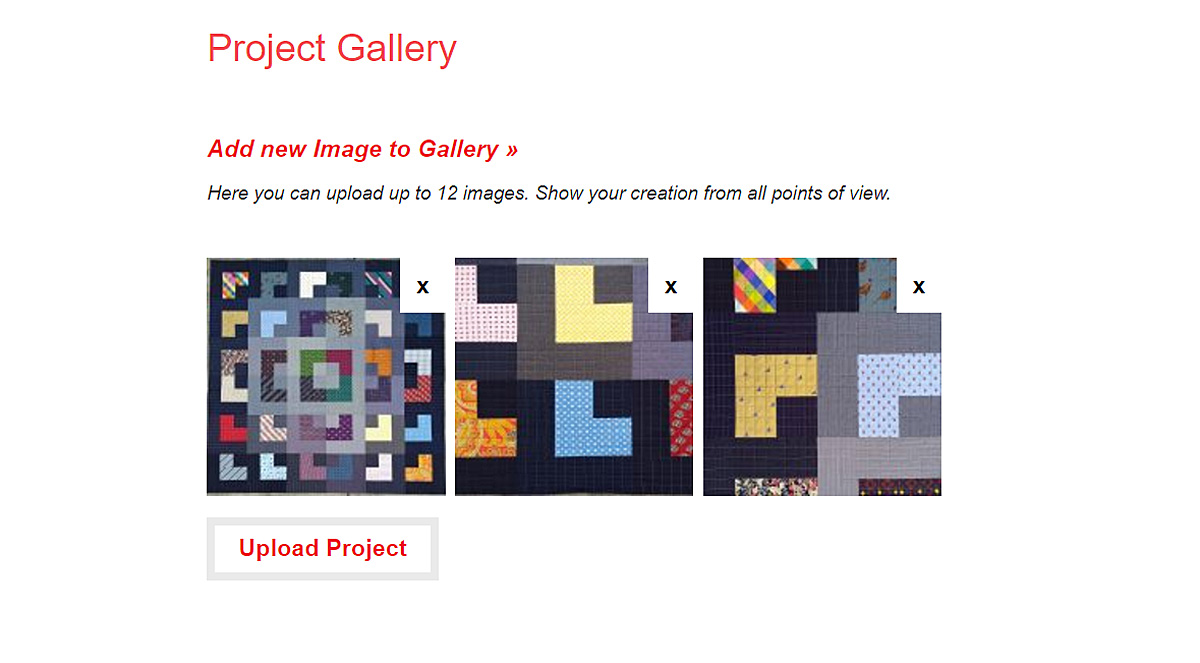 Once you have finished adding everything for your project, you can quickly review what you've entered and make any last-minute updates. Click the "Upload Project" button at the bottom of the template to add your project to WeAllSew.
Your project will now appear in the Community section gallery!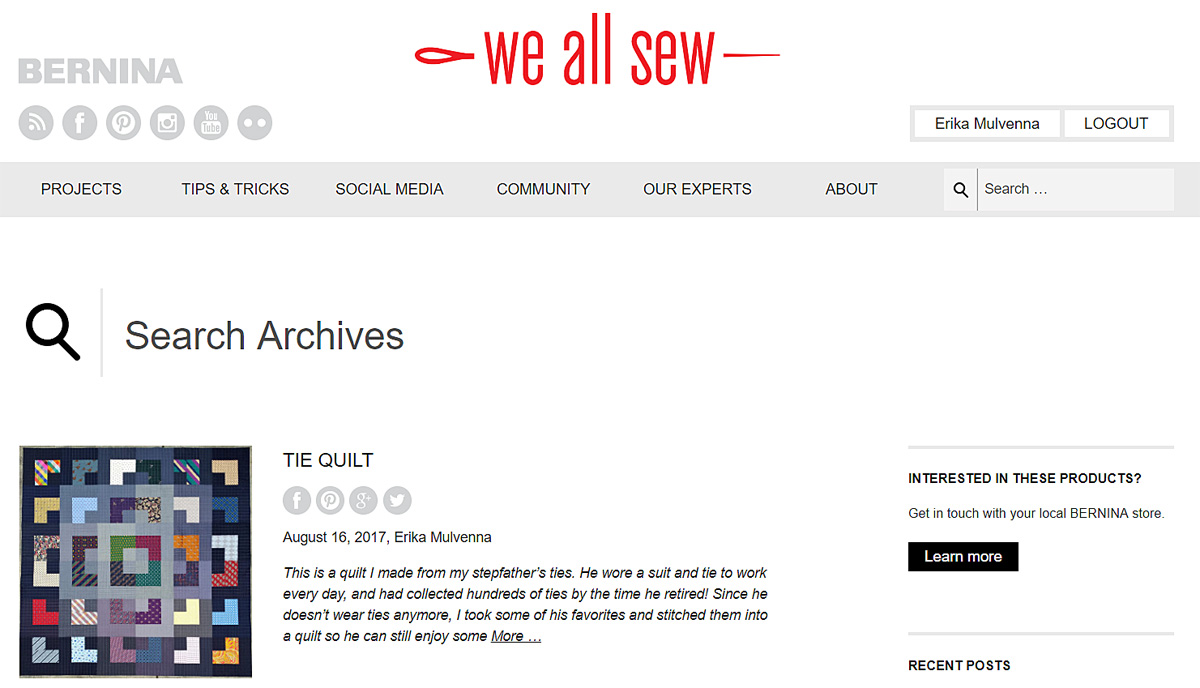 Click on your project to see all the details.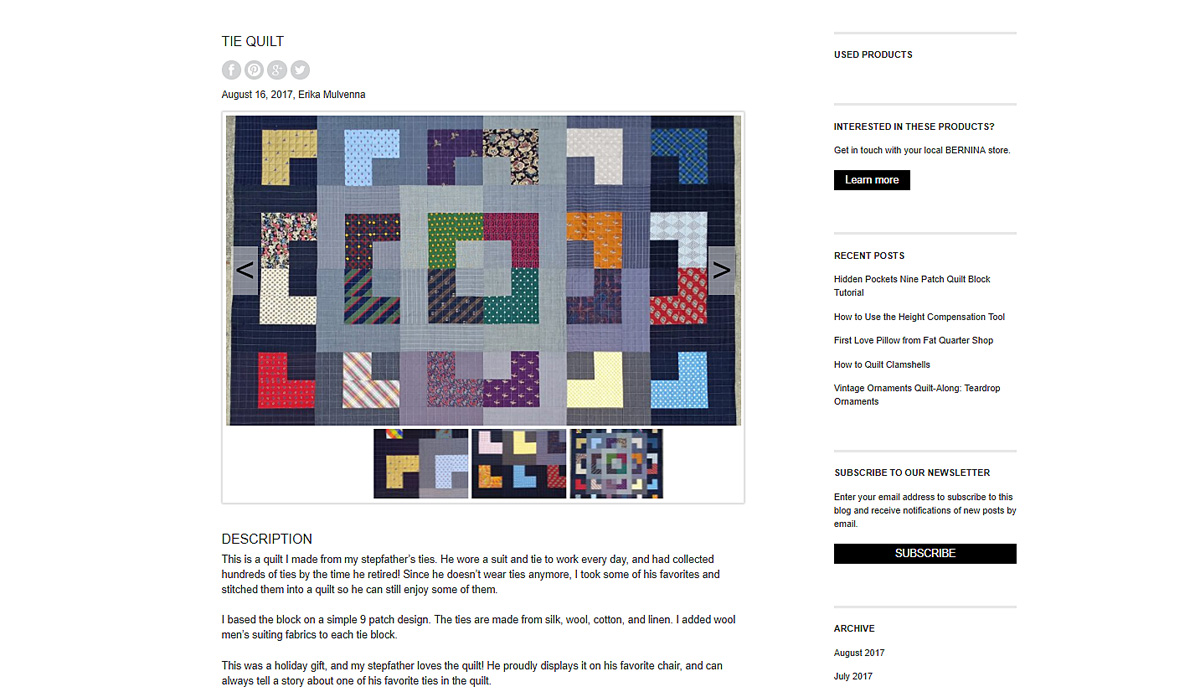 And click on the photo to see it displayed at the large size.
That's all there is to it! We hope you'll find these steps easy to follow and that you'll share what you're making with us in our Community galleries!
Difficulty level

Beginner

Time to Complete

Evening

Seasons

all seasons
What you might also like
36 comments on "Share Your Projects with the WeAllSew Community"