Share Your Love of Quilting for a Chance to Win!
As part of our BERNINA 125 Years Golden Anniversary we are celebrating your creativity all year long as per our 2018 motto "Celebrate Your Creativity!" We couldn't think of a better way to honor your creativity during National Quilt Day in March than inviting you to share your love of quilting with us and offer you a chance to win a fantastic quilting prize package!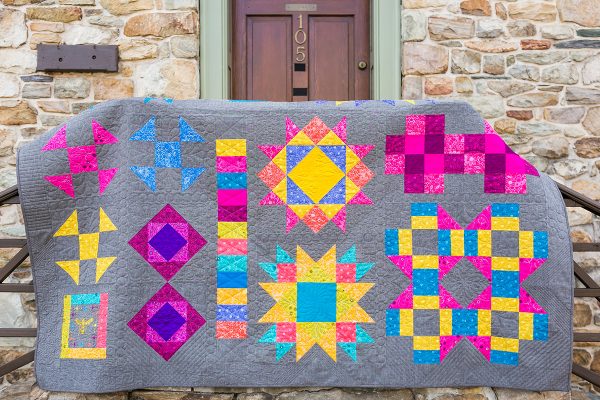 We welcome all of our WeAllSew readers to create a post for our Community Section that answers the question, "What quilt project your are very proud of finishing? What about the quilt has made you proud to have made it?"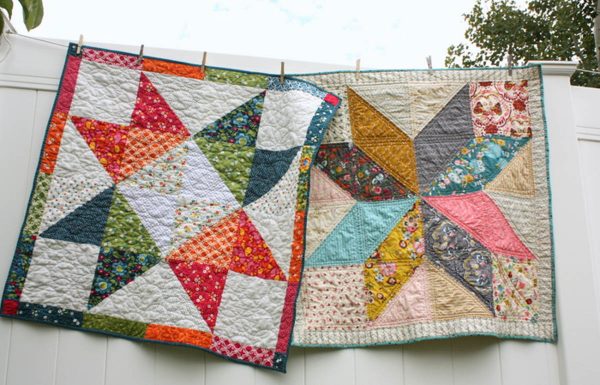 Maybe you created a quilt as a special gift, or made a quilt as a dedication to someone you love, or created a special wall hanging to decorate your home, or even completed a quilt you entered in a show. No matter the reason, we want to see how your love of quilting has made you proud.
If you haven't uploaded a story to our WeAllSew Community Section before, here's a few tips to get started!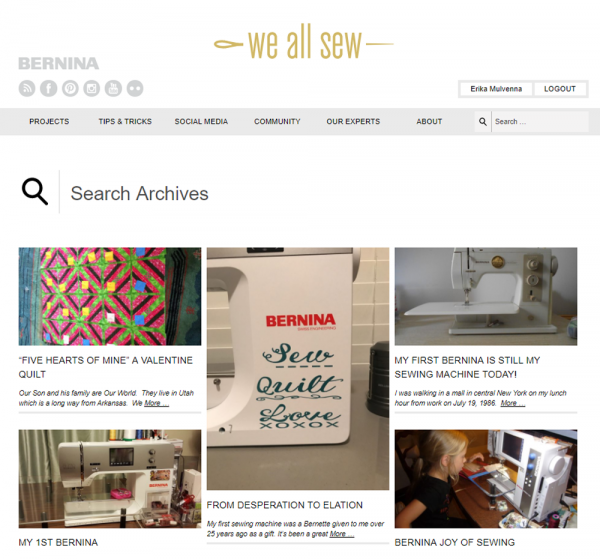 If you're already registered to our WeAllSew blog, you're ready to start sharing! If you're not registered yet, click on the SIGN UP button at the top right and fill out the form. Look for a follow-up email in your inbox to finalize your registration before logging in. You can find a full step-by-step tutorial that walks you through how to upload a story to our Community Section here on WeAllSew.
Choose photos to represent your quilt story carefully, you can upload anywhere from just one to twelve photographs to help illustrate your story. We've found that horizontal rectangular photos showcase your projects the best in the Community section. The first photo you upload will become the featured photo in the Community gallery. So make sure your first photo you upload showcases your project! In fact, you may want to write your story and line up your photos before you go ahead and upload your story just to make sure everything is just right.
By sharing your quilt story with us, you will be automatically entered for a chance to win this quilting prize package valued at over $150 including: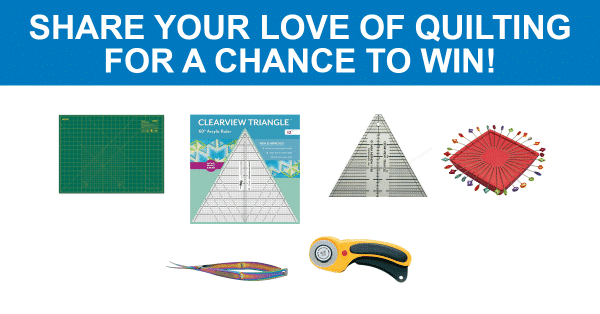 Show us your Love of Quilting! We can't wait to sew what your create!
Click here to read the official rules. ELIGIBILITY: Open to legal residents of the 50 United States and the District of Columbia who are 18 years of age or older. The following individuals are not eligible to enter or win a prize: employees, contractors, directors, and officers of BERNINA of America, Inc. ("Sponsor"), its parent, subsidiaries and affiliated companies, and the web design, advertising, fulfillment, legal, judging, administrative, and Sweepstakes agencies involved in the administration, development, fulfillment, and execution of this Sweepstakes (collectively, "Sweepstakes Parties"), and the immediate family members (spouse, parent, child, sibling, grandparent, and spouse or "step" of each) and those living in the same household of each such person (those persons whether related or not who live in the same residence for at least three months during the twelve-month period preceding the start date of the Sweepstakes). SWEEPSTAKES PERIOD: The Sweepstakes begins on March 13, 2018 at 8:30:00 a.m. Central Time ("CT") and has been extended to May 31, 2018, at 11:59:00 p.m. CT (the "Sweepstakes Period"). The Application server is the official clock for this Sweepstakes.
Seasons

all seasons
What you might also like
16 comments on "Share Your Love of Quilting for a Chance to Win!"