Falling in Love with the Creative Outlet of Quilting
When a few young women and mothers told me they were interested in learning how to quilt, I was excited to share my skills and love for the sewing and quilting world.  I set up a five-week beginning quilting class and transformed my family room and kitchen into a make-shift workroom.  I sent them the essential supply list and asked them to each bring a sewing machine they knew how to thread and make a bobbin.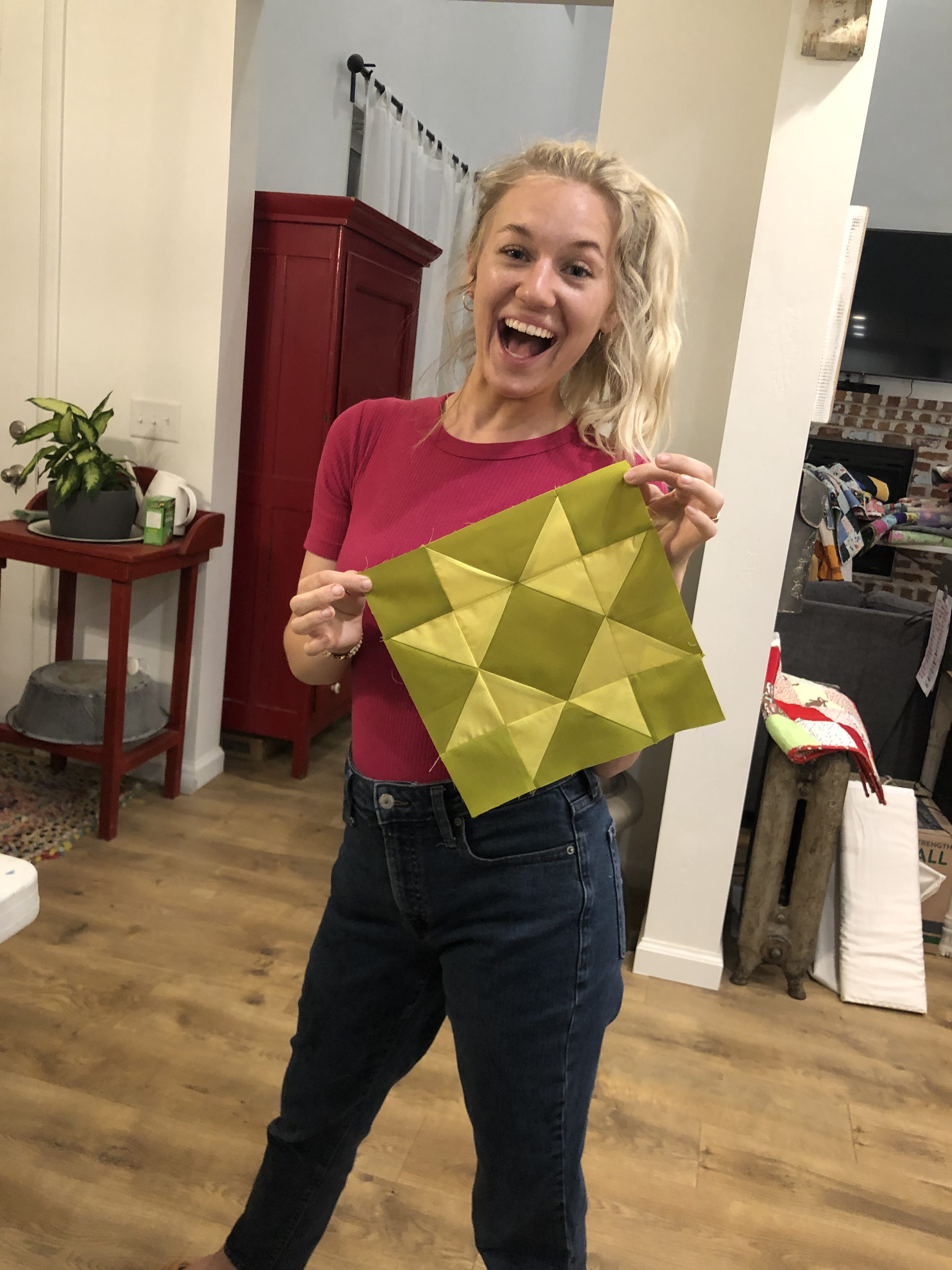 Most had only used their sewing machine a time or two, and no, they didn't remember how to make a bobbin or thread their machine! But these millennial makers needed only a little bit of assistance from me and were able to find copies of their long-lost machine manuals online, pull up a few youtube videos, and quickly figure out how to thread, clean, make bobbins and take care of their machines.  
"I have learned so much in a short amount of time.  I used to be scared of my sewing machine, but now I can solve any issues or problems," said Bri Warner. 
"My grandma bought me a sewing machine when I was 12 years old, and I have done little projects on it but never continued sewing once I finished that project," said Rilee Larson.
"My great grandma was an amazing quilter, and I love seeing all of the quilts she has made over the years, so I became interested in learning how to quilt."
We started with a simple nine-patch quilt, and they made a quilt-as-you-go and are working on a sawtooth star quilt. They learned how to use the basic tools and skills of the quilting trade like cutting with a rotary cutter and mat, using rulers, working on sewing a good one-quarter-inch seam, and yes, we had to get out the seam ripper a time or two and one Band-Aid.
I taught them the quilter's lingo and definitions for terms like batting, backing, basting, borders, binding, bias, big stitch, bobbin, and more, including fat quarter, the width of fabric, seam allowance, sashing allover quilting, applique, etc.
"The first time I went into a quilt shop, I overheard some ladies talking, and I was amazed I knew what they were talking about," said Peri Cook. "I am most surprised and excited about the culture of quilting. I feel like I overhear someone talking about quilting, and immediately my brain goes, "oh, you quilt?" Please tell me more, and maybe we should hang out?"   Peri's boyfriend now knows stopping at quilt shops when on the road is part of the deal and looking for quilts to buy at yard sales and thrift shops.
"There is much depth in the process of quilting and SO many possibilities; I am so glad I got introduced at such a young age," she said.
We discussed the different qualities and prices of fabrics, including understanding how fabric is made and printed on greige goods.  I then challenged them to go and explore a dedicated quilt shop and to report back on the experience they had.
"I couldn't believe the variety of fabric available," said Rilee.  I also loved how helpful the staff was with me while I was trying to figure out how much fabric I needed for each print. They were excited for me to be doing my first project on my own and were so happy to help."
"It blew my mind, seeing so many different examples of finished quilts and thinking about building my own quilt," said Mallory Fraughton. "I am now obsessed with stores that specialize in quilting supplies."
"I love being exposed to all the endless possibilities," said Tatum Whiting.  "There are an infinite amount of pattern, color, and print combinations! I was shocked at the number of fabric choices and rich colors."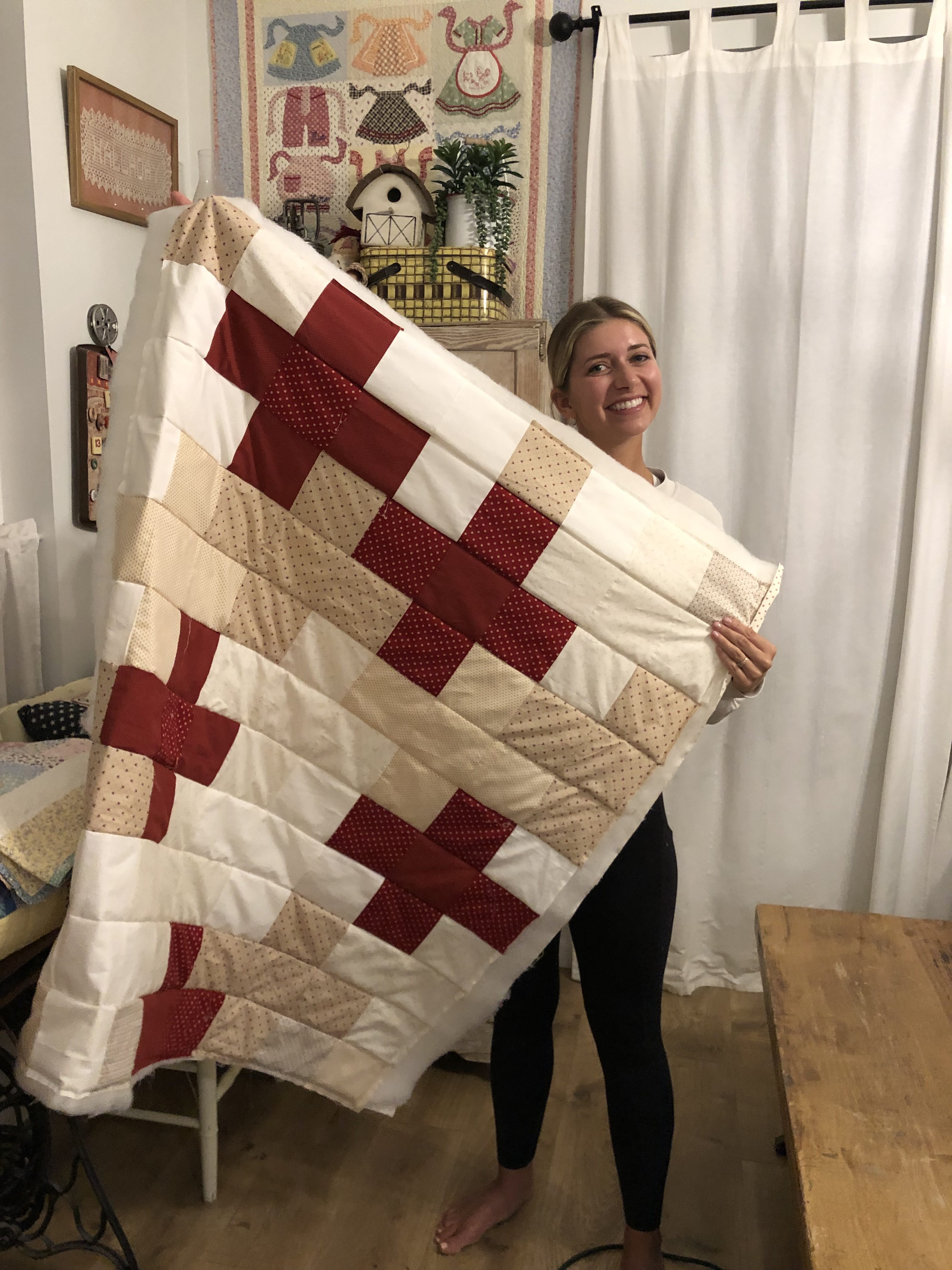 "I stayed for hours looking at all the patterns, fabrics, and finished products," said Bri.
As part of the class, we discussed the many different quilting styles, methods, and designs. I gave them each a pad of grid paper, so they could start doodling and designing their own blocks and quilts. For homework, I had them collect pictures of quilts they love and asked them to look for quilt patterns and designs in everyday things. At the beginning of each class, we have sharing time. I asked them to search online for quilts and to send their photos to the class during the week.  We then spend time discussing why they liked a certain quilt.  Was it the design? color? style, fabric choice, or quilting? Did it have a modern or vintage vibe, etc.? They also shared their favorite quilting websites, Pinterest boards, and social media accounts they have started following.
"I now see patterns everywhere! In bathroom times, on clothing or a sawtooth star on the side of a Ferris wheel," said Bri.  It is so fun to see a shape and to be able to visualize how you would piece the fabric together to make a quilt," said Bri.
"I notice the construction of the quilt, the fabric, and the sewing techniques, and I have a bigger appreciation for the elaborate pieces of work," said Mallory.
"I have discovered improvisational quilting and I think that style is something I am most excited about," said Peri.  "I am so excited to deepen my understanding and further my practice of the fundamentals so that I can start breaking some rules and color outside the lines a bit more."
All the girls have finished two quilts and have ventured onto other projects and do not need my helping hand as much.  I am thrilled to have been a part of the start of their quilting journey.  Their enthusiasm for the craft makes this "quilty teacher" proud.
P.S. One student complained a bit about lugging in the heavy sewing machine that she had inherited from her mother-in-law.  Once I saw her 1970's Bernina 830, I told her she owned a gem of a machine and that she should be excited to sew on it.  It was the same machine I learned to sew on and brought back many memories of the start of my own sewing/quilting journey.
How and when did you start sewing and/or quilting? 
We would love to hear your story! Share your stitching journey in the comments below or on the WeAllSew Community section (for an opportunity to get featured in an upcoming WeAllSew newsletter)!
Difficulty level

Beginner

Time to Complete

A week or more

Used Material

basic sewing supplies, batting, coordinating thread, cotton fabric, cutting mat, fabric, iron, quilting ruler, sewing machine

Seasons

all seasons

Techniques

patchwork, quilt binding, quilt piecing, quilting, sewing, sewing with quilting cotton
What you might also like