WeAllSew's Top Holiday Sewing Gifts
Our WeAllSew team – Alice, Erika and Jo – share what's at the top of their holiday sewing wish lists! What's on your holiday wish list this year? Share a comment with us including what you want for your sewing corner this holiday season and enter for a chance to win a BERNINA tote bag with some of our favorite BERNINA goodies inside, a $50 value*! Comments are open for the contest until Thursday November 29 at Midnight CST, and we'll announce the winner right here. Read on to find out what Alice, Erika and Jo have picked as their top "must-have-to-sew" gifts this year.
Alice is a beginning sewer and embroiderer. You may have seen her wedding favor project posted recently – it's lovely! Here's what tops her sewing wish list:
#1. After my embroidered wedding favor debut I'd love to step up my sewing journey and delve into the world of embroidery with the BERNINA B 580.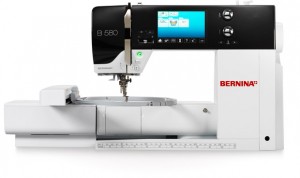 #2. The BERNINA Walking Foot #50 is a great tool, and it's not just for quilters. This is also a very practical tool for craft projects, like the neck pillow project I'd like to tackle which has lots of curves.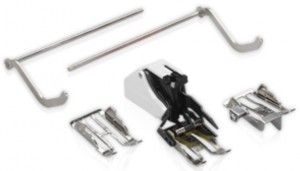 #3. I'd love a pair of Gingher embroidery scissors. These high quality scissors (and stylish, too!) make the job of trimming so much easier. I have got to get rid of my old dull scissors!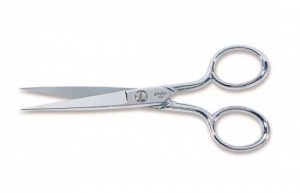 Erika is an expert sewer who has just discovered quilting. You may have seen her recent post on making t-shirt scarves with appliqué shapes. Let's see what's tops on Erika's list this year:
#1. Now that I've started quilting my top gift pick is the BERNINA 750 QE. All that extra space means an easier time getting larger quilts in the machine, and with that big, beautuful bobbin I'll be stitching forever before having to stop and refill.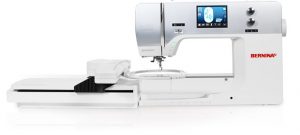 #2. I would love one yard of each and every print from the "It's A Strike" fabric line from Benartex fabrics. Don't ask me what I'm going to make with it, I just HAVE to have it!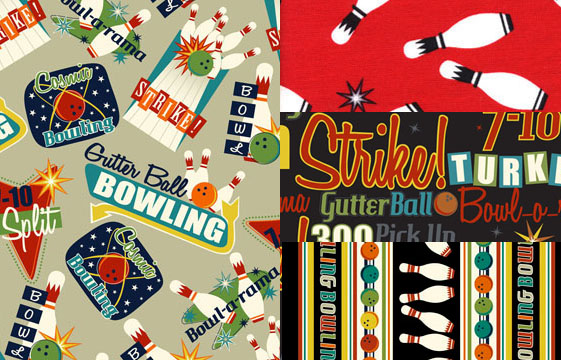 #3. I'd like to learn more about some quilting techniques, like how to hone my free-motion quilting skills. And I always jump at the chance to learn how to make a new project , I love sewing with others! A gift certificate to my local BERNINA Dealer store will do the trick, they have lots of classes, and I can find thier upcoming class listing right online.
Jo is our "Jill of all sewing trades!" She's sewn just about everything, and is always looking for what's new. Did you see her Spooky Spider Skirt for 18″ dolls? (You can see more of her doll clothes in Through the Needle ONLINE Issue #14 – they're on the cover!) Jo's been really good this year, so let's see what's on her list:
#1. I've had my eye on the TrueCut Cutting and Crafting table by The Grace Company. Even when the table is fully open, it's small enough to fit in my tiny sewing room! The two big shelves are great for holding bins and boxes of sewing supplies.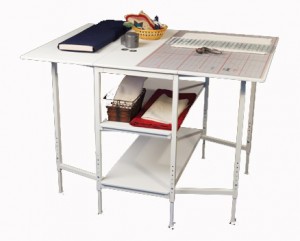 #2. I'd love a Tutto Serger Bag. Do you see all those straps and pockets? Plenty of space for thread and fabric, and the wheels and handle make it easy to tote to classes.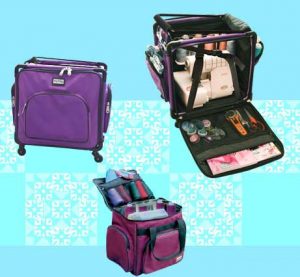 #3. I want some linen coordinates from Stof's La Couture Collection to reupholster my office chair and make some new accessories for my office and sewing rooms.
 *Winner selected by random from comments. Only one comment per person. Contest open to US residents only.
Thank you ALL who entered our contest by leaving a comment, and you all have some great gift suggestions. Congratulations to our contest winner, WeAllSew member "trekmom" who's comment was chosen at random!
Techniques

sewing
What you might also like
168 comments on "WeAllSew's Top Holiday Sewing Gifts"