3 Ways to Use Echo-Quilting and CutWork Foot #44C
What's your favorite free-motion quilting foot? We all have our preferences – small, large, metal, clear, open, closed – but my new favorite is Echo-Quilting and CutWork Foot #44C. Previously Freemotion Quilting Foot #29C was my go-to choice. Why the change? I like the concentric circle markings – they help me gauge how far apart my lines are, not just for echo-quilting, but for free-form stippling and fills as well.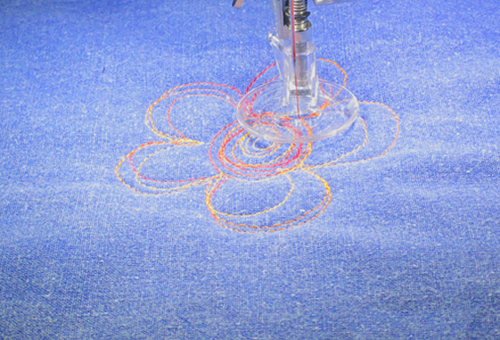 This foot was designed for use with the CutWork Tool and cutting shapes using your CutWork-compatible embroidery machine. The wide base helps prevent the edge from catching in the cut fabric, and the clear sole provides a view of what's happening underneath.
The free-motion quilting- and CutWork-friendly features described above also make Echo-Quilting and CutWork Foot #44C a perfect choice for free-motion raw edge applique.
Don't let the "C" bother you if you don't have a machine that uses coded feet. This foot works on all 3 Series, 5 Series, 7 Series, 8 Series, activa, virtuosa, aurora, and artista models. It just won't magically enable 5 mm models  to stitch 9 mm wide 😉
Here's a short video from BERNINA International showing this versatile foot in action:
http://youtu.be/GXZNK65-H0o 
Techniques

embroidery
What you might also like
One comment on "3 Ways to Use Echo-Quilting and CutWork Foot #44C"