Embroider a Valentine's Table Topper
You're gonna love this easy machine embroidery project! I know it in my heart.
All cheesy puns aside, this Valentine's Day table topper was created for those of you who are feeling a little faint of heart (last pun I swear) when it comes to machine embroidery.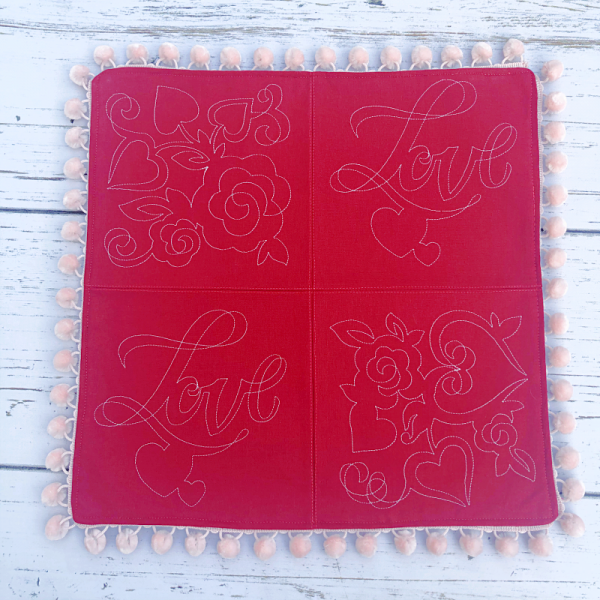 Hi! I'm Kate of Tough Kitten Crafts and I empower sewists to become fearless with machine embroidery through online education, a supportive community, and easy machine embroidery projects just like this one.
This project is perfect for beginners who are wanting to hop on the machine embroidery train but are intimidated to get started! And don't worry, even embroidery experts will enjoy creating this cute and quick table topper; I know I'm ready to make one for every holiday.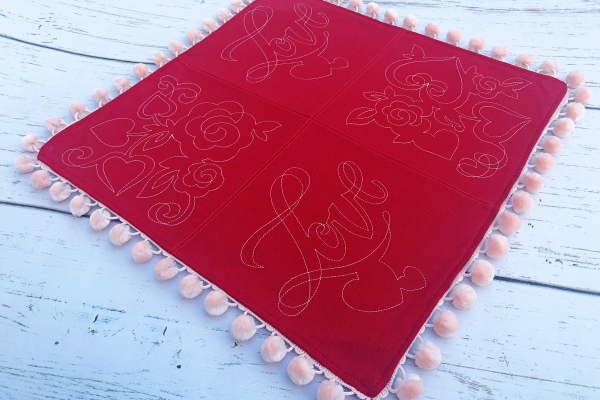 Plus! This tutorial is easily tweaked to customize the size or shape or to create a runner, wall-hanging or even quilt! But I'll stop getting ahead of myself and we can dive on in…
Note about working with linen:
Linen has a loose weave that can be a little tough to work with but I think it's so worth it for it's awesome texture and look. If it's your first time working with linen you may want to fuse strips of the fusible woven before cutting into squares. I like to use a lot of starch on my linen, I make sure it's smooth and flat on the cutting board and I don't move it much while cutting. Feel free to substitute quilting cotton for linen if you prefer.
Materials to Embroider a Valentine's Day Table Topper:
2 FQ (or 1 half-yard) of red linen
75yds of pink pom pom trim
Red Isacord (I like mine just a little different shade than the fabric)
Pink Isacord (to match the trim)
1 bobbin wound with OESD Expert Embroidery Bobbin Thread White
1 bobbin wound with Red Isacord
OESD White Fusible Woven
OESD StabilStick CutAway
75/11 Embroidery Needle
90/14 Topstitch Needle
Love Quilting Collection from OESD ( I use the "Medium" size designs)
BERNINA Midi Hoop
#97D Patchwork Foot
#4D Zipper Foot
#10D Edgestitch Foot
#26 Drop Shape Embroidery Foot
Embroidery Snips
Rotary Cutter
Cutting Mat
Quilting Rulers
Wonderclips
Iron
Instructions to Embroider a Valentine's Day Table Topper:
Prep your fabric (I like lots of starch and a great pressing) then cut your red fabric into four 8" squares and one 15" square. Cut your Fusible woven into four 7.5" squares.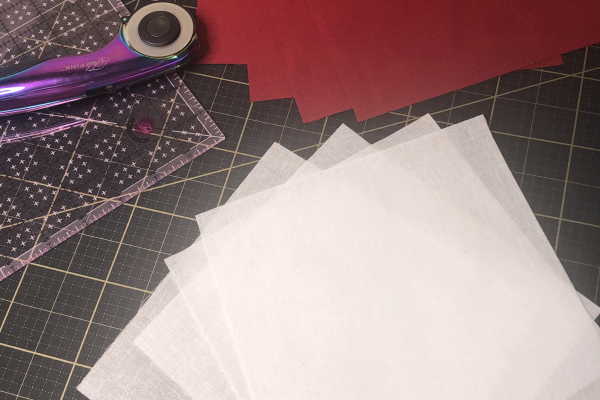 Fuse the fusible woven to the wrong side of your fabric, in the center of the square. Feel free to eyeball the center, it doesn't have to be exact, just close. You should have about ¼" on each side that doesn't have fusible.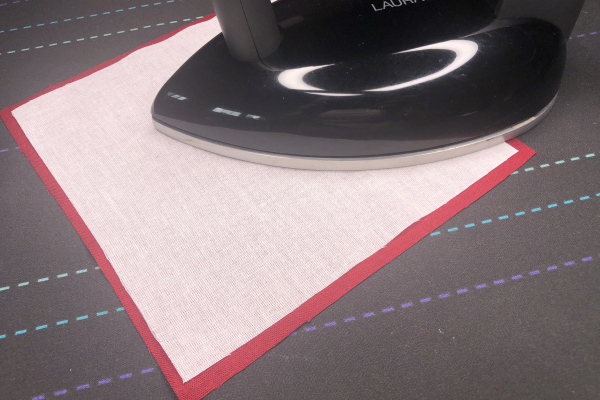 Cut a piece of StabilStick the size of your hoop. You'll want at least one inch of stabilizer around the outside of the hoop. Hoop your stabilizer, shiny side up. StabilStick is very bulky so take your time. The ratchet closure on the midi hoop really makes this easier than standard hoops.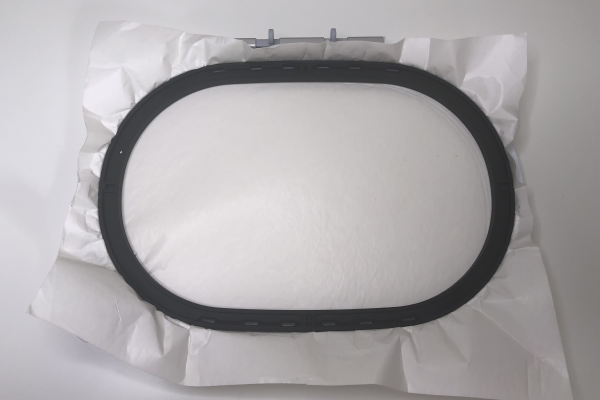 Using a sharp tool like scissors or a pin, score through the paper. Make sure your hoop and stabilizer are flat on the table and that you are gentle as you score the paper so you don't poke through the stabilizer. It's okay if you do, just cut a new piece, hoop it and try again.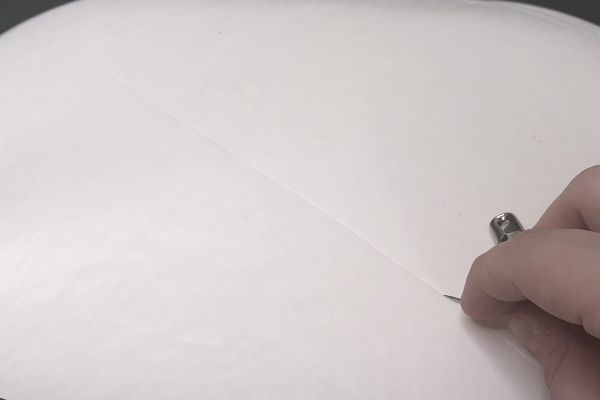 Peel back the paper to reveal the sticky adhesive.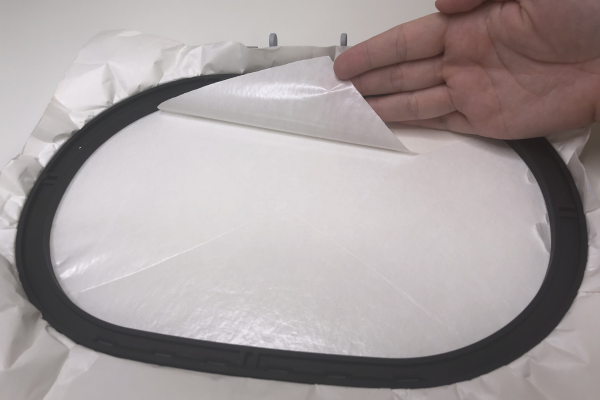 Mark the center of your fabric square. I like to do this by folding my fabric in half, right sides together, and pressing a crease into the fabric, then turning the square and doing it the other way to create a cross. It's important that you fold the square with right sides together both times, so you create little dips in the fabric, not peaks. This gives you the center of the fabrics and you don't have to worry about getting markings out later.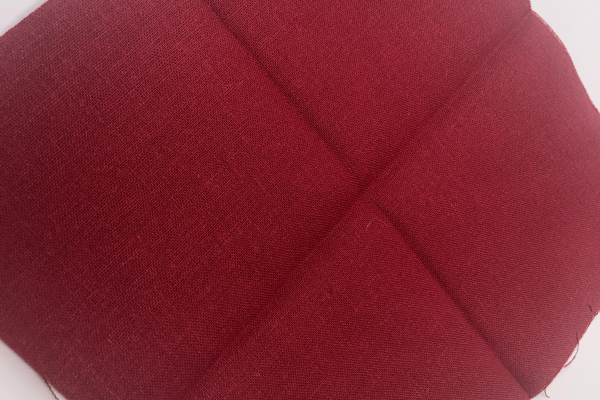 Place fabric in the center of the hoop, using the notches at the top and sides and a general reference. Don't worry too much about it being perfect! We will center it perfectly with the machine.  Be sure to smooth your fabric and make sure the whole square is well stuck.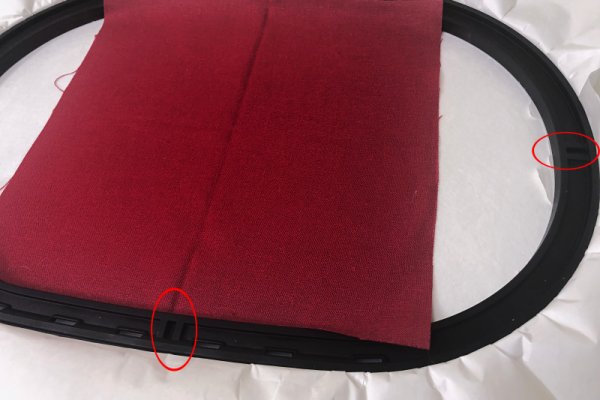 Bring up medium-sized "Love" design. Using Pinpoint placement, center your design in the middle of your fabric square. Hit "set" when you like the placement of the design. We are ready to stitch! Yay!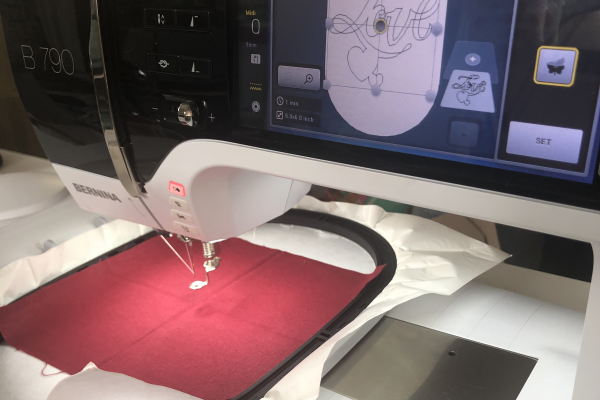 This is always where I pause and double-check that I have everything set up correctly: #26 foot on (and the machine knows it!), 0mm stitch plate, machine threaded properly with the correct thread, new needle, etc.  Anytime I skip this step I end up regretting it later, so take your time and double-check yourself!
Select the basting stitch and stitch it out around the design.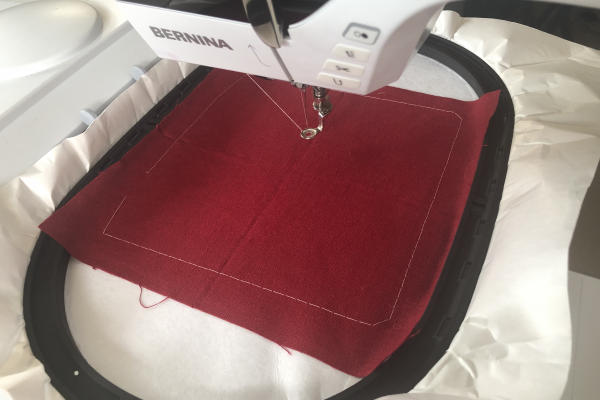 Stitch out your design.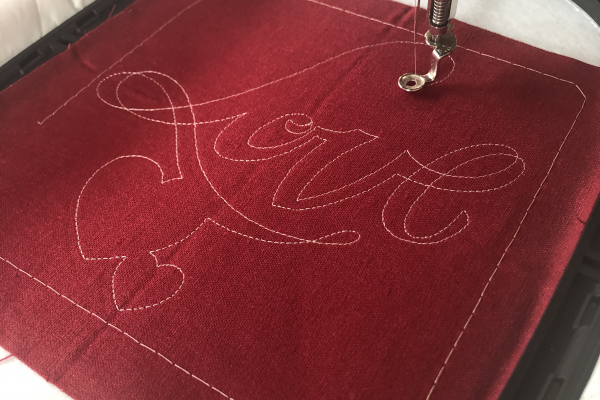 When your design is finished, remove the hoop from the machine and turn it over. Clip your basting stitches from the back, then remove the stitches from the top easily.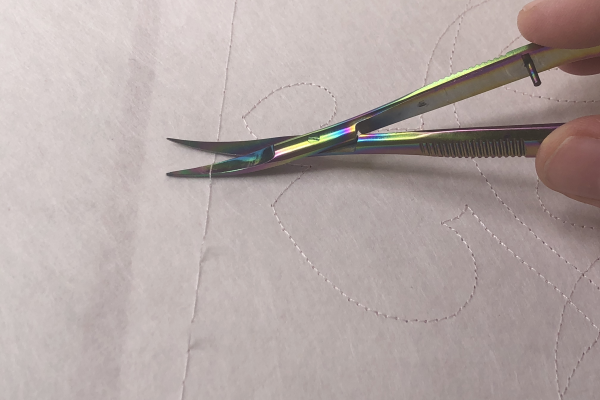 Unhoop your Stabilizer. Cut the StabilStick one quarter to one-half inch away from the edge of the fabric.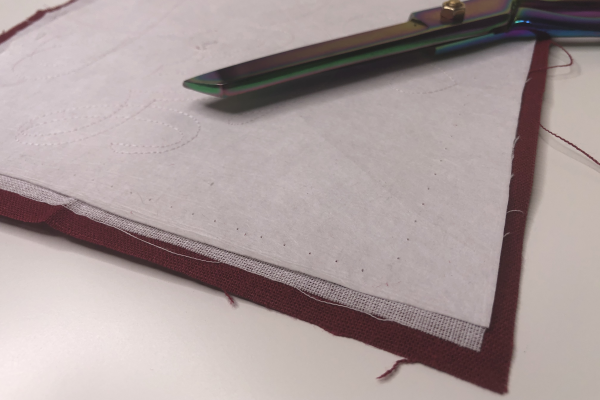 Note about the stabilizer:
We are using two layers of cutaway, which is overkill for this design but it will make your table toppers, placemats, and wall hangings look absolutely perfect.  If you want to take this same technique and make something softer and meant to be cuddled, like a pillow or quilt, you can use StabilStick Tear away and remove it all from the back at the end, leaving only the fusible woven.
If you're looking for more stabilizer information, check out my latest blog post called Stabilizer 101.
Make 4 blocks total. I did two "Love" blocks and then two different designs for the rest but have fun and choose whatever designs speak to you! Be sure that for this project whatever you choose is the "medium" size.
Once your blocks are all embroidered and trimmed down, decide on the arrangement you like.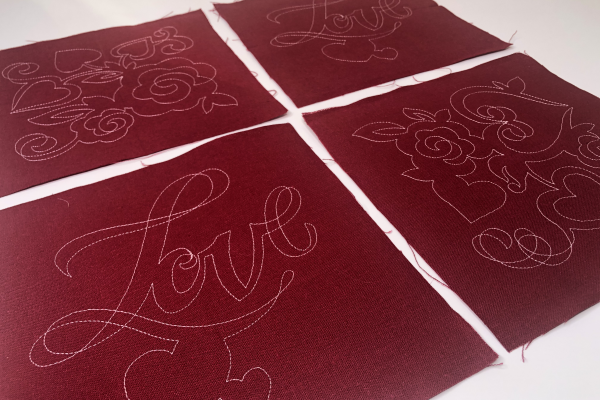 Let's prep your machine to sew! Go to the "home" button and choose "sewing". Rethread your machine with the red Isacord in the needle and the red Isacord bobbin. Put foot #97D on the machine and tell your machine. Change to your topstitch needle; I forgot this step and pieced just find with my 75/11 but my machine reminded me I had the wrong needle in when I got to the trim and it broke. Let's avoid the scary crunch and change our needle now.
Piece together your blocks using a ¼ seam allowance.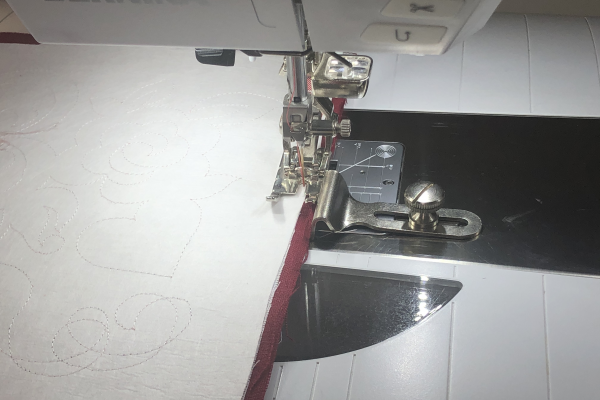 After piecing, change to the #10D foot and set your needle to the -2 position. Place the blade of the foot into the seam of the piecing and topstitch on either side of each seam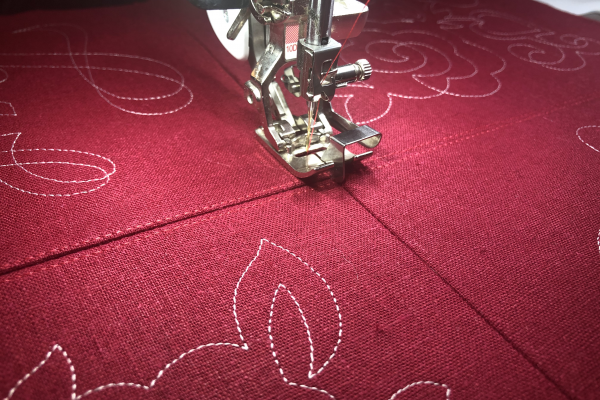 Place your trim along the edge of your topper, right side up. I like to use Wonder Clips for this as the trim is very thick. I am someone who often skips pinning/clipping but don't do it with this! The trim will get away from you quickly so use lots of Wonder Clips for best results, I actually went back after this pic and added more.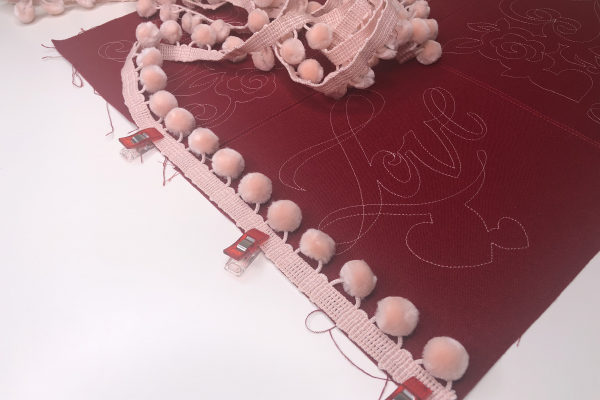 Put the #4D foot on your machine and move your needle to the -2 position. Change your stitch length to 4.5mm and align the right side of your foot with the edge of the trim and fabric.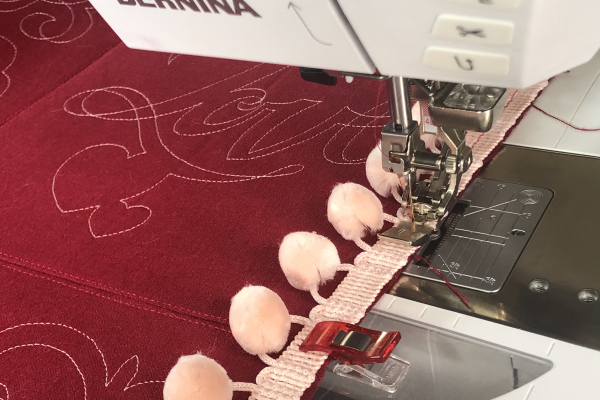 Baste around all four sides of your topper.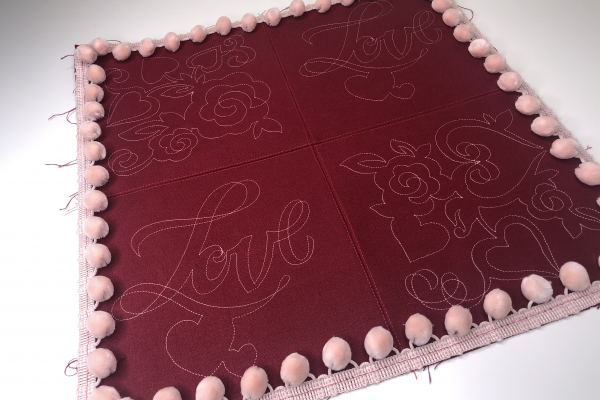 Take the 15" square of linen and Wonder Clips to hold it on the top of your topper and trim.
This is tricky! I know! The pom-poms will make it tough to clip them together but do your best to line up the edges without distorting your fabric too much.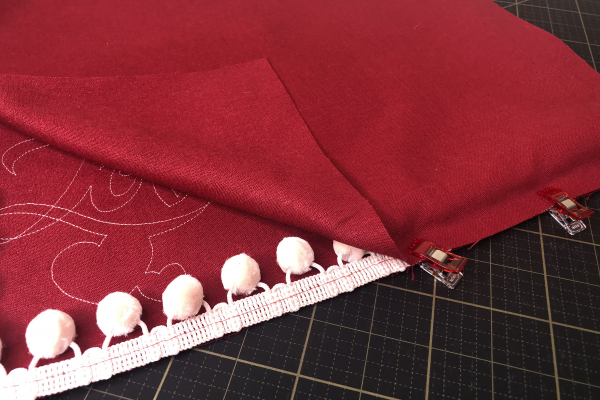 Change your needle position to -4 and align the right side of your foot on the edge of the fabric as we did when basting the trim.
Sew around all 4 sides, leaving a 4" opening for turning. Sew slow and take your time to move pom poms out of the way as you go. If you sew over one, as I did, cut your thread and pull back some stitching to release the poms. It's best to get this right the first time.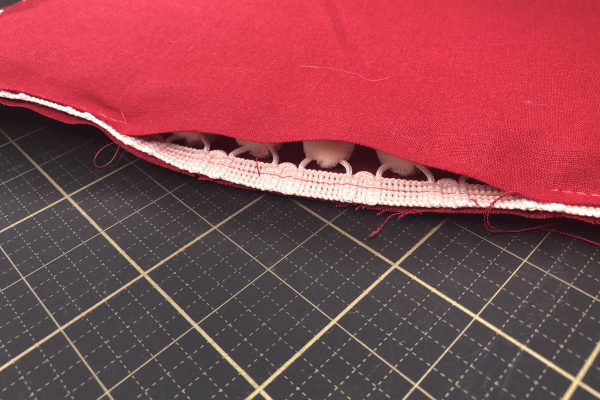 The end result will bend upwards and that's okay, it will all go away when we flip and press.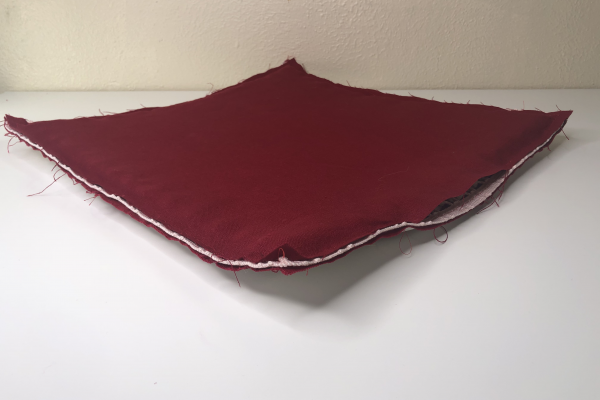 Gently turn your topper right side out, be sure to check that all poms move freely, and make any corrections now.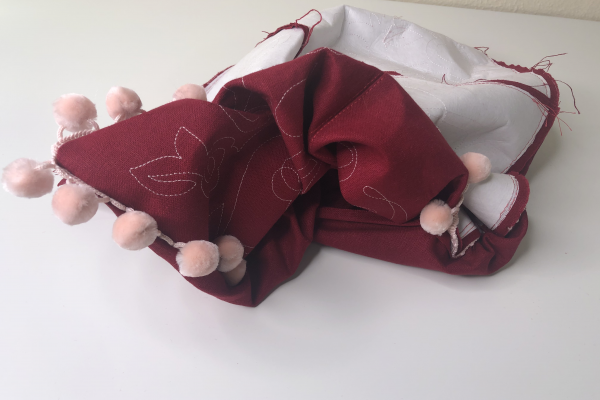 Press your topper flat. Moments like this are where my Laurastar really shines because it makes quick work of getting through these layers to make a perfectly flat, beautifully pressed item.
You may need to be careful of your iron touching the trim, depending on the material.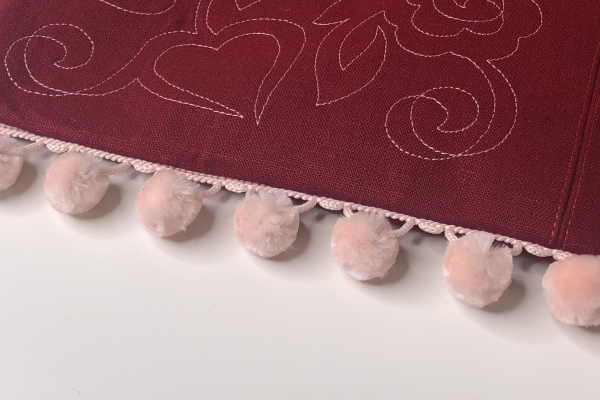 We will now change back to the #10D foot and the -2 needle position. Place the blade on the edge of the fabric and topstitch around the whole topper. I made it work that this topstitching closed the hole for turning but you can close that up however you prefer.
Stich slow and move the poms out of your way as you go. You'll notice some way topstitching in some of the pictures and it's when my brain went on autopilot and started stitching too fast. Each little bump is a pom I was running over at the time.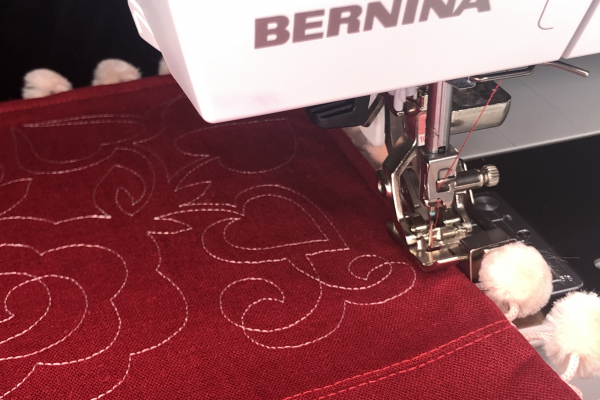 Another press for good measure and that's it! Your cute little topper is all done!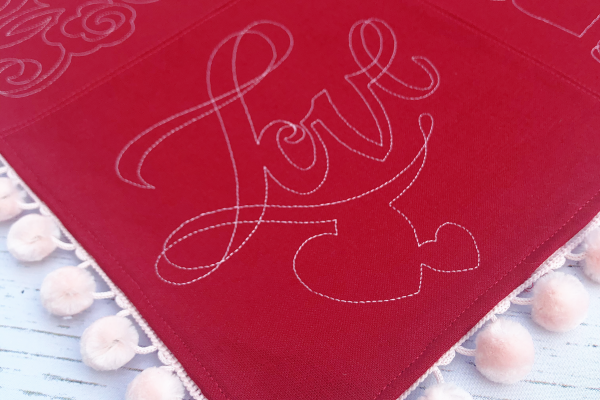 I kinda feel like I need one for every holiday now because it's so cute, understated, and FAST to complete. It's a great excuse to buy all the OESD quilting designs too. Don't forget to share this with friends looking for easy machine embroidery projects!
What other holidays will you make toppers for? What kind of trim and designs will you use for your topper?
Tag me (@ToughKittenCrafts) and BERNINA (@BERNINAUSA) on Instagram if you make this!
I can't wait to see what you create!
Looking for more machine embroidery inspo? Check out my Embroidery with Word Art tutorial and How to Digitize and Personalize Coasters posts!
Xoxo Kate
What you might also like
6 comments on "Embroider a Valentine's Table Topper"