Finding a Needle…In or Out of a Haystack
You sit down at your sewing machine, ready to start a new project. Fabric? Check. Thread? Check. Correct presser foot? Check. New needle? Umm… I know they're here somewhere… Here they are! No, those are Jeans needles, and I need Ballpoint. Maybe I can just use this one… Eek! Nope – it's definitely too big for this t-shirt knit. Argh! Where did I put them!! And suddenly your relaxing afternoon of sewing turns into a frustrating search for a tiny package of needles.
That doesn't happen to me (much) any more. I keep all my needles in a big plastic box. I've even labeled the sections!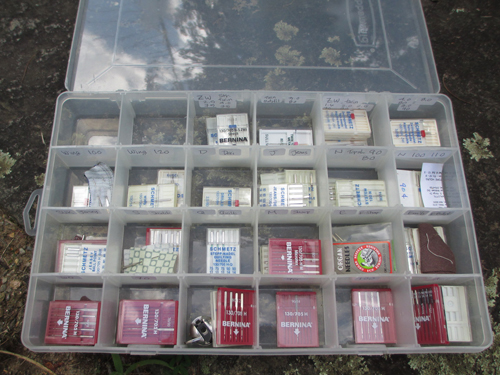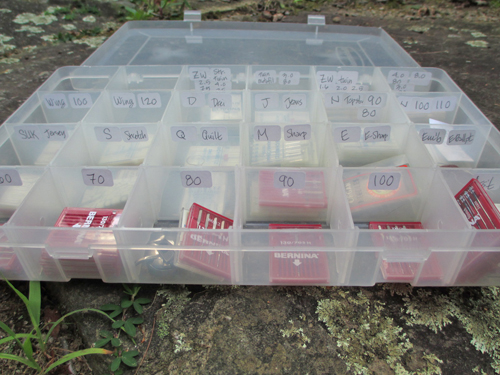 I keep it on a shelf with my thread cases, but if I wanted, I could hang it on the wall using the tab at the top.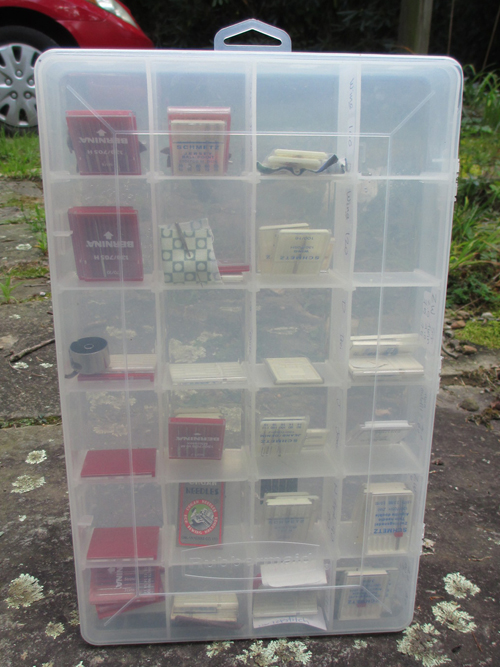 When I have a needle that's "used," but not enough to discard, I pin it to a little piece of the project fabric and put it in with the new needles. That way I don't forget what type it is, and have it handy for the next time I need that sort of needle.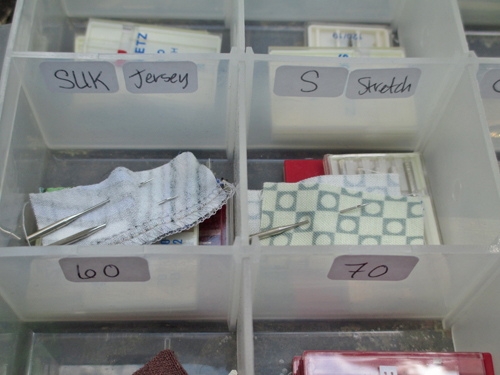 Jeans, Ballpoint, Twin,… so many kinds of needles! And what does "Microtex" mean, anyway? To learn more about different types of needles and their uses, check out these useful links:
Using the Right Needle – from Superior Threads
Sewing & Craft Alliance Needle Chart
Schmetz Household Needle Chart
Bachmann Needle Chart – Your Needle Compass
Did you know that many stitch problems can be cured just by using the right needle? Who knew such a tiny thing could create such big trouble? Here's a great table of common symptoms and solutions.
Sewing Needle Trouble-Shooting Guide
How do YOU store your new and used needles?
Techniques

sewing
What you might also like
6 comments on "Finding a Needle…In or Out of a Haystack"