Haute Couture Master Teacher Susan Khalje Spills The Secrets of the "Classic French Jacket"
It's a simple design, based on a bellhop's uniform. But when Coco Chanel launched her version of this spare jacket in the 50s, jazzed up with handmade trim and jewelry-like buttons, a classic was born. Soft and sophisticated, ladylike and yet powerful, the "Classic French Jacket," or cardigan jacket, has been a coveted item in the wardrobes of upscale women for more than 60 years.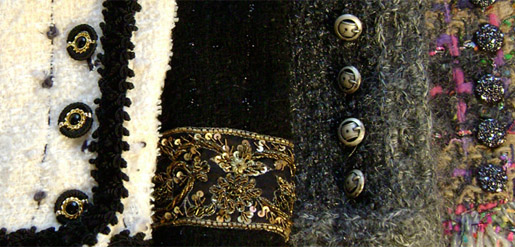 If you walked into a Chanel boutique nowadays with money to burn, you could come home with an "off-the-rack" version for a "mere" $5,000. But if you want the made-to-measure haute couture version, with the silk lining famously quilted directly to the exterior tweed fashion fabric (which costs more than $200 a yard), finished with hand-braided trim and a hand-sewn chain weight along the bottom, rumor has it the cost is $50,000+.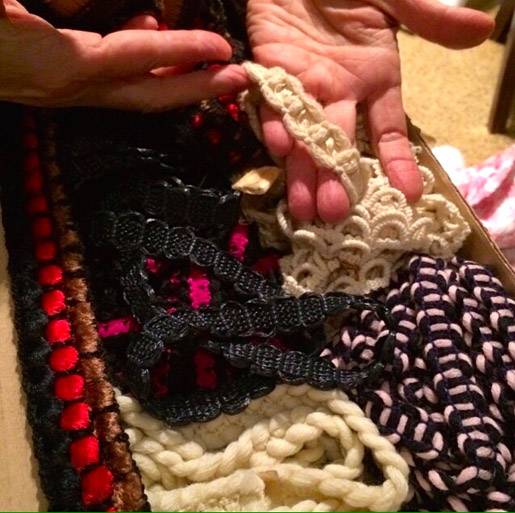 It's no wonder that making a French jacket has become the Holy Grail for sewing enthusiasts interested in haute couture. For more than 15 years, sewing master teacher Susan Khalje has led week-long workshops sharing the secrets of creating this piece of couture history.
People from all over the world have travelled to Susan's atelier eager to learn how to craft their own.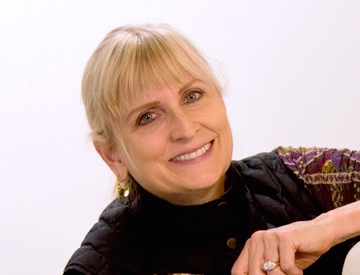 But for those of us who can't haul our BERNINA to Baltimore to study with Susan in person, she's just wrapped up a new video series, taking students step-by-step through the process of creating a French jacket, which, even with Susan's expert guidance, can take more than seventy hours to complete.
Seventy hours! How on earth could it take so long!
Susan's method, refined over the years of working with couture clients, starts with a paper pattern, which she then uses to make a muslin test version of the jacket, a step that's critical for refining the fit. After that, the "muslin" is taken apart and prepped to become the final pattern. Only then can you do the single-layer layout and cutting of the fabric and lining, followed by hand-basting the stitching lines.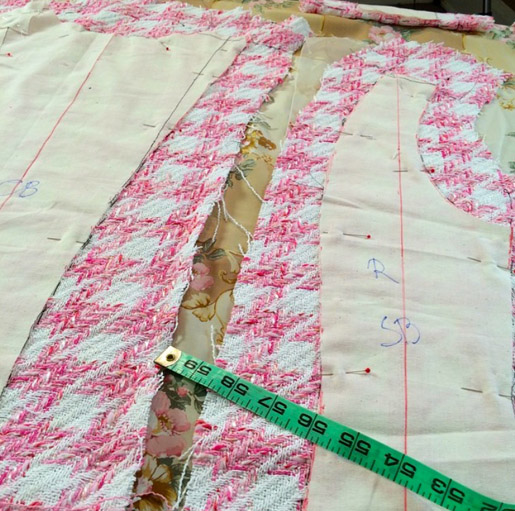 Tired yet? The next step is to quilt the lining to the fashion fabric for each piece, and Susan uses her trusty BERNINA machine and walking foot for this delicate task.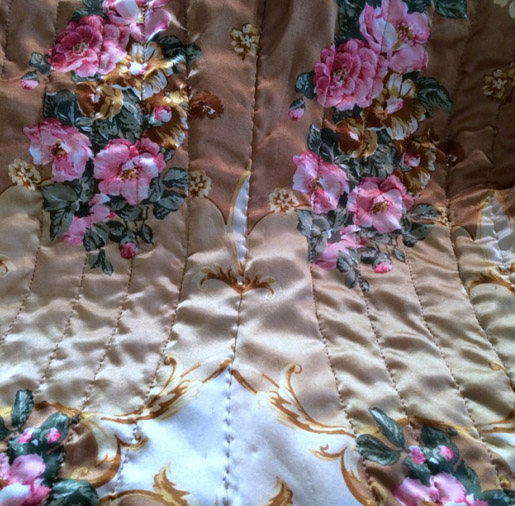 Then the jacket body is constructed, with the seam allowances hand-finished and covered by the lining. This is all made much trickier if you're constructing the jacket with a plaid to match, something Susan demonstrates in the video series.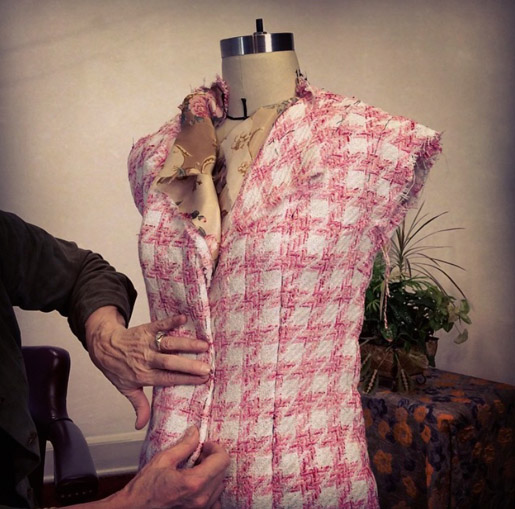 Then…you set the sleeves (by hand!) and add the trim, buttons, pockets and chain. Though a good part of the jacket is assembled using Bernina power, there's so much hand-sewing that when I made my last jacket, I had tendonitis in my thumb for weeks!
Susan notes that it's "not a difficult project, apart from fitting the muslin and hanging the sleeves, but it is time consuming—each step just takes awhile."
"Then again," she says, "it is an haute couture version of the jacket, so that's to be expected!"
I asked Susan what has made the design so unique and enduring through 60+ years of fashion upheaval. After all, as she said, "It's a princess jacket, and without the buttons and trims—the bells and whistles—it's pretty much 'Plain Jane' until you 'zip' it up."
For Susan's video course, she has created her own pattern taken from, well, let's call it a "top secret" authentic source and leave it at that. Susan worked directly with her patternmaker on the pattern, and then it was refined by Parisian master draper Julien Cristofoli.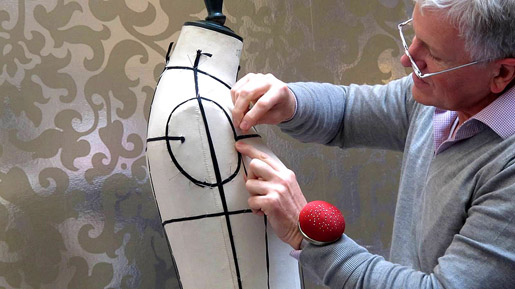 Susan's pattern has princess seams going to the shoulders, and, of course, the famous "three-part sleeve," with an additional seam that runs from the top of the sleeve cap down the length of the arm to a vent on top of the wrist.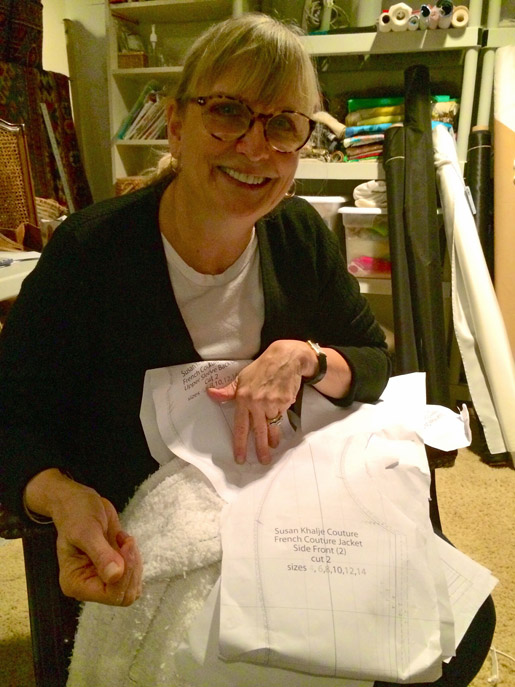 That third seam is the real secret to a sleeve that has a tight armscye, yet allows you to lift your arm without the shoulder of the jacket hiking up. And, of course, a vent on top of the wrist shows off that hand-crafted trim and those expensive buttons.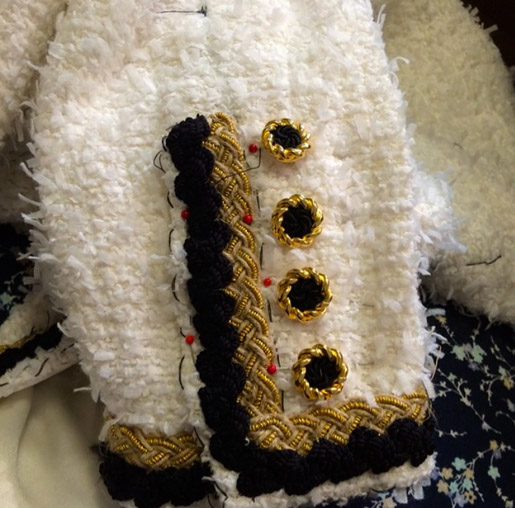 As Susan says, "normally with a two-piece sleeve, the seam would have an opening with the vent coming under the arm. But the charm of these jackets is their trims and buttons, so by having them here at the top of your hand, you see them better."
"But to me," she says, "the real beauty of the three-part sleeve is that it's a fantastic opportunity for fit."
"You need room in the bicep, you just do, and there are people who have bigger biceps. So what are you going to do with all of that extra room in the sleeve cap? But if you have a seam, you can take in fabric there easily. It's such a clever way to get rid of extra fabric. I don't know why it's not done more in garment sewing."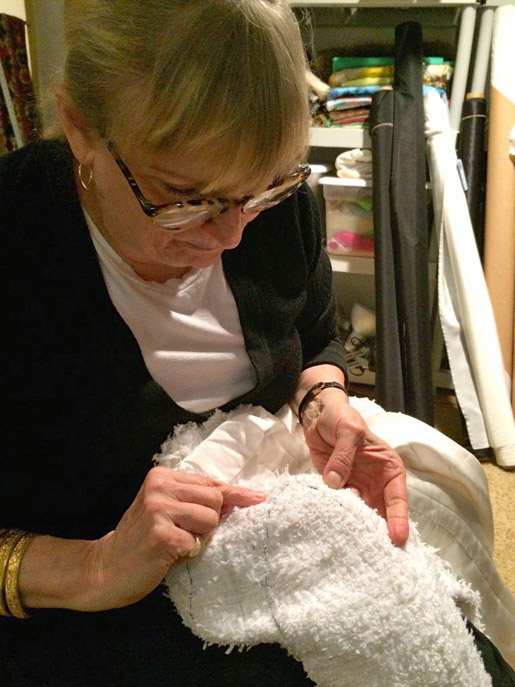 The three-part sleeve also has "this skinny little weird undersleeve, which is almost counterintuitive, because it goes a different way than you think," she says. "I fit a lot of sleeves, and very often you get these weird pulls, and somehow with this sleeve, that just doesn't happen. It's the most beautiful sleeve."
As to the genesis of ideas like this, Susan says, "I always think it's logic. It makes sense to have a seam there! Where are you going to put it? You might as well drop it from the shoulder, because aesthetically it looks better."
But why would someone want to take on such an arduous, time-consuming task, just to make a jacket? Well, as someone who has sewn several of these quilted marathons, I can report that, when you finally finish, they look and feel ultra-luxurious to wear and yet they travel in your bag as effortlessly and wrinkle-free as a cashmere sweater.
And with each step you sew, you discover that everything about this classic design is beautifully balanced and makes perfect sense. About halfway through, you may curse the day you embarked on this foolish endeavor, but when your one-of-a-kind jacket is done, Oo La La!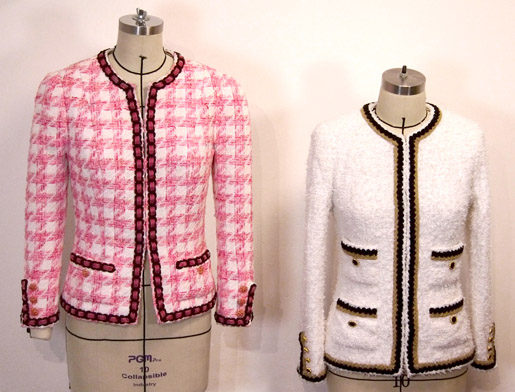 The "Classic French Jacket" course is available at SusanKhalje.com, starting in spring 2015.
Difficulty level

Intermediate

Time to Complete

A week or more

Projects

fashion

Techniques

sewing
What you might also like
3 comments on "Haute Couture Master Teacher Susan Khalje Spills The Secrets of the "Classic French Jacket""