The Secrets of Sewing Perfect Collars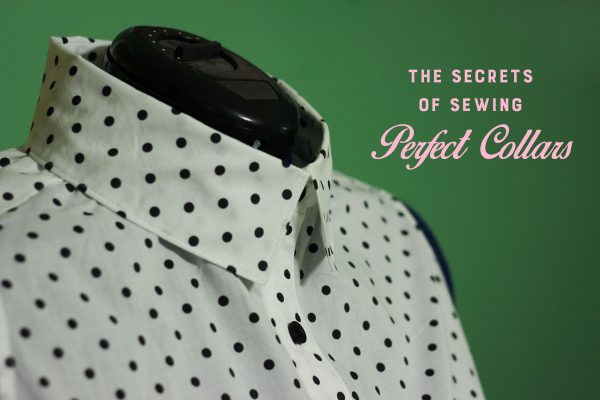 Good morning, lovelies! Today, we're chatting about one of my favorite design features: the collar. Whether you're making cozy flannel pajamas or tumbling headfirst into the world of tailored shirtdresses, knowing how to create a beautiful collar is a must-have skill. Nothing ruins a garment–or your day–quicker than a stubby shirt point and wonky topstitching. Such horrors keep dressmakers up at night, clutching our trusty point turners.
Luckily, there are some quick techniques that will guarantee a perfect collar every time. No matter what method of construction you prefer, or what fabric you're working with, you can up your collar game with these simple tips.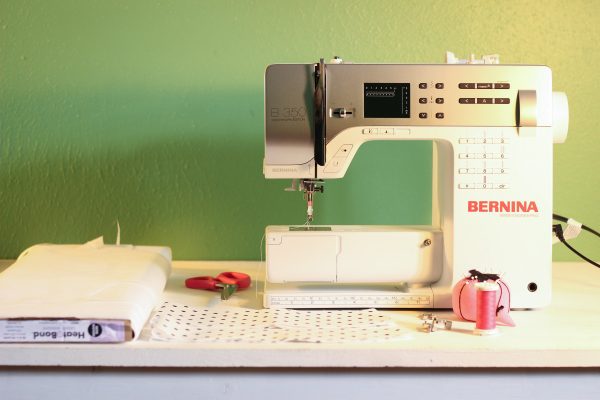 Before we begin, you'll need some basic tools for collar construction. In addition to my beloved BERNINA 350 PE, I'm also using:
Interfacing (more on that below)
Dressmaking shears
Pins
Thread—one color for your fabric and a bright, easily visible color for turning your points.
Four pattern pieces: two collars and two collar stands.
BERNINA Edgestitching foot #10 (snap on BERNINA soles also work)
Iron
Tailor's Ham
Note: For the purposes of this tutorial, I'm using a layering approach to collar making, which is my go-to method. For more information on this order of operations, check out Andrea's lovely tutorial. As mentioned, however, the tips below work with all methods of collar construction!
Secret #1: The right interfacing is crucial.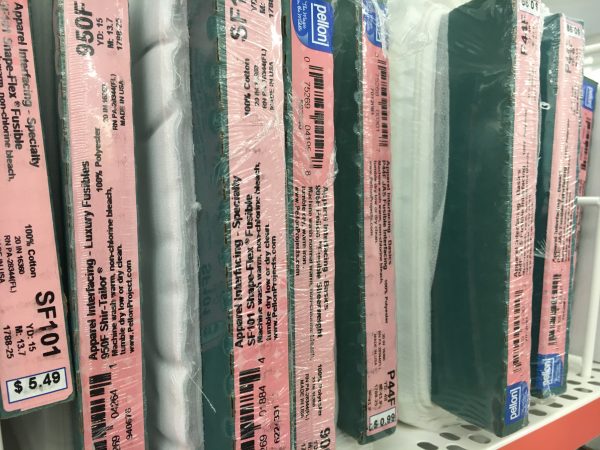 When it comes to collars, the most important decision you make happens before you sew. Your choice of interfacing can make or break the success of a garment. Don't worry, though, it's easy to choose the right stuff! Most dressmakers like to use heavier interfacing on collars than we would on facings or button bands. This ensures that a collar will stand away from the neck and won't droop during wear.
If you're working with a cotton or linen fabric, fusible interfacing works quite well and is usually recommended by commercial patterns. Make sure your interfacing is as sturdy or slightly sturdier than the fabric you're sewing. For light cottons, such as voile or lawn, lightweight interfacing works, but choose something heavier for use with quilting cotton, linen, or twill. When using a heavier interfacing, cut away the seam allowances before fusing, to reduce bulk in your seams.
With silk, wool, or other finicky fabrics, sew-in interfacing is your best option. Once again, match the weight of your fabric to the sturdiness of your interfacing. Silk organza is an ideal interfacing for delicate fabrics, like silk or rayon, whereas hair canvas works beautifully as a support for wool collars. After sewing with these types of interfacing, always grade your seams, reducing bulk and letting the fabrics turn naturally.
Secret #2: For a beautiful neckline, trim your under collar.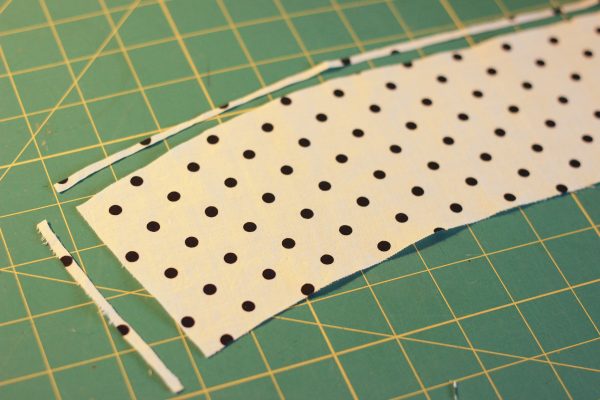 One of the most frustrating parts of collar construction is shaping your collar. As a rule, flat fabrics hate going around curves. The pesky things fight to stay flat. There is something we can do to combat this tendency, as we sew. Namely, trim your under collar!
Before you sew the collar pieces together, trim off 1/8th inch from the sides and outside edge of the under collar. As you pin the collar and under collar together, gently stretch the under collar to fit. This will do two things: allow the collar seam to naturally turn toward the underside and give the finished collar a slight curve. Once you've trimmed the seams and turned the collar, you'll notice that the whole thing already has a subtle 3D shape, wanting to curve toward the under collar. That's exactly what we're going for! The fabric is doing some of the shaping work for us, as you can see below. It's much easier to press a collar that already curves in the proper direction.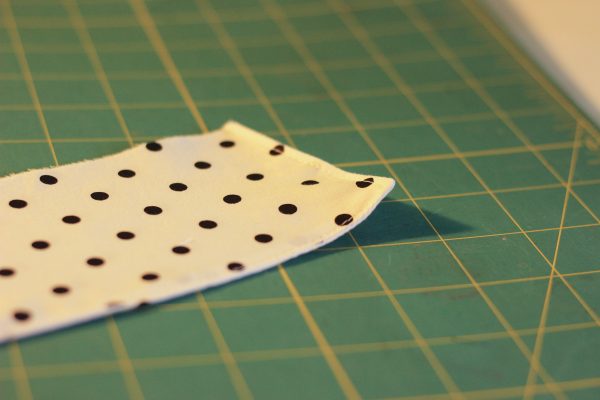 Secret #3: Turn your collar points with a thread loop. 
This next secret is one of my favorites, something rarely found in pattern directions, but invaluable for a cleanly finished collar. While I love point turners as much as the next girl, they don't always perform well on the ends of collars. Certain fabrics or angles play havoc with their accuracy, leaving one in danger of dull points. There's a tailoring trick that gives more reliable results, with nothing more than a bit of thread. Let's go through the steps, shall we?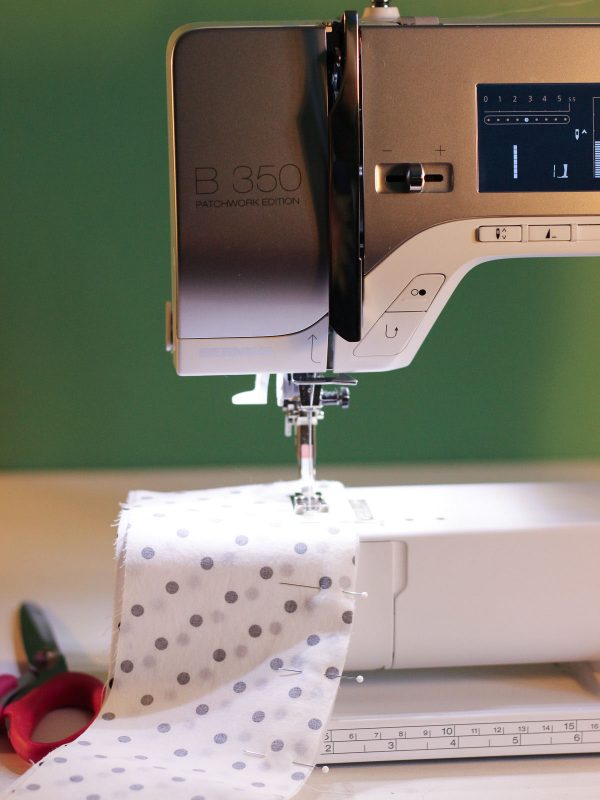 1. First, sew the long, outside edges of your two collar pieces together, wrong sides out, leaving the short sides unsewn. Remember to carefully ease your under collar to fit, as you go.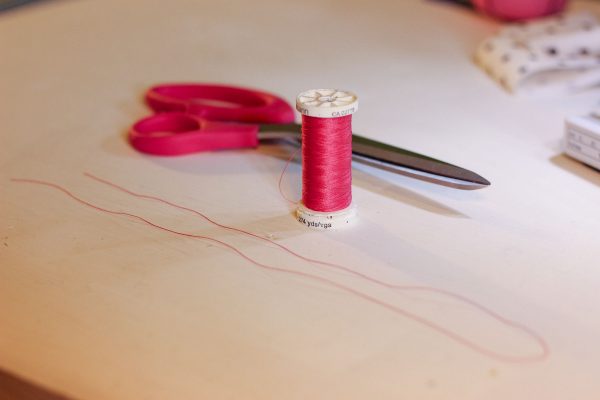 2. Cut a forearm's length of thread in a bright, coordinating color. Double it over, forming a loop at one end.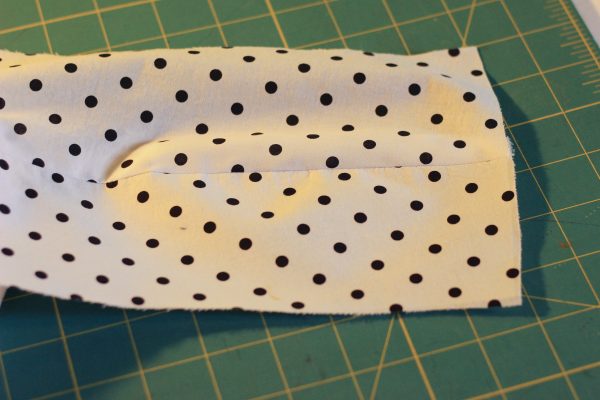 3. Gently press your collar seam open. It's going to curve on you, but that's fine.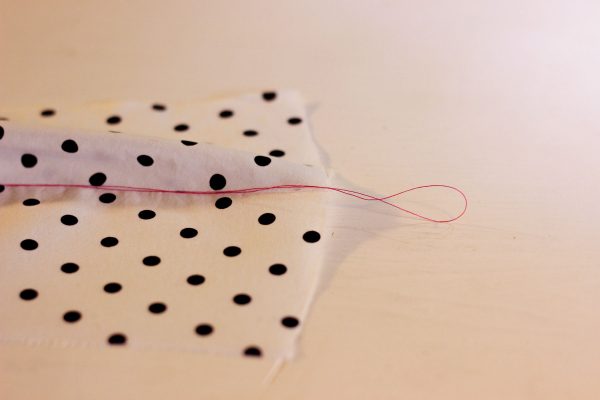 4. Place the length of thread in the well of that newly pressed collar seam, letting the loop hang off the edge by an inch or two.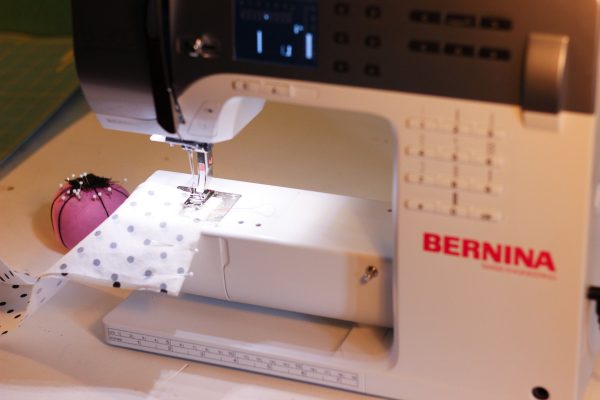 5. Fold the collars back down, right sides together, keeping the thread inside the seam. Starting with a very small stitch length, sew the short collar sides. You'll sew right over the thread, securing it in place with your stitches. Gradually return the stitch length to normal, after you've sewn past the thread.
The thread may wobble around on you, as you place the collar under the presser foot. No worries! Just peek inside the collar and nudge it back in place with your fingernail, if need be. All that matters is keeping it in the corner, where your two seam lines meet.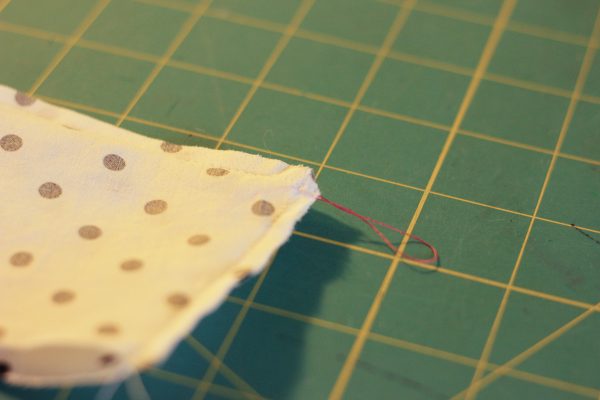 6. Trim your seams, as usual. Be sure not to clip through your thread loop! Move it out of the way, as you cut.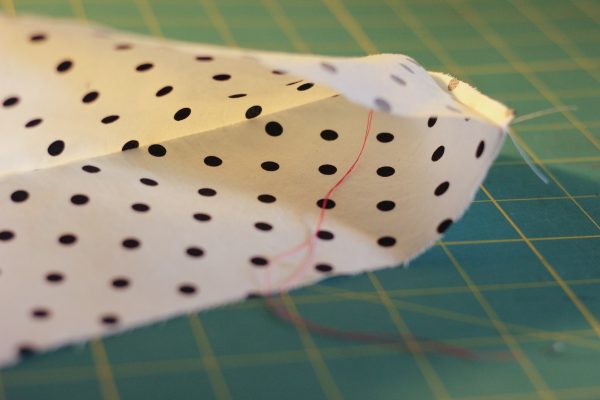 7. Now, the fun part! Are you ready to turn your collar? Open the collar and gently pull both loose ends of the thread, as you turn it right side out. The loop will catch on your seam line, letting you tug the corner out to a perfect point.
If your loop feels like it's not catching, or you're just worried about it slipping out, tie a small knot in the loop ahead of time. When you tug the corner out, this will prevent the thread from slipping through. Your line of small stitches is usually enough to do that job, but extra security can be nice!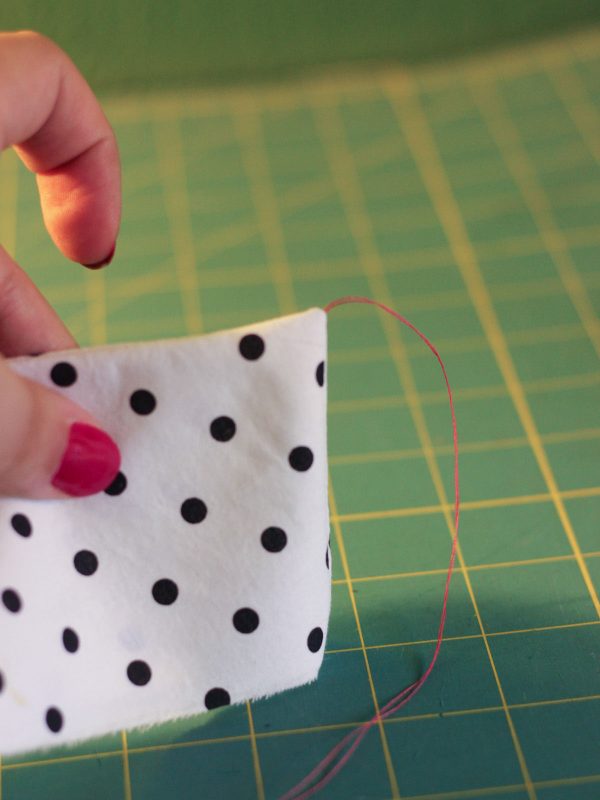 8. On the outside of the collar, keep gently tugging on those threads, until you're happy with the point. Once finished, grab one loose end and pull the thread free. If you've tied a knot around the loop, slip the loop out from the inside.
Ta-da! Sharp collar points. No fiddling required.
Secret #4: Edgestitch your collar for a professional finish.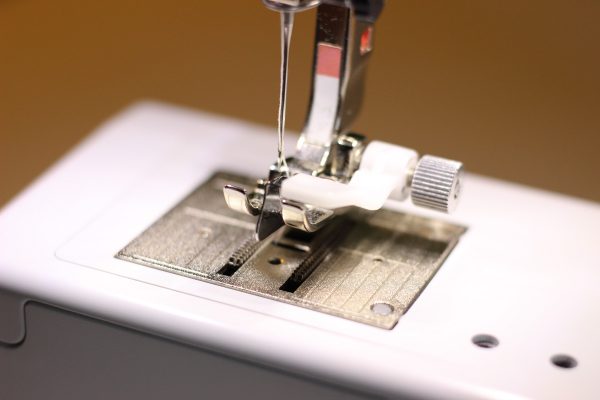 For a classic finish on your collar, topstitching is a must. You could go it alone, carefully lining up your collar edge with the seam gauge and holding your breath against wobbles. Or you could use a special presser foot to make your life easier! All of the topstitching in my wardrobe isn't topstitching at all, but edgestitching. This is the simplest way to get even, smooth lines of visible stitching, without worrying yourself sick over it.
First off, put the Edgestitch foot #10/#10C/#10D or Blindstitch foot #5 on your BERNINA. I'm using the snap on Blindstitch sole that came with my BERNINA 350 PE. These feet have a line of metal down the middle of the foot, which allows you to perfectly line up the needle with the edge of fabric or middle of a seam line. This will keep your stitching stick straight, as you sew.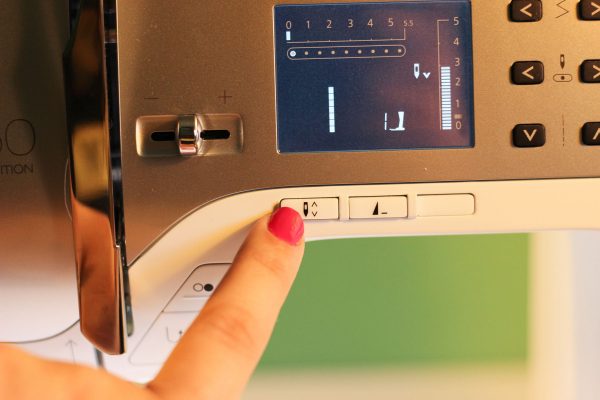 To better emulate topstitching, you'll need to change the needle settings on your BERNINA. Otherwise, you'll sew right on the fabric edge. For visible rows of topstitching, a good distance from the edge looks best. I like to sew on the outside, so I move my needle position to the far left and lengthen my stitches slightly for better visibility. If you prefer working on the inside, move your needle to the far right position. Finally, put your needle in the "down" position, so that it anchors into the fabric at the end of each stitch. This allows you to pivot smoothly at the corners of your collar.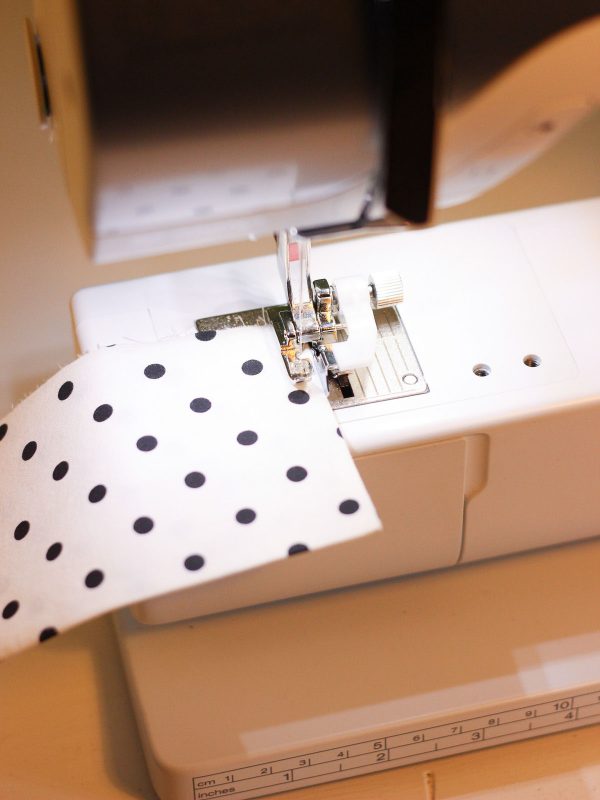 See how nicely this type of presser foot guides my fabric? It's infinitely better than trying to keep a straight line on my own. I topstitch my button bands using this same method.
Secret #5: A tailor's ham is your collar's best friend.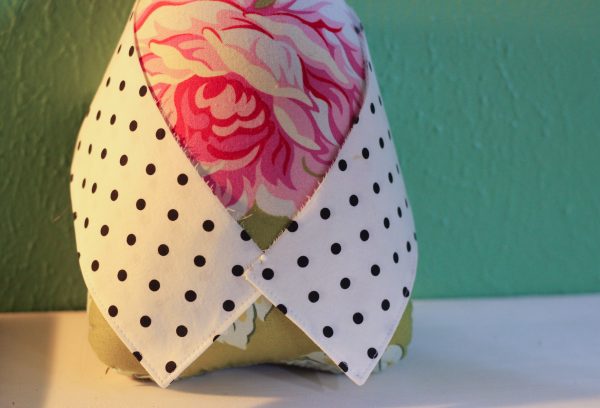 Finally, get yourself a tailor's ham!
I know you've heard this before, but it bears repeating. While trimming your under collar helps the neckline curve, nothing finishes it off properly like pressing it on a curve, as well. Arrange your collar as if the ham is a neck, so that it holds a firm oval shape. Cross over the front corners and pin in place. Now, take your iron and steam for all you're worth. The heat will mold your collar into a nice 3D curve. Once you've fully pressed the collar, leave it to cool on the ham. You can repeat this process, after you finish the garment, for more curve insurance.
Bonus secret: Pin, pin, pin! Mark, mark, mark!
What about collar stands, though? Getting those right can be a pain, as well.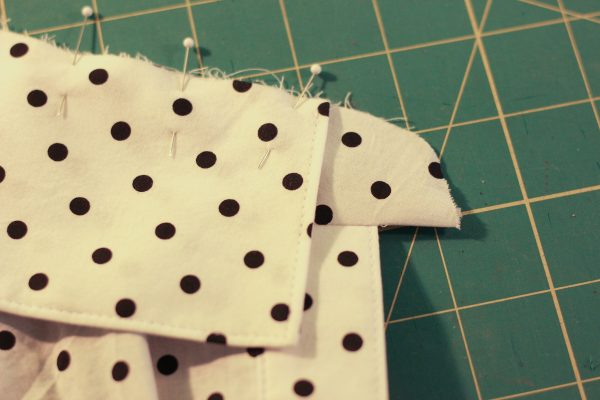 This is where attention to detail and patience come in handy, y'all. On every pass of my collar stand construction, I pin baste the collar in place first.
DON'T trust the pattern notches. Ever.
Before you sew your collar stand to your shirt, check that the two sides are perfectly even. Before you sew your collar to your collar stand, check again that both sides are even. Place one side on top of the other, matching stand positions and collar angles. Sure, it's extra work, but it prevents uneven collars. You don't want to go through all that topstitching, only to have lopsided ends, after all.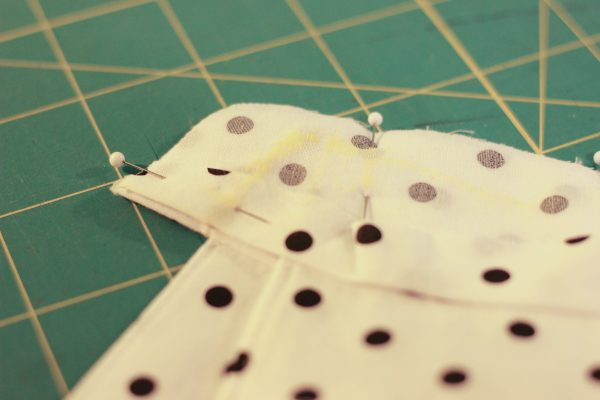 The other area that needs your attention is the collar stand front edge. Those sloping corners can be easy to mess up, resulting in different sized stands or different slope angles altogether. To keep both sides even, mark your stitching lines on the inner stand, before you sew. I use a tracing wheel and washable transfer papers, marking both sides at once, so the lines are identical on each side.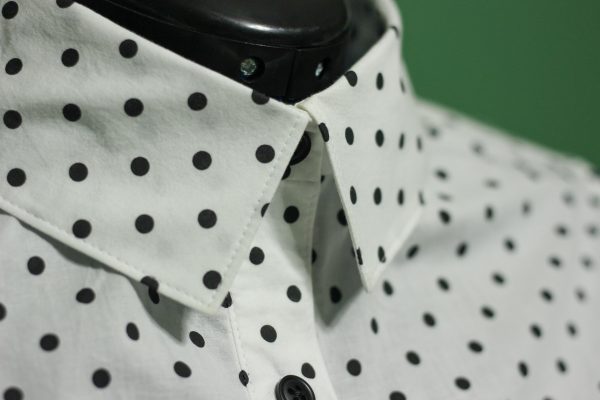 Collars might seem daunting, but these clever sewing tricks will sort you out every time. Just remember to take your time, check your work, and take smart shortcuts when you can. Careful though, kittens. Once you start making collars, you may not want to stop. My closet overflows with shirt-dresses these days, thanks to the secrets of sewing collars!
Projects

fashion

Techniques

sewing
What you might also like
7 comments on "The Secrets of Sewing Perfect Collars"