The Importance of Quality Sewing Thread
Have you ever invested a lot of time sewing something just to find out that the end result does not last as long as expected? There are a lot of different factors influencing the sewing result (such as the fabric, know-how, sewing machine, needle etc.). Thread can be one of them. That is because not all threads are of the same quality. In fact, there are major differences between cheap and quality threads.
Before we get started in outlining what is important when it comes to thread, we would like to introduce ourselves!
Who Is Mettler?
Mettler is an international manufacturer of high-quality sewing threads. It all began in Switzerland back in 1883, when the Mettler brand was founded. Many years later, in Germany and as part of AMANN Group, we established ourselves as a staple in the haberdashery world. Today, we supply more than 30 countries with high-quality sewing threads for a wide variety of applications, whether for sewing, embroidery, quilting, or overlocking/serging.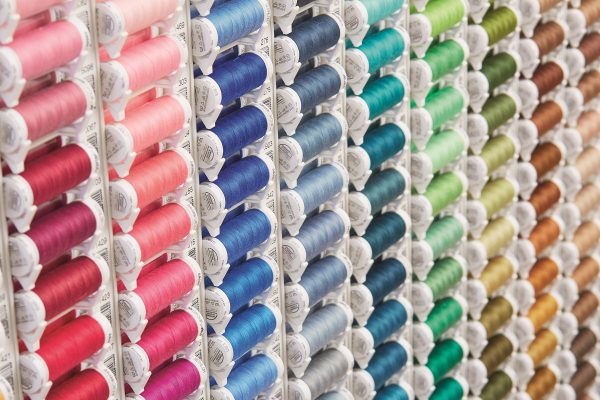 In the United States, we supply our distributors out of beautiful Broomfield, Colorado and our customers can find us in independent specialist trade stores.
BERNINA & Mettler: A Strong Partnership
As a long-term partner of BERNINA, we are very proud of our great partnership. Our companies benefit from years of cooperation and complement each other in many ways because we both know that sewing and embroidery machines work best with high-quality sewing thread.
Learn more here.
That leads us to our first guest blog post which focuses on the most important quality features of thread. When it comes to thread for domestic use, the following play a major role in determining a thread's quality:
Strength
Elongation and elasticity
Abrasion resistance
Thread consistency
Storage
All of these factors have a significant influence on the sewability of a thread, as well as on the seam appearance and stability.
Thread Strength
A sewing thread's strength is a crucial factor for seam strength. Threads with low strength can easily tear during the sewing process if the stress is too high (when the thread is being tensioned too strongly during the stitch formation). The term "strength" when talking about thread usually refers to the maximum tensile strength (measured in cN). The maximum tensile strength is the maximum linear tensile strength a thread can tolerate before it breaks. Depending on the raw material, thread type, and fineness (linear density), threads can have very different strength levels.
Cotton threads have lower strength than polyester threads, for instance, due to the raw material. Bulk and spun threads have lower strength than core spun threads or continuous filaments due to their construction (take a look at the thread construction graphic for further info on the different types of thread).
Elongation and Elasticity
The elongation of thread has a direct effect on sewability and seam elasticity. Therefore, this feature is often the focus of attention. It is usually specified as maximum tensile elongation in percent. The maximum tensile elongation is described as a sewing thread's change in length until it breaks or tears. This is caused by the tensile strength lengthwise (in relation to its original length). The elongation behavior of sewing threads depends on the selection of the raw material, the construction, and the production method. For example, cotton threads have an inherent lower elongation than synthetic threads (polyester etc.).
Mettler's newest product SERAFLEX has an outstanding elongation of up to 65% due to its innovative raw material PTT (Polytrimethyleneterephthalate), making it ideal for elastic seams. Standard sewing threads feature an elongation of approximately 10 to 30% and are universally applicable. Through an optimal combination of the sewing parameters (stitch type, stitch density, thread tension, etc.) they can also be suitable for elastic seams.
Abrasion Resistance
Abrasion resistance refers to a thread's resistance to abrasion assessed based on the visible changes in the appearance of the thread up to the point where it is completely destroyed. The abrasion resistance is measured through abrasive rubs that are necessary to destroy the thread. The resistance to abrasion is one of the most important characteristics when evaluating the performance behavior of a thread in the seam. This becomes much clearer when you think about all the abrasive stress that denim or children's clothing must endure, for example.
The abrasion resistance of a thread is primarily determined by its raw material. In this aspect, synthetic threads are clearly superior to cotton threads. But the thread construction has also a high influence on the abrasion resistance (see the thread construction images for further info).
Thread Consistency
Thread consistency has a direct influence on sewing performance. Everyone that has bought cheap, low-quality thread beforehand and looked at it more closely, could certainly notice that this thread has irregularities. These irregularities are deviations from the specified diameter of the thread (thicker and thinner sections).
Thread Storage
Due to the material variety and the different production and processing methods, there is no universal statement on the optimal storage of threads. But we recommend cool, dry, and dark storage:
well protected against dirt,
protected against direct UV light exposure,
protected from high humidity,
shielded from chemicals such as oils, gas, etc.,
an ambient temperature not higher than 77°F
Key Takeaways
An optimal sewability is achieved through the interaction of the described quality characteristics. The sewability describes the performance of a thread while sewing. Good sewability requires that a thread can be sewn not only under favorable but also under difficult sewing conditions. Good sewing properties ensure a perfect stitch formation and avoid thread breakage and skipped stitches.
Thread Construction Types
After selection of the raw material, the properties of a thread are determined by the following: Construction type, twist, ply, and cord. While the construction of the yarn defines the individual thread type, twist, ply and cord define the general construction parameters for all sewing threads.
The construction type is defined based on the different processing methods of the fibers and filaments (schappe or cut staple spuns, smooth continuous filaments, monofilaments, texturized filaments) and their combination.
In the following graphic, we highlighted some of the most important thread construction types. There are even more thread construction types than illustrated here (such as wrapped yarns, bulk threads etc.). However, these are the types you are likely to come into contact with most often.
It is important to stress that the construction types illustrated above are described based on the structure of a single yarn. A finished sewing thread consists of two or multiple single yarns, which are twisted together.
Source: AMANN Group
Mettler is the consumer brand of AMANN.
What you might also like
2 comments on "The Importance of Quality Sewing Thread"