In The Loop—Introduction to Thread Painting
Thread painting is a technique that you can use to enhance a quilt or create an unique whole cloth art quilt. I have found that the BERNINA Stitch Regulator makes it easy to free-motion thread paint with both a straight stitch and a zig zag stitch.
In this post, I will show how I thread painted a small art quilt.
Materials for Thread Painting
A picture to start (use photo editing software and printable fabric or draw your design with fabric marking pens on plain cotton fabric)
Rotary cutter, ruler and mat
Sewing machine (I use a BERNINA 770 QE)
BERNINA Stitch Regulator (BSR) with open sole (or your favorite free-motion quilting foot)
Depending on your artistic skill set, you may want to draw or paint your background subject on a piece of cotton muslin. Because of my photographic experience, I chose to start with a photo image of mine that I printed on fabric. Using your own photo images resolves copyright issues that you might have if you use someone else's photo.
Flowers are one of my favorite subjects and in this instance, I chose to use a photo I took of an iris. The flowers often have intriguing names. The name of the iris I chose for this project was called "In the Loop" and it seemed like a fitting title for this stitched project.
I printed the image of the iris 10″ x 15″ on a sheet of 13″ x 19″ EQ Printables Fabric. I could have used an 11″ x 17″ EQ Printables Fabric sheet, but I only had the slightly larger sheets on hand. The materials used in this post are available from BREWER. The threads I used are ISACORD 40. In addition to printing the image of "In the Loop" on the fabric sheet, I also printed a smaller image of it on an 8.5″ x 11″ sheet of paper. I used the ISACORD Thread chart to create a "thread map" of the colors I wanted to stitch with for the project.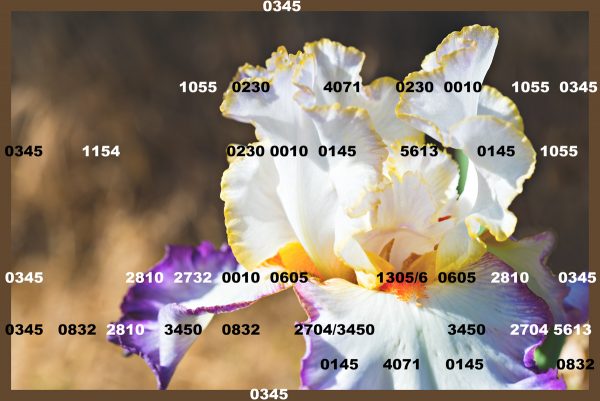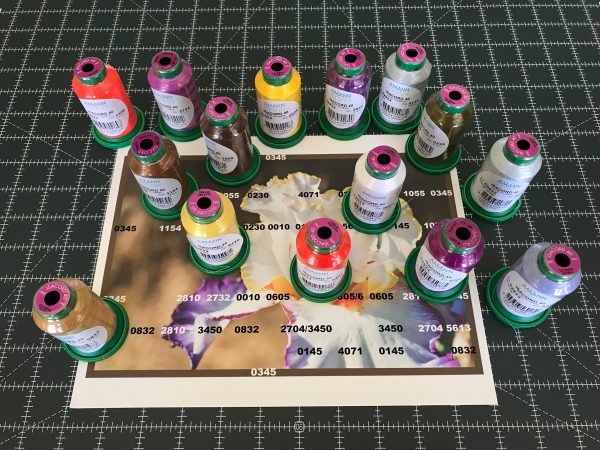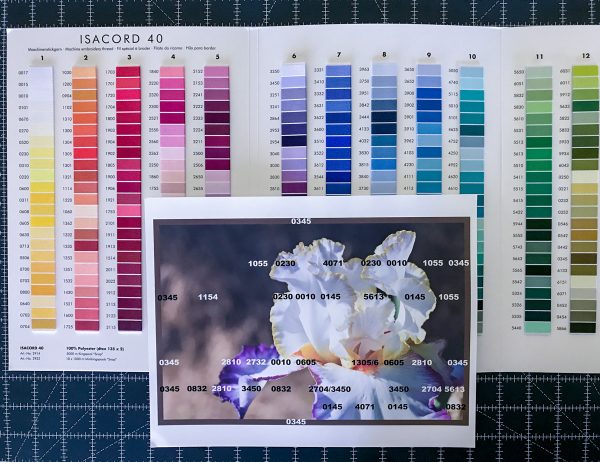 I selected an Ever Sewn Quilter's Resource 80/20 Cotton-Poly Blended Batting because I liked the texture of it.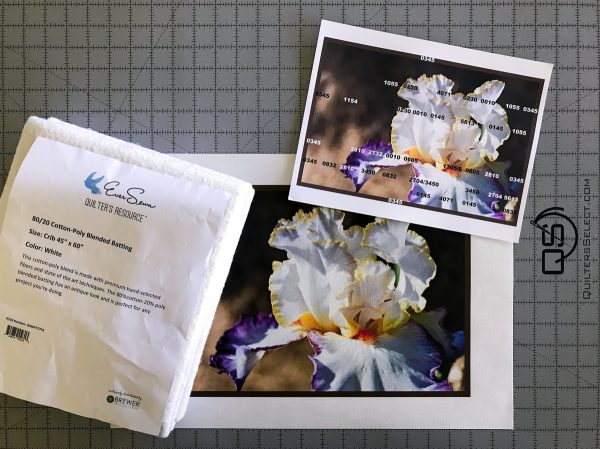 I chose a light lavender commercial cotton fabric from our stash and ironed the wrinkles out of it using a Panasonic 360° Freestyle Cordless Steam Iron.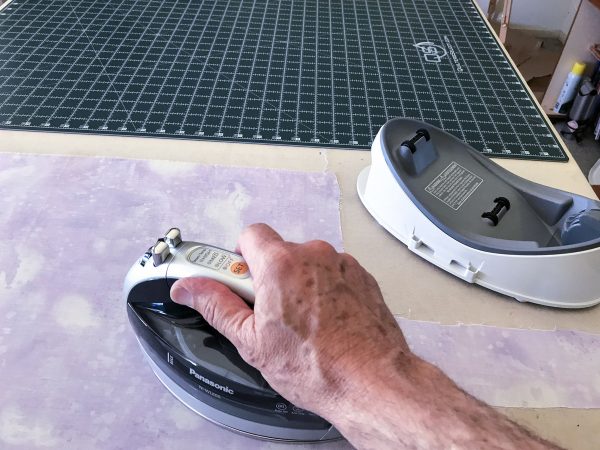 Because I used the larger 13″ x 19″ sheet of EQ Printables, I trimmed the printed sheet so that it had a half-inch border on each side.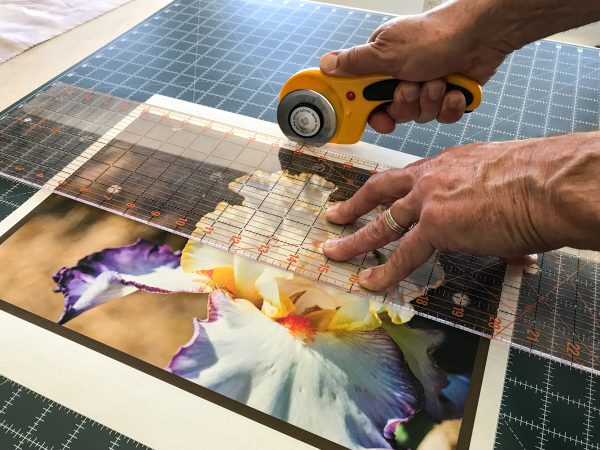 I used 505 Spray Adhesive to baste my three layers of fabric together. When using spray adhesive, I always spray the smaller piece of fabric. Thus, I sprayed one side of the Ever Sewn batting and laid it on top of the backing fabric. Then I sprayed the back of my EQ Fabric Sheet and laid it on top of the batting. By doing it this way, I didn't have any excess adhesive on the surface of my quilt sandwich.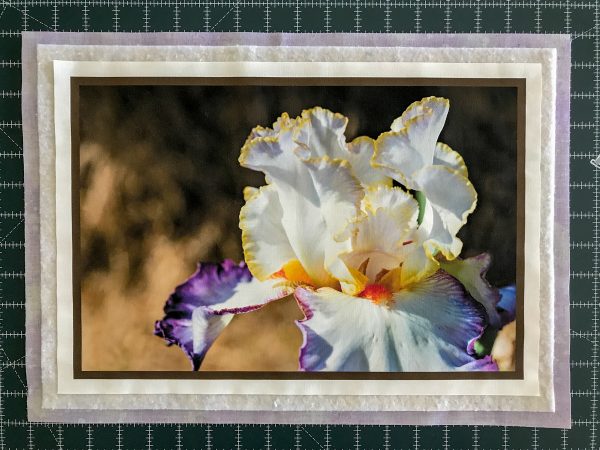 The spray adhesive is only temporary and the fabric can move around. On a small piece like this one I did not feel the need to pin the layers together before stitching them. But I did want to secure my layers before I start any heavy stitching.
My sewing machine is a BERNINA 770 Quilter's Edition. It comes with the BERNINA Stitch Regulator (BSR) as a standard accessory. Using the straight stitch mode, a 0mm stitch plate and dropping the feed dogs, I sewed some securing lines on my quilt sandwich using BSR mode 1.
Using ISACORD 0010 "Silky White" I stitched simple lines, working from the center of the image outward. As a note, I filled my bobbin with the same thread I used on top.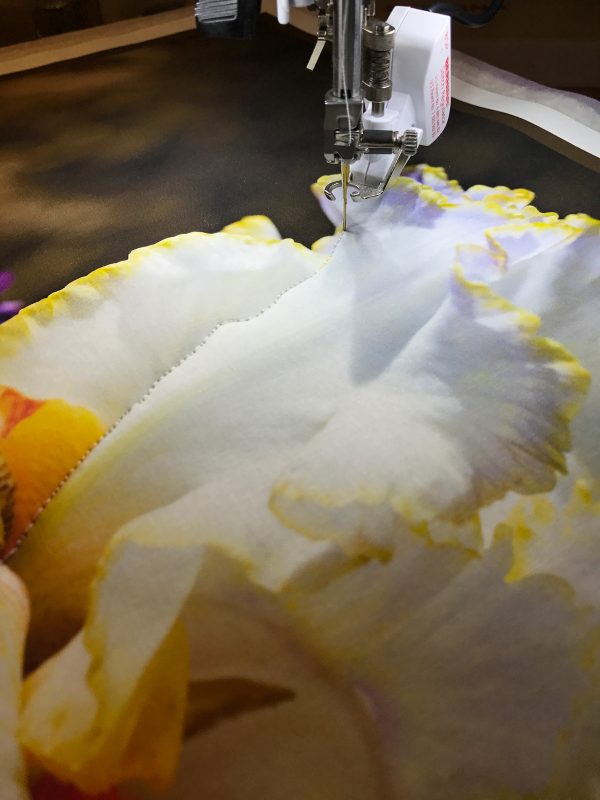 I stitched stabilizing lines around the key areas of my image where appropriate, using the "Silky White" thread.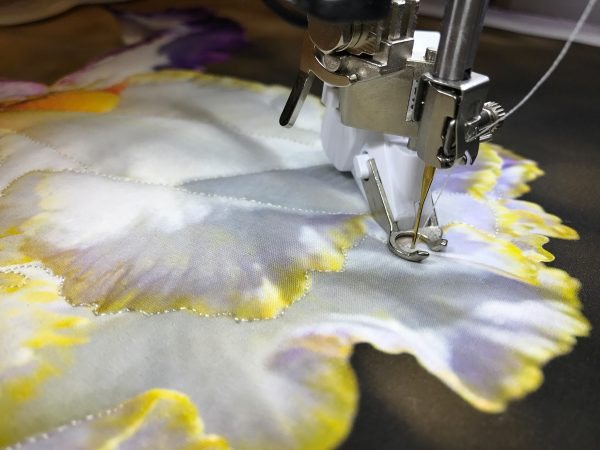 Once I stabilized my quilt sandwich I could begin thread painting portions of my art quilt.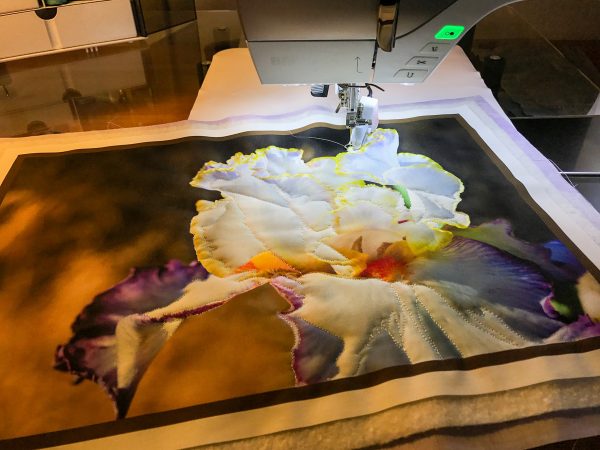 Because I wanted the option of using a free-motion zig zag stitch as well as a straight stitch, I changed to the 9mm stitch plate. When changing stitch plates, it is a good opportunity to add oil to the reservoir on the B 770 QE. The BERNINA sewing computers use more lubricant than my other machines. I would rather keep the reservoir full of oil even if it only needs a few drops. I will often lubricate when I change thread colors as well.
With the 9mm stitch plate in place, I had the option of using the BSR with a zig zag stitch. It is important to note that the set stitch length will not be maintained when using the zig zag stitch. However, the BSR makes it a delight to free-motion thread paint with the zig zag stitch.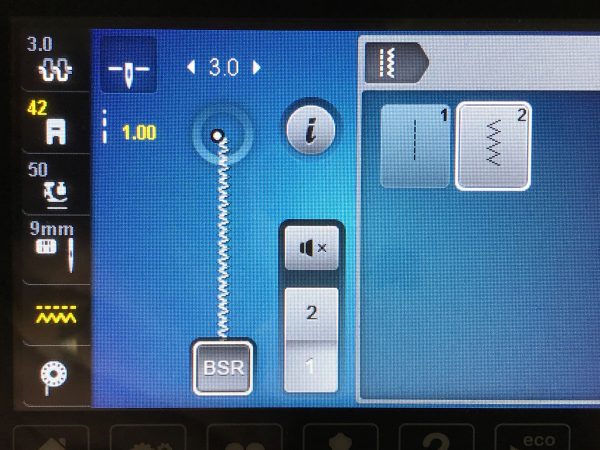 Changing thread to ISACORD 0230 Easter Dress, I used the zig zag stitch to free-motion stitch the yellow edges of the Iris petals.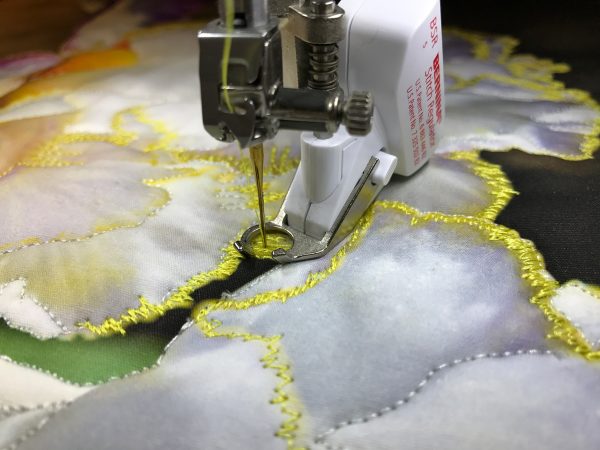 It is just a touch of an icon to be able to switch stitches from zig zag to straight and back again with the B 770 QE. I changed my thread color to ISACORD 0145 Skylight, touched the BSR 1 straight stitch icon and began filling in a shaded area.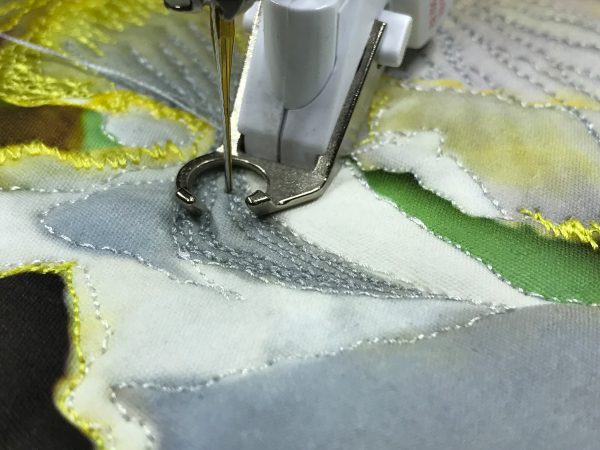 At this point I had thread painted a few areas. Please note, since this was not an embroidery project and I was not filling the entire image with thread. I choose what areas I wanted to thread paint and what areas I want to let the fabric image show through.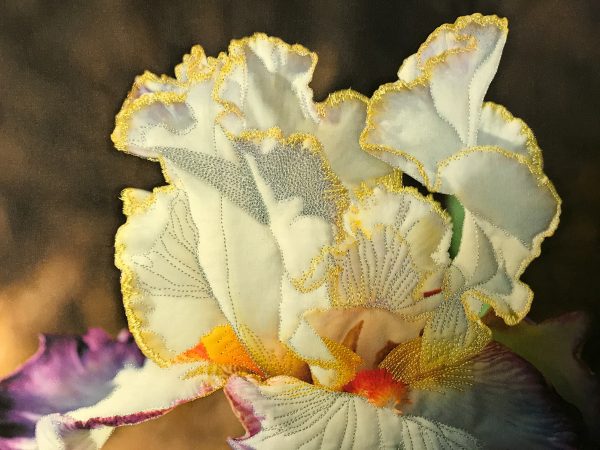 One area that I wanted to heavily paint with thread was the purple edge of one of the petals. I switched to ISACORD 2704 Purple Passion. Now, this purple edge of the petal starts out small and increases in size. It was easy to adjust the width of my zig zag stitch from narrow to wide as I stitched.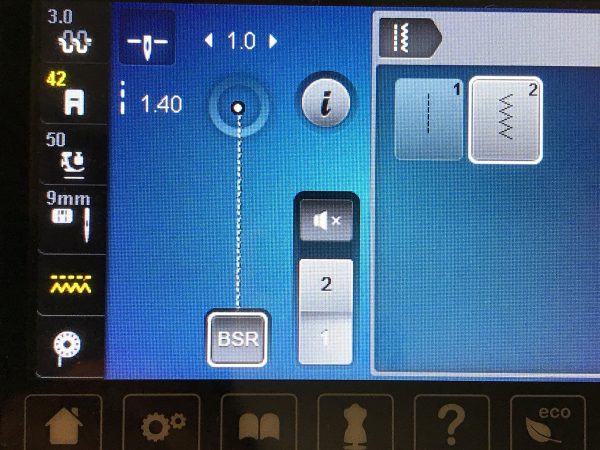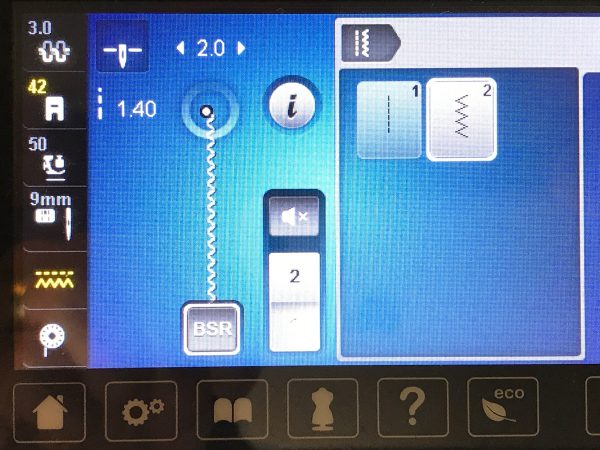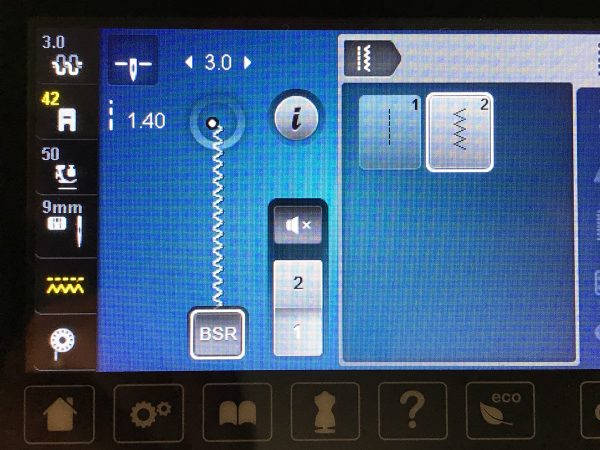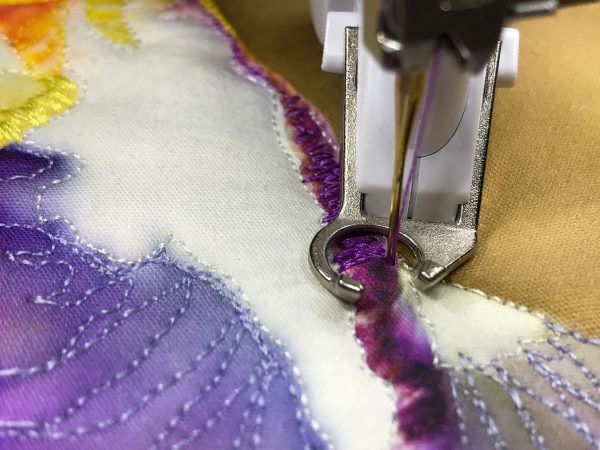 The beard of this iris has a dark red background and has brighter edges. I switched back to the BSR 1 straight stitch mode and laid down lines of ISACORD 1305 Fox Fire thread. The next color of thread was ISACORD 1306 Devil Red. Even though they are close in color you get a very nice effect by stitching first with the darker color and then coming in between those stitches with the brighter red thread.
Once I had thread painted the areas of the iris image that I wanted to cover with thread, it was time to look at the background. Again, since this is not an embroidery project, I do not feel the need to fill the background with solid thread. Instead, I preferred to free-motion the background with the appropriate thread color to creating patterns of interest. On the lighter areas, I used ISACORD 0832 Sisal, 1154 Penny and 1055 Bark.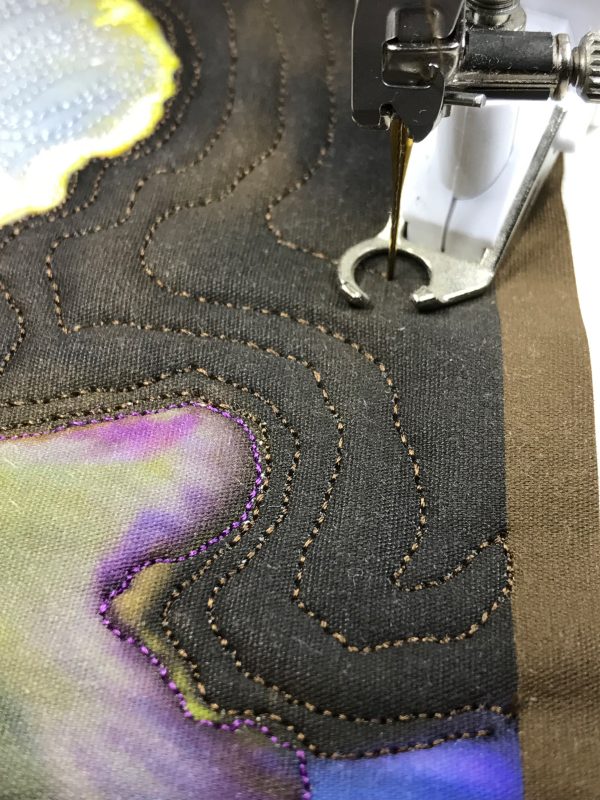 Once I had completely stitched all the areas of my art quilt you will note that where the stitching was denser, it pulled the fabric out of square. My quilt sandwich was no longer a nice rectangle.
This is where the border around my image came in handy. It allowed me room to trim it as straight as possible.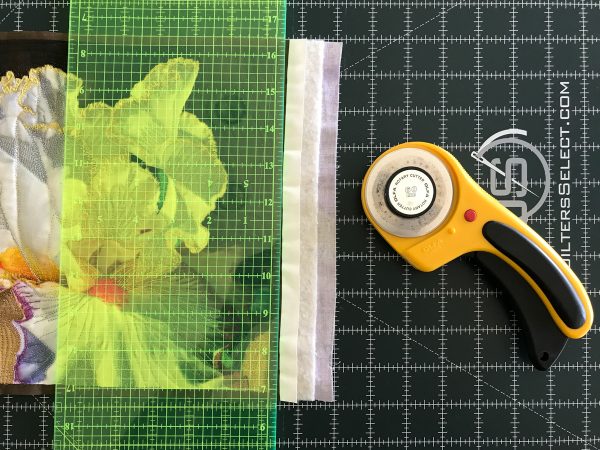 Once I had done this, I looked at machine stitching a binding to the top of the art quilt. The binding was folded over to the back and pinned. It was whip stitched to the back of the quilt by hand.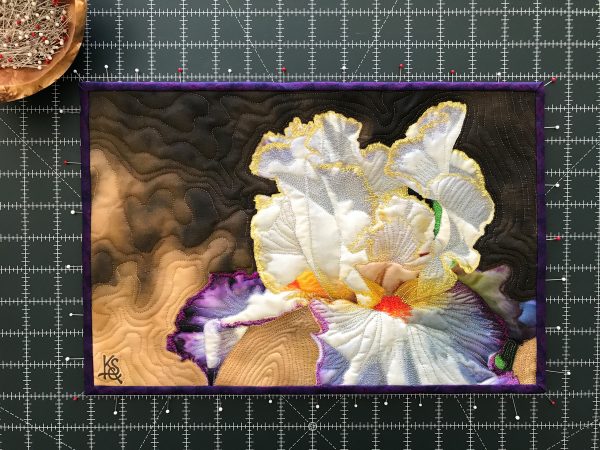 Because it is easy to check the stitch count on the B 770 QE, I found out that I used over 30,000 stitches to create my art quilt, "In the Loop."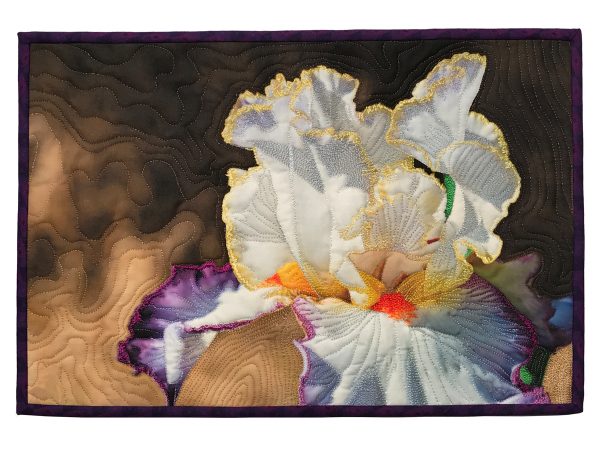 Difficulty level

Intermediate

Time to Complete

Weekend

Used Material

Isacord thread 40, rotary cutter

Projects

art, quilt

Seasons

Spring, Summer

Techniques

free-motion quilting, quilting, thread painting
What you might also like
3 comments on "In The Loop—Introduction to Thread Painting"