Essential Ruler Quilting Challenge: Introduction
Let's be honest, many of us have acrylic quilting rulers gathering dust. We saw the demo, were inspired and purchased them with the hope they would make quilting our quilt tops easier.
Perhaps you have started quilting with acrylic rulers and need some design inspiration.
The challenge is an opportunity to dust off the rulers and get creative with ruler quilting. Together we will learn ruler quilted designs with the BERNINA Essentials Ruler Kit. If you do not have the Essentials Ruler Kit, some substitute rulers may work for the techniques and designs in the challenge. However, design results will vary.
Join the Essential Ruler Quilting Challenge. For the next four weeks, we will have fun stitching rulerwork designs with each of the rulers in the Essentials Ruler Kit.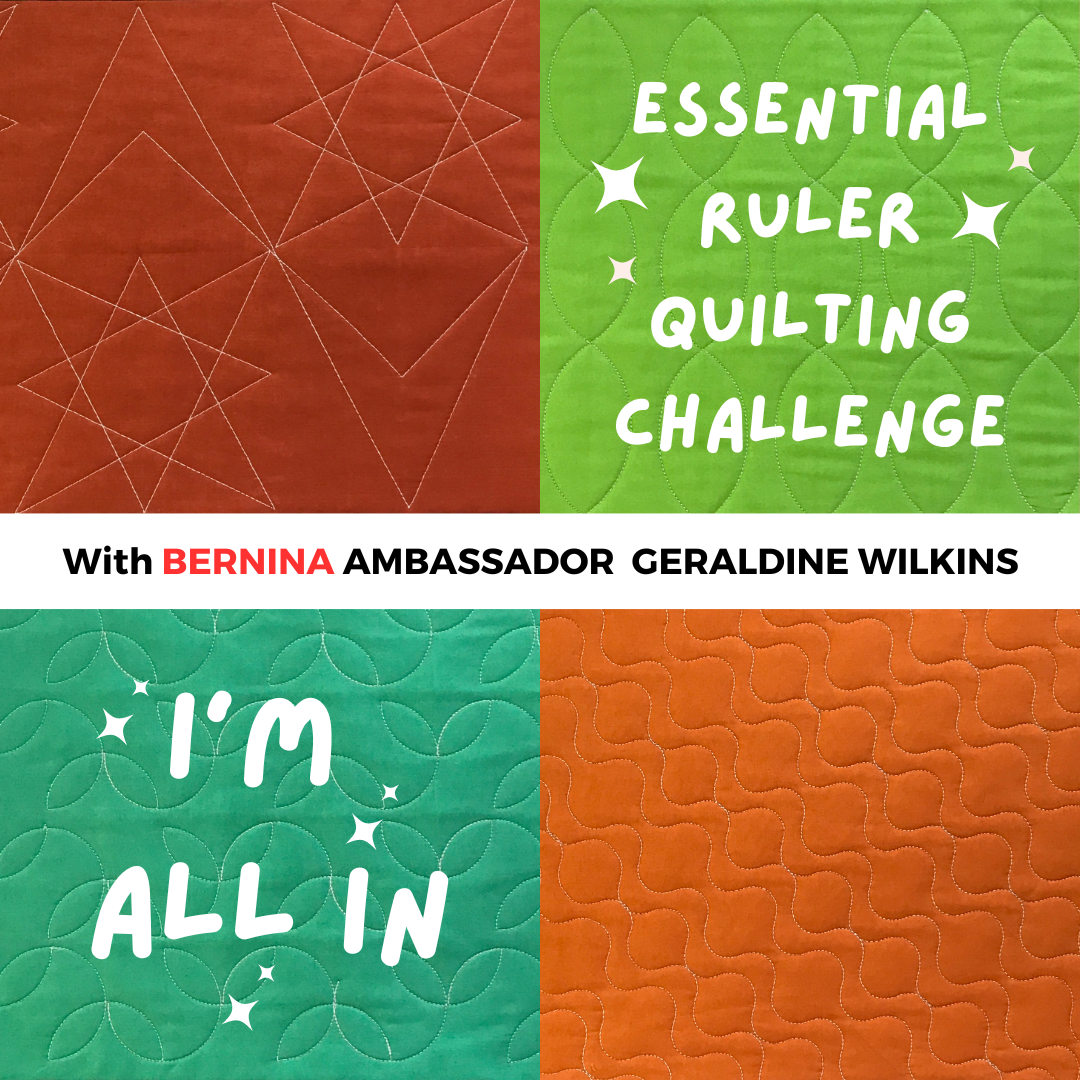 Join the challenge and download the image above. Share it on social media. Let quilting friends know about the challenge. Use the hashtag #rulerquiltingchallenge
The BERNINA Essentials Ruler Kit includes four rulers, the Straight, Curve, Circle and Squiggle. The rulers are 1/4" thick and work well with longarm machines and home machines that are compatible with 1/4" thick rulers.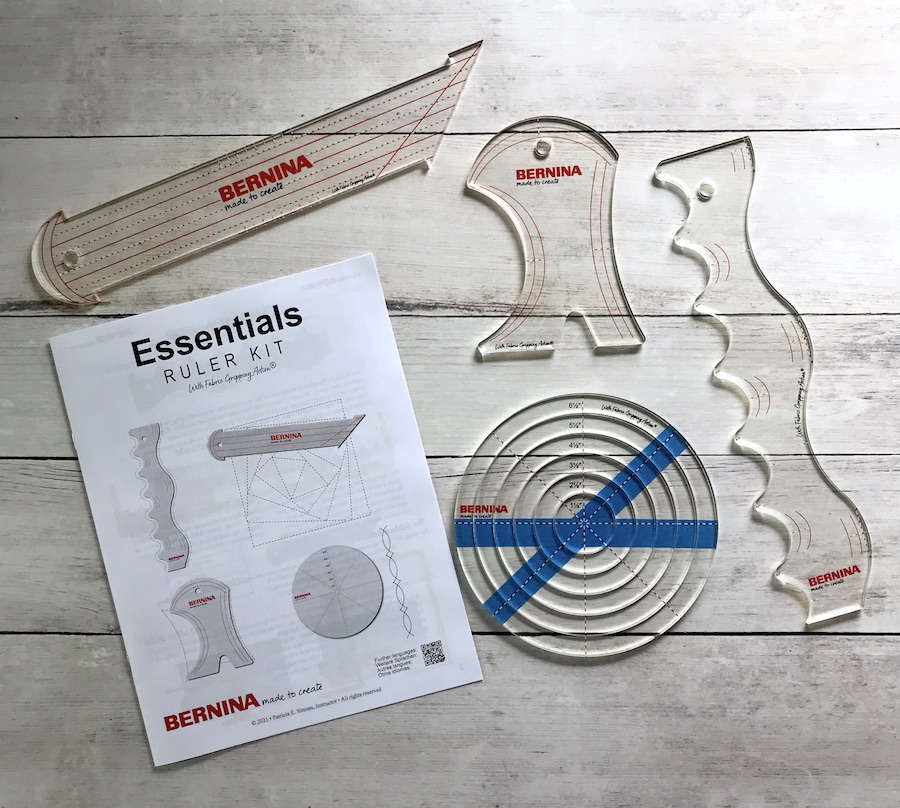 The BERNINA Essentials Ruler Kit includes four rulers, the Straight, Curve, Circle and Squiggle.
Essential Ruler Quilting Challenge

For each ruler, we will make three different rulerwork designs. Visit each week to learn how to create designs on a home machine or a longarm.
We start the challenge with beginner-friendly designs that will also help confident beginners warm up for the challenge.
Week One: Straight Ruler
A straight ruler has numerous possibilities. We will learn three designs and stitching techniques.
Week Two: Circle Ruler
Get ready to have fun with continuous circle designs that also include a little free-motion quilting.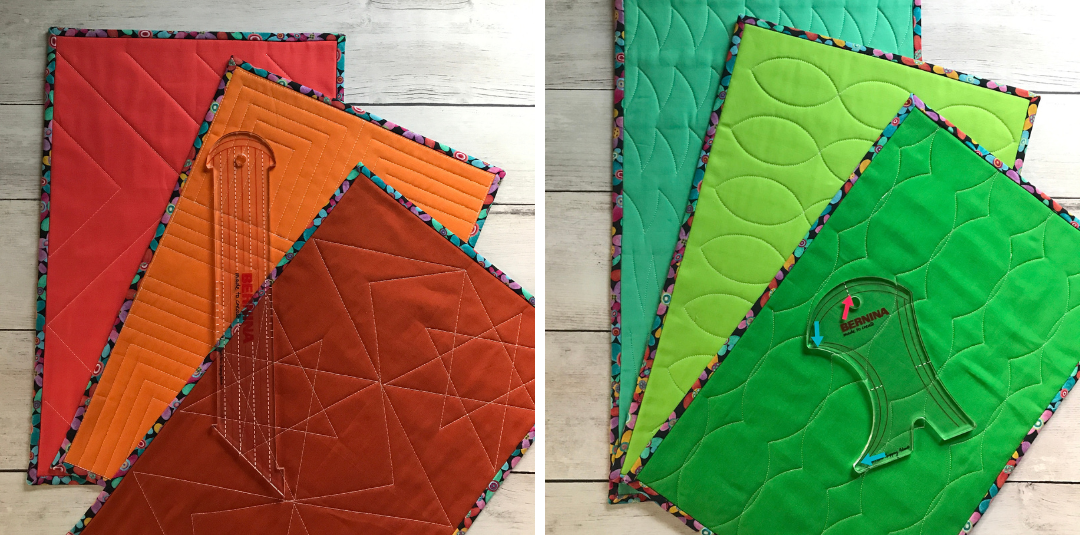 Week Three: Curve Ruler
Let's make the straight lines curvy with the curve ruler. We use three curves to stitch edge-to-edge designs.
Week Four: Squiggle Ruler
The focus on curves continues with the squiggle ruler. We will focus on one side of the two-sided ruler to create a beautiful thread texture. These designs are ideal for bags and zippered pouches.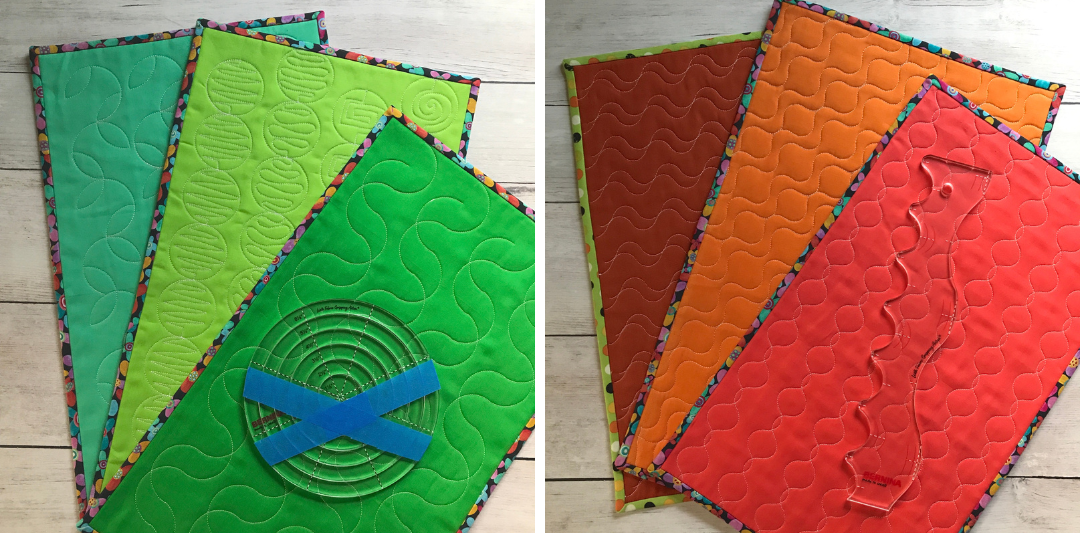 This Week
This week we will gather supplies, make practice quilt sandwiches, and set up our machine for rulerwork quilting. Download the supply list.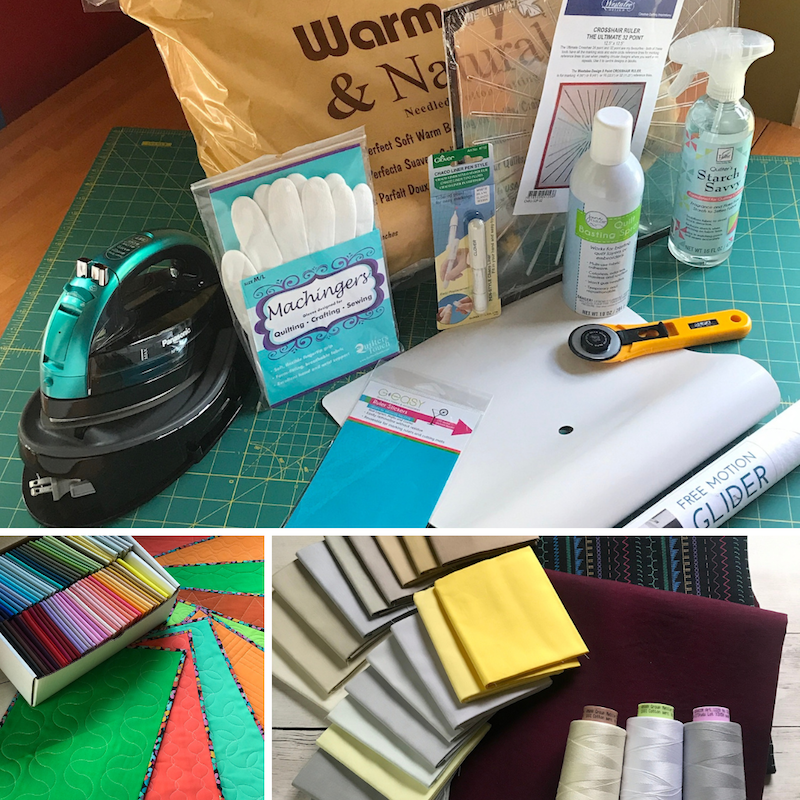 We'll need sewing and fabric supplies like an iron, a rotary cutting mat, basting spray, marking tools, and thread. Also, the supply list includes ruler quilting tools, like a ruler foot, glider, a measuring gauge and quilting gloves.
We also need a sewing machine capable of free-motion ruler quilting. I used a bernette 79 sewing and embroidery machine with the bernette Ruler Foot Set. Learn how to attach the bernette ruler foot in this video.

Those quilting with a longarm on a frame will need a ruler base. A ruler base is a mini extension table around the quilting machine arm.
The Essentials Ruler Kit may be used with BERNINA machines that use a BERNINA ruler foot. I used the Adjustable Ruler Foot #72S. Learn how to attach and use the foot in video tutorial 1,  and video tutorial 2
By the way, it's ok to use similar quilting rulers instead of the Essentials Ruler Kit. Apply the same techniques; the final design will vary.
Next Week
Let's gather supplies and get ready to start stitching next week. The Essential Ruler Quilting Challenge begins with straight ruler designs. Download the supply list, it includes fabric requirements and cutting instructions for small practice sandwiches and larger edge-to-edge design mini quilts.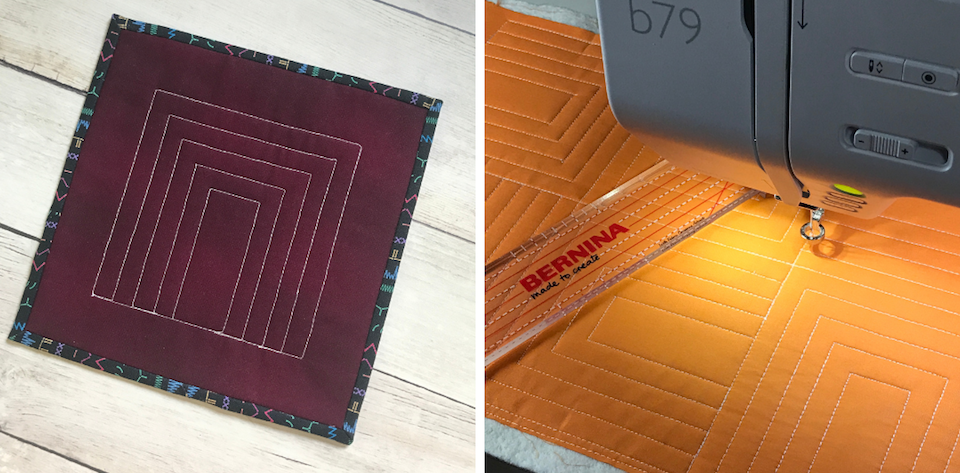 Difficulty level

Confident Beginner

Time to Complete

Weekend

Used Material

Adjustable Ruler Foot #72S, basic sewing supplies, bernette 79, bernette ruler foot set, bernina q 20, cotton fabric, fabric marking pen, iron, quilt basting spray, ruler quilting, thread

Projects

quilt, quilting

Seasons

all seasons

Techniques

free-motion quilting, quilting, rulerwork
What you might also like
11 comments on "Essential Ruler Quilting Challenge: Introduction"