How To Free-Motion Quilt a Menorah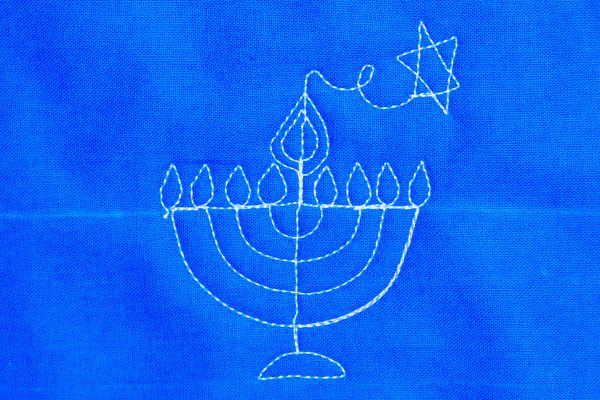 Happy Hanukkah! Celebrate the Festival of Lights with the beautiful menorah motif. I'm Lori Kennedy from Lori Kennedy Quilts and I love to add seasonal and holiday patterns to my quilts using both my BERNINA 770 Quilter's Edition and BERNINA Q20 sit-down long arm.
The menorah quilting pattern is a great way to light up your holiday decorations. Create a small quilt to place under your menorah or add the pattern to napkins or tea towels. (Use stabilizer on lightweight towels for best results.)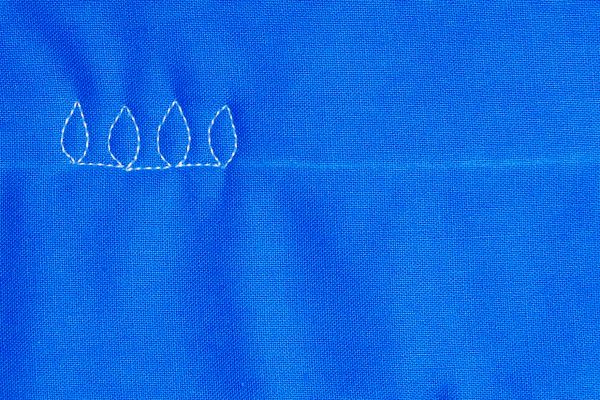 Begin by drawing a horizontal line. Stitching from left to right, stitch four flame shapes, stitching along the drawn line between each flame.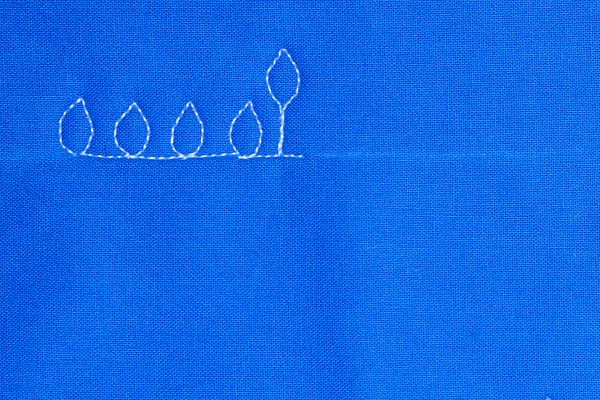 To stitch the helper candle, stitch a short vertical line before adding the flame shape. Stitch along the vertical line to return to the drawn horizontal line.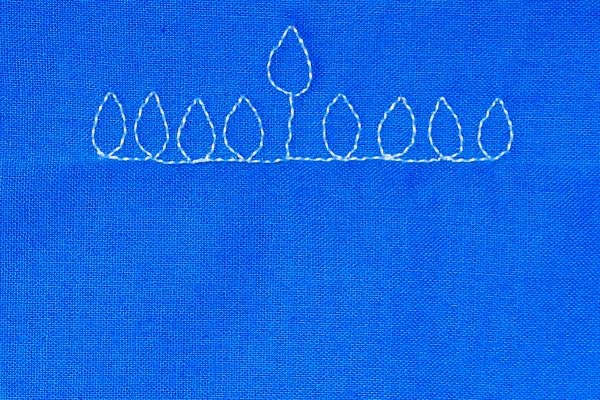 Continue along the horizontal line and add four more flames.
Stitch from right to left along the horizontal line and stop just below the candle to the right of the helper candle. Stitch a "U" shape, ending just below the fourth flame.
Stitch from right to left a few stitches and stop just below the third candle. Add a small "U" shape ending below the seventh flame.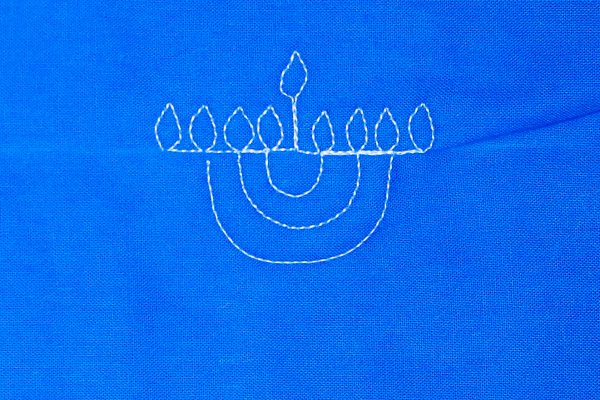 Stitch to the right a few stitches along the horizontal line, stopping beneath the eighth flame. Add a "U" shape ending below the second flame.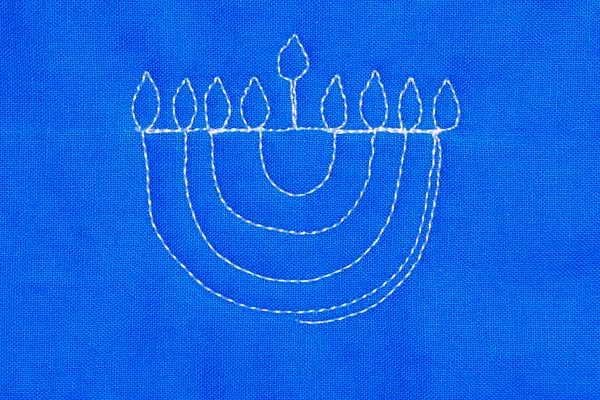 Stitch to the left a few stitches then stitch the "U" shape to connect to the eighth flame. Travel stitch on top of the right half of the "U" shape to the base of the menorah. (The stitching is shown offset in this photo.)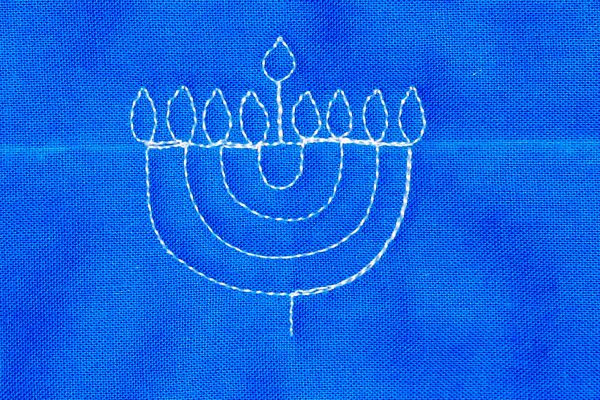 Stitch a short vertical line.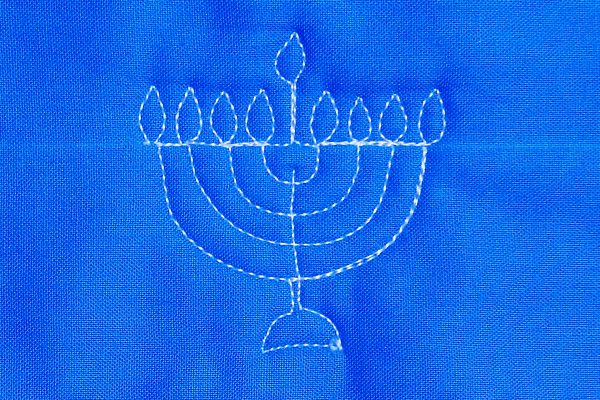 Add a half circle base to the menorah, and then stitch a vertical line through the motif toward the central candle.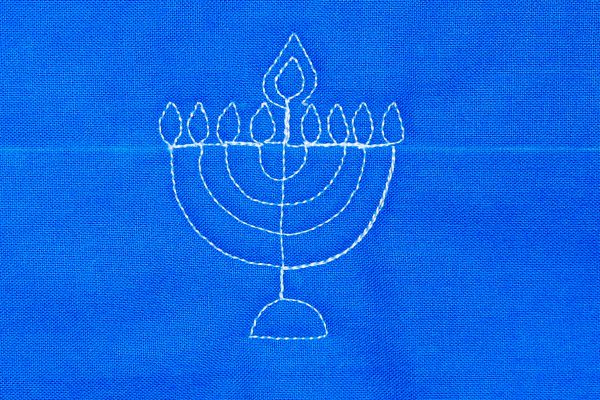 Stitch through the central wick and echo stitch the center flame.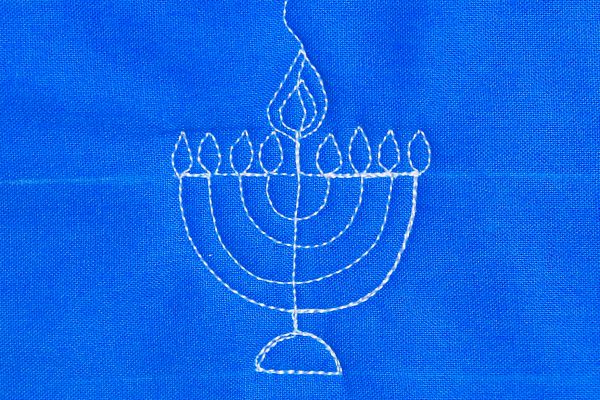 Stitch through the flame to complete the motif.
Be sure to doodle the motif several times before stitching. Doodling creates muscle memory and ensures a smoother quilted line. For best results, use heavyweight thread with good contrast to the top fabric or use a metallic thread for a quilt that really shines!
For more machine quilting motifs and tips, please join me at LoriKennedyQuilts.com!
Difficulty level

Intermediate

Projects

home décor

Seasons

Hanukkah, Winter

Techniques

free-motion quilting, quilting
Used Products
What you might also like