New Life For An Old Bag
Tote bags are so popular these days, and sometimes you end up with a pile of plain totes in the back of a closet. We have some great tips for giving an old tote some new life.
First, a great tip from Bunny Gates about how she jazzed up an old tote. Bunny says, "I found this bag in the top of my closet, unused because it didn't have any pockets. So I added a pocket! I embroidered the lighthouse from OESD's 'Seaside Treasures' embroidery collection #12300 on a piece of canvas, and made it into a pocket. I topstitched it on the front of my tote bag using Edgestitch Foot #10, then added three beads that hang from one corner."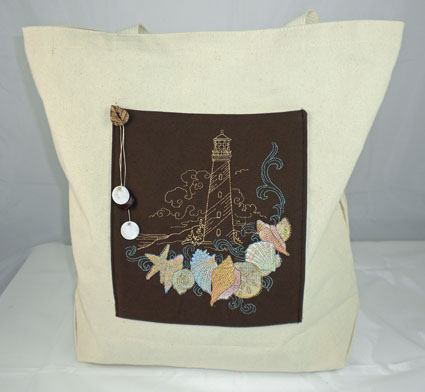 And here are some more fabulous ideas for updating those old totes!
Betz White shows you some cool "tote tricks."
DesignSponge shows you how to DIY your own Market Bag Makeover.
And, Sue Harris shows you how to DIY any tote with ruffles and roses.
Projects

bag, fashion

Techniques

crafts, embroidery
What you might also like