Quilting With The Running Stitch
Have you noticed the use of an altered running stitch showing up in quilting lately? You can see it in Jacquie Gering's Fiesta Wall Quilt  from the book Quilting Modern, where this stitch is used to create gentle curving waves across this very modern quilt. Jacquie and I are both members of the Chicago Modern Quilt Guild, and seeing some of her quilts last year was the first time I had seen this stitch used in quilting. Since then I've noticed lots of people giving this quilting stitch a try, and I'll share some more examples down in the post.
Some people refer to this stitch as the "BERNINA stitch #4", because most new BERNINA sewing machines include the utilitarian Running Stitch in the stitch library as stitch #4. Other people call it the "Serpentine stitch," because it resembles a sidewinding snake.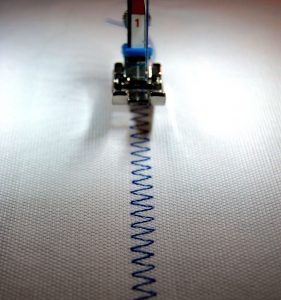 When used with the factory settings this stitch creates a pattern of short stitches forming a zigzag (see above). Alter the stitch by increasing the stitch width to the widest setting, then increase the stitch length to about 2.0-2.5mm to create a gently curving stitch (see below).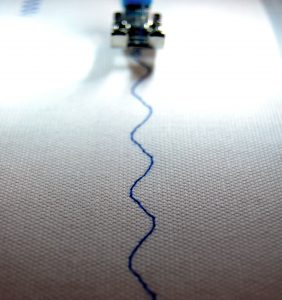 Here are some more examples of the altered running stitch used in quilting:
See how Daphne Grieg used the running stitch #4 on her BERNINA 440 QE to quilt one of her latest creations.
Anya at Hills Creek Quilters used this stich to create a really interesting pattern (almost looks like half-square triangles) for a quilt she made for charity.
Faith from Fresh Lemons Quilts shows the BERNINA stitch #4 on a holiday quilt. The wavy lines are a great way to add a little interest along with the straight lines of the simple patchwork quilt.
Alex from Teaginny Designs shared how awesome this stitch works for small projects like this potholder, too.
I don't know about you, but I think I'm going to give the simple "BERNINA #4" stitch a try next time I'm quilting! What about you, have you tried quilting with this stitch, or used another utilitarian stitch while quilting?
Happy stitching!
– Erika
Techniques

quilting, sewing
What you might also like
6 comments on "Quilting With The Running Stitch"