Sew an XOXO Bunting for Valentine's Day

Hugs and kisses time is almost here, so it's time to pull out all the cute red and pink decorations! Hi, I'm Cherry of Cherry Blossoms and I'm so excited to share this quick project, especially easy to make when using the fabulous BERNINA binding attachment #88 and perfect for all those scraps you've been saving! I also have a cute Hugs and Kisses tutorial wall hanging and a Be My Valentine runner you may want to make… there is still time!!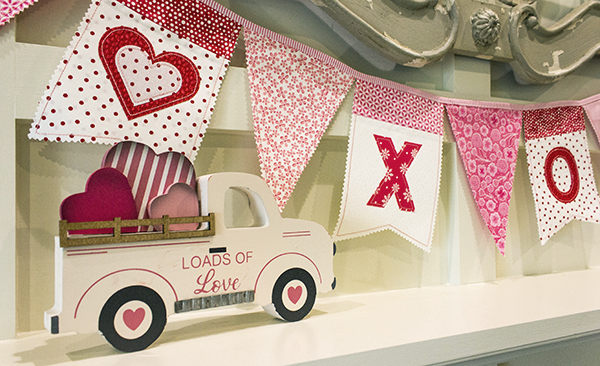 So gather your supplies and let's get started!

Materials to Sew an XOXO Bunting:
Water-soluble pen and pencil
Cutting mat, ruler, rotary cutter
Pinking shears (optional)
Fine tip permanent pen
Light box (optional)
Piecing thread (I used Aurifil 50 wt)
12 wt thread (optional… I used Aurifil)
2 1/4 yds of 17″ wide paper-backed fusible webbing
Sewing machine (I used my BERNINA 880 Plus)
Patchwork foot #37, #57 or #57D
Binder Foot #95 with Binder attachment #88 (I used the 28mm width)
Fabrics:
4 pink fat quarters (fabrics 5-8)
3 red fat eighths (fabrics 2-4)
3/8 yd of a multi print (fabric 1)
3/8 yd white-on-white (fabric 9)
1/8 yd or a fat quarter for binding (I used fabric 8) or 3 yds 1/2″ wide double fold bias tape, trim or ribbon of your choice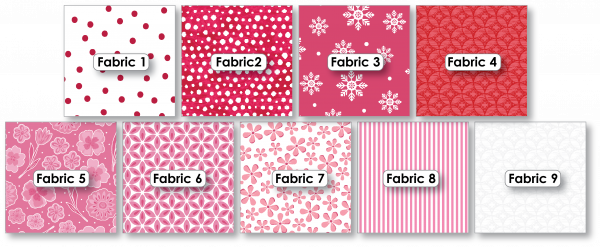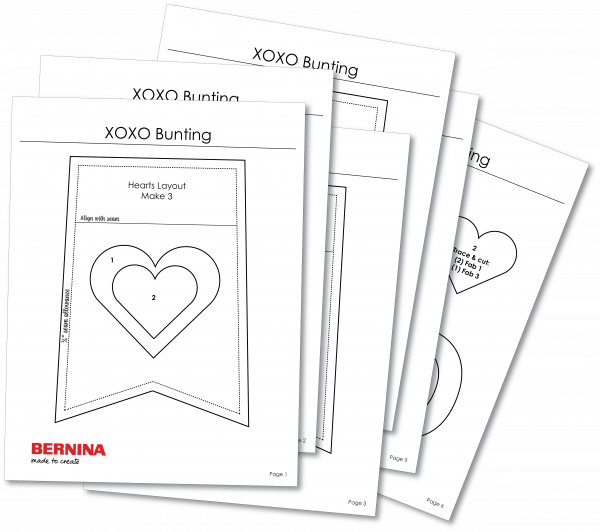 Step 1: Cut and Label the Fabrics and Fusible Webbing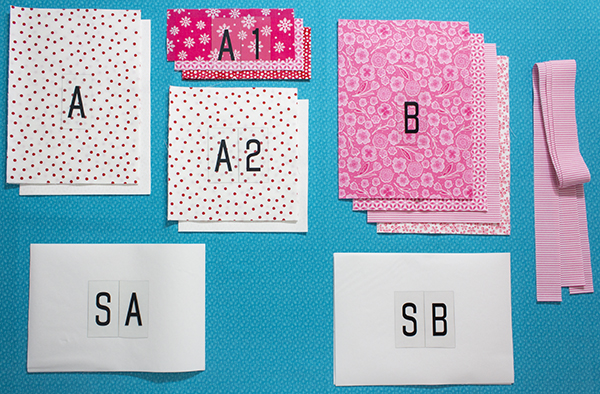 Fabric 1: (2) 6″ x WOF strips sub-cut into (4) 6″ x 8 1/4″ – A and (4) 6″ x 6 1/4″ – A2
Fabric 2: (1) 6″ x 18″ strip sub-cut into (4) 6″ x 2 1/2″ – A1
Fabric 3: (1) 6″ x 2 1/2″ – A1
Fabric 5: (2) 6 1/4″ x 18″ strips sub-cut into (4) 6 1/4″ x 8 1/2″ – B
Fabric 6: (2) 6 1/4″ x 18″ strips sub-cut into (4) 6 1/4″ x 8 1/2″ – B and (1) 2 1/2″ x 18″ strip sub-cut into (2) 2 1/2″ x 6″ – A1
Fabric 7: (2) 6 1/4″ x 18″ strips sub-cut into (4) 6 1/4″ x 8 1/2″ – B
Fabric 8: (2) 6 1/4″ x 18″ strips sub-cut into (4) 6 1/4″ x 8 1/2″ – B
Fabric 9: (2) 6″ x WOF strips sub-cut into (3) 6″ x 6 1/4″ – A2 and (3) 6″ x 8 1/4″ – A
Paper backed fusible web: (4) 6″ x width of paper strips sub-cut into (8) 6″ x 8 1/4″ – SB and (4) 5 3/4″ x width of paper strips sub-cut into (7) 5 3/4″ x 8″ – SA
Step 2: Make the Bunting Flags
Install a patchwork presser foot on your sewing machine (I'm using Patchwork foot #57D).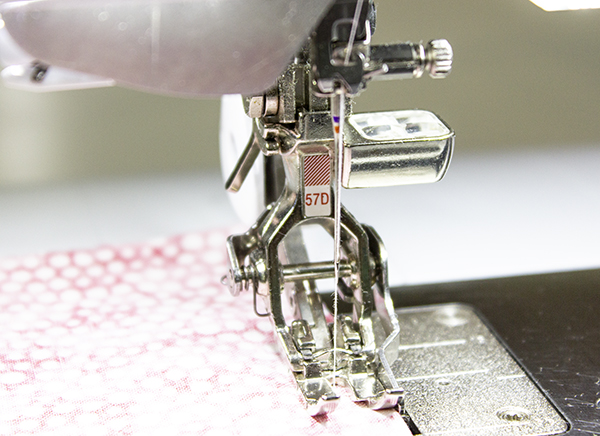 With right sides together and a 1/4″ seam allowance, sew a fabric 2 6″ x 2 1/2″ A1 to a fabric 1 6″ x 6 1/4″ A2 and press the seam open.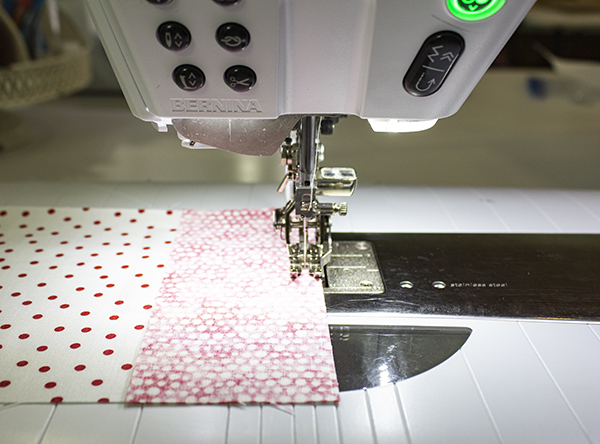 Repeat with the remaining fabrics 1 & 9 A2 and fabrics 3 & 6 A1 for a total of 7 A flags.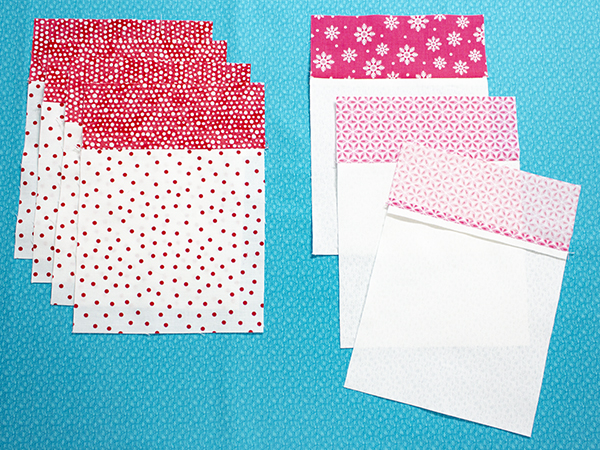 Fuse a paper backed fusible web 5 3/4″ x 8″ SA, fusible side down, onto the wrong side of a pieced flag A (follow the manufacturers' instructions for your fusible).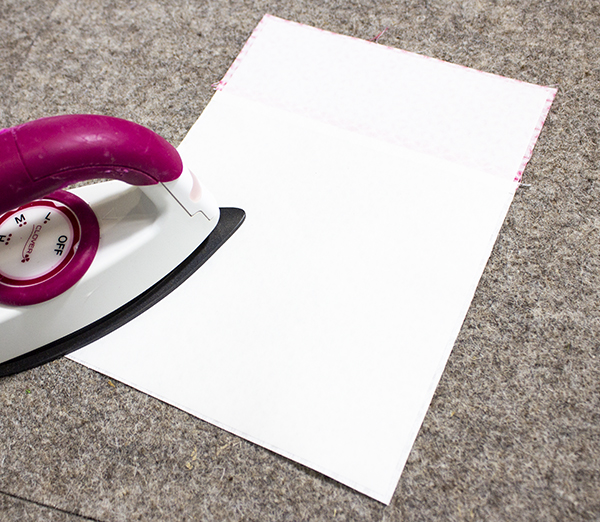 Once the fusible is cool, carefully remove the paper liner.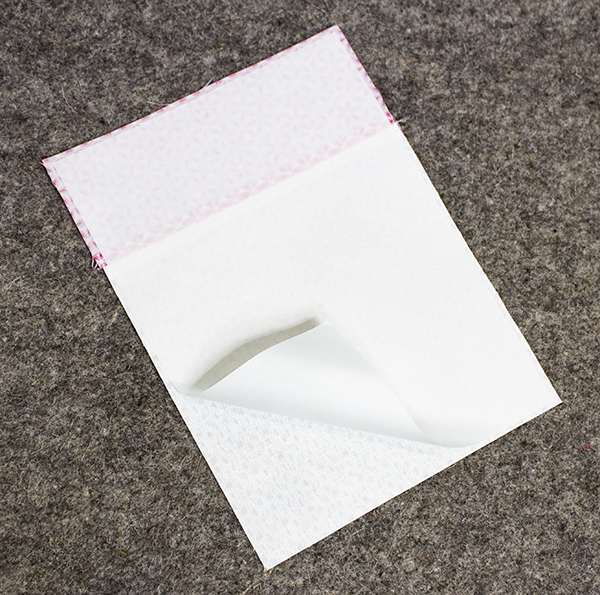 With the fusible side up, place a 6″ x 8 1/4″ A rectangle, right side up on top…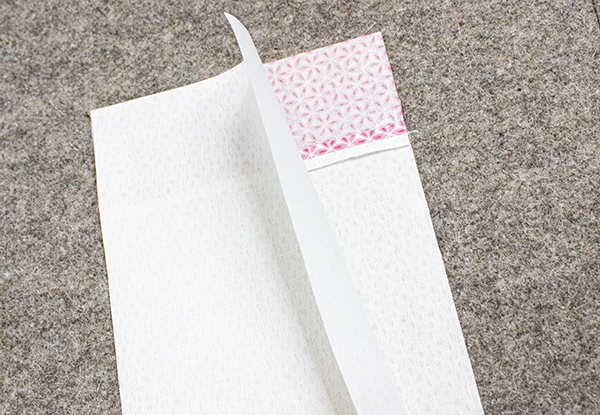 … and fuse together; repeat with the remaining A flags.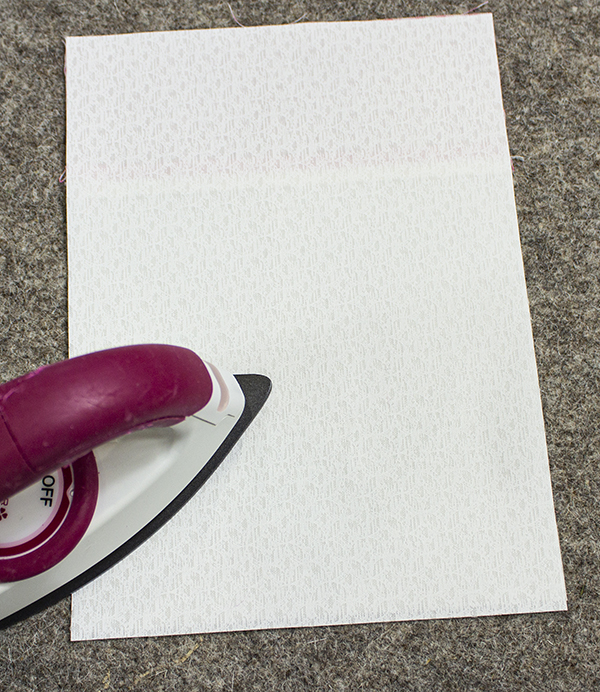 Repeat the process with the (16) 6 1/4″ x 8 1/2″ B fabric rectangles and the (8) paper backed fusible web 6″ x 8 1/4″ SB fusible rectangles for a total of 8 B flags.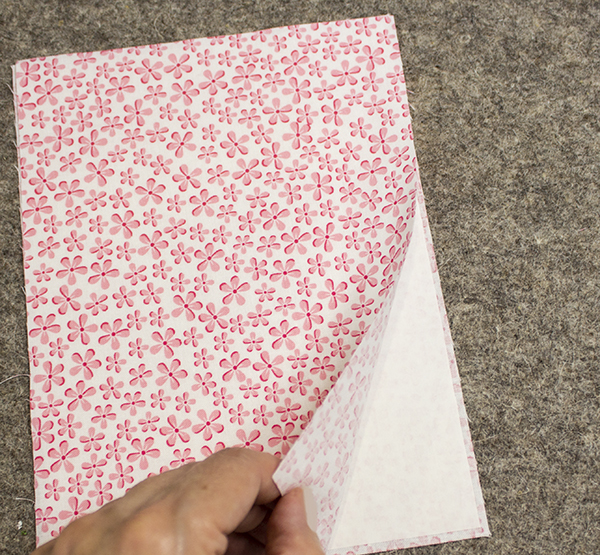 Make 8 B and 7 A flags
Step 3: A & B Templates
Cut the A & B templates found on pages 4 and 5 of the XOXO Bunting PDF.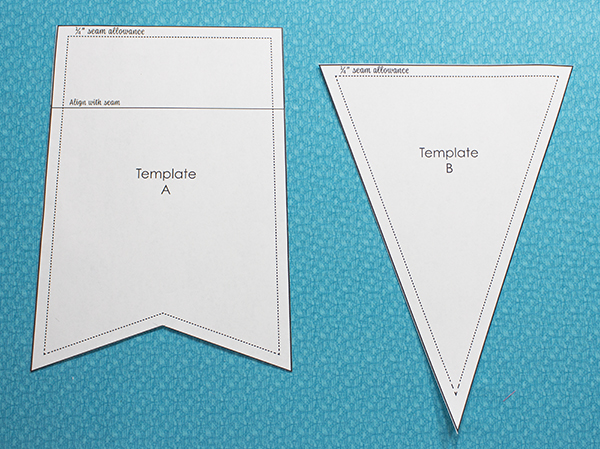 Center the B template on a B flag and trace the triangle with a pencil.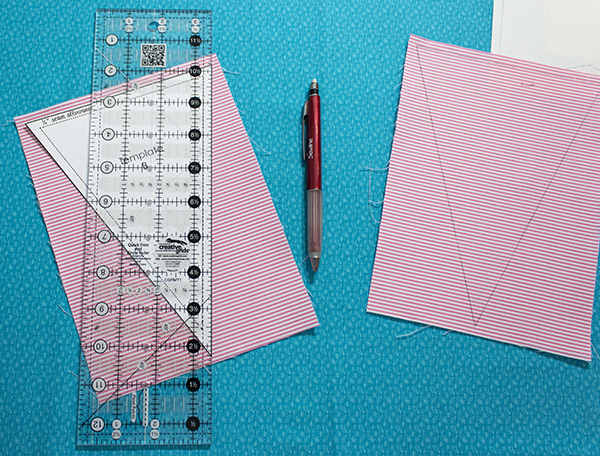 Repeat with the A template and the A flag, aligning the seam line with the sewn seam.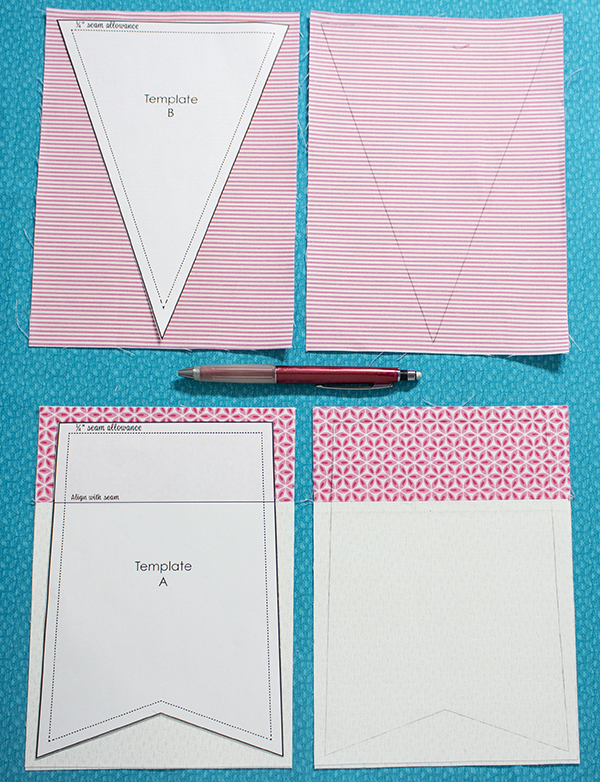 Step 4: Appliques
Trace the applique shapes found on page 6 onto the paper side of the fusible web; use a fine tip permanent marker or pencil.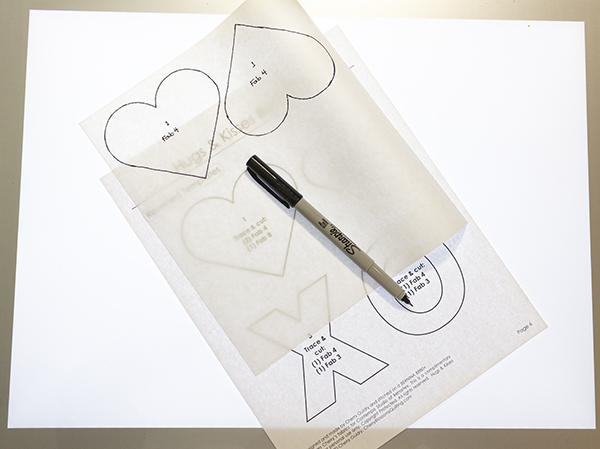 Fuse the fusible onto the wrong side of its corresponding fabric and…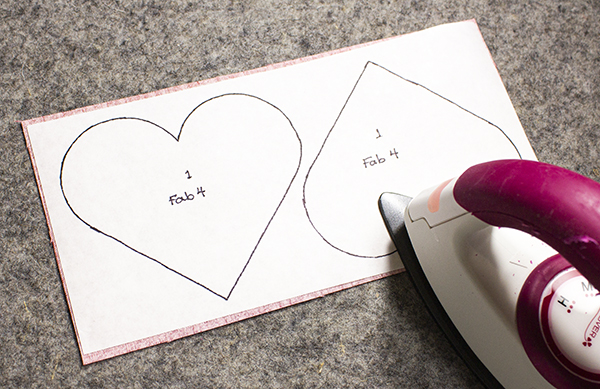 … cut the shapes out.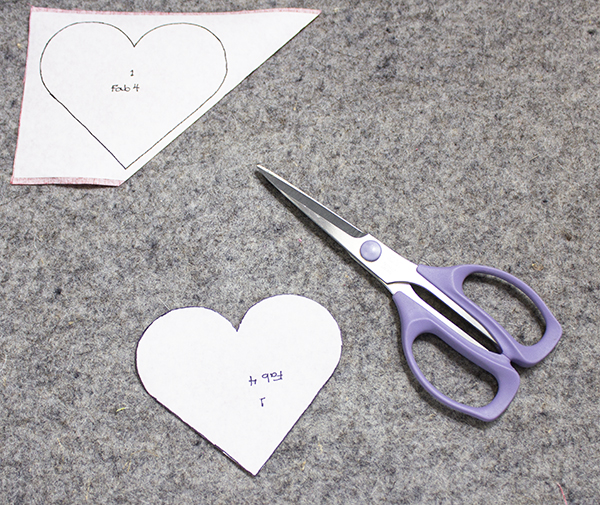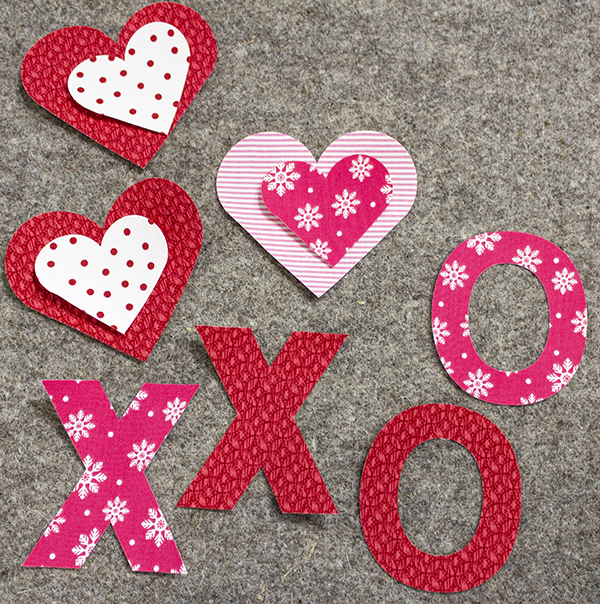 If you have an electronic cutter (Silhouette Cameo, Cricut, etc.), download the SVG file above to cut the appliques.
Place an A flag over an A layout to align the applique shape and fuse in place.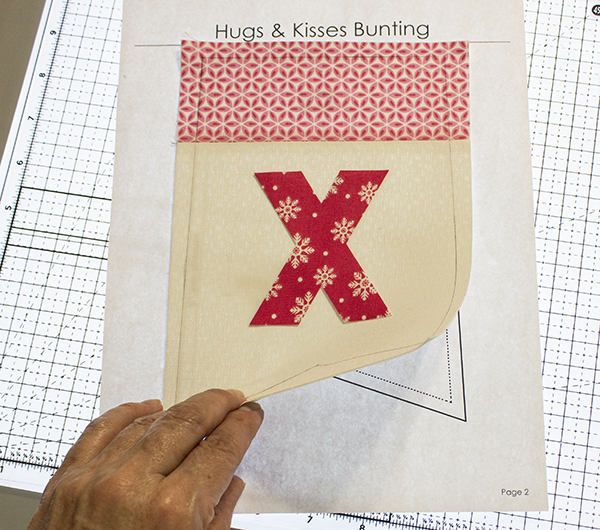 Increase the stitch length in your sewing machine to about 3mm and stitch inside the traced line of the A flag with a 1/4″ seam allowance. To add a little more detail, I installed a 90/14 topstitch needle on my sewing machine and used a 12 wt thread for my top stitching; 50wt for the bobbin.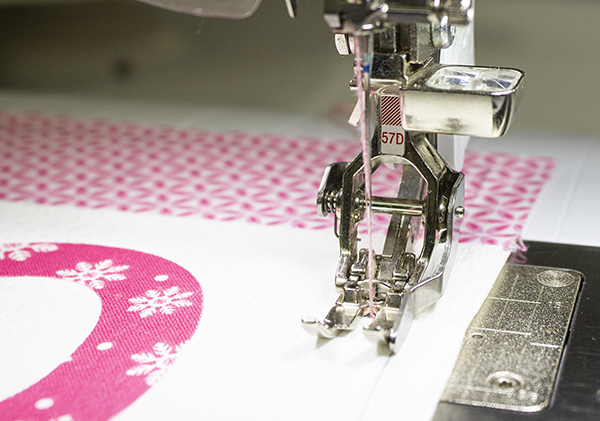 For the appliques, I also used the 12wt thread and stitched the appliques down an 1/8″ in from the raw edge.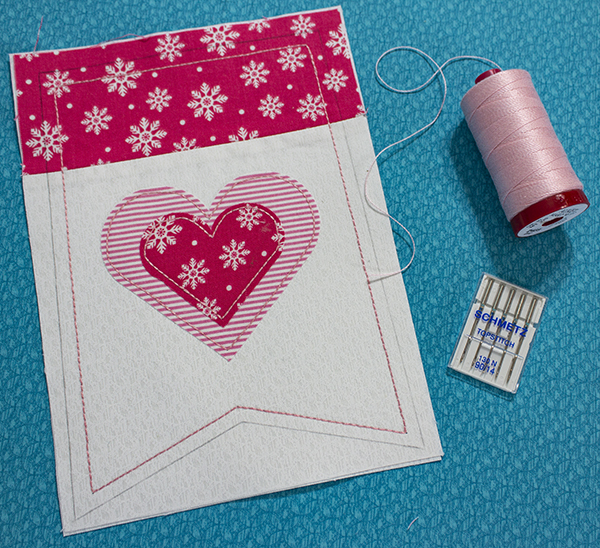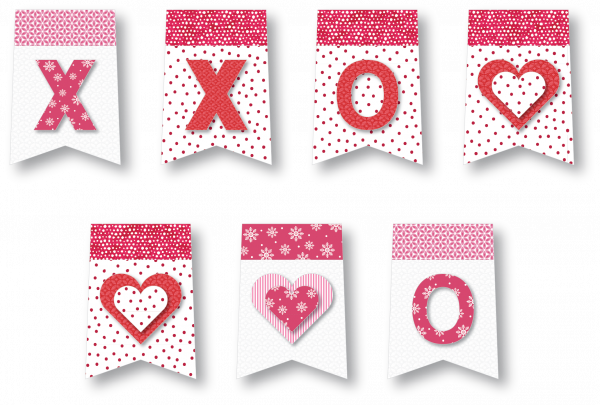 Step 5: Trim the Flags
Trim the flags on the traced line with pinking shears, scissors, or a straight or wavy rotary cutter.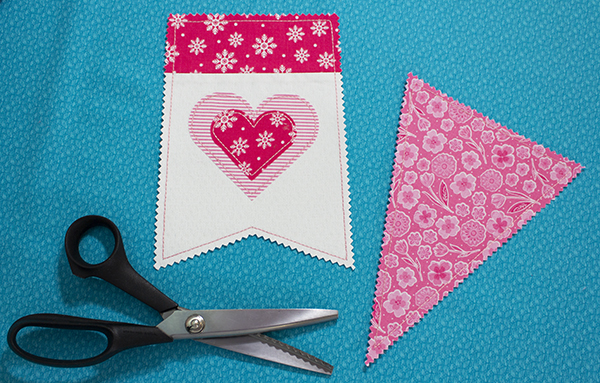 Step 6: Binding
I have the 28mm binder attachment #88 and absolutely love it! It's so easy to use and the perfect way to attach the little flags to the binding. You could also use fun trim, ribbon, 1/2″ wide double fold bias tape, etc.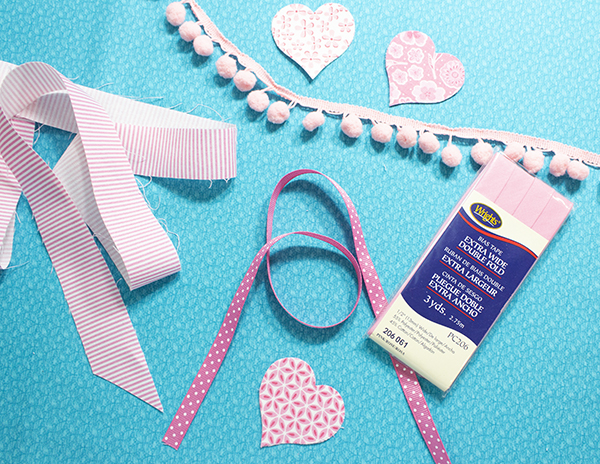 For my binding, I cut (3) 1 1/8″ strips on the width of an 1/8 yd of fabric, but if you prefer to make bias binding, diagonally cut enough strips from a fat quarter to make approximately 110″ in of length; for easy bias binding, follow the steps in this tutorial and cut the strips to the width of your choice.
Sew the binding strips together and press the seams open.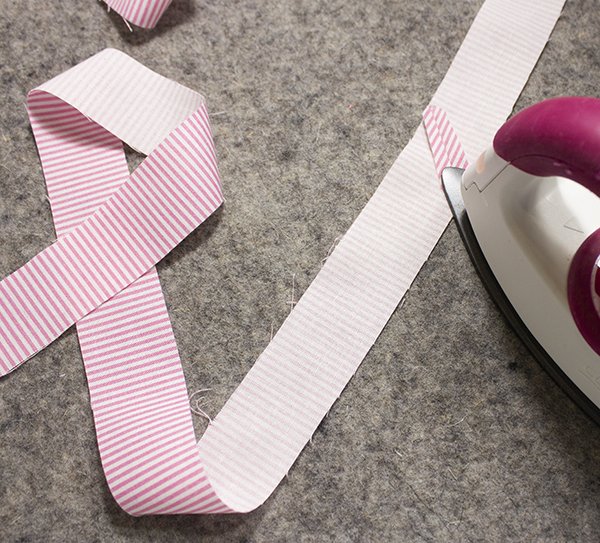 Using a water-soluble pen, make a "stopping mark" line about 18″ from one end of the sewn binding strips.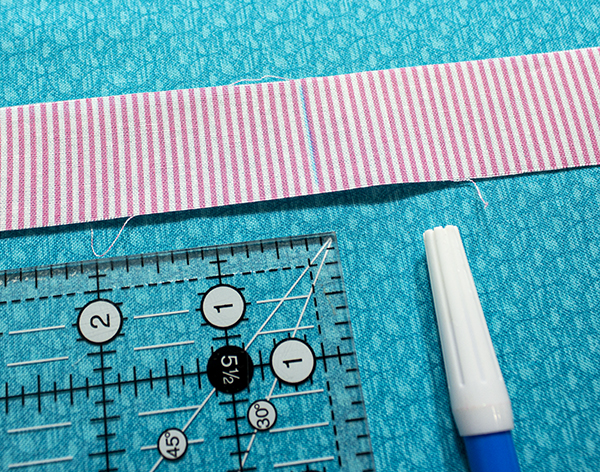 Arrange the flags in the order to be sewn…

… and stack them with the last flag on the bottom and the first on top.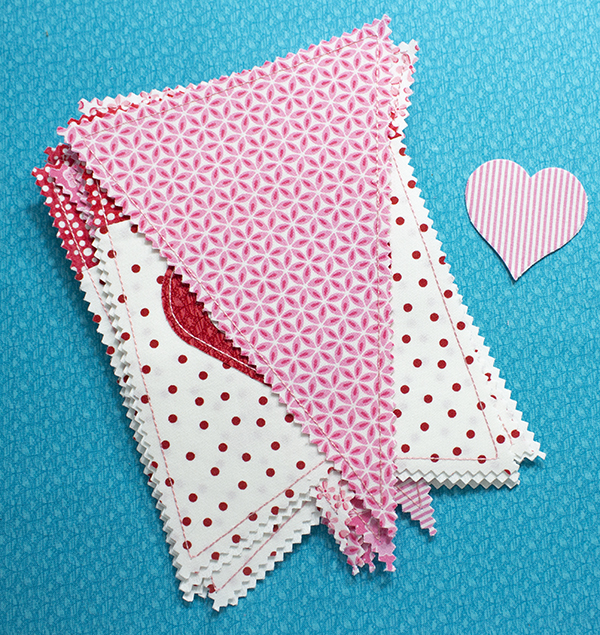 This Binding Basics post will tell you all about the amazing binding attachment I'm using to make and attach the little flags to the binding strip.
Install the binder attachment…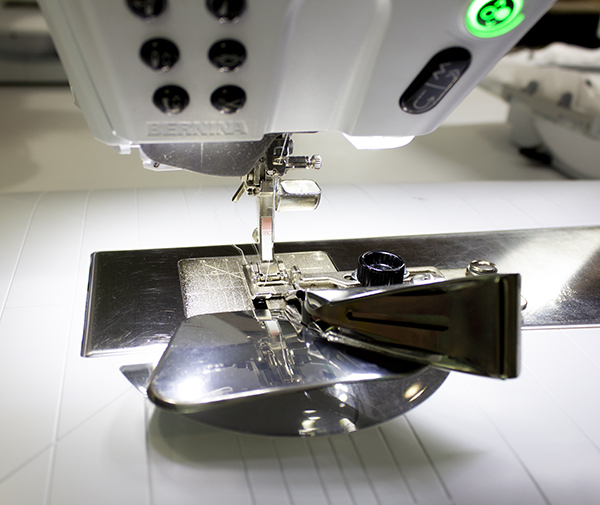 … feed the binding strip with the marked end into the channel and sew the folded strip down about 18″ until you see the stopping mark.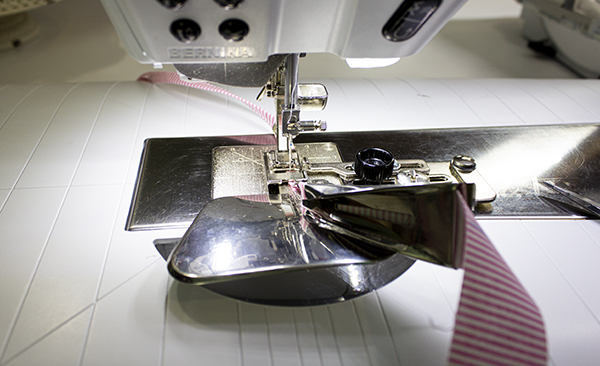 Pause at the mark…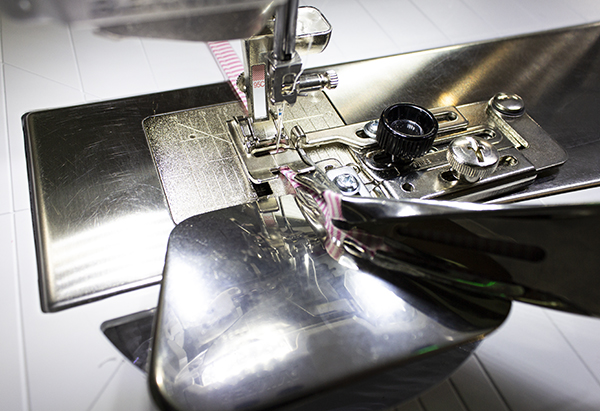 … and begin inserting the flags from the stack into the binding at the beginning of the presser foot.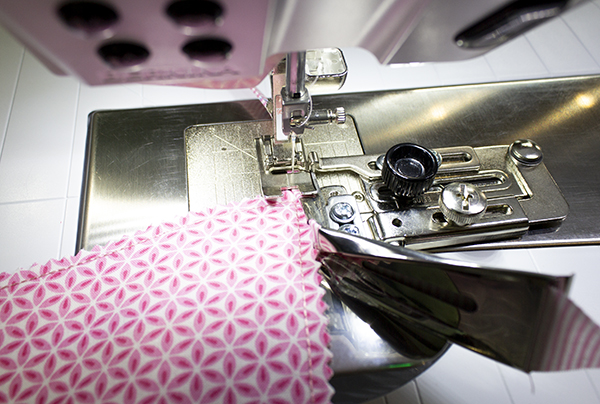 Place the next flag right after the sewn flag.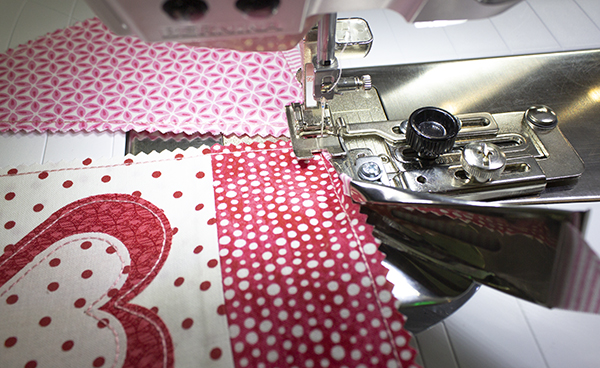 Once all the flags have been sewn in, finish sewing the remaining binding strip.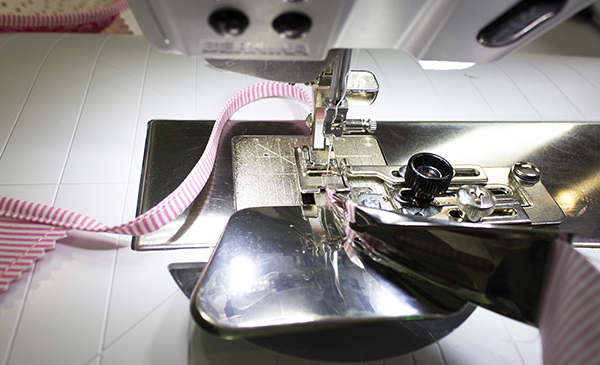 Trim the excess sewn binding to measure 12-15″ long on both sides of the bunting, and voila, you're all done!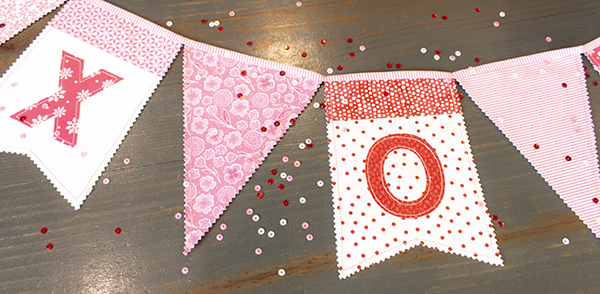 I hope you enjoy making an XOXO bunting… would love to see it!
Happy Valentine's Day!!
Difficulty level

Beginner

Time to Complete

Evening

Used Material

50 wt cotton thread, basic sewing supplies, cotton fabric, cutting mat, fusible webbing, thread

Projects

banner

Seasons

Valentine's Day

Techniques

applique, binding
What you might also like