Sewing with Denim: Tips and Tricks
Denim is a versatile fabric that has been around for hundreds of years across the world. Denim became popular in 1873 when the first patented riveted denim pants made by Jacob W Davis and Levi Strauss hit the market. Levi's first pair of its famous 501 Jeans was produced in 1890. Since the creation of the denim pant, it has evolved into a wardrobe staple for all ages and genders.
Fabric Characteristics of Denim:
Strong fabric
Stretchability if woven with polyester, spandex or Lycra
Breathable
Care and Use of Denim:
It is always best to wash your new denim of any color before you wear them to prevent crocking upon the first wear. Crocking is the term for when the dye is rubbed off from friction onto another dry surface. This also happens in your washer, but the term then is called bleeding.
Your denim will always have a 2-10% shrinkage rate, so wash carefully and hang dry if possible.
The average person should wear their jeans 3-5 times before washing. Not washing after every wear cuts down on the fading of the indigo and helps the longevity of the jeans.
Recommended Presser Feet for Denim:
BERNINA has two presser feet to make sewing with denim and other heavy materials a breeze,
Jeans Foot #8D for Dual Feed machines and the Jeans Foot #8 for 5.5mm machines.
Single needle hole provides extra stability for the needle
Perfect for sewing heavy seams and thick fabrics
Narrow groove or thread indentation on the bottom allows heavy threads to pass under the foot, preventing skipped stitches when topstitching or sewing reinforced seams
Triple straight stitch can be used where reinforced seams are needed
Tips and Tools for Sewing with Denim
It is best to use Jeans Needles. We recommend using size 100 or 110 or even a Top Stitch Needle for heavier threads for a desired look.
Use the Height Compensation Tool to stitch over extra bulky seams
Stitch up to the bulky seam.
Place tool behind needle and under presser foot.
Use the appropriate number of plates to level the foot.
Lower presser foot.
Stitch until front of the foot begins to go down the slope of the seam.
The Sliding Hem Gauge is great for beginners and experts to ensure the same hem all the way around your pant leg.
The BERNINA Free Hands System (FHS) will help keep both hands on your jeans while sewing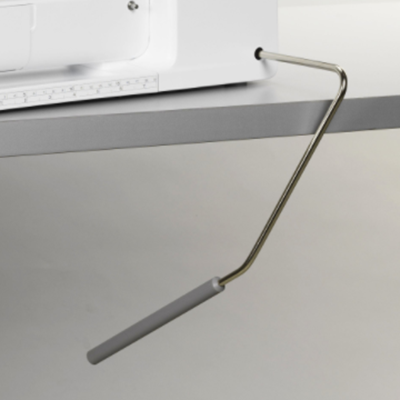 A sleeve pressing board will make pressing your hems easier and with less fuss rather than trying to fit your iron into your pant leg.
Age-old Question: Can You Hem my Jeans?
Luckily hemming jeans can be fairly quick, once you get the steps down and have the right tools. Check out this past blog post, by BERNINA Educator Sylvain Bergeron on how to hem jeans, Hemming Jeans the Simple Way. Need more information on Mending, Darning, Patching, and Repair for those denim items? WeAllSew has a great post from Jaime David to get you started on making those jeans last a bit longer.
Fear No Fabric
Difficulty level

Beginner

Used Material

jeans needle

Techniques

sewing with denim
Used Products
What you might also like
One comment on "Sewing with Denim: Tips and Tricks"