Sewing with Spandex: Tips & Tricks
Spandex is a soft elastic fabric that is often blended with woven fabrics to provide more comfort and flexibility. It has the ability to stretch up to 500% and still recoil to its original size and shape.
You will find this fabric in swimwear, activewear, and many other garment types. You might like working with spandex, so let me tell you more!
Fabric Characteristics of Spandex
Spandex is a lightweight, soft fabric that is very elastic and durable.
There is a wide variety in stretch value and fabric weight.
It is often added to woven fabrics to offer comfort and garment ease.
May stretch in length, width, or both.
Care and Use of Spandex
Spandex is used in swimwear, active sportswear/exercise apparel and foundation garments, as well as everyday garments, like jeans, skirts, and jackets.
It is machine washable, but avoid chlorine bleach.
Before cutting a pattern, lay spandex flat for 24 hours. Do not hang.
Spandex is easily damaged by dull needles and heat.
Use ballpoint pins or Clover Wonder Clips.
Use a stretch stitch or very narrow zigzag stitch
Recommended BERNINA Presser Feet for Sewing Spandex
A BERNINA Dual Feed Foot such as Reverse Pattern Foot #1D is a great choice for sewing on spandex. This will assist with the even feeding of the fabric.
BERNINA has several presser feet designed for sewing with fabrics like spandex, which may stretch as you sew. The Roller Foot #51, which has rollers on the bottom to move easily over the fabric as you sew is one such foot.
Tips for Sewing on Spandex
Decrease the Presser Foot Pressure on your machine

This is to prevent stretching the top layer of fabric. Be sure to test sew to decide what setting is best for your fabric type.
Use a Ballpoint Needle size 80
Use Stretch Thread

Mettler Seraflex is a new stretch thread that will be a great option for sewing on spandex fabrics.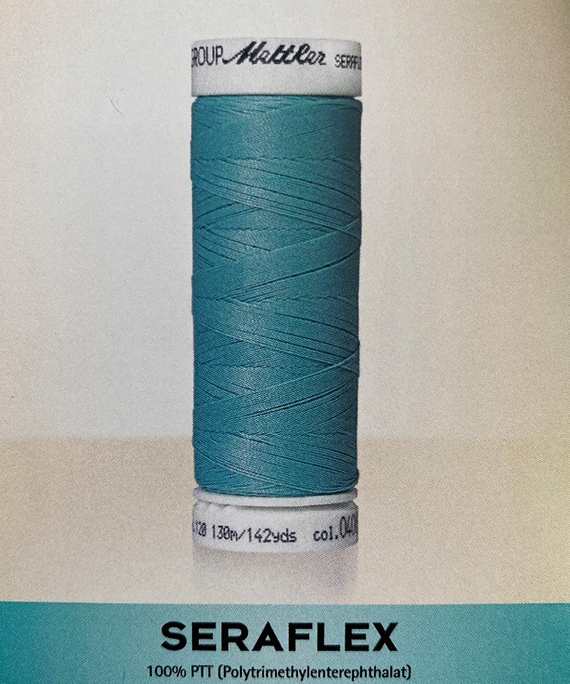 Narrow Zigzag of Stretch Stitch

A narrow zigzag or a stretch stitch on your machine will allow for the fabric to give and not "pop" the seam
Super Stretch Stitch
Stretch Stitch

BERNINA Overlockers
An overlocker is a great accessory machine for finishing seams on a project that you used spandex or a spandex blend.  The BERNINA L 890 and L 850 are new overlockers in the BERNINA line and offer more size and space, as well as easy threading with the One-step BERNINA Air Threader. Check out BERNINA Overlockers here.
Creating tops and skirts is so easy with spandex-blend fabrics. Learn these new skills to expand your sewing knowledge. Choose an easy project and be sure to test sew before you begin. Enjoy!!
Check out these blog posts on WeAllSew:
Fear No Fabric!
Seasons

all seasons

Techniques

sewing with spandex
Used Products
What you might also like
One comment on "Sewing with Spandex: Tips & Tricks"