'Twas the Night Before Christmas Quilt Tutorial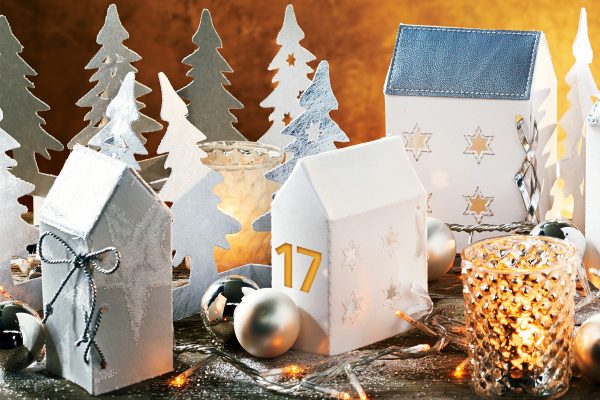 A Christmas tradition in our house includes putting up my children's artwork. My seven year old daughter made an adorable paper plate drawing of Santa on his rounds that I always loved. Every Christmas it was displayed on the fridge. As time went by, it grew worse for wear and I thought it would make a wonderful little quilt. It is a great way to preserve memories and you might like to use your own child's art.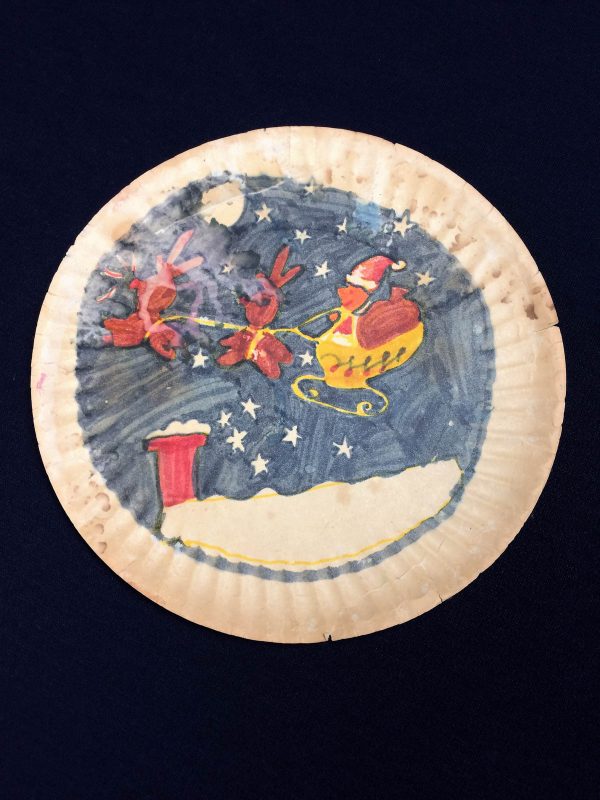 Materials to create the Christmas Quilt
Fabrics
15″ white background
Dark blue 9 ½″ circle
Scraps of brown, yellow, white, red fabrics
¼ yard red fabric for borders
¼ yard plaid fabric for binding
18″ x 18″ thin batting
½ yard backing fabric
Corresponding thread colors
Red embroidery thread
Stabilizer
Fusible material (lightweight)
Sewing machine. I sew on a BERNINA 790
Instructions on how to Create this Christmas Quilt
Step 1
Cut a white background square a little larger than you'll need. Mine is 15 inches.
Step 2
I wanted to embroider the lettering ('Twas the night before Christmas…) first so that the applique would not be hooped. To do that I put in a new needle, threaded with red top thread and a white lightweight bobbin thread, and got my machine ready. The feed dogs were lowered, the single-hole plate was put on, and I used the BERNINA Embroidery foot #26. For the size embroidery I wanted, I would need the oval hoop. These settings were programmed into the machine. Going into the writing mode in the embroidery settings, I chose the script font.  Because of the letter shape, I was not getting the spacing that I liked. My B 790 allows me to customize the spacing with lots of built in features. Using  the multi layers, I was able to type the letter T on one layer, and the words "was the night before Christmas…" on the second layer, using the "i" to open the various icons to adjust the embroidery. I worked on the second layer (the longest phrase), opened the rotating motif, and moved to 90 degrees so the words would fit the hoop. I shrank them down to 53% using the icon to proportionally alter the embroidery motif. Then using the bending the text icon, I turned the lower machine knob until it read -8, a curve that I thought would match the shape of the paper plate. After I got that shape I went back to layer one. I shrank that to 53% and rotated it 90 degrees.  I used my finger to drag the T into position and fine tune with the two multi-functional knobs. You can use the zoom tool to see that it is just right.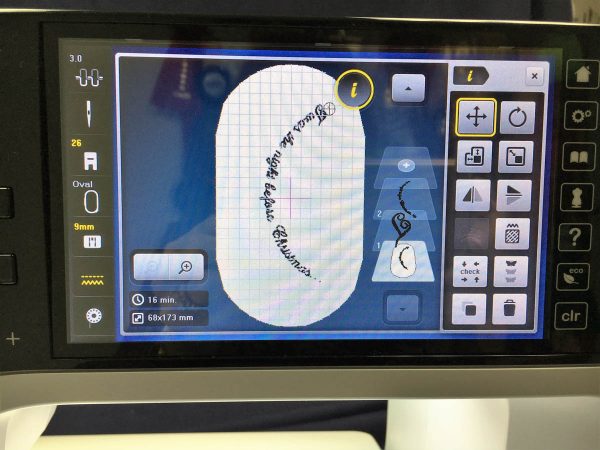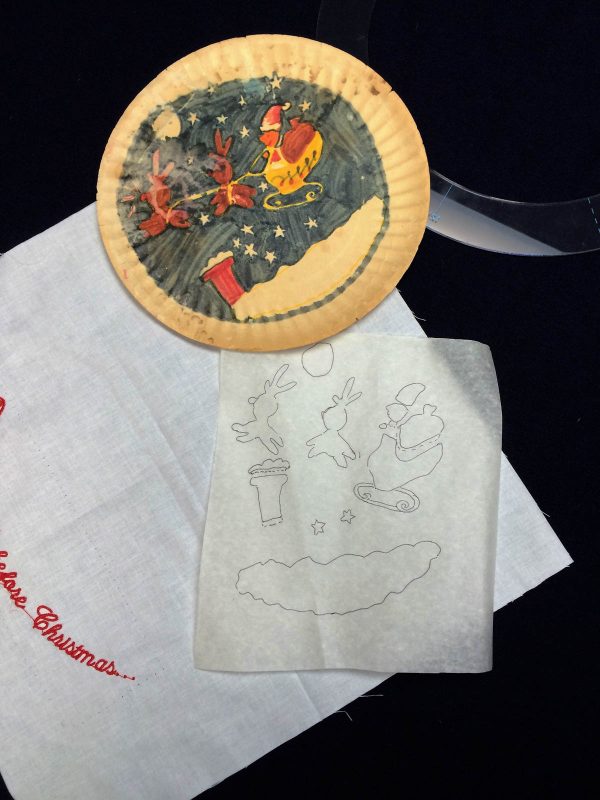 Step 3
I used a sticky stabilizer (so I didn't need to hoop the fabric) and placed it in the hoop. Hoop the stabilizer first, then use a pin or sharp scissors to score and remove the paper backing on the stabilizer. Position the background fabric so it will stitch out near the bottom allowing room for the appliqué.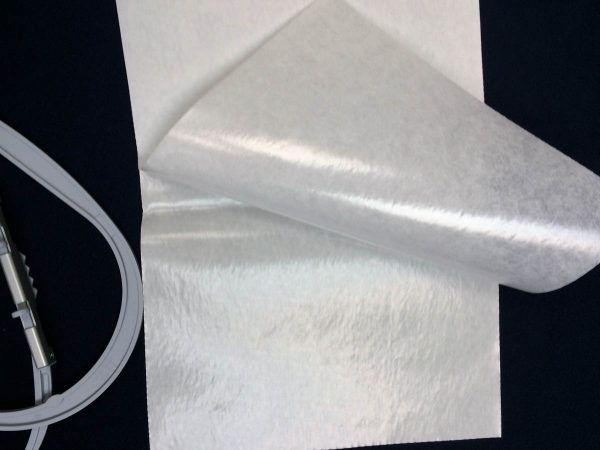 Step 4
I like to baste around the embroidery. My BERNINA 790 will baste around the edge, too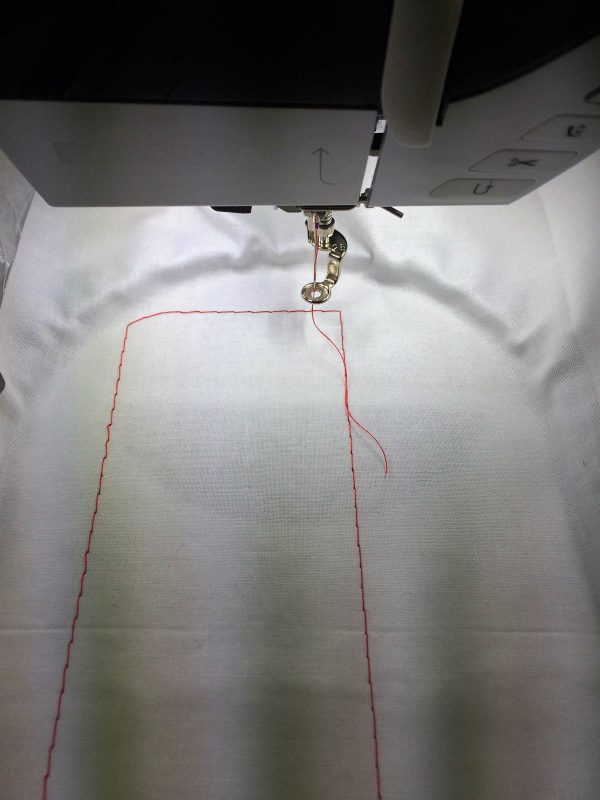 Step 5
Stitch out and remove from the hoop.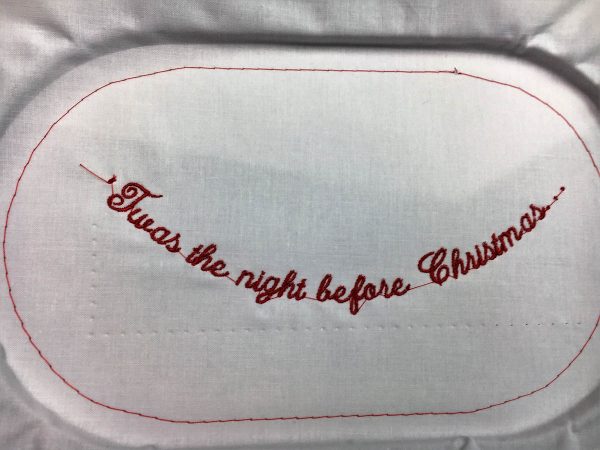 Step 6
Trace out the appliqué designs using vellum to make a pattern using a black Sharpie pen. If pieces are directional, redraw on reverse side of vellum. Trace onto fusible web—I like Steam a Seam II. Tip: place sheet of white paper underneath to see designs better.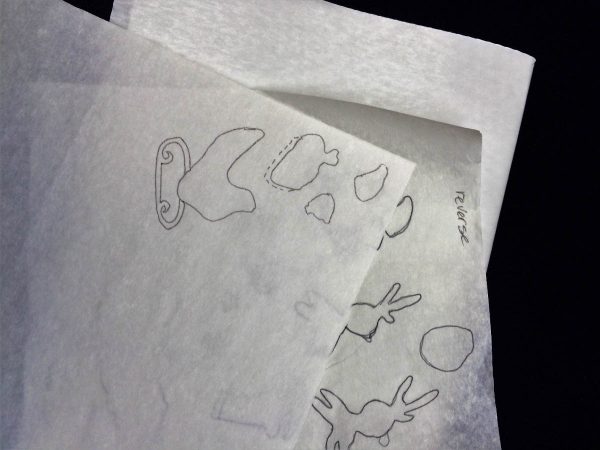 Step 7
Draw a 9″ circle on fusible and cut away all but ¼″ off of inner circle, leaving 1/8″ more on outer line. Fuse to dark blue fabric following fusible directions and cut a 9″ circle.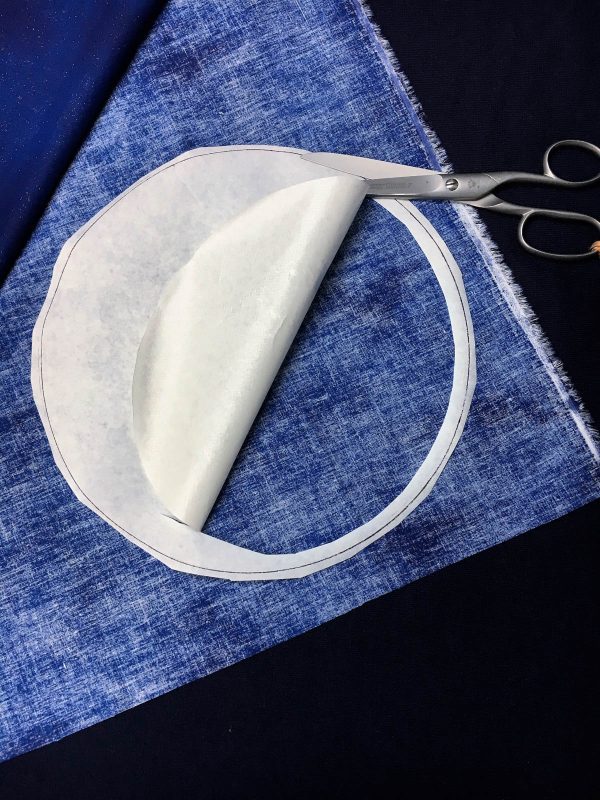 Step 8
Fuse designs for each shape and cut.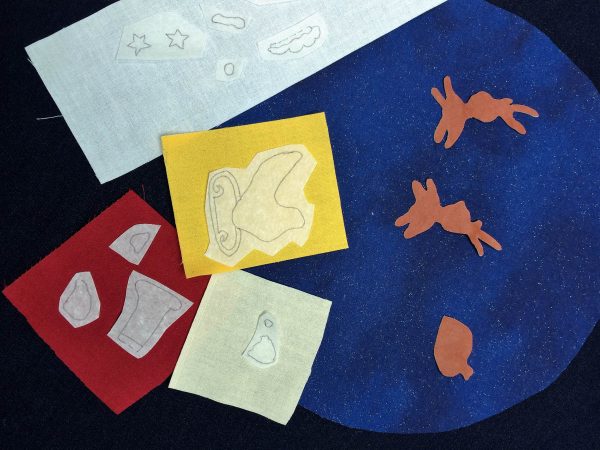 Step 9
Arrange appliqué pieces onto circle and press. Place on white background centering and spacing evenly above lettering.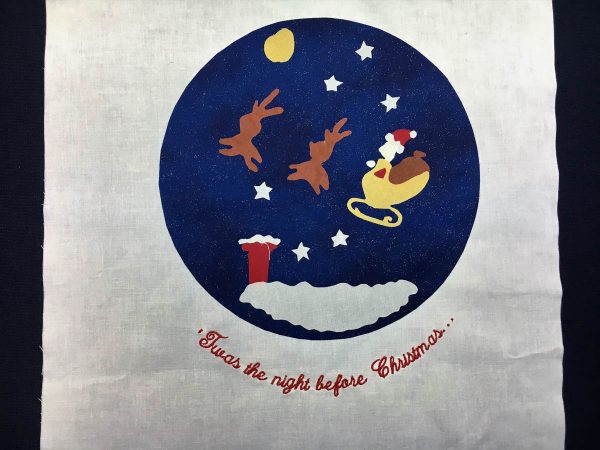 Step 10
I used a mini-blanket stitch for the blue circle. My settings on the BERNINA 790 were stitch number 1329 with a length of 1.25 and width of 1.8. I changed out to a number 20C foot and changed the throat plate to the 9 mm opening. A piece of stabilizer under all is helpful. It will be torn off at the end.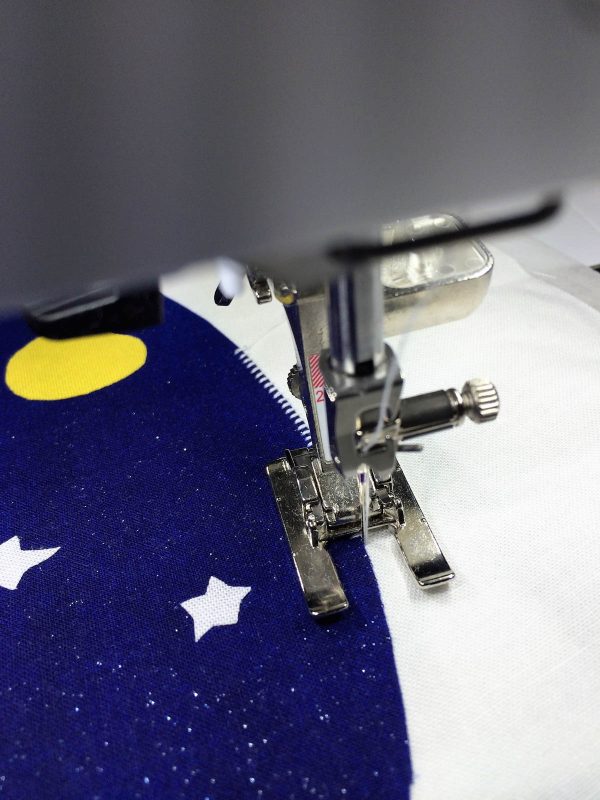 Step 11
The smaller pieces of appliqué were finished with a tiny satin stitch. The settings were stitch number 2 with a 0.25 length and a 1.5 width.
Step 12
Once all the appliqués are stitched down, I added details with free-motion or additional satin stitch. The sleigh decoration was done free-motion with the BERNINA Embroidery foot #26 foot, straight stitch plate, lowered feed dogs, and a little looser tension.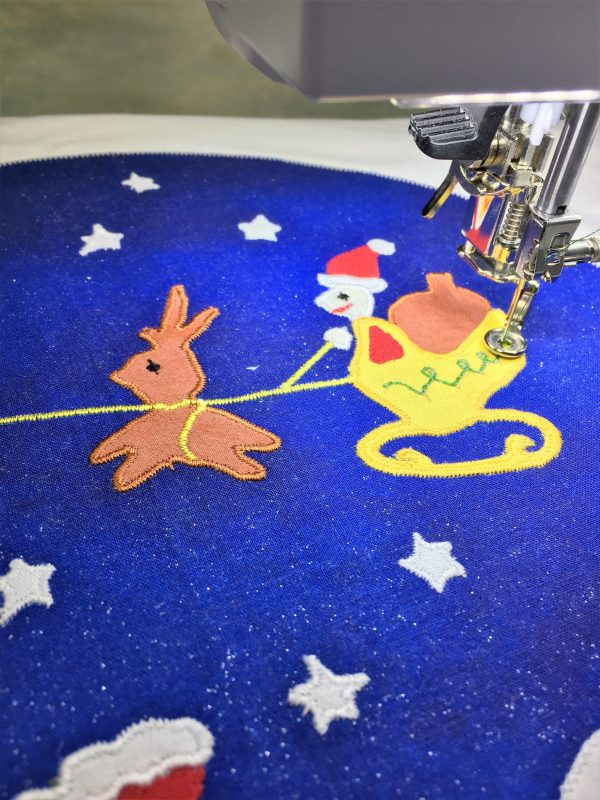 Step 13
The reins, glow, eyes, and mouth are done with a tiny satin stitch (length 0.25 width 1.5).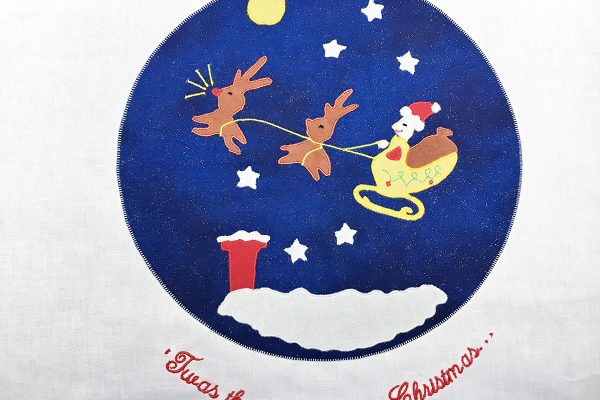 Step 14
Trim to a 12 ½" square and remove stabilizer.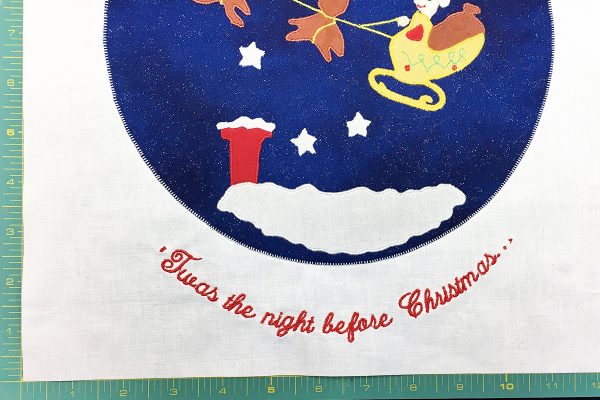 Step 15
Add 2 ½" borders.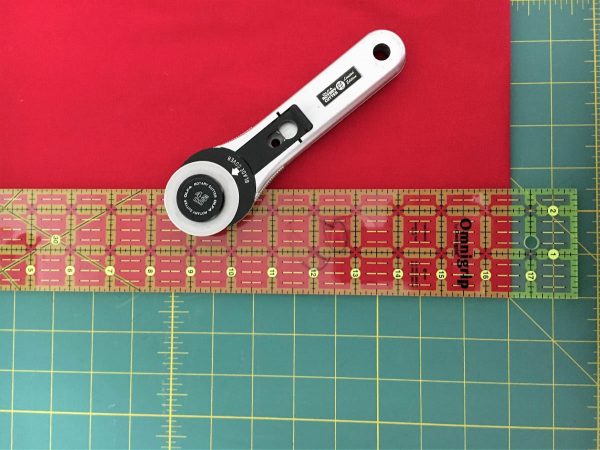 Step 16
Layer with a thin batting and a backing. Machine-quilt lightly. I avoid the appliqués.
Step 17
Add a binding. I love to use the BERNINA Patchwork foot 97 D for this as the seam guide can be set exactly where I want it.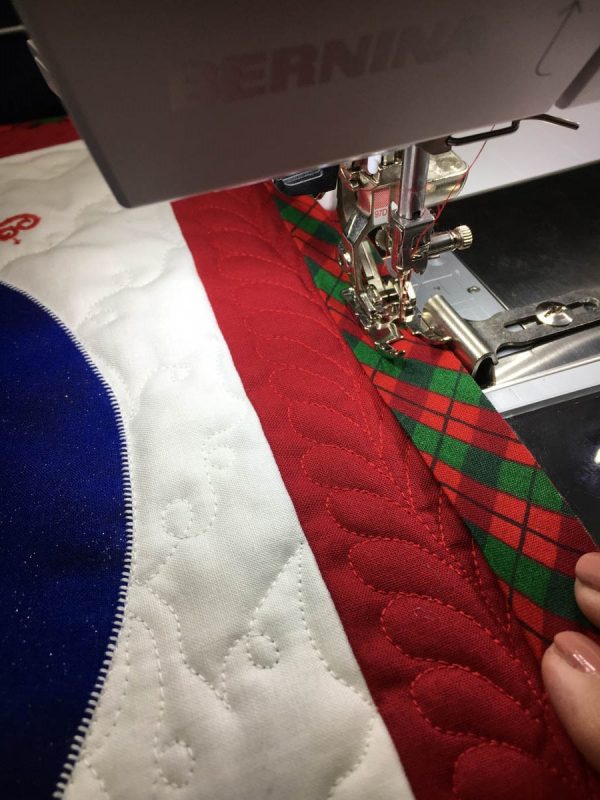 I think I got as much use out of that one paper plate as anyone could expect, so I am glad now to translate it to a small quilt to use in the future. After all, what would Christmas be without family traditions?
Pat Delaney of Crabtree Lane Quilts.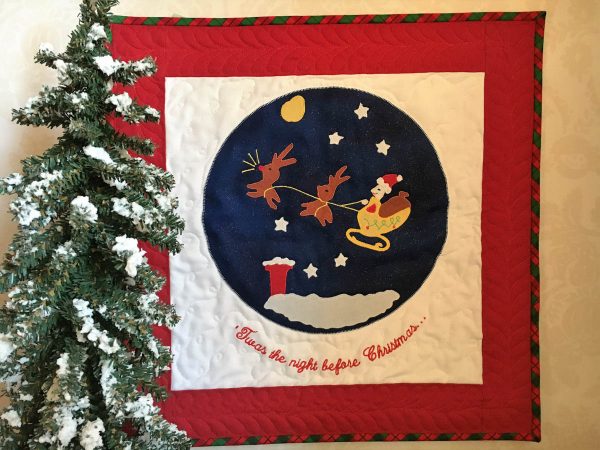 Our December 8 Gift For You
Today's gift is a clear BERNINA sewing accessory box with a BERNINA red handle for easy transportation to one awesome WeAllSew fan.
All you have to do is post a comment below answering the following question:
Where do you store your sewing accessories?
A winner will be chosen at random on December 9, 2016 and announced the following week!
Good luck!
The contest is open for comments until December 8 at 12:00 midnight Central Time. Click here for contest rules.
Congratulations to our WeAllSew reader "smiller530", the winner of the December 8 gift. Enjoy!
Difficulty level

Beginner

Projects

home décor

Techniques

patchwork, quilting
What you might also like
102 comments on "'Twas the Night Before Christmas Quilt Tutorial"