Patriotic Patchwork Table Runner
Hello Everyone,
Summer is officially here and the AGF Crew is beyond excited for outdoor BBQ's, beach days, and of course getting together to watch the fireworks on the 4th! We are definitely dreaming of fun summer memories ahead. Which is why we created the "Watching Fireworks" patriotic patchwork table runner tutorial. With July 4th being around the corner we wanted to keep the table runner quick and easy.
After gathering all the yummy red, white and blue fabrics AGF has to offer we narrowed it down to 19 prints. It's a super great project to use up all your scraps laying around because all you need are rectangle, squares and strips to put this table runner together. After sewing up the table runner we loved using the Walking foot #50 to add lots of matchstick quilting and decorative stitches. It really helps to move all your layers of fabric through the machine to create the perfect stitch.
We decided not to bind the table runner and instead sewed the back and front right side together and add a long topstitching around the edges, that definitely added a nice professional touch.
Hope you enjoy the step by step tutorial below. Have a happy Summer, filled with lots of sewing and family fun!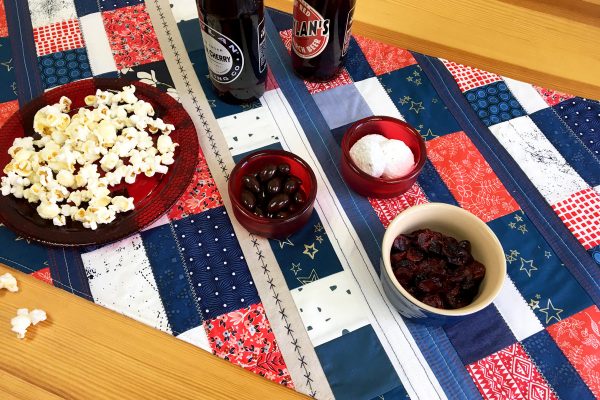 Materials to Make a Patriotic Patchwork Table Runner
All seams are 1/4″ seam allowance unless otherwise noted. Finished table runner approximately 17 1/2″ x 51 1/2″
Fabrics Used:
Fabric A-WFR-146- Midnight Roof 5/8 yard
Fabric B-WFR-143-Crimson Dance 1/3 yard
Fabric C-PE-465- Denim Blue 1/2 yard
Fabric D-SE-608- Pomegranate 1/4 yard
Fabric E-OE-916-Mood Indigo 1/4 yard
Fabric F-OBR-49801- Aerial View Whisper 1/3 yard
Fabric G -DEN-OYD-6004- Vanilla Mist 1/4 yard
Fabric H-TAL-65303- Sofia Midnight 1/3 yard
Fabric I-CHA-41705-Garden of Dreams Rouge 1/3 yard
Fabric J- CHA-41700- Magnolia Nightfall 1/4 yard
Fabric K-MED-32611- Shell Blaze Night 1/4 yard
Fabric L- DEN-L-4000- Soft Sand 3/4 yard
Fabric M-ESS-II-154- Specktacular Azur 1/4 yard
Fabric N-DEN-OYD-6002- Cherry Crimson 1/4 yard
Fabric O-PE-467- Night Sea 3/4 yard
Fabric P-DEN-S- 2008-Classic Denim 1/4 yard
Fabric Q-DEN-S-2004- Infused Hydrangea 1/4 yard
Fabric R-TAL-65306- Lore Rooftop 1/3 yard
Fabric S- PRE-816- Pearl & Silver 1 1/2 yards
Cutting Directions:
Thirty Six (36) 2 1/2″ x 4 1/2″ strips from Fabric A
Eighteen (18) 2 1/2″ x 4 1/2″ strips from Fabric B, F, I and R
Three (3) 1 1/2″ x 48 1/2″ strips from Fabric C, L, and O
Eighteen (18) 2 1/2″ squares from Fabric C, D, E, M,P and Q
Thirty Six (36) 1 1/2″ x 4 1/2″ strips from Fabric G and H
Nine (9) 2 1/2″ x 4 1/2″ strips from Fabric J and K
Three (3) 1 1/2″ x 24 1/2″ strips from Fabric G and N
One (1) 18″ x 52″ backing from Fabric S
One (1) 18″ x 52″ piece of Shape Flex woven fusible interfacing SF101 ( press your fusible to the wrong side of Fabrics S, making sure the bumpy side of the fusible it against the wrong side of the fabric.
Additional Materials
Sewing machine (we use a BERNINA 570 QE)
Batting 23″ x 57″
Red, white and blue quilting thread
Six embroidery skeins
Pellon Shape Flex woven fusible interfacing SF101
Sewing up the Top : Step 1- Piecing 
Collect all your red, white, and blue fabrics and let's get started!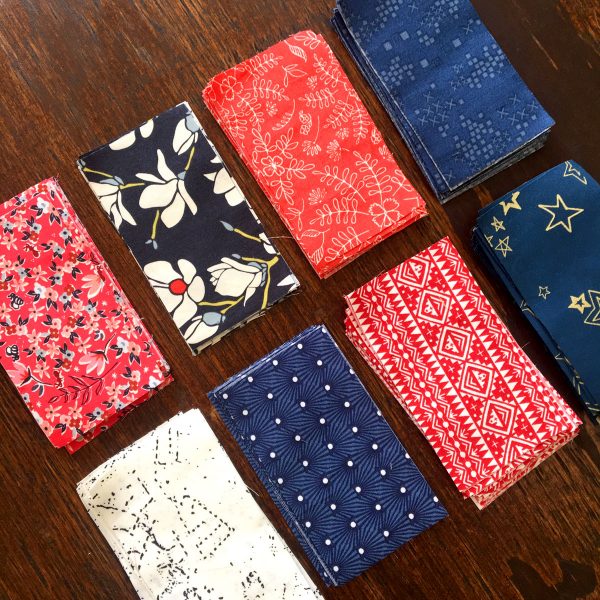 Following the Diagram below sew your  strip sets together.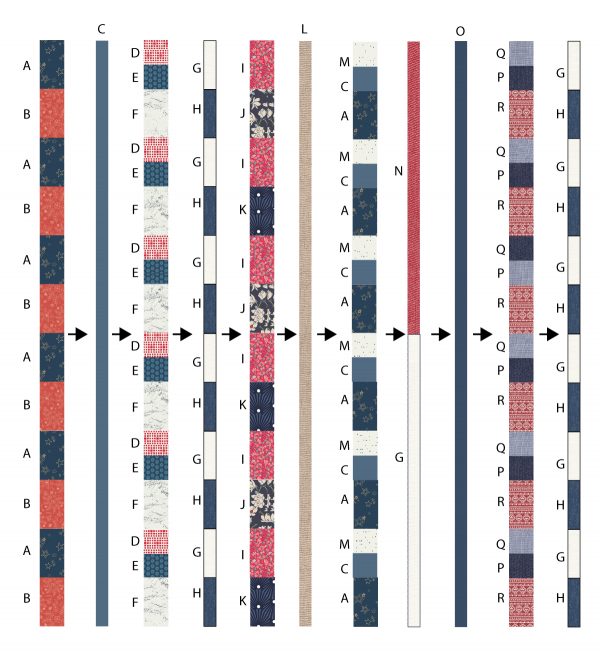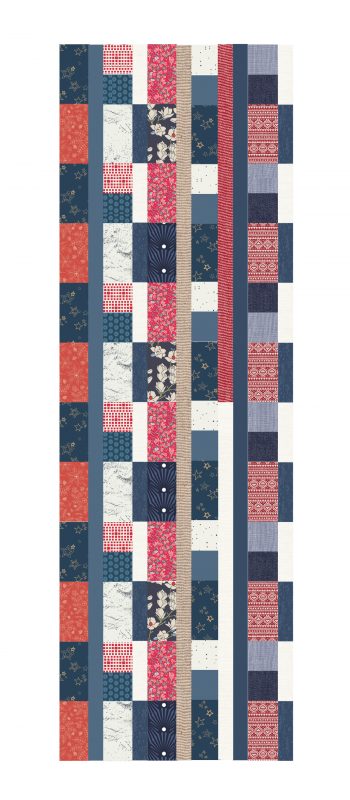 You will need to make three of these units. Sew all three units together.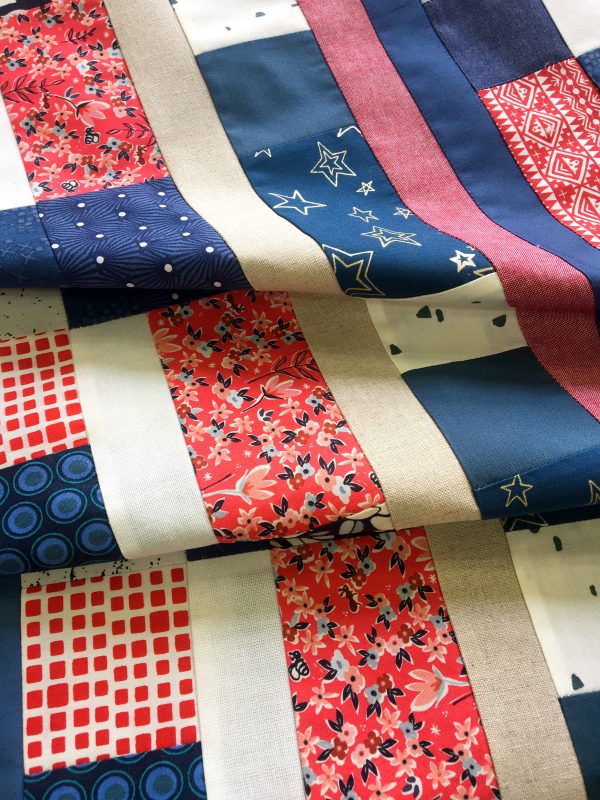 To get the diagonal look, cut on a 45 degree a 18″ x 52″ piece from your sewn piece.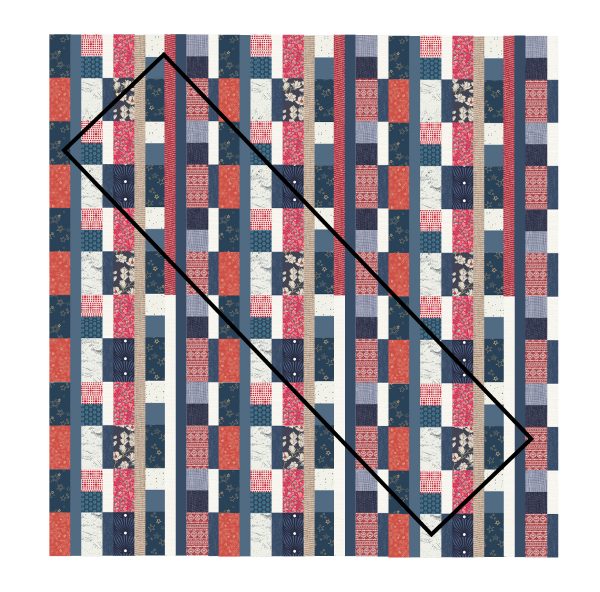 Save the left over pieces to create decorative pillows for your guests to use at your July 4th get together.
Place your tablerunner top on top of a piece of batting at least 5″ bigger on all sides of your piece. Quilt as your heart desires! We used a lot of matchstick quilting, zigzag stitches and an "x" decorative stitch, stitch number 305.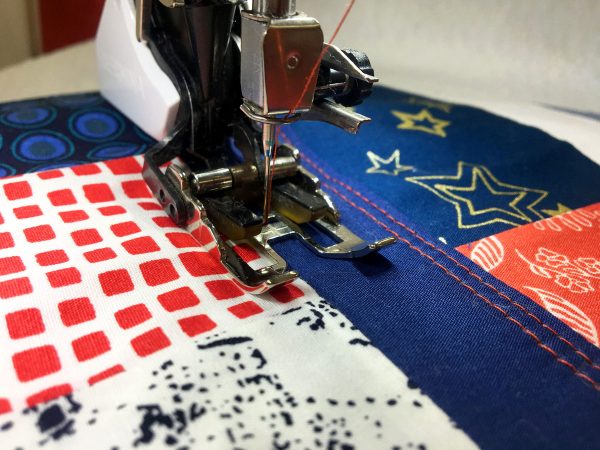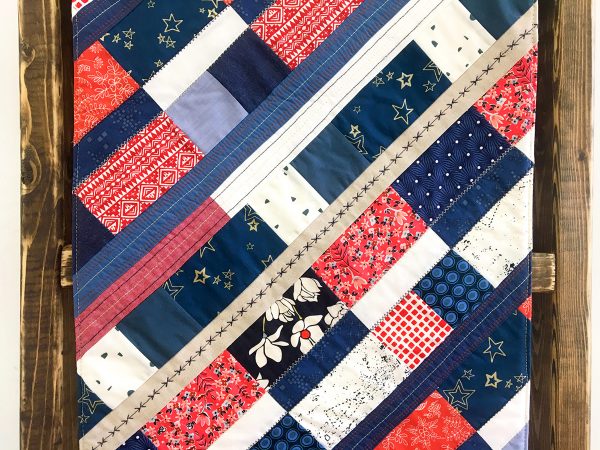 Take your 18″ x 52″ backing and place right sides together to your quilt top and pin into place. To add a fun festive flair to your tablerunner try adding some homemade tassels. Click here to learn how to make the tassels. We stitched the tassels to the corners and the center of the top and bottom of the tablerunner.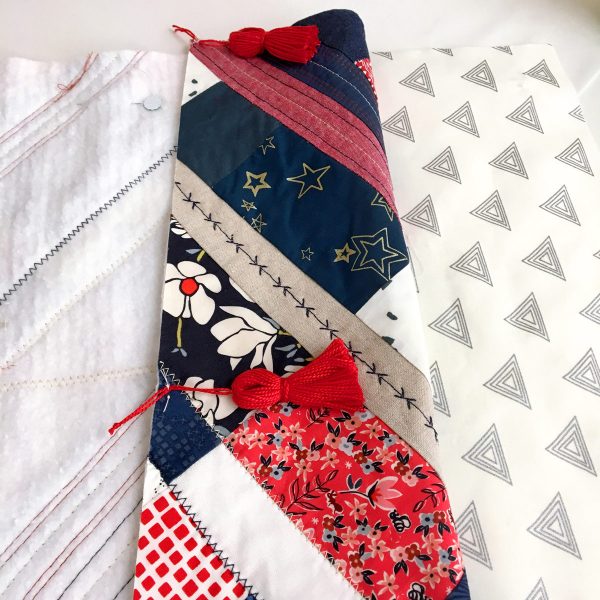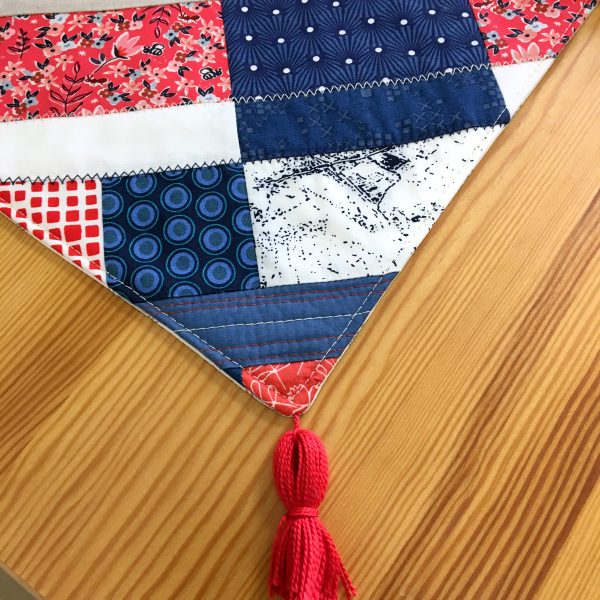 Stitch all around with a 1/2″ seam allowance, leaving a small unsewn portion to flip piece through. Give your project a good press and make sure your points are all turned out. Topstitch about 1/4″ around your entire piece.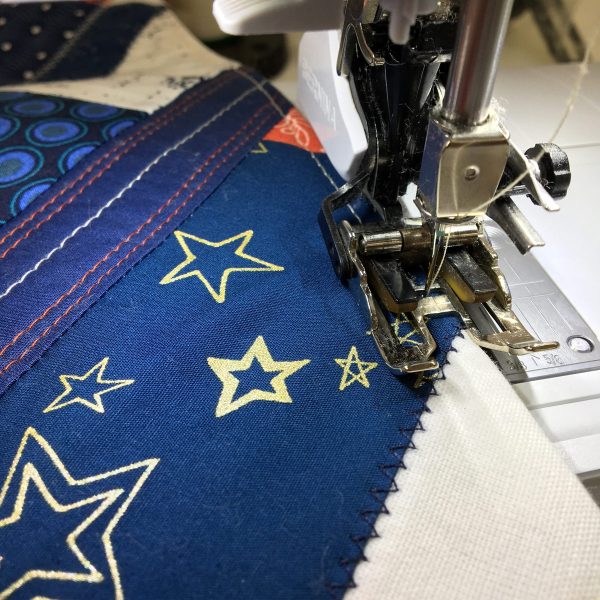 Place your finished runner on your BBQ Buffet table and enjoy good food and fireworks!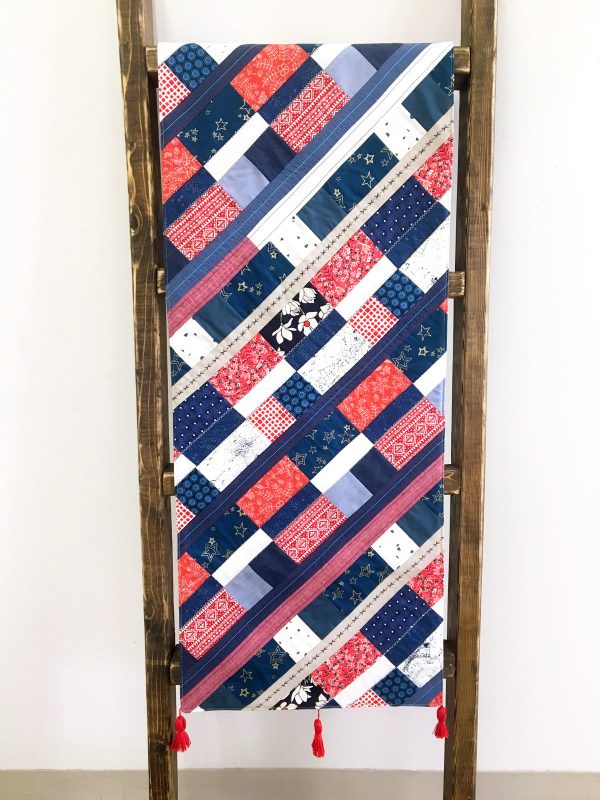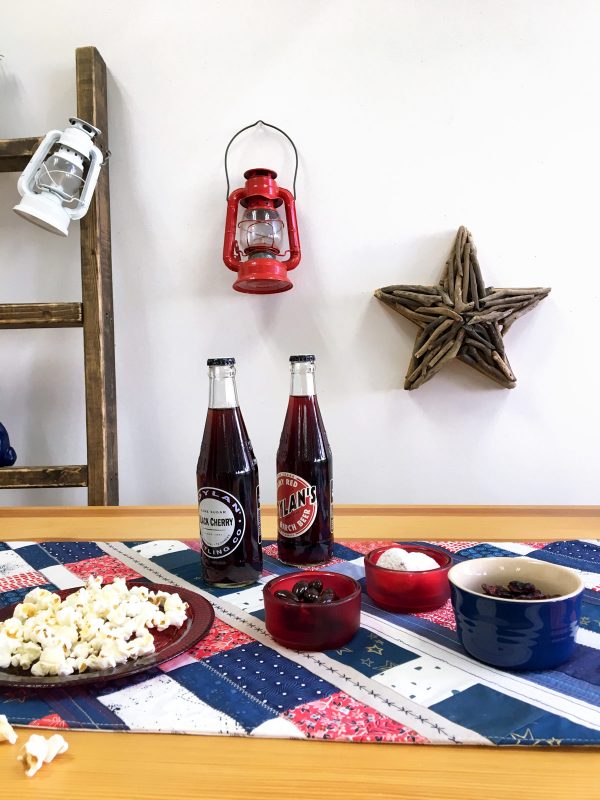 Love,
The AGF Crew
Difficulty level

Intermediate

Time to Complete

Evening

Projects

home décor, table runner

Techniques

patchwork, quilting
Used Products
What you might also like
4 comments on "Patriotic Patchwork Table Runner"