WeAllSew Pinterest Fabric Design Contest
Have you ever wanted to become a fabric designer? Joining the likes of Tula Pink and Amy Butler? Start with a blank canvas and take your eye for color combinations and patterns a step further.
Well here is your chance!
Break out your colored pencils, markers and stamps and get those creative juices flowing. Enter your original fabric designs (up to 10 per person) to join our Fabric Design Contest between April 1 – 22, 2013. Our very own Sewing Celebrities  with Pat Bravo will be judging your designs for some fabulous prizes including a printed run of your own fabric, an introduction and interview including a professional critque with fabric manufacturer Benartex, and the grand prize, a BERNINA 710!
Read the complete list of rules and eligibility before you begin. Tap into the inspiration all around you and most importantly, have fun!
Jo, Erika and Alice
Steps to Enter
1) First, read through the complete contest
rules
 • Note that this contest is for aspiring designers ONLY. If you already have a line you'll have to sit this one out. 🙂
2) Create your original fabric design "swatch"
• Designs should be 12" x 12"
• Hand techniques (sketching, painting, drawing, collage, stamping, etc.)
• Computer techniques (PowerPoint, PhotoShop, etc.)
• A combination of both hand and computer techniques
3) Turn your design into an uploadable graphic
• Scan or photograph your original artwork
• Save file as a JPG or PNG
• Resolution must be at least 150 dpi
4) Pin your original fabric design to Pinterest with the description "BERNINA & WeAllSew Fabric Design Contest" (if you don't have a Pinterest account create one
here
)
5) Post a link to your pin within the comment section of this original blog post below. NOTE: Your comment within this post below will be the only way we can receive your entry. We will re-pin your submissions within 24 hours.
6) Share with your friends!
•Right click to download and share the "Contestant" badge below on your Facebook page, blog, etc.
• Ask your friends to vote for your design by repinning it directly from the
official WeAllSew contest Pinterest board
.
NOTE: The entry with the most repins wins. Repin numbers appearing on the official contest board are the only numbers that will be considered for the People's Choice Awards.
The re-pinning period ends April 22, 2013.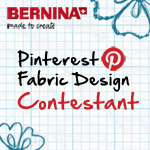 Winners & Prizes
Pinterest People's Choice Winner (Two winners based on most re-pins)
• Two winning designs will be chosen based on the most number of repins directly from
the contest's official Pinterest board.
NOTE: The re-pin numbers appearing on the official contest board are the only numbers that will be considered.
• Prize: A Field Guide to Fabric Design book
2nd Runner Up (based on Celebrity judges vote)
• Judging will be based on originality and creativity
• Prizes: A Field Guide to Fabric Design book, BERNINA Tote and Benartex Fabrics
1st Runner Up (based on Celebrity judges vote)
• Judging will be based on originality and creativity
• Prizes: Custom run of winning design (5 yards), feature on WeAllSew blog  and an introduction to fabric manufacturer Benartex  including a one hour interview
Grand Prize Winner (based on Celebrity judges vote)
• Judging will be based on originality and creativity
• Prizes: Custom run of winning design (10 yards), feature on WeAllSew blog and an introduction to fabric manufacturer Benartex including one hour interview
What you might also like
306 comments on "WeAllSew Pinterest Fabric Design Contest"