3 Tips for Sewing Halloween Costumes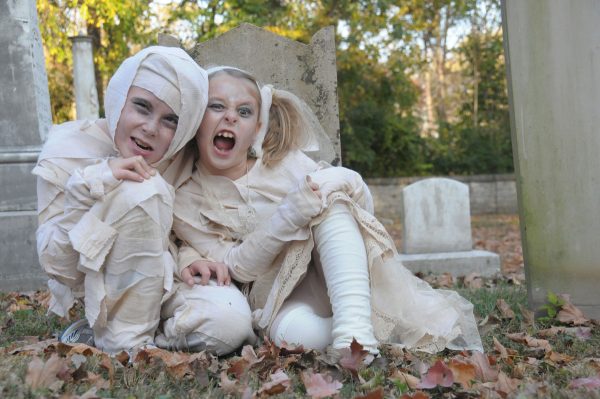 Hi everyone! My name is Melissa Mortenson and I'm proud to be a BERNINA Brand Ambassador. I've been sewing since I was 16 and have spent the last 8 years writing the Polka Dot Chair Blog. I'm also a published author, fabric designer and Halloween addict!
Halloween can present a special challenge when it comes to sewing. For many of us it may be one of the few sewing projects we complete in a year. For those of us that are experienced seamstresses, we may find that we are not familiar with sewing with some of the special fabrics that show up in the stores around Halloween. For example, how many times in your life do you think you will actually have the need to sew with faux fur? Or hot pink leopard faux fur for that matter?
I LOVE to sew Halloween costumes. My kids and I start planning out costumes in August. I think the anticipation of making the costume is almost just as much fun as making the actual costume. For a few years while my kids were tweens, we even managed to all "match" our costumes, (yes we are one of THOSE families).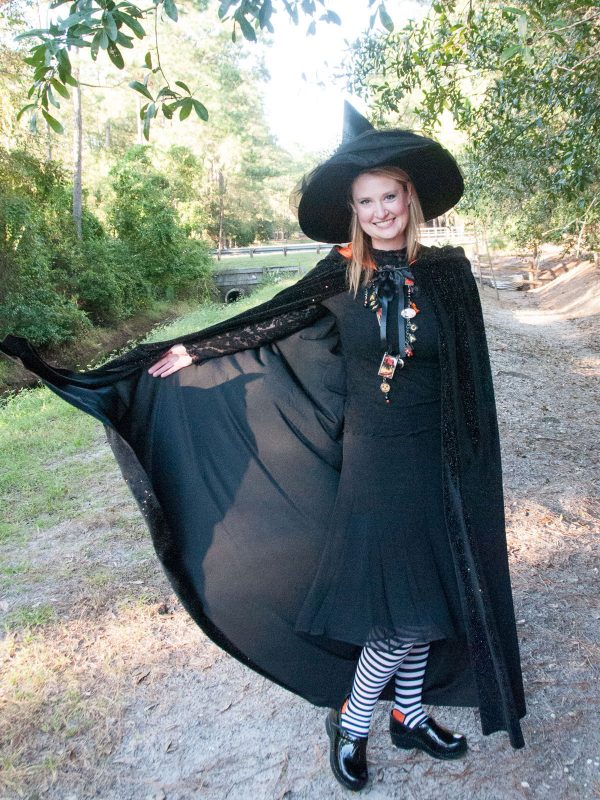 I love dressing up almost as much as the kids do. Many years we attend Halloween parties so the costumes come in handy, and on years that we don't, I think it's fun to greet the kids at the door in my homemade witches cape! I've been making Halloween since my oldest child was born, and now she is 21. I still remember the first Halloween costume I made for her, it was a cat and it was so big on her that the absurdity and hilarity of it kept us in stitches all night.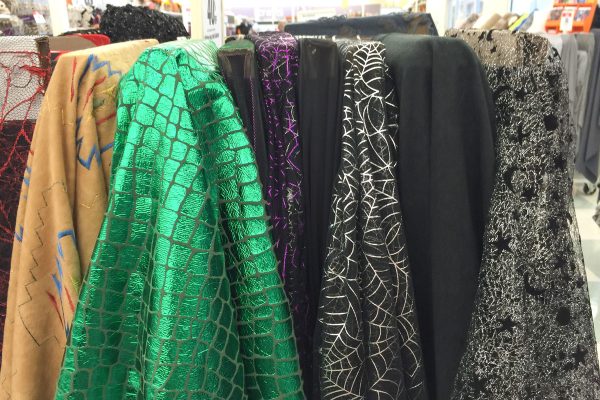 Over the many years of sewing Halloween costumes I've picked up more than a few tips. Most of them were learned the hard way, and I'm sharing them with you today, in hopes that you'll be able to benefit from some of my past mistakes.
TIP #1:  Know your fabrics
The unique qualities of Halloween fabrics present the biggest challenge when it comes to sewing costumes in my opinion. Most of the time they are made from materials that we are not familiar with. Many of these fabrics require special care. If you're not sure, start by reading the label at the fabric store. I like to snap a photo of it with my phone so that I can remember how to care for the fabric after I'm home.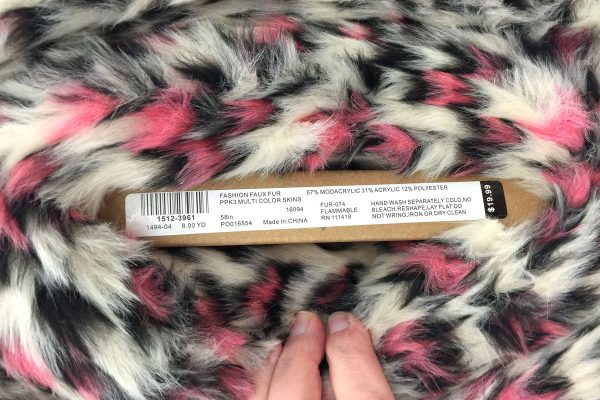 Here are a few other things to watch out for:
Does it stretch?
If it does stretch, then you'll want to make sure that you use the stretch setting on your sewing machine and a ball point needle.
Can you press it?
Many Halloween fabrics will melt if they come into direct contact with an iron. Purchase a pressing cloth and test a scrap of fabric before you begin pressing. If you accidentally melt fabric onto your iron, don't stress you can remove it easily with iron cleaner.
Do you need a special foot?
If you have a BERNINA with a Dual Feed foot, it will help you stitch most Halloween fabrics. If the fabric is thick, slippery or stretchy the walking foot will assist you in creating flat, smooth seams. If you are sewing with pleather, leather or other vinyl or coated fabrics you will need to use a Teflon foot. This foot will allow your fabric to glide easily under the foot, if you use a standard metal foot the fabric may become "stuck" under the presser foot, causing you some unnecessary frustration.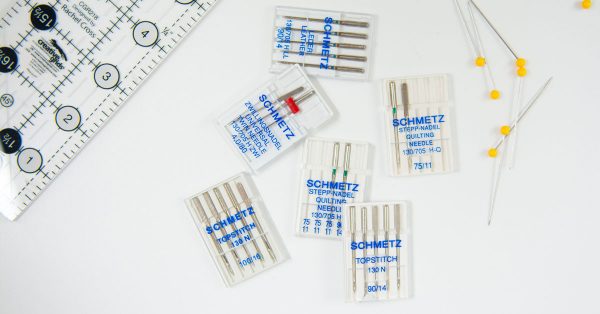 Do you need a special needle?
I mentioned earlier that you'll will need a ball point needle if you are sewing with a stretch fabric. The "ball" at the end of the needle will help keep the fabric from snagging as it passes through your machine. If you are sewing with leather or pleather you'll want to use a leather needle that "punches" a small hole in the leather as you stitch. If your not sure, I recommend using a Microtex needle as they are super sharp and can glide through most fabrics.
Does it fray?
If the fabric does not fray, then shout "Hooray" there is no need for you to finish off your seams (it's a Halloween costume after all). If the fabric does fray, you'll want to be sure to zig zag or serge the seams. One year I was working with a fabric that frayed so much that there was a hole in the side seam before Halloween night was over.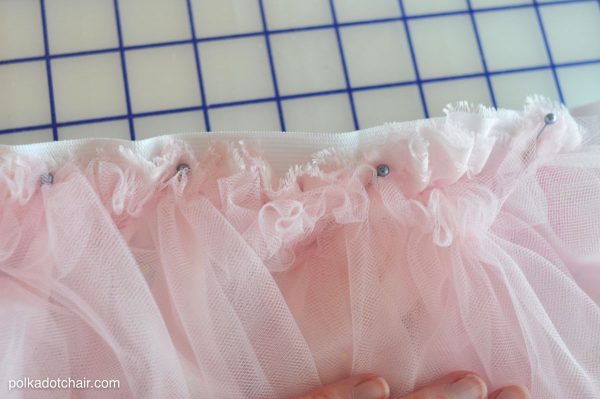 TIP #2: It's okay to take short cuts
Okay, we are making Halloween costumes here, not ballgowns. I'm telling you it's OKAY to take a few short cuts. My kids loved to use our old costumes as dress ups, and we never had any problems with them holding up over time. For example, if your fabric doesn't fray, don't hem it. Save some time. If there is a costume with a "non functioning" button hole, don't bother stitching the buttonhole first, just sew the button onto the costume.
Make good use of some of the great fabric glues on the market today and use them to attach trims and embellishments.
I also love to use hook and loop tape instead of zippers or buttons. It's easy to sew with (don't buy the adhesive kind) and it's actually easier for little kids to get the costumes off and on than many other closures.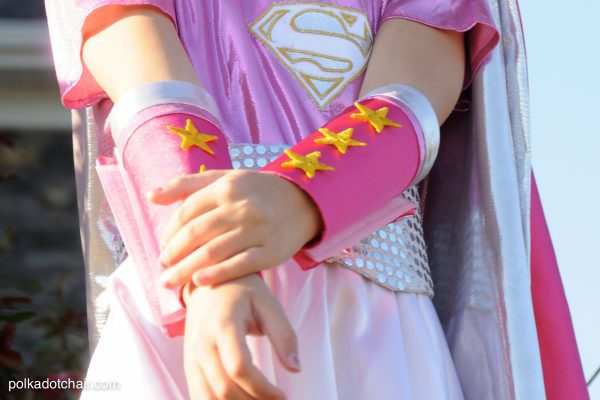 #3: Mix in some purchased elements
If I am making an "involved" costume, I like to mix in purchased elements with the sewn ones. For example, in my Witches costume shown above, I wore a black skirt and shirt I had at home, then added the handmade cape over the top.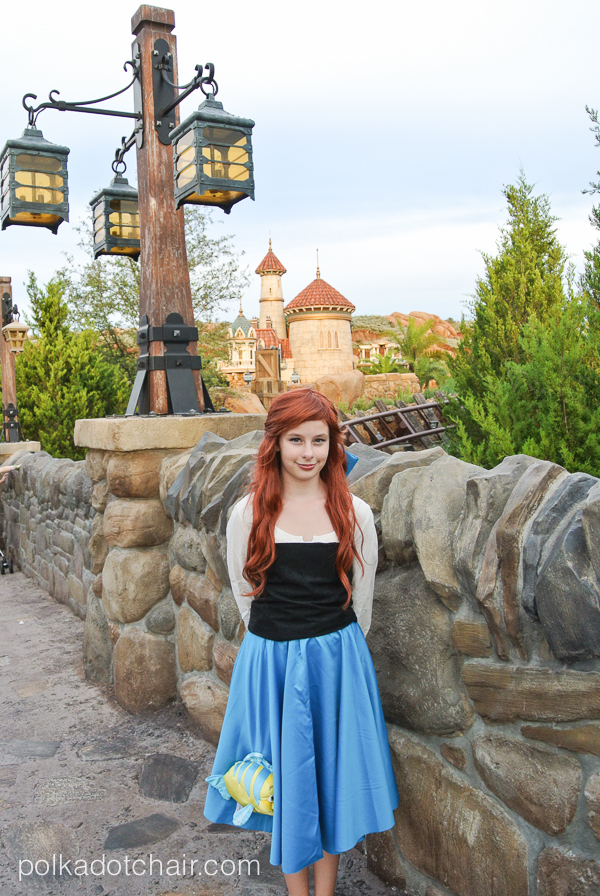 Similarly, this Ariel Halloween costume that I stitched for my daughter two years ago features a shirt from her closet. We also added a purchased stuffed animal to her skirt for a bit of extra "fun". For many of my son's costumes over the years we've layered plain t-shirts or sweat pants underneath hand sewn items to help save some time. We were also able to re-use many of the pieces, which helped to save us a bit of money.
Halloween costumes will always be one of my all-time favorite things to sew. I find myself now in a phase of life where I don't get the opportunity to sew costumes as much as I would like. My oldest daughter is 21 and my youngest are 15 (boy/girl twins).  As you can imagine, they are not all very "keen" to have Mom make them a costume. Which makes me very glad that I did spend all of that time creating costumes for them over the years. It is now one of the happiest memories I have from their childhoods.
Techniques

sewing
What you might also like
One comment on "3 Tips for Sewing Halloween Costumes"