A Project Worth Waiting For — My Leather Jacket
Sometimes it is rewarding to just take your time and work on a project that can't be done in a day. This was one of those projects. I purchased four lamb skins some time ago and wanted to make a leather jacket that you couldn't buy in any store. Thank goodness BERNINA has special presser feet that are great for sewing on leather!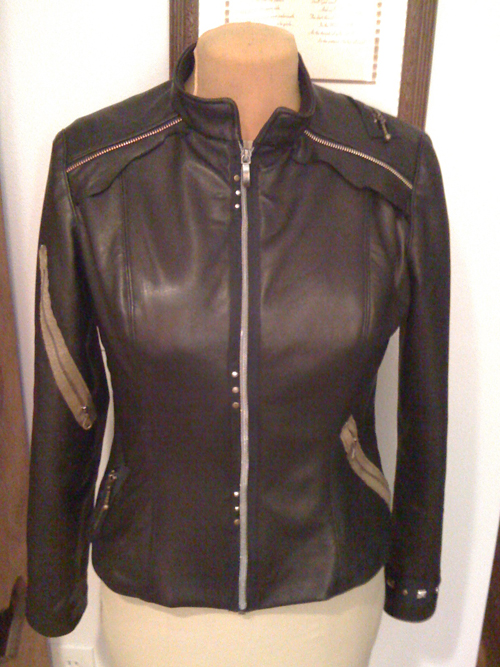 Here are my suggestions and tips if you decide you would like to sew a project of synthetic or real leather:
1. Trace copies of your pattern pieces so that you can really test the layout before you cut. Having right and left sides and complete pattern pieces allow you to be sure that you have enough leather before you begin.
2. Increase stitch length to 3.0 mm.
3. For many leathers, you do not need to use a leather needle; a sharp needle is more than sufficient.
4. Use alligator clips to hold the seams together instead of pins as leather or substitutes will show pin marks.
5. Plan on topstitching the seams to help encourage them to lie flat.
6. Use the outside edges of the skins for a special trim.
7. Be sure to have these feet available: Zigzag Foot with Sliding Sole #52, Straight Stitch Foot with Sliding Sole #53, Zipper foot with Sliding Sole #54, and Open Embroidery Foot with Sliding Sole #56. These feet are coated with a substance that will not stick on leathers or synthetic leather.
8. Remember to take advantage of changing the needle position to adjust the needle to a convenient setting for using the edge of the foot as a guide. This will help you stitch straigher.
Used Material

leather

Projects

fashion, jacket
What you might also like