Antique Mosaic Block
BERNINA Block Party—Block One: Antique Mosaic Block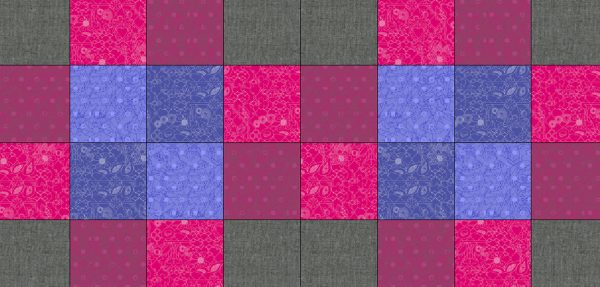 Welcome to the BERNINA Block Party! We have already had a great response to our introduction blog post, showing the finished quilt and listing all the supplies needed to make the entire quilt. We will be creating one block a month for the next twelve months, so keep checking back!
Let's get started with Block 1, the "Antique Mosaic", which is actually made up of two 12″ blocks.
Fabric to Create the Antique Mosaic Block
If you are buying fabric for each block on a monthly basis, you will need five fabrics for this block. Please see more details about fabric requirements here.
Please also download the BERNINA Block Party Fabric Chart.

In case you are using the Sun Print 2017 Andover fabric line by Alison Glass, the specific fabric colors are listed in bold:
Fabric A  Pink, A-8482-E, 1/8 Yard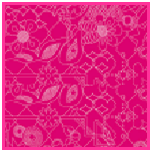 Fabric B  Dark Pink, A-8484-R, 1/8 Yard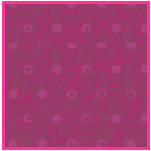 Fabric C  Purple *, A-8482-B, 1/8 Yard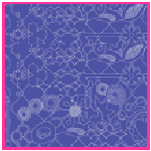 Fabric D  Light Purple* , A-8484-B, 1/8 Yard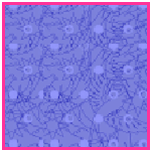 Fabric E  Gray, A-C-Black, 1/8 Yard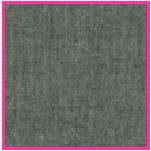 *On the original quilt, I substituted 2 silk colors in place of the two shades of purple to add more texture to the quilt.
Cutting Instructions to Create the Antique Mosaic Block
Fabric A: 8 Squares 3 1/2″
Fabric B­: 8 Squares 3 1/2″
Fabric C: 4 Squares 3 1/2″
Fabric D: 4 Squares 3 1/2″
Fabric E (background): 8 Squares 3 1/2″
NOTE: If you have purchased a fabric kit from your local BERNINA store, be sure you get a cutting guide from the store staff. If you have purchased all the fabric for the entire quilt using the fabric amounts listed in the introduction blog post be sure to follow the Block 1 Kit Cutting Instructions below so that you do not run out of fabric, as the fabrics are most often shared with other blocks. 
Block 1 Cutting Instructions if using purchased fabric kit or fabrics from introduction blog post
Fabric A, C, and E: Cut a 3 ½″ strip from each of these fabrics. Cut eight 3 ½″ squares from Fabric A and E and four 3 ½″ squares from Fabric C. Reserve the remaining lengths for another block. You should have a 15″ strip of both Fabrics A & E and a 29″ strip of Fabric C.
Fabric B and D: Cut 14 ½″ off the bottom of the ¼ yard cut of Fabric B. Cut 7″ off the bottom of the ¼ yard cut of Fabric D. Cut eight 3 ½″ squares of Fabric B and four 3 ½″ squares of Fabric D.
Reserve the remaining fabrics to be used in Block 3.
Prepare your Machine
Attach the appropriate Patchwork foot to your machine. We sew on a BERNINA 570. Click here if you need help deciding which is best for your machine.

Be sure to insert a new #70 Jeans machine needle (my favorite needle for piecing).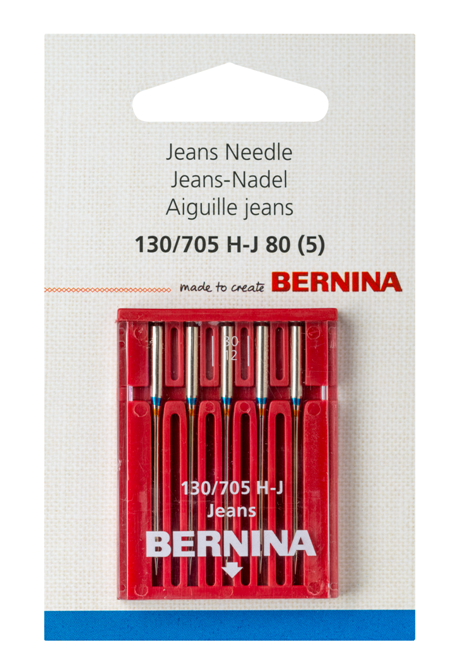 Attach a straight stitch needle plate on your machine to help keep your straight stitch more precise.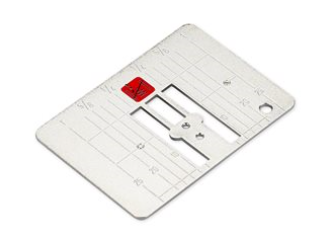 How to Achieve the Perfect Seam Allowance and Stitch the Quilt Block
Our first month's block is a very simple block sewn together from just squares. It doesn't get any easier than this but it may all go wrong if your seam allowance is not correct.
Select stitch #1326. Why stitch #1326? It is a straight stitch but it is designed with a shorter stitch length (2.0) which I prefer when piecing. If you do not have this stitch, shorten your straight stitch length to 2.0mm for piecing.
So let's begin by piecing together the four squares that make up the first row of the block. We will call this Strip A.

Pay attention to where you are guiding your fabric as it enters your machine. Before you start, locate the small line in front of the foot that is even with the edge of your foot. This is your quarter inch seam mark. Be sure that you can see it at all times. If you cover it up, you will not know exactly where it is. Pay attention to the mark rather than the side of the foot.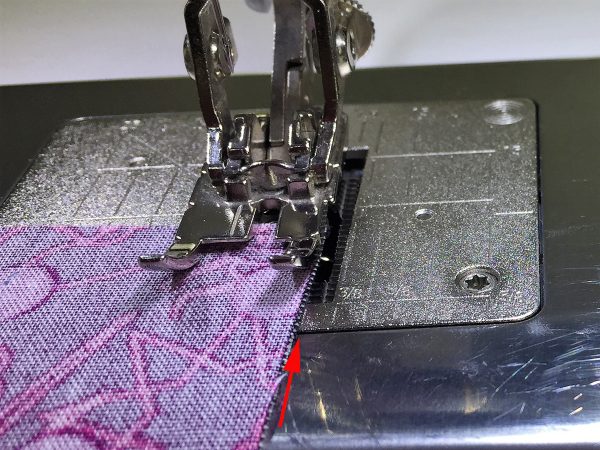 Before you go any further, lay the strip on a ruler to make sure that it measures exactly 12 1/2″ in length.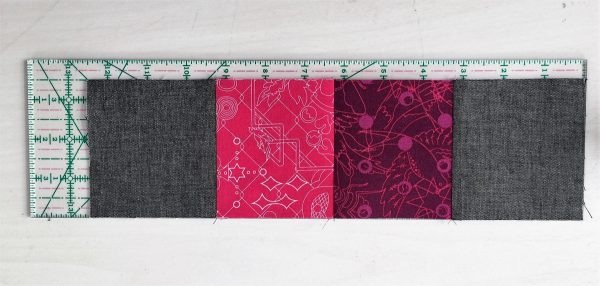 If the strip does not measure 12 1/2″, you will need to go back and make some adjustment to your seam allowances. Pay attention to where you are guiding your fabric so that you will always have the perfect seam.
As you piece the strips together pay attention to which direction the seam allowances are going. You want the seam allowances to go in opposing directions as you stitch the squares together. I find that I get a better match when I position the set so that the top strip has seams going away from me. This is not always possible. But when it is, this is the way to go because the top seam and the bottom seam just nest together for a perfect match!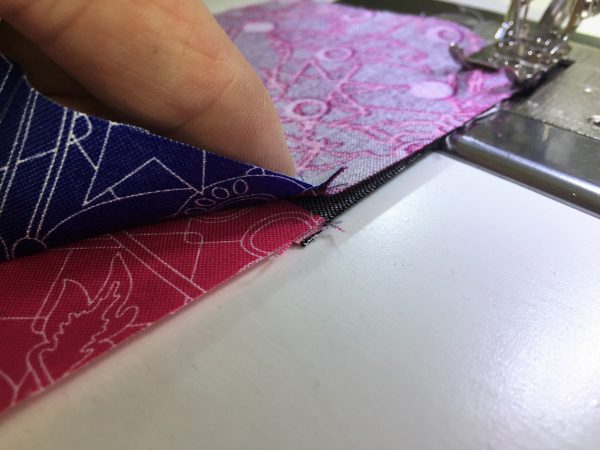 It is sometimes better not to do any pressing until the block is completely done so that you can finger press the seams in the direction they need to go as you are stitching and constructing the block. You can do the final pressing when the block is finished.
Once Strip A is pieced together, piece together the four squares that make up the next row which we will call Strip B.

Stitch Strip A and Strip B together as shown.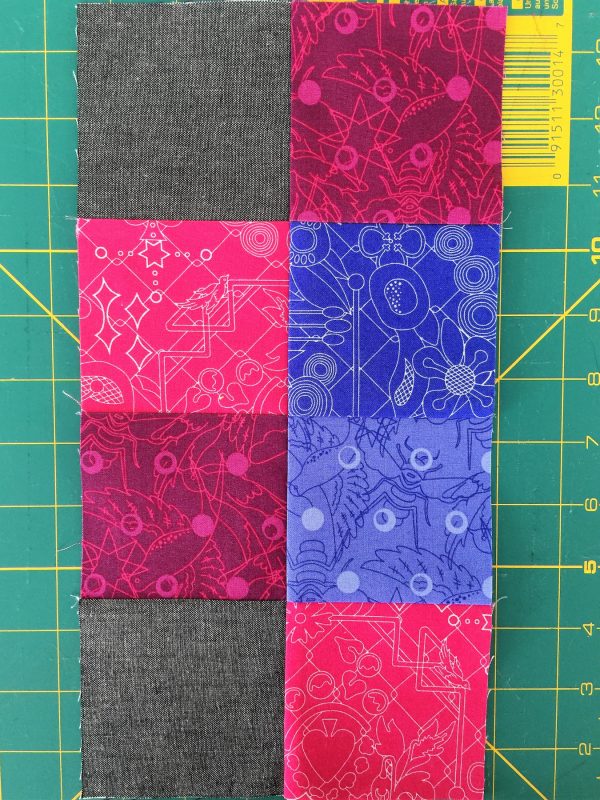 Piece together a second set of both Strip A and Strip B.
Now piece these four strips together as shown in the block below.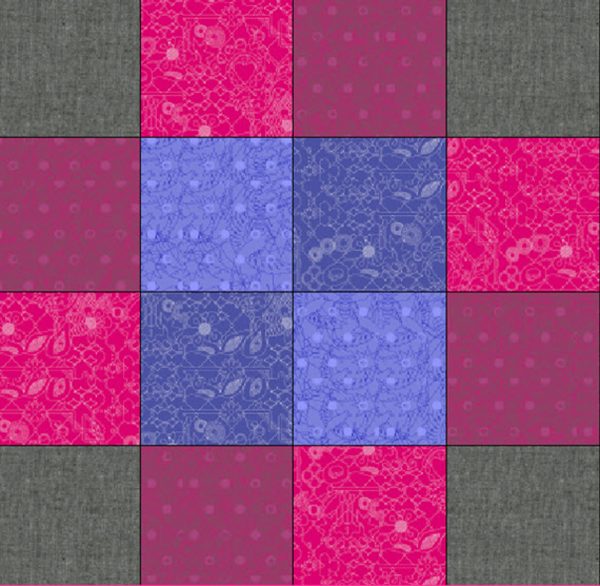 Make two of these units.
Sew the two units together to create the finished Antique Mosaic Block.  The block should now measure 24-½″ x 12-½″.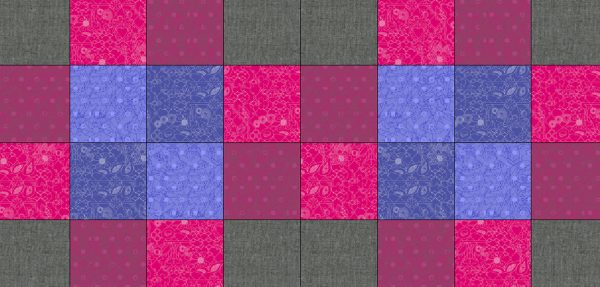 If you are going to complete the entire quilt, you will set this block aside for now. The entire quilt top will be pieced before the final quilting of the layers is done.
But as we move forward in this quilt along, we will explore different quilting techniques each month so when you are finished with the quilt top you may have a better idea of exactly how you want to quilt it. The choice is yours!
You can also use these quilting techniques if you join Denise Jones as she creates original projects using each month's block. Her first project will post on April 17 here on WeAllSew.
Quilting with the Walking Foot: A Quilting Lesson
One of the easiest and most accurate ways to quilt is to use your BERNINA Walking Foot.  When using a walking foot you have the use of your feed dogs so the machine will maintain a preset stitch length. While you can do decorative stitches with the walking foot, simple straight stitch quilting is classic. The BERNINA Walking Foot has three soles to choose from, whether you are looking for more visibility or a sole that will perfect "stitching in the ditch." There are guides that attach to the left or the right of the foot for channel quilting.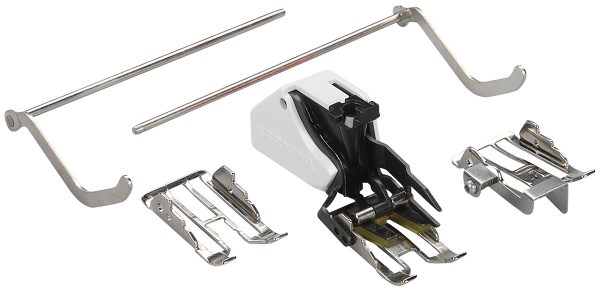 For machine quilting layers together, I like to use stitch #1325 which is found in the Quilt Menu on most BERNINA machines. It has been programmed to be a longer stitch length of 3.0mm.
Layer the pieced block with batting and backing. Spray Baste or Pin Baste the layers together. When you have squares as we have in this block, doing a cross grid is one of the easiest ways to quilt it.
Begin by drawing a line on the block that will run from corner to corner in the squares. Attach the walking foot and stitch on the drawn line.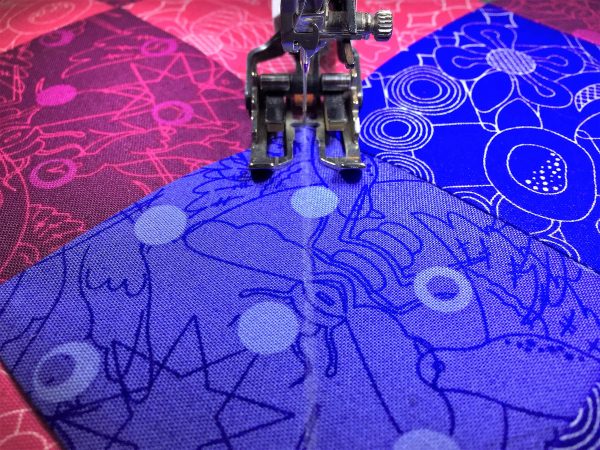 Once you have stitched one row, you will want to attach the seam guide to the walking foot.
For the next row, let the guide run along the previously stitched row. You may then continue across the block with evenly spaced rows.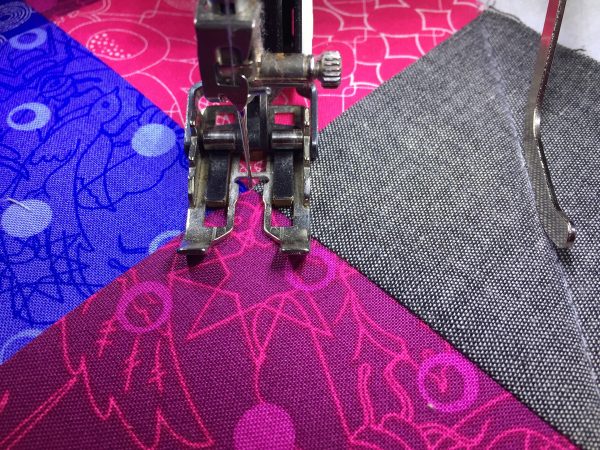 I said that we were going to do a cross grid, so we need to also quilt in the opposite direction.
You again will draw a line across the blocks in the opposite direction. If you were going to do this for a larger project, I would start out by drawing a line in both directions and alternate the direction as I stitched.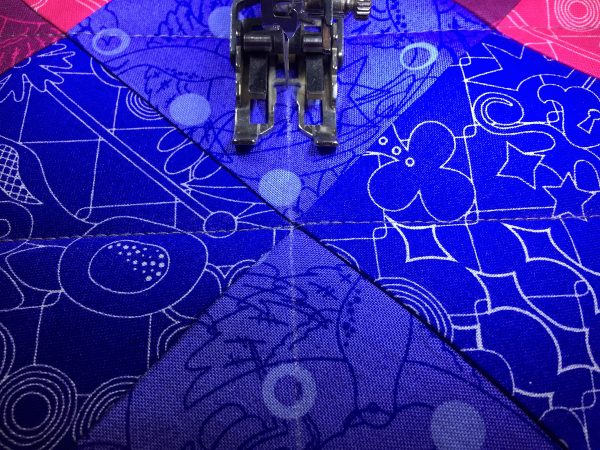 Have fun constructing your first block. And if you choose to make an extra block to practice the quilting, have fun with that too!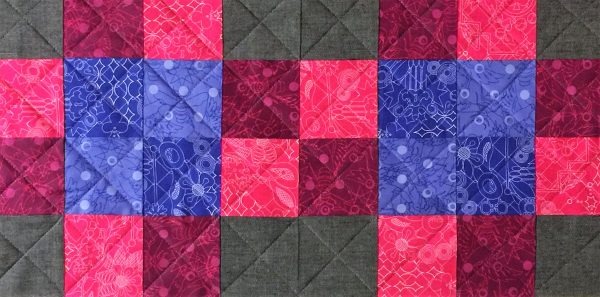 Changing the fabrics used in the Antique Mosaic Block can create a whole new look to this block.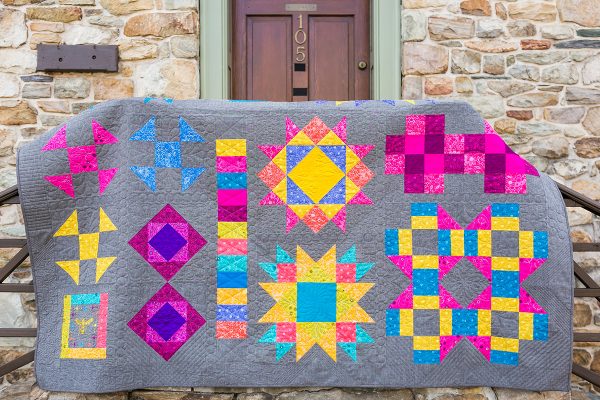 For example, in this finished example of our Block of the Month quilt you can see this block stitched with plum, pink and purple.
Tutorial List of the BERNINA Block of the Month Series
Block 1: Antique Mosaic Block
Block 2: Shoofly Block
Block 3: Square in a Square Block
Block 4: Magic Circle
Block 5: Card Basket Variation Block
Block 6: Ohio Star Variation Block
Block 7: Maple Star Block
Block 8: Grecian Square Block
Block 9: Union Square Block
Block 10: A Girl's Favorite
Difficulty level

Intermediate

Time to Complete

Weekend

Used Material

70/10 jeans needle, coordinating thread, fabric, rotary cutter

Projects

quilt

Seasons

all seasons, fall, Spring, Summer, Winter

Techniques

quilt piecing, quilting, straight-line quilting
What you might also like
46 comments on "Antique Mosaic Block"