Basic Sewing Tool Tips for Beginners
Welcome to our 125 years celebration of the BERNINA company! We're celebrating by bringing you lots of inspiration and today we're focusing on basic sewing techniques for beginners. As a bonus we're giving you the chance to win a fun prize package, scroll to the bottom of the post to find our anniversary giveaway!
Sewing is an incredibly rewarding and creative skill to learn. When you know how to sew you have the ability to express yourself through things that you make. You can create personal touches for your home, conserve resources by remaking or mending clothing, give one-of-a-kind unforgettable gifts, design your own wardrobe, and feel an incredible sense of accomplishment for having made something yourself.
Learning to sew covers a lot of skills, like knowing how to use a sewing machine and different presser feet, learning different techniques for sewing different types of projects, and finding some simple projects that will help you build yon what you know. WeAllSew is here to help with this three-part sewing basics for beginners series. In Part I, Basic Sewing Tool Tips for Beginners, you can get some fantastic tips for using your sewing machine and presser feet. In Part II, Basic Sewing Techniques for Beginners, we take a look at some of the most elemental techniques used in sewing. And in Part III, Basic Sewing Projects for Beginners, we share some of the best free sewing projects to help you build your skills as a new sewist.
Sewing Machine Tips
Let's start with tips to use your most important tool of all, the sewing machine.
Keeping your sewing machine cleaned and oiled will not only help your machine sew better, but will keep your machine running longer. Click here to learn How to Clean and Maintain your Sewing Machine.
Your sewing machine needle has such a big part to play in creating your project. Learn All About Sewing Machine Needles including how to pick the right type and size for your project.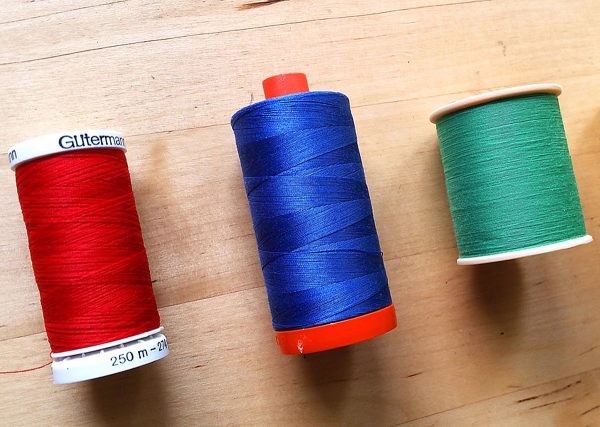 Thread spools need to be able to unwind freely to help feed through the needle when you sew. Find out where to place your thread in this Thread Spool Tip.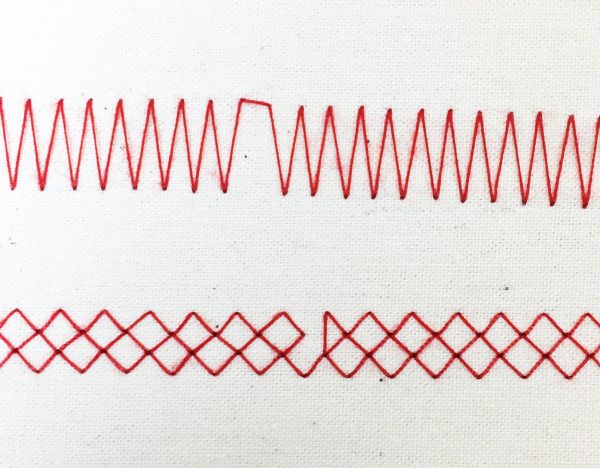 There's nothing worse that seeing skipped stitches appear when your sewing on a special project. Learn how to fix this issue with this informative article for Troubleshooting Skipped Stitches.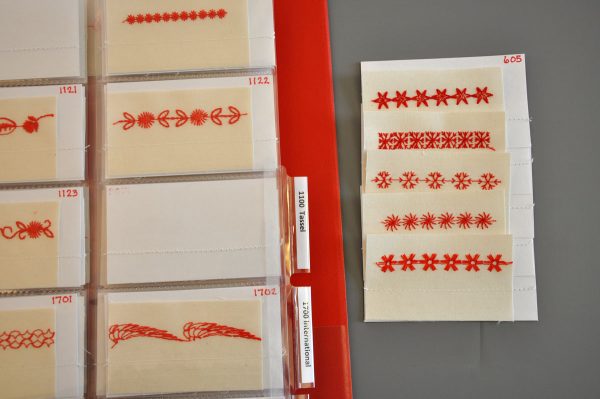 Do you know what all the built-in stitches look like on your sewing machine? It can help to Make a Stitch Sampler Book as a beginning sewing exercise to help you learn about all the different utilitarian and decorative stitches you have at your fingertips.
Presser Feet and Accessory Tips
There are so many different types of presser feet and accessories to use along with your sewing machine, each with a different purpose. Knowing when to use a specific presser foot can help you complete sewing tasks more precisely and in less time.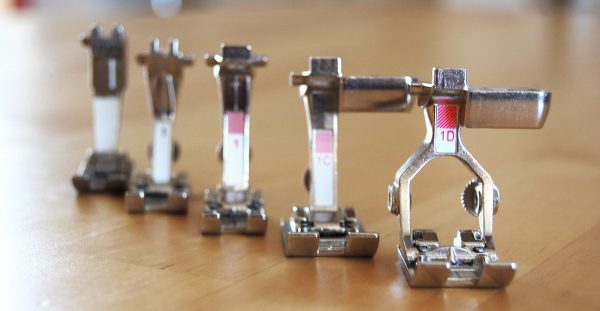 Some presser feet have been around since the invention of the sewing machine, yet BERNINA is still designing and engineering new presser feet to help you create in new and different ways! Learn a bit about BERNINA Feet Old and New and how to use them in this article.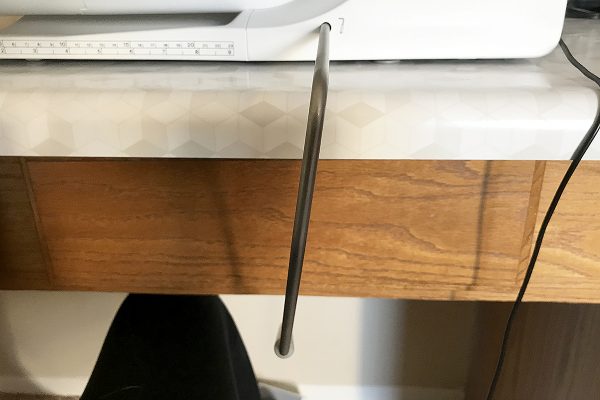 The BERNINA Free Hand System was developed decades ago as an effective aid to help keep both hands free while sewing. Learn how you can save time and leave your hands free with this tip to Speed Up Your Sewing With the Free Hand System.
If you're learning to sew in order to make your own clothes, then you definitely need to know all about the Best Feet for Garment Sewing! Each of these presser feet is a must-have for creating beautifully finished hand made garments.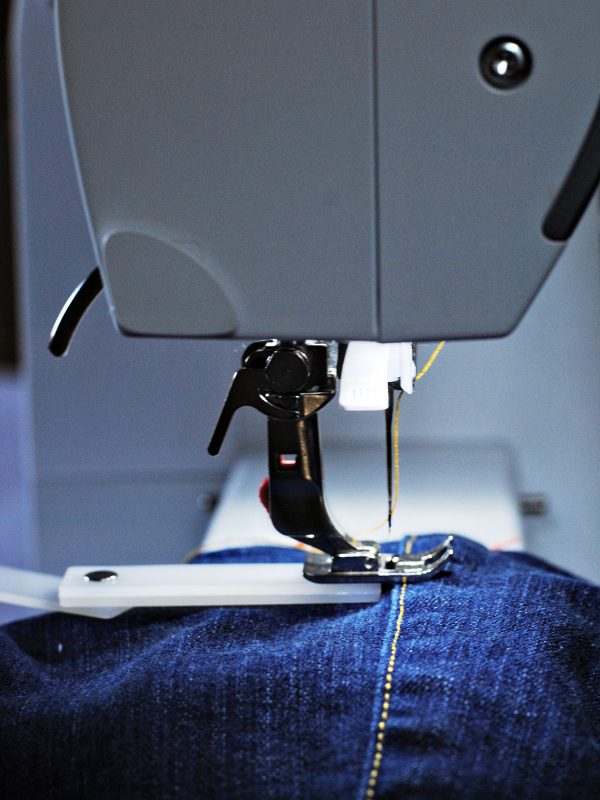 Here's one little tool that you definitely don't want to live without if you plan on sewing with heavy weight fabrics like denim. Affectionately known as the "hump jumper," the Height Compensation tool will help you sail smoothly over thick seams or bumps. Learn How to Use the Height Compensation Tool here.
If you want to learn how to sew patchwork and how to quilt, click here to find out about the Best Feet for Patchwork and Quilting. These feet can help you sew a precise quarter-inch patchwork seam and help keep your stitches smooth and even when learning how to free-motion quilt.
Sewing Tool Organization Tips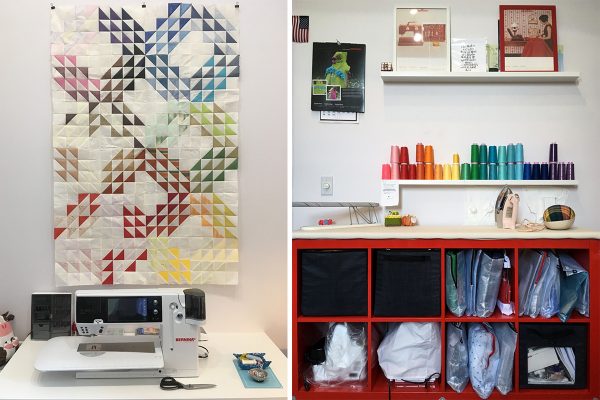 Keeping your sewing area organized can actually help you sew better when you can quickly find the sewing machine foot, accessory, notion, or tool that you need when you need it. Find inspiration to help you organize around your sewing machine and sewing space with tours of experts! Visit BERNINA Educator Jaime David's sewing studio (pictured above) to see how she organizes multiple projects.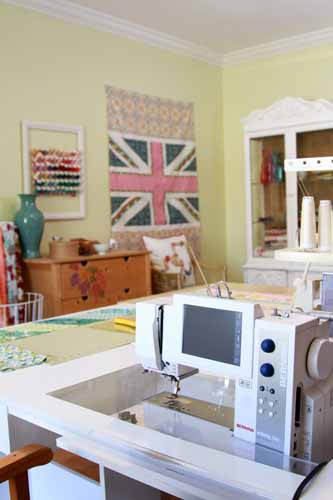 Check out how fabric designer Pat Bravo keeps things organized in her own personal sewing room.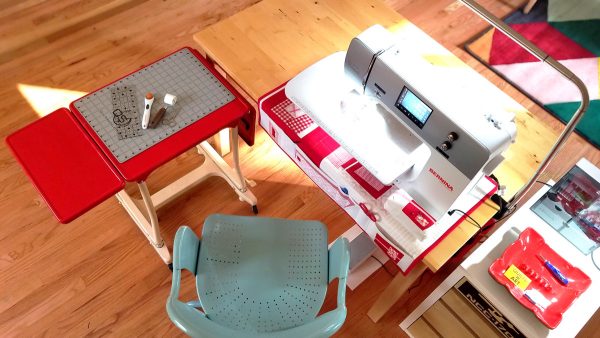 Visit BERNINA Ambassador Erika Mulvenna's studio to see how she organizes tools and notions in her sewing space.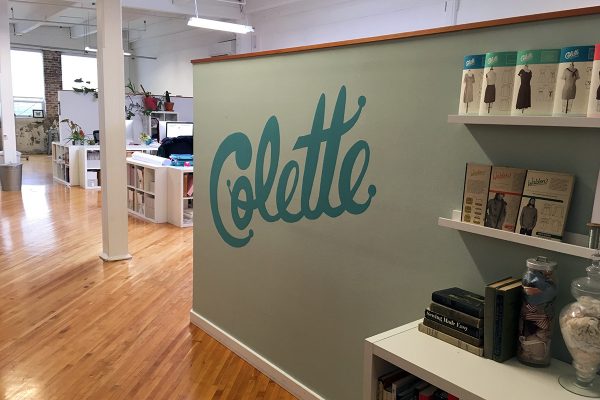 Check out the headquarters of Colette Patterns in Portland, Oregon to see how a professional pattern making studio keeps things organized.

For even more sewing room organization inspiration click over to our WeAllSew Pinterest page to see our Sewing Room Organization board!
July 125 Years Golden Anniversary Giveaway!
One lucky WeAllSew reader will win this fantastic prize package including one red Magnetic Pinholder and box of pins, one point turner and presser, one tape measure, one BERNINA seam ripper, and one Tula Pink Hardware 5″ EZ curved thread snip, with a prize package value of over $60.00!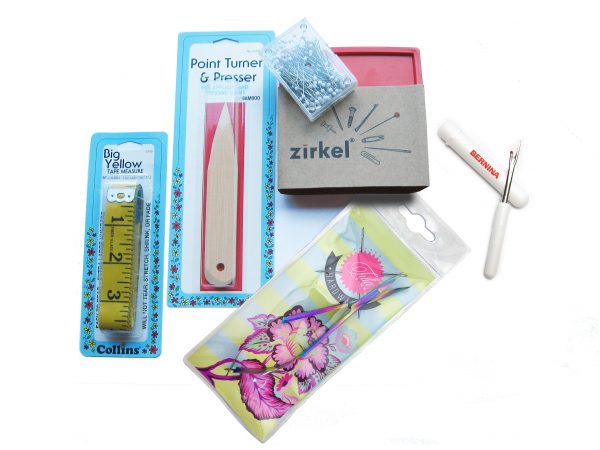 All you have to do is post a comment below and answer the question, "Do you remember your first sewing project when you learned how to sew?" The the giveaway is open through July, 25 2018!
The giveaway is open to residents of the 50 United States and the District of Columbia. One comment per fan. Comment must be submitted to the WeAllSew.com blog by July, 25 2018 at 11:59 PM Central Time. Winner will be chosen randomly. Winner will be notified by email and will have 48 hours to contact to claim the prize.
Good luck!
Difficulty level

Beginner

Time to Complete

Evening

Used Material

presser feet, sewing machine

Seasons

all seasons

Techniques

quilting, sewing
What you might also like
98 comments on "Basic Sewing Tool Tips for Beginners"