BERNINA 560 Love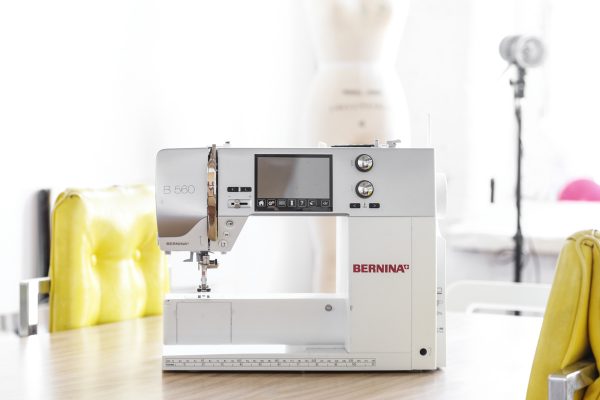 I've sewn on just about every brand of sewing machine—Singer, PFAFF, Janome, Brother, Juki and more. It was almost a year ago that I received my most recent machine—BERNINA's 560. As all sewists know, it takes time to get to know your machine, but once you do, it becomes your best friend. Seriously, I may spend more time with my BERNINA 560 than I do with my best friend IRL (in real life)! While I could write a book on its many features (I think that's called an instruction manual?), there are five (5) that I like the most. One is cosmetic (hey, I'm a girl, give me a break!) while the others make my sewing easier, more efficient and professional.
First, an overview of the machine to share my BERNINA 560 Love. The BERNINA 560 is a "multi-talented all-rounder for sewing, embroidery, and quilting." It is a more affordable option than the BERNINA 580 with almost all the same features. Additionally, it has an user friendly touch screen, a memory function for all its stitches, a maximum stitch width of 9mm, a maximum stitch width of 5mm, an automatic thread cutter, a start/stop button, a bobbin winding while sewing (love this!), on screen help and tutorials and loads more. Did I mention it was multi-talented? As a maker of mostly lingerie, BERNINA's 560 has enough under its hood to help me conquer delicate lace, sturdy elastic and thick hook and eyes.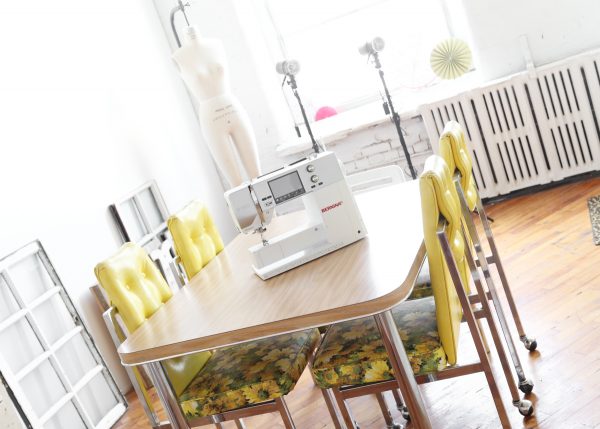 STICH WIDTH:
I sew lots of width of elastic – 1/8″, 3/16″, 1/4″, 5/16″, 1/2″, 3/4″, 1″ and sometimes 1.5″. For each, I need a different zig zag width, so having that 9mm stitch width and 5mm stitch length has come in handy when sewing all types of elastic. In many cases, it allows me to only sew one pass of zigzag stitches rather than two.
MEMORY FUNCTION: SAVE STITCH COMBINATIONS:
Every elastic I sew takes a different zigzag stitch length and width. Rather than trying to remember the width/length for each or writing it down in a notebook which I alway seem to misplace, I save the settings in my machine. This function has not only sped up my sewing (I don't have to stop and go looking for my darn notebook!), but also made my stitching from bra to bra consistent.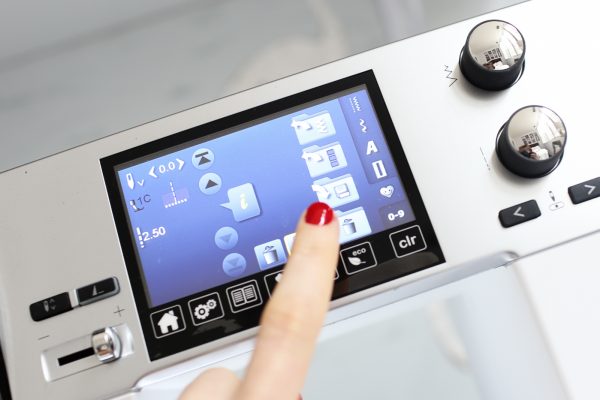 TUTORIALS:
The machine has tutorials stored inside its computer that provide information and explanations about the different areas of sewing and embroidering such as threading, types of needles, presser feet, techniques and troubleshooting. As an example, one of the tutorials is about presser feet. So if I clicked it, there would be information about changing presser feet, recommended presser foot pressure and attaching the walking foot. This has come in handy when I am mid-sewing and run into a question that needs answering STAT.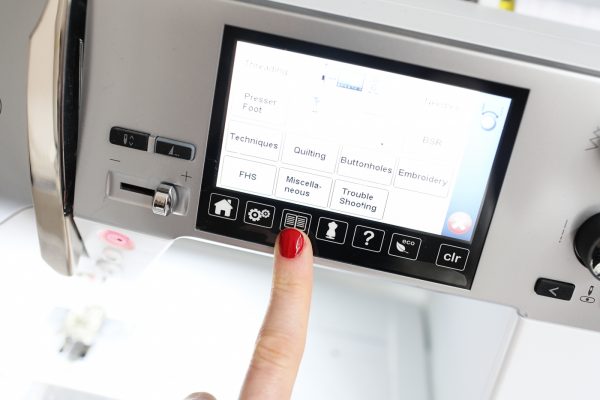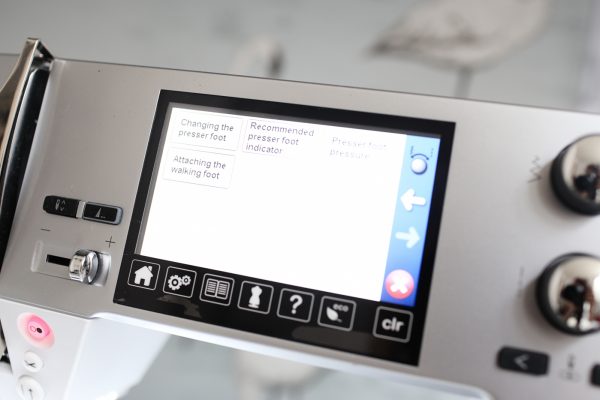 ACCESSORIES BOX:
I feel slightly silly for listing the accessory box, but hey, I'm girl and I love my accessories! Now, if only I could convince BERNINA to include a pair of shoes with every purchase (who's with me?)! Every machines comes a storage unit that holds not only presser feet, but bobbins, needles and other sewing accessories. Just like socks in the dryer, my presser feet and bobbins go missing all the time. Maybe it's the dryer that eats the presser feet? It's a conspiracy! Well, to prevent this from happening and to keep you super organized, use the storage box. Did I mention it has extensions on the back so that it can stand up on its own? It's the little things in life that matter, people!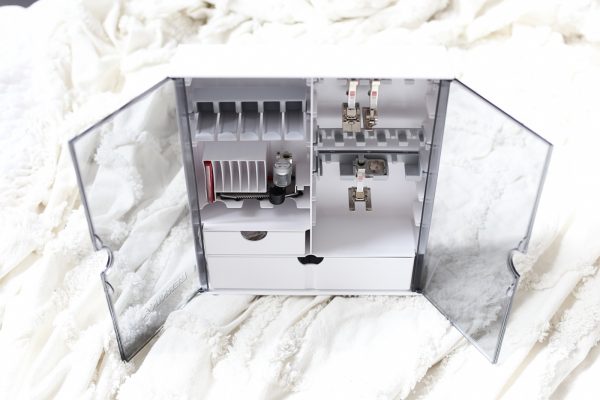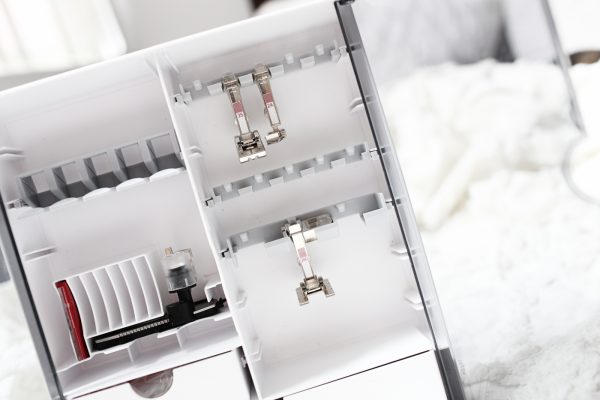 ECO MODE:
We've all been there – when we need to walk away from our machines mid-project for a short period of time. It's not enough time to turn off the machine, just enough time to cut something out, rip out a seam, or to scroll through Instagram (What? You don't take IG breaks?). The B 560 can be put into energy-saving mode, which basically means that power consumption is reduced and the sewing light turns off. It also acts as a child and cat safety feature, you know, when your cat(s) tries to sew.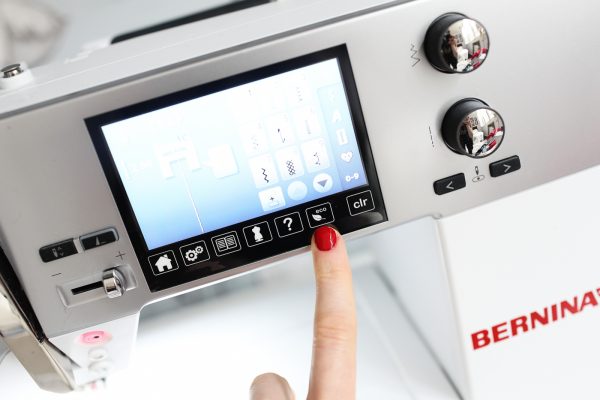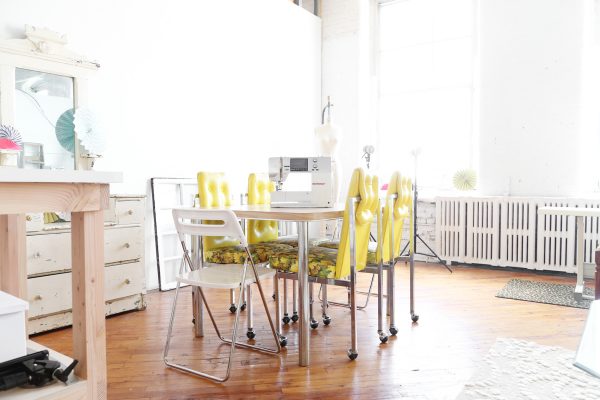 Difficulty level

Beginner

Techniques

sewing
What you might also like