Footprint Flip-Flop Quilt
Folks come up with such great gift ideas! Here's one from Tari Intardonato, a BERNINA Resource Educator from Texas.
I made this "Flip Flop" quilt as a store sample for BERNINA Sewing Center of Dallas a number of years ago. My son Matthew's friend Alexis came over to help me make the quilt. We painted her feet and it did take a couple of tries but we were able to put them on the material without too many imperfections.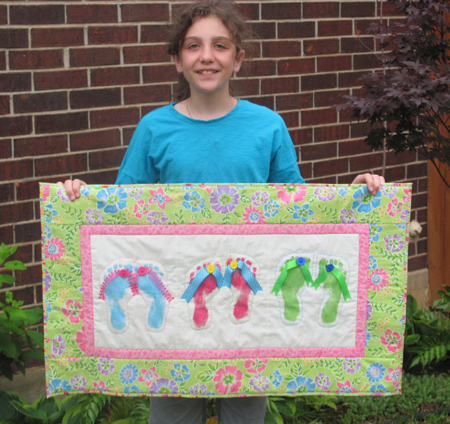 I added the hand stitches, buttons, and ribbons to make the footprints look like flip-flops. The most time-consuming part of making this quilt was waiting for the fabric paint to dry.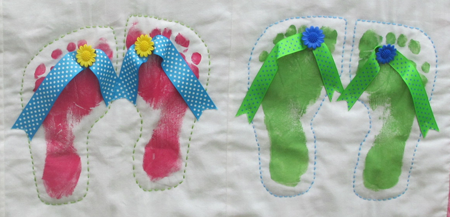 This quilt is about five years old. Store samples sometimes take a while to get back to you. Oh, how I wished I would have put the date on it! I asked Alexis over recently and we made a quilt label which I attached to the back. We then wrapped it up and it is now going to be her Mother's Day gift.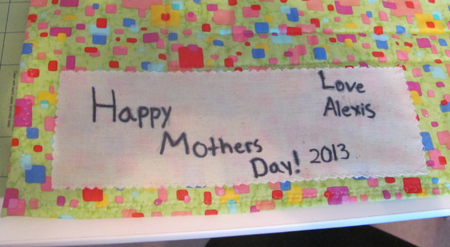 You can see from this photo how long it's been since we made the quilt!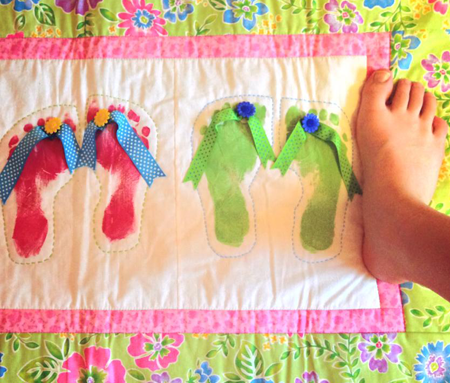 I hope this inspires WeAllSew readers to try something new. Happy Mother's Day! – Tari
Wouldn't this be great for Father's Day, too? I can picture it with big sister's footprints, little brother's footprints, and Fido and Tabby's paw prints. This would be a fun summer learn-to-sew project! Jo
Techniques

crafts
What you might also like