With Halloween just around the corner, it's time to carve (or quilt) our pumpkins into Jack-O'-Lanterns. For hundreds of years, people have been carving scary faces into turnips, potatoes and pumpkins. The practice began in Ireland with a folktale about a man named Stingy Jack who tricked the Devil and was cursed to roam the Earth with only a coal in a carved-out turnip to light his way. Irish immigrants in the United States found that pumpkins were the perfect fruit to carry on their Halloween tradition.
Now we can begin a new tradition by quilting our Jack-O'-Lanterns with this adorable new motif!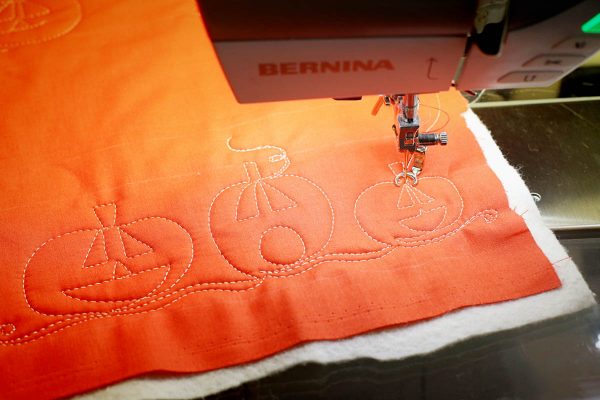 Machine Set-Up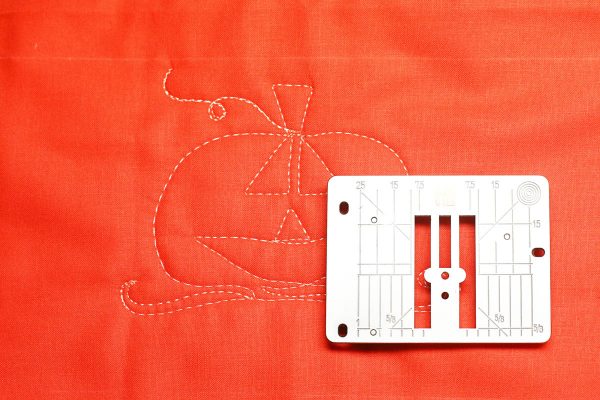 While BERNINAs are known for beautiful stitch formation, I make a few adjustments on my BERNINA 770 Quilter's Edition to maintain the beautiful stitch while free-motion quilting. I lower the feed dogs, attach the single-hole throat plate and insert a new Topstitch needle.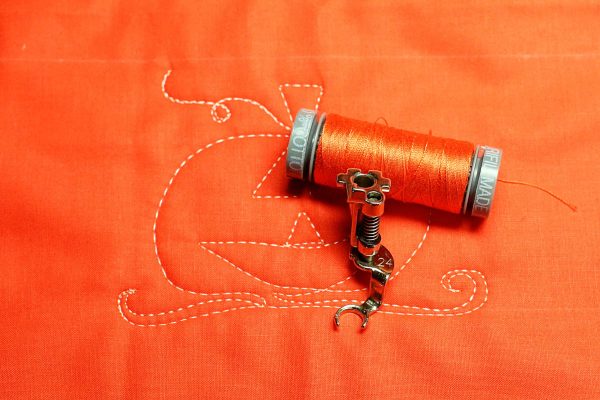 Next, I attach the BERNINA Free-Motion Embroidery Foot #24.  There are several foot choices for free-motion quilting, but I prefer the #24 foot—it is open-toed and offset, and allows the best visibility while stitching. Once the foot is attached, I thread my sewing machine with a slightly heavy thread—40 wt or heavier, and then I stitch a sample to test the tension. The top tension is usually lowered to maintain good stitch balance and to create the beautiful, BERNINA stitch.
(For more on Machine set-up, see my WeAllSew post, Twelve Steps to Machine Quilting)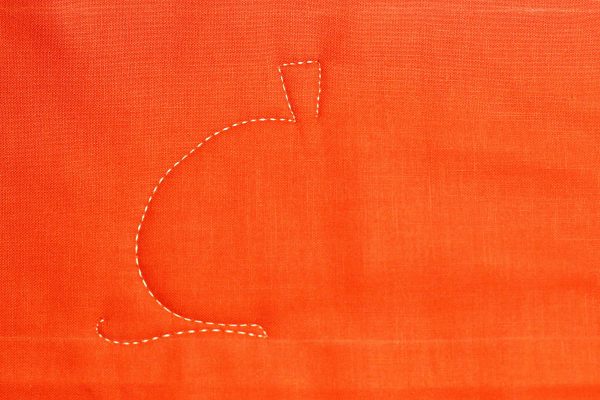 To stitch the Jack-O'-Lantern, begin by drawing two parallel lines to serve as guidelines or use seam lines as guidelines. In the sample shown here, the lines were 2-1/2 inches apart. Begin stitching on the bottom line.  Stitch a short wavy line along the bottom line. From the bottom line, stitch the letter "C" and a short stem.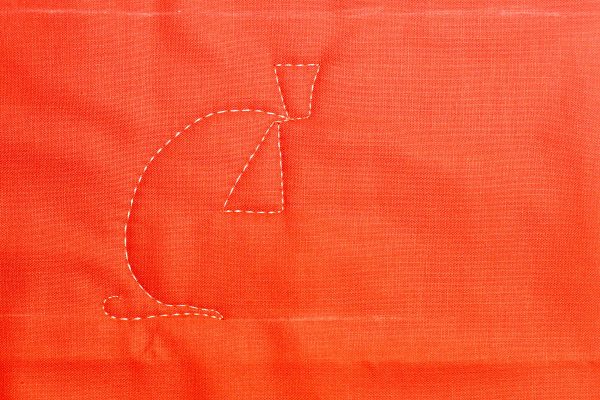 Stitch under the stem and add a triangle "eye".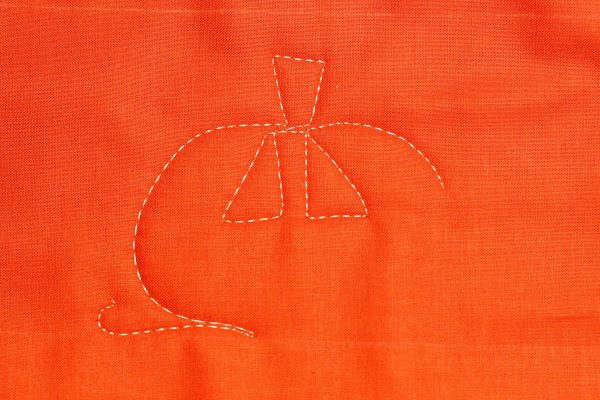 Stitch under the stem again to add the right eye. Begin stitching the right side of the Jack-O'-Lantern.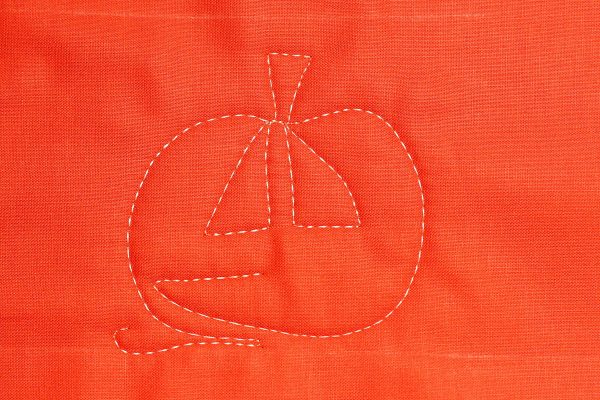 Complete the right side of the pumpkin, sweeping along the bottom line. Stitch to the left side of the pumpkin then horizontally, stopping near the center of the pumpkin.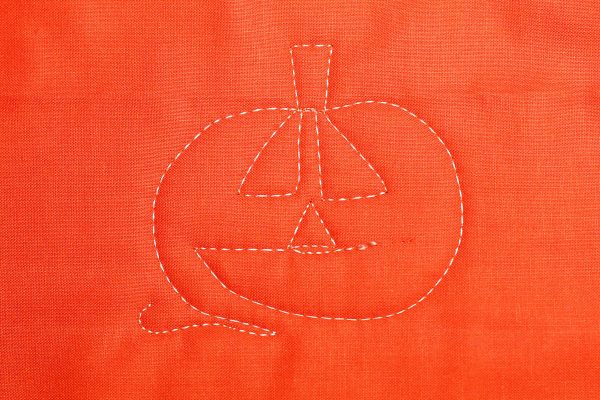 Add a triangle "nose" and stitch under the "nose" to continue the top of the mouth.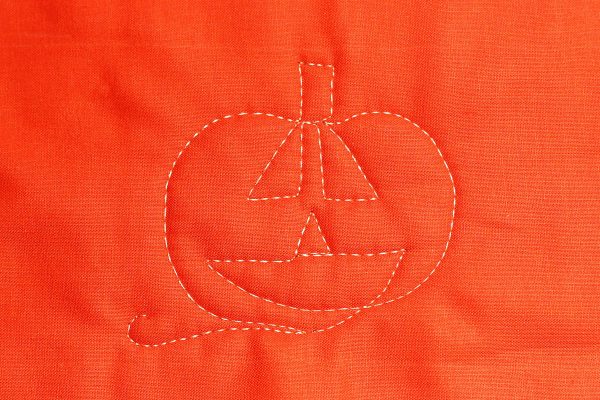 Complete the mouth and stitch to the bottom line, closing the gap at the bottom of the Jack-O'-Lantern.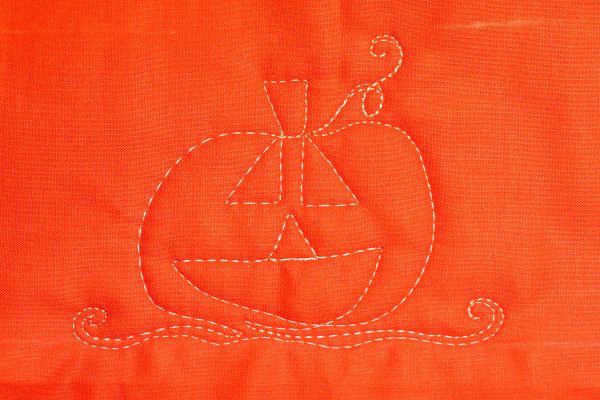 Stitch under the motif to begin the next motif in the row or add a swirl to complete an individual Jack-O'-Lantern.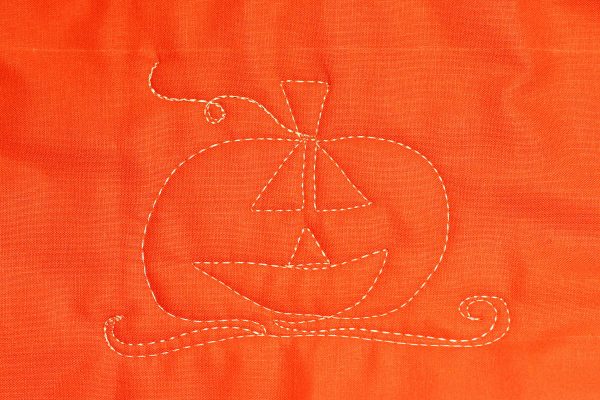 Add details to your pumpkins by stitching a swirly vine before sewing the stem.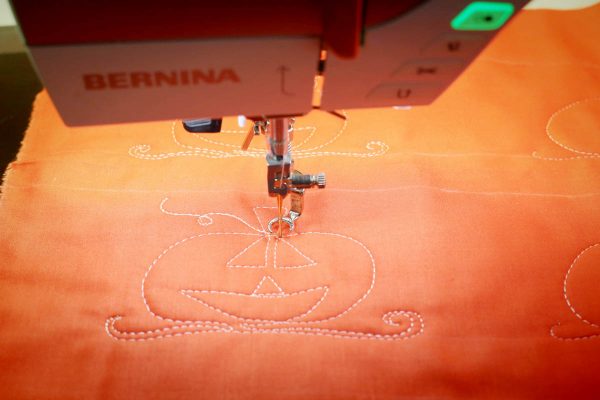 Once you know the basic pumpkin "recipe" you can add personality to the Jack-o-lanterns by changing the shape and size of the pumpkins, eyes and mouth!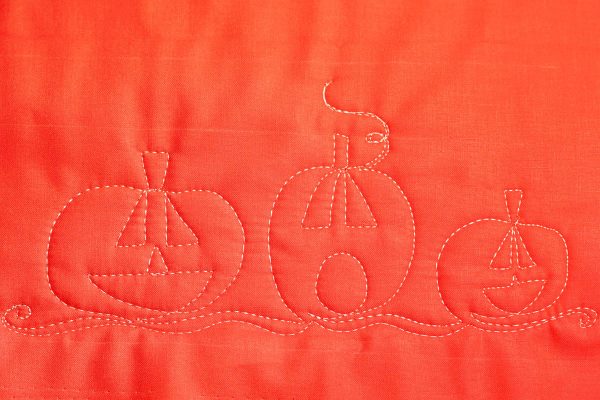 For more Halloween motifs, like The Spooky Spider and the Spider Web, visit me at The Inbox Jaunt!
Trick or Treat!
Lori