Jo's Compact Traveling Sewing Kit
Don't you hate not having a seam ripper or screwdriver (or needle threader or safety pin) when you need one? I never know what tools I'll need when I teach, monitor, or take classes, so I've gathered together some items I need most often and put them into a small plastic tube (about the size of a soda can). It fits easily into my project bag or suitcase, and keeps my tools from getting jumbled in with my sewing notions and supplies.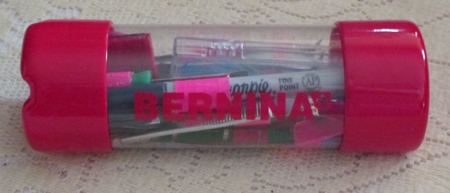 Here's a peek at what I have in my little "sewing tube" right now. I taught several overlocker/serger classes last month, so there might be a few items that are unfamiliar to you.
Tip: Mark all of your tools with colorful duct tape. Asking "Has anyone seen a seam ripper (screwdriver, needle threader, etc.) with pink duct tape on it?" usually results in the return of the missing item without the need for a detailed description.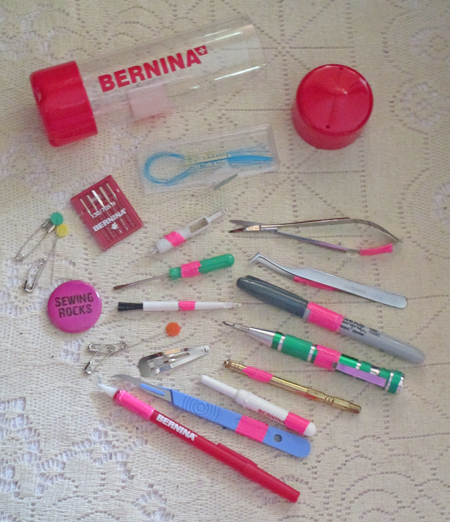 Starting at the upper left corner and working clockwise:
• Clear BERNINA storage tube and cap
• Thread snips
• Tweezers
• Sharpie marker
• Screwdriver with interchangeable tips
• Brass stiletto
• Seam ripper
• Surgical seam ripper
• Stylus
• Binding clip
• Curved safety pins
• Flower head pins
• Brush/needle insertion tool (for overlocker/serger needles)
• Small screwdriver (for overlocker/serger needles)
• Needle threader/needle insertion tool
• Safety pins
• Size 80/12 Universal sewing machine needles
• Dental floss threaders (great for threading interlocker/serger looper eyes)
How do you carry your sewing supplies to classes?
What you might also like
4 comments on "Jo's Compact Traveling Sewing Kit"