Off to Craftcation in Ventura, California
The DIY Craftcation Conference starts tomorrow, and I'm very much looking forward to being there. I had the opportunity to attend the inaugural event last year and was amazed by the three-day indie business and do-it-yourself (DIY) workshop retreat.

This year I am lucky to go back and be a part of it, this time with Jo's company :-), plus fifteen BERNINA 330 machines in my "luggage." I am pleased to say that BERNINA will be the exclusive sewing machine sponsor this year.
What is Craftcation?
Craftcation is a DIY conference and an opportunity for crafters to communicate and share ideas among industry professionals. This event is for all participants to inspire and get inspired, to network and learn. Craftcation supports the independent craft business community and arms all attendees with great tips to embrace their business ideas and turn them into reality.
The fun-filled program offers panel discussions and DIY workshops on art, craft, and food-centered small businesses. In addition, Craftcationers can re-energize through beachside yoga or mingle at cocktail/barbeque socials and historical trolley tours of Ventura.
Among the workshops are plenty of sewing classes from beginner classes through seamstress approaches. Two of the sewing classes will be taught by Mimi Goodwin – if you're a WeallSew follower you might already be acquainted with her stylish fashion sense. Mimi teaches how to sew a stylish Polka Dot Fold-Over Clutch and a fun Make-Up Brush Roll-Up Bag.
After the event we will share Mimi's project instructions with you here on WeAllSew so you can stitch up your very own!
We've teamed up with the local BERNINA store, Quilter's Studio, located in Newbury Park. Eileen Alber and Trudy Smith are looking forward to the event. Among other things they'll be monitoring sewing classes, lending a helping hand to all sewers, and introducing sewing enthusiasts to a wide range of BERNINA sewing machines.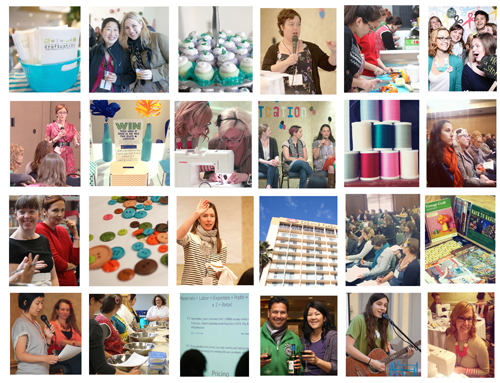 Where is it?
March 21–24 in Caaaaliforniaaa! For Chicago-land souls this is a nice treat, considering the immediate temperature increase from chilly 32F to cozy mid-70s. (Jo, our NC mountain girl, is looking forward to clear skies and ocean-front views.) So it's no wonder Nicole Stevenson and Delilah Snell, the founders of this great DIY conference, named it Craftcation.
I am happy to bring a breeze of California inspiration to you as I will be sharing highlights during the event on Facebook and Twitter. So be sure to visit and see what we're up to!
What you might also like