Shrink Plastic Sewing Notions
Shrink plastic isn't just for kids anymore! Now we can get in on the fun by making cool custom sewing notions for our projects! Yep, you can use what was originally a kid's craft to create buttons and decorative pins – read on to get the how-to and some shrink plastic tips.
I have been swooning over the custom pins in this DIY Designer Pin Heads – Shrink Plastic tutorial and these Wee Wonderful's Shrinky Dink Pins, have you seen them? I knew this was a craft I had to try. And these are just so much fun to make, check out my pins!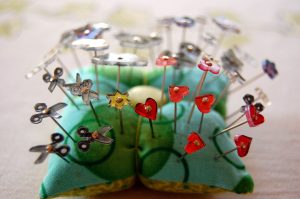 I found that starting with a shape about 1/2″ to 3/4″ in diameter shrank down to a perfect pinhead size. And I found a good trick to help the pinheads shrink in the oven and stay flat, which is sticking your pins (with the shrink plastic at the head of the pins) all the way into a piece of cardstock, then laying the cardstock pinhead side down in the oven for shrinking. It keeps the pins from falling over and helps the pinheads to stay flat as they shrink.
I also ran across this great tutorial for How to Make Clothing Buttons from Shrink Plastic and couldn't wait to give this a go. I cut circles from the sheets of shrink plastic and used fine-tipped permanent markers to decorate them before shrinking them in the oven.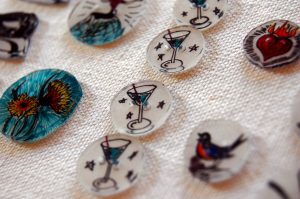 I cut my circles by hand and used a hole punch for the center button holes. The buttons look nice, but would have been better if I had used a circle shape punch like Kimanh did in her tutorial. I also made a few buttons shaped as little vintage irons by cutting out around the shape and punching two holes in each button.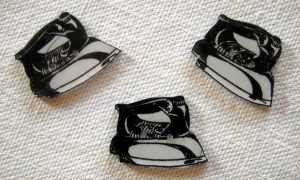 You can find shrink plastic in most craft stores, and it even comes in a few different colors and finishes. Permanent markers work great on both the clear, shiny plastic as well as the frosted plastic. Colored pencils can give really bright color results, but they work better with the frosted plastic.
As far as finding inspiration for what to put on your shrink plastic notions, you can find ideas in lots of places. Maybe you love nature and would like to use birds or leaves for decorating buttons, or maybe you want to create a pretty bunch of flowered pins for your pincushion. I got all of my images from several handy clip art books in my collection. I just browsed through a few until I found what would make perfect buttons or pins, and traced the clip art right on to the shrink plastic with my permanent markers.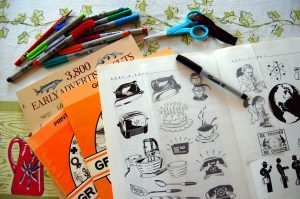 So now that you are inspired, what kind of custom buttons or pins are you going to make?
Techniques

crafts, sewing
What you might also like
2 comments on "Shrink Plastic Sewing Notions"