All Star Quilt-along Block 2
Welcome back! If you are just joining in, check out Block 1 of the All Star Quilt-along. It'll catch you up to where we are in week 2.
Now let's take a look at Block 2!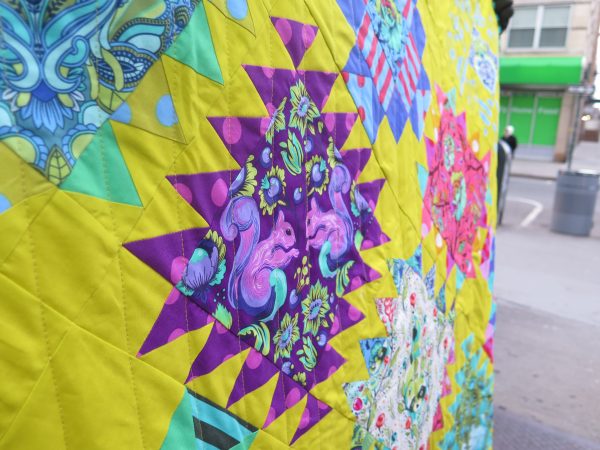 For this quilt block we will need 18-2 1/2″ half-square triangles (HSTs) to surround our center block. We will be using the same formula we used in a quilt I designed last year for BERNINA. It makes 8 no waste HSTs at a time. Check out the post with the tutorial for how to make any size HSTs by clicking here.
Here is what we need to cut for ONE block:
1 – 8 1/2″ center (be sure to cut the block on point if you are using a focal fabric like the one below)
3 – 5 3/4″ squares in your foreground fabric
3 – 5 3/4″ background fabric
2 – 2 1/2″ squares of background fabric (not pictured)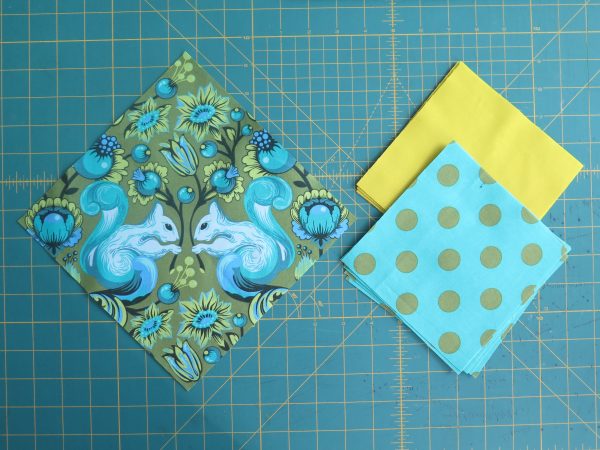 Take a foreground and background fabric and place them right sides together. With your background on top, draw an X corner to corner.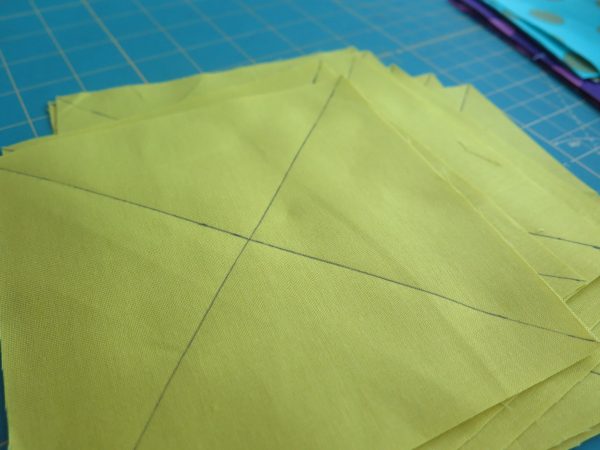 Sew a 1/4″ seam on both sides of your drawn line.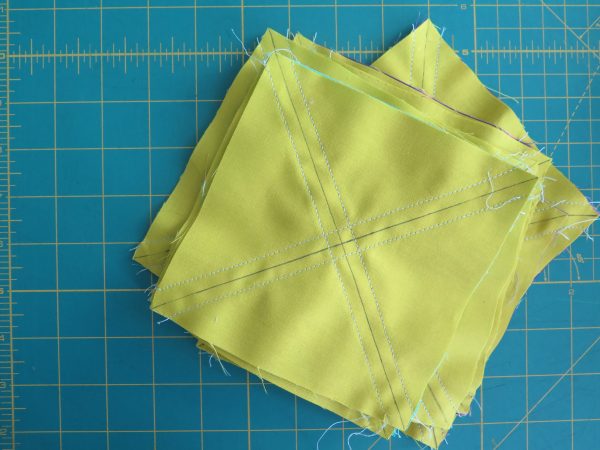 Cut the block as shown below.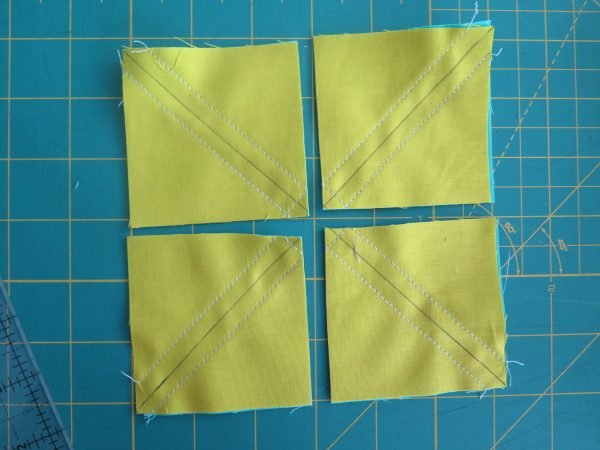 Cut again as shown below.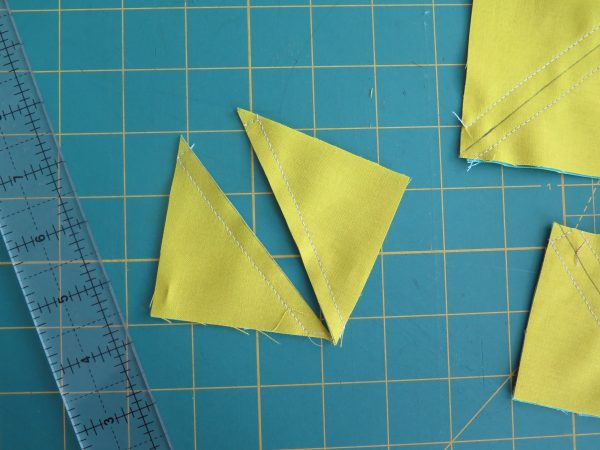 To the ironing board. Press your HSTs to the DARK side. Trim them down to 2 1/2″ if necessary, but if you sewed with a good 1/4″ and cut accuratley they should be good to go!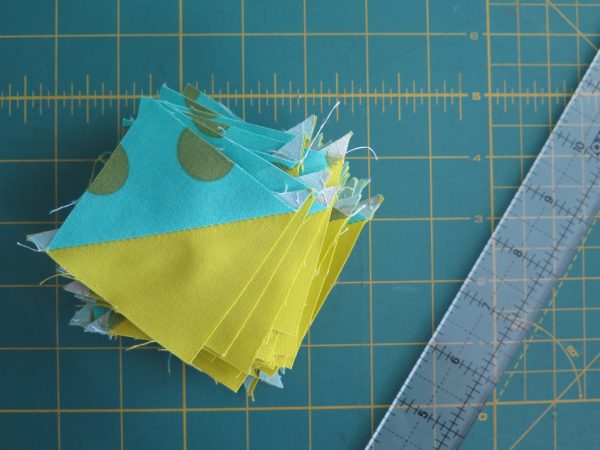 Take your 2 1/2″ background squares and arrange them with the HSTs as pictured below (you will have 6 spare HSTs, save them for a rainy day).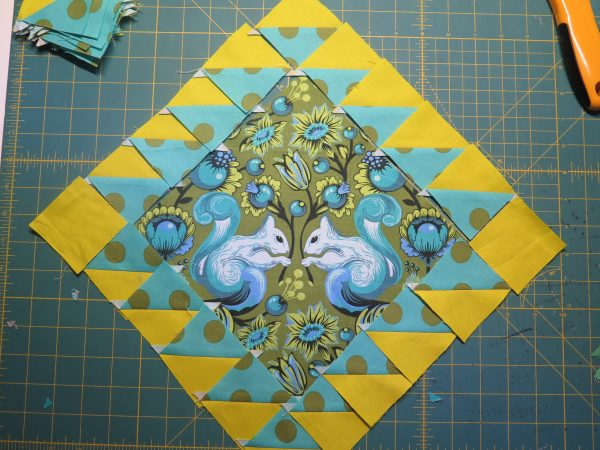 Piece your rows together as pictured below.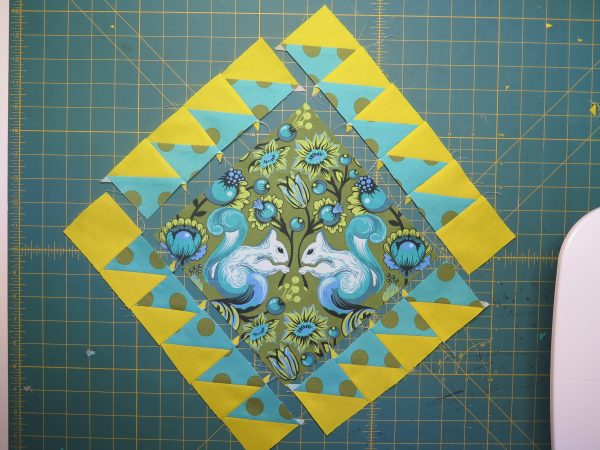 Join the shorter rows to your center block.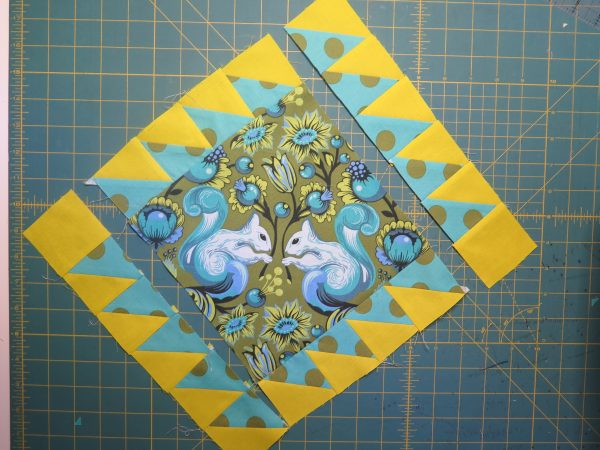 Add your longer rows to the block as pictured below.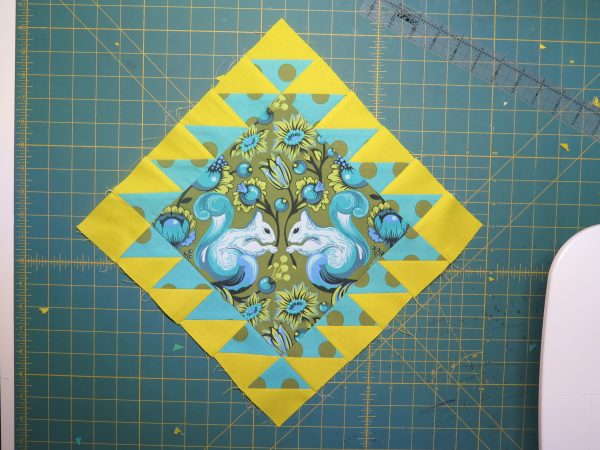 Done! Make one more block like this one and we will see you next week! And be sure to use #HeyNowYoureAnAllStarQuilt and #GiucyGiucePatterns when posting your progress on Instagram!
Difficulty level

Intermediate

Time to Complete

A week or more

Used Material

coordinating thread, cotton quilting fabric, cutting mat, fabric marking pen, quilting ruler, rotary cutter

Projects

home décor, quilt

Seasons

all seasons, Spring

Techniques

patchwork, quilt piecing, quilting
Used Products
What you might also like
7 comments on "All Star Quilt-along Block 2"