Big Stitch Binding
Have you seen a quilt with "Big Stitch Hand Binding"? Big stitch hand binding is an excellent way of adding a unique, functional, and decorative stitch to finish your quilt and attach your binding simultaneously.
Traditionally, adding a folded binding on your quilt is the final step in quilt making. The binding is sewn on by machine to the front of the quilt and is either hand-sewn or machine-sewn down on the back.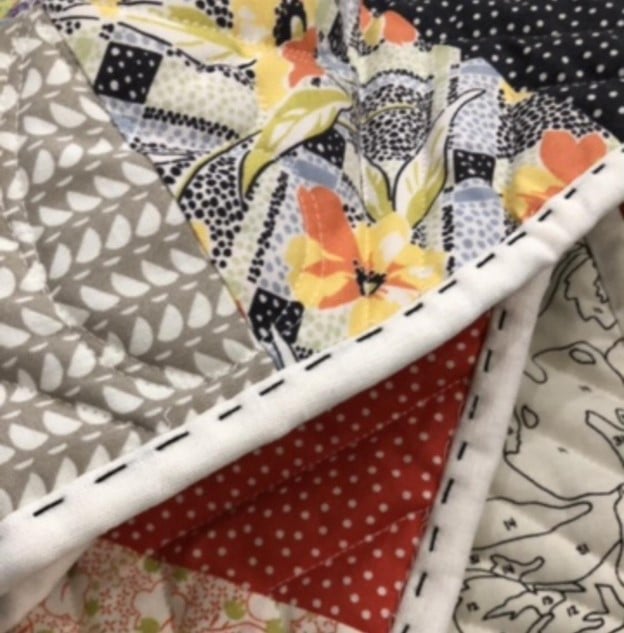 Big stitch hand binding adds a functional decorative stitch to add a finishing touch to your quilt.
With the big stitch hand binding method–you want your decorative stitch to show on the front, so you machine sew your binding onto the back side of your quilt, then you sew the binding down on the front using a thicker thread (i.e., a perle cotton in an 8 or 12 weight). While most of the big stitch bindings I have seen use the running stitch, you can also use an "X" or "V" stitch, a blanket stitch, french knots, or even a snowflake stitch.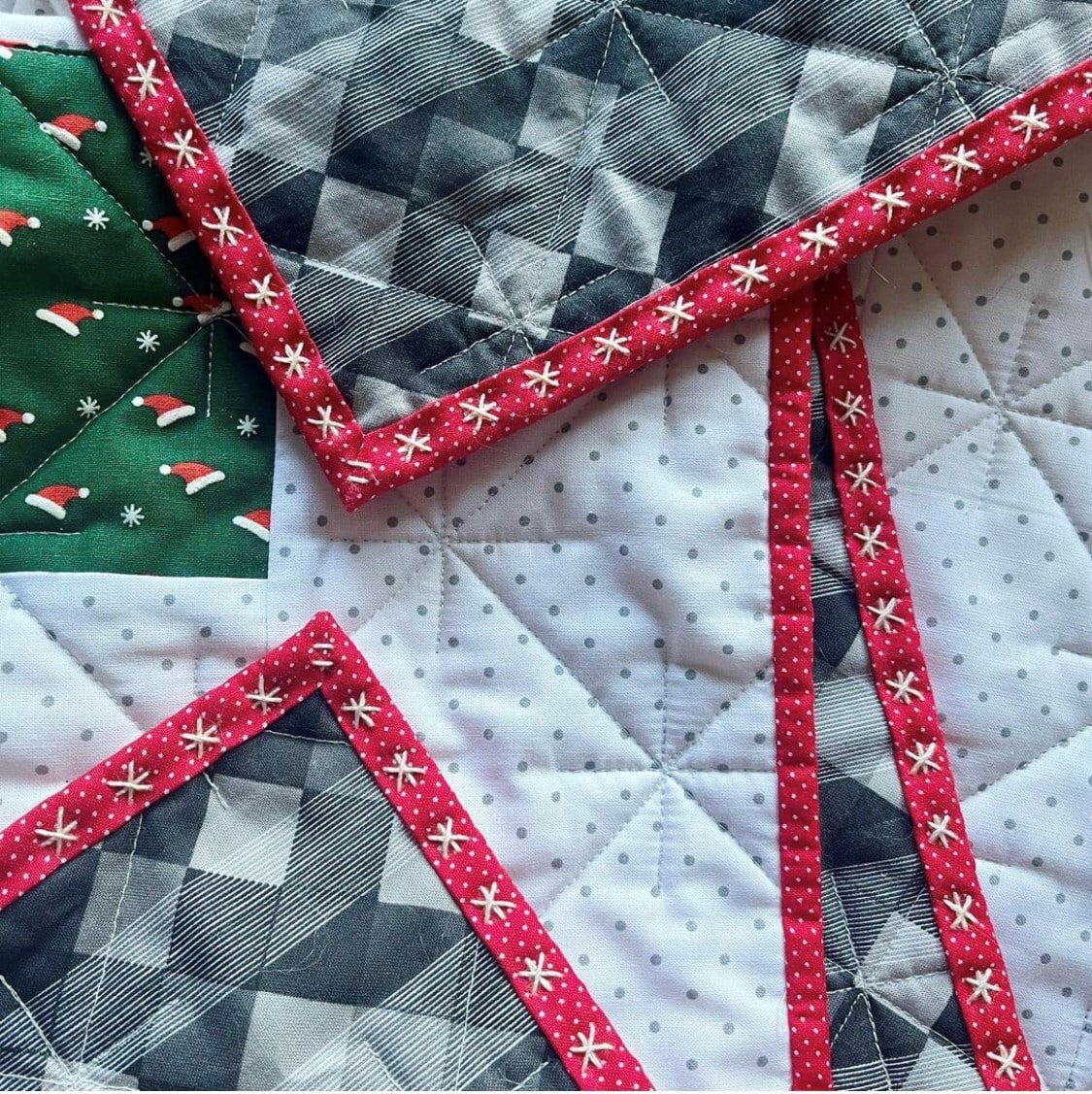 Jessica Poemape posted this picture of her big stitch binding with a snowflake design on a holiday quilt on her Instagram @jesspoemape.
"I wanted to address how I could make my binding more durable," said Erica Jackman of Kitchen Table Quilting, who has a great tutorial on "Big Stitch Binding". "I like the look and what it adds to the quilt."
"Big stitch hand binding is my absolute favorite. It adds such a unique touch to your finished quilt and becomes a conversation starter. Plus, it is super addicting," said Eliane of Patchwork and Poodles. Eliane also has a Big Stitch Hand Binding tutorial and one that offers variations on the basic stitch.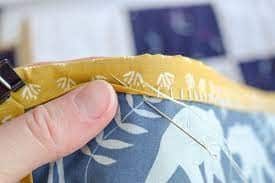 Eliane of Patchwork and Poodles demonstrates how to hand sew a big stitch binding to a quilt using the blanket stitch.
Here is a summary of suggestions these two makers, Eliane and Erica, have for making a successful "Big Stitch Hand Binding":
Use Perle Cotton (8 weight) or a thicker thread like a 12-weight thread or even a few strands of embroidery floss. Note to remember about thread sizes: the bigger the number, the thinner the thread.
Use an embroidery or crewel needle–ensure the needle's eye is large enough for the thicker thread but not so large that pulling the needle through all the layers is hard. A stiffer needle that won't bend easily works best.
Use a thimble–it will save your finger!
Make the binding a bit wider than usual. Erica suggests cutting it 2.75" or 3" wide. Fold it in half and attach it like the traditional binding method before big stitching it down.
Big stitch sew through the top layer of the binding, catching your batting and backing. The stitches should not go through to the backside of the binding.
Are you interested in Big Stitch Hand Binding? I added big stitches to a quilt I had already bound, and I love how it looks. I am currently hand quilting a quilt using perle cotton and big stitches. I love the process of big stitch hand quilting and binding. Try it; you may love it.
Projects

binding

Seasons

all seasons

Techniques

binding
What you might also like
7 comments on "Big Stitch Binding"