Decorative Stitch Binding
Do you like machine binding? Do you like decorative stitches? Combine the two and create beautiful decorative stitch binding. Use thick thread in a contrasting color to bring pizzazz to your binding or use thin thread in a similar color for a subtle effect. Some decorative stitches are easier than others for this binding technique. Pay attention to the decorative stitch pattern and how it stitches out. This will be important for stitching the corners. I will show you 3 different decorative stitches on binding and 3 different ways to turn the corners. Now, find some orphan blocks or make some small quilt sandwiches and let's get started!
Machine Set Up
Supplies
Mettler Silk Finish Cotton Thread 40 wt
Binder clips
Stiletto
Pressing Mat
Prepare Binding
At this point, your quilt should be ready for binding. For this binding technique, cut your binding at least 2 1/2" in width. The binding used in this tutorial is 2 3/4" wide.
With traditional French binding or double fold binding, the binding is stitched to the front of the quilt and then hand-stitched to the back. For this sewing technique, stitch the binding to the back of your quilt first.
Here is a link with detailed steps on how to sew binding to the quilt, miter corners and join binding ends. Remember for this binding technique to sew binding to the back first, not the front!
With the quilt right side up, add small dots of temporary glue, such as Roxanne Glue Baste It, along one side. Finger press binding down so it is just over the stitch line.
Use heat of iron to dry glue quickly. I love the Nifty Notions Mini Iron for small applications like this! Do the same for all sides.
Fold corners into a nice miter and clip.
Open Embroidery Foot #20C/20D
Attach Open Embroidery Foot #20C or #20D to your machine. You can use Open Embroidery Foot #20, but you are limited to a maximum stitch width of 5.5 mm. Place binding under the foot and align so the left side of binding is up against the inside left toe of the foot. This is the placement for all three decorative stitches I am showing today.
Machine Set Up Tips
Make sure Needle Stop Up/Down is in down position. This prevents the fabric from shifting under the foot when pivoting or making minor adjustments.
Attach and use your Freehand System. This makes turning corners super easy and quick.
Decorative Stitch #1310
This is a good stitch to start with if this binding technique is new to you. Select Decorative Stitch #1310 in the Quilting Stitches Menu. In the Information Menu, touch Mirror Image Left/Right. Move Needle Position to -5. Here you can adjust your stitch width and length if desired. Mine is at the default stitch length and is set at a width of 3.5 mm.
Grab some practice fabric and sew paying attention to the stitch pattern. With this stitch pattern, you want the first 3 stitches (forward-back-forward) to stitch in the quilt fabric, not the binding. Then, the "spine" of the stitch pattern will stitch into the binding.
As you get close to the corner, slow down.
The trick here is to get the third stitch directly into the corner, then pivot 45 degrees, stitch the spine at a diagonal, pivot 45 degrees and continue down the next side.
Here, I have pivoted 45 degrees. I will sew the spine of the stitch pattern at a diagonal into the corner.
Here, I have pivoted 45 degrees again to start sewing down the next side.
Here is a close-up of what a nicely stitched corner looks like with a blanket stitch.
Here is how the stitch looks on the back of the quilt.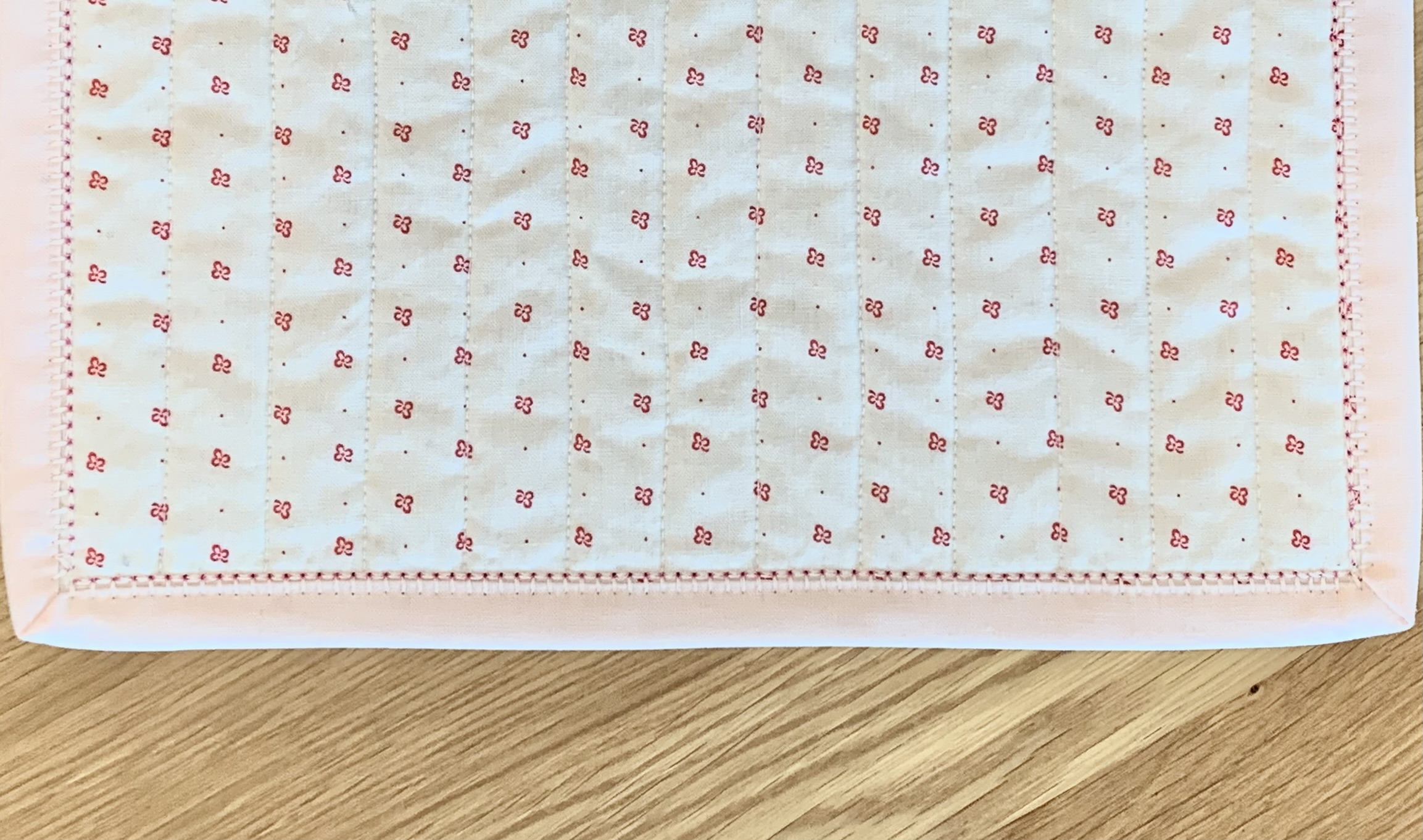 Decorative Stitch #725
Select Decorative Stitch #725. Stitch length and width are personal preferences. I find decorative stitch patterns that are wider and shorter create more of a flat, stiff binding than those that are narrow and longer.
For this tutorial, increase Stitch Length to 3.75 mm and keep Stitch Width at 9 mm.
Go into Machine Settings and activate Securing Stitches at Pattern Begin function.
Go into Programmable Buttons and select Automatic Thread Cutter & Securing Stitches icon. Activate the Securing Stitches.
Start at the top of one side and stitch until you are close to the next corner. Check placement and touch Pattern End. Decide if you have room for one more stitch pattern.
When you are as close to the corner as possible, touch the Cut Threads button. Remember we have programmed this button to cut threads and secure the stitch automatically. Turn quilt and start on next side. Do the same for all three sides.
Here is what the corners will look like. You are securing stitches at beginning and end on each side. Secure stitches at end of stitch pattern to keep things symmetrical. This is why the Pattern End button is so great!
Decorative Stitch #783
This stitch takes a little practice. Don't start here if you have not done this technique before. Select Decorative Stitch #783. Increase stitch length to 3.5 mm.
Start at the top of one side just under the mitered fold. Your goal is to have the straight part of the stitch in the quilt fabric and the curve on the binding. Use a stiletto to help keep the binding flat and in place. The tricky part of this stitch pattern is that the straight stitches sew in reverse. When you are about 1" from the corner, slow down.
The goal is to finish at the bottom of the curve in the stitch pattern as close to the corner as possible. If needed, sew 2-3 short straight stitches or use the handwheel to place needle in corner. A little fiddling won't be noticeable.
Use the Freehand System to pivot. Press the Pattern Begin button on machine to start stitching down the next side. Do the same for all sides.
Here is a close-up of what a nicely stitched corner looks like with this decorative stitch. Again, this one takes some practice.
I hope you are excited to go play with decorative stitch binding! After you try the ones in this tutorial, experiment with other decorative stitches. With your machine's built-in stitches, the possibilities are endless! Enjoy the journey and never stop learning what your BERNINA can do for you!
Difficulty level

Intermediate

Used Material

Binder Clips, Mettler Silk Finish Cotton thread, mini iron, pressing mat, roxanne glue baste-it, stiletto

Projects

binding, quilting

Seasons

all seasons

Techniques

binding, decorative stitches, decorative stitching
What you might also like
7 comments on "Decorative Stitch Binding"