Simple Strips Quilt-along Part 4 – Decorative Stitch Machine Quilting
Welcome to part 4 of the Simple Strips Quilt-along! If you are just finding this tutorial, be sure to check out Simple Strips Quilt Along Part 1 for the materials list and quilt along schedule and part 2 for the pieced quilt top tutorial.
Last week we basted our quilts so we can machine quilt them today using a decorative stitch. This is probably one of the quickest quilt designs to do so you can literally finish it up in a weekend!
About This Quilt
Finished Quilt Size: 48″ x 60″
Finished Block Size: 12″ x 12″
Number of Blocks: 20, set 4 x 5
Fabric used: Valley collection by Sherri and Chelsi with Bella Solids, both from Moda Fabrics
Quilted with Aurifil 50 weight cotton, #2315
Preparing Your Work Space
My number one tip for domestic machine quilting is to use a table with a large surface that allows your machine to drop down so that the bed of the machine is level with the table. This will prevent gravity from dragging on the quilt and will make the machine quilting process so much nicer! To extend your work surface, add a small portable table to your left, forming an "L."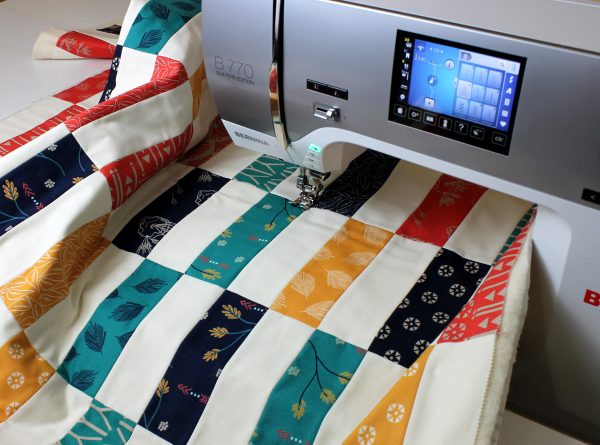 My number two tip is to invest in a sewing machine that has an extra-wide space between the needle and right side of the machine, called the "throat" space or "harp" space. I am thrilled to work on a BERNINA 770 QE that has a full 10 inches of space in which to work.
Audition Your Thread Choices
I prefer to piece and quilt with 50 weight cotton thread for two reasons: first, cotton holds up over time and I like using natural fiber materials whenever possible. Second and more importantly, it makes things simpler for me.
I hoard thread like I hoard fabric and I love to match my thread to my quilts. If I were to collect all the colors in all the thread weights in all the different fibers, that would get too overwhelming! So I stick with cotton because it's thin, sinks into the quilt, and I know I can use it for both piecing and machine quilting. Plus, all my leftover bobbins from machine quilting can be used up the next time I piece a scrappy quilt!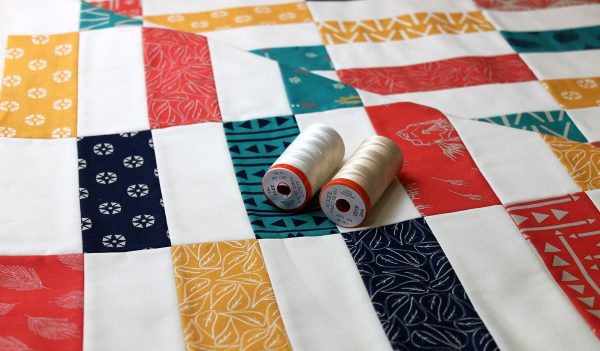 Lay out a couple of different spools of thread on your quilt top to see which color disappears the most. I want my threads to blend so that only the texture of the quilting will show, not the individual stitches. In my quilt above, I chose to go with the slightly darker tan color. Although the lighter cream would virtually disappear on the background fabric, it would contrast more on the darker prints. The tan is a good choice for both as you can see in this closeup image: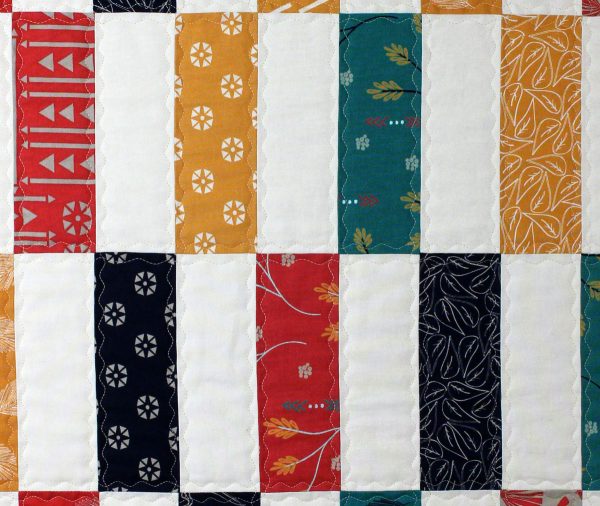 Audition Your Quilting Design
Just like auditioning the thread you plan to use, it's a good idea to audition your quilting design, too. Before quilting, I make up several practice samples consisting of 10″ fabric squares and leftover pieces of batting. I test out everything I plan to use in my quilt—the same thread, needles, batting and quilting stitches I plan to use. I would rather work out the kinks on a scrap piece I don't intend to keep.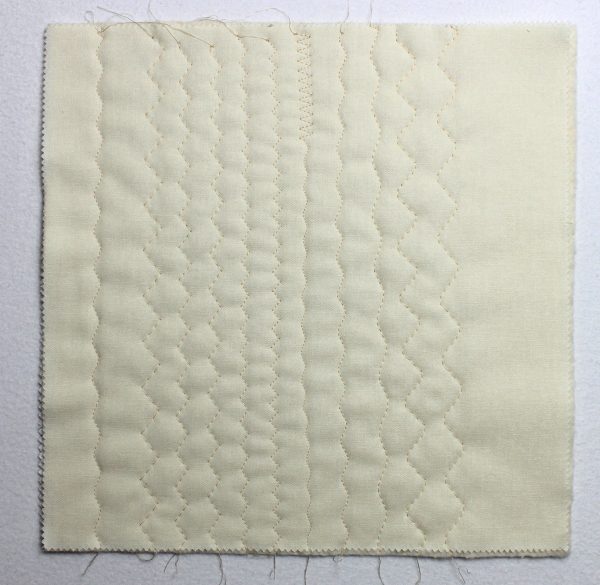 For this quilt we are going to play around with the decorative stitches on our machines. Select one that looks interesting and quilt a single line across the length of your practice sample. Try different stitches and adjust both the length and width until you find one you like. Take note of it, or write it directly on your sample.
Tip: be sure when quilting with a decorative stitch you are using a regular stitch plate that can accommodate the width of your stitches. We don't want any broken needles!
Set Your Machine Stitch
When you have picked the perfect stitch, be sure to set it on your machine and store it in memory if your machine is capable of doing that. On my BERNINA 770 QE, I chose the #4 stitch with a width of 3.0 and a length of 2.0. I also adjusted my tension to 3.5 and turned my pressure foot pressure all the way down to zero. Along with engaging the dual feed, lowering the presser foot pressure will help prevent puckers when stitching perpendicular lines.
Time to Quilt!
My favorite foot for this type of quilting is the Open embroidery foot #20D with the dual feed engaged. This gives me better visibility to see what I am doing and allows me to easily quilt with the decorative stitch I have chosen. Be sure to go slow and allow the machine to do its work to form each stitch.
Step 1
Start quilting on the right side of the quilt and stitch one line at a time, staying to the left of each seam line. Start quilting in the batting, an inch or two before where the quilt stops. Quilt all the way into the excess batting at the end of a line of quilting. Cut your threads after every complete line of stitching. Be sure to quilt in one direction, top to bottom for each line of stitching to prevent distortion of the quilt top.
Scrunch and smoosh your quilt out of the way as needed when it begins to get bulky. If needed, rotate the quilt 180 degrees when you reach the middle, and continuing quilting, line by line until you reach the other side of the quilt.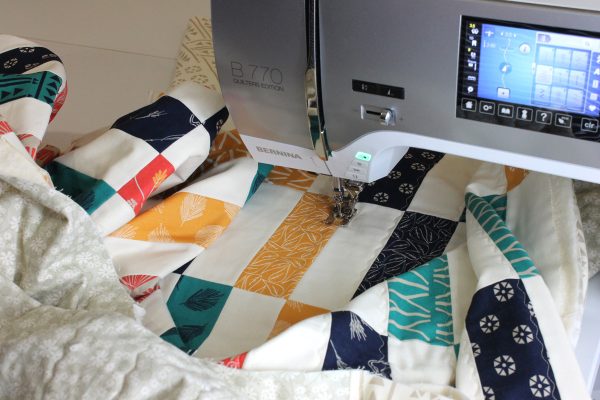 This is what your stitching may look like after one pass across the quilt:
Step 2
Again, start quilting on the right side of the quilt, with the bulk to your left. This time stitch each vertical line of quilting to the right of every seam.
Step 3
Rotate the quilt so that now you will be quilting all of the horizontal lines. Again, start on the right side of the quilt and stitch to the left of every seam line.
Step 4
Finally, stitch to the right of every seam line to complete the design!
Notice that I did not quilt around any of the quilt edges. The edges will be covered by binding with a decorative stitch that matches the quilting.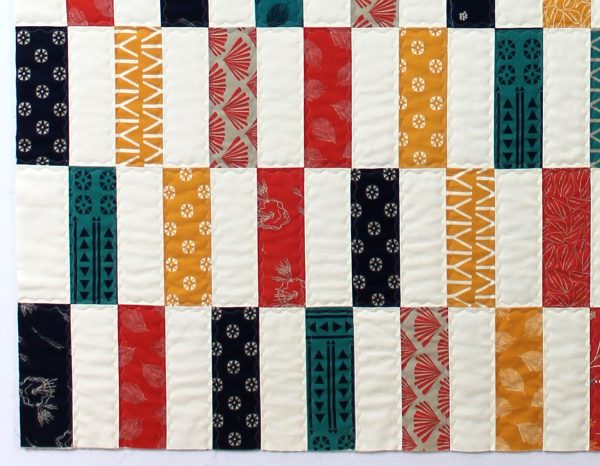 Next week we will finish up by squaring up the quilt and binding it by machine! See ya then!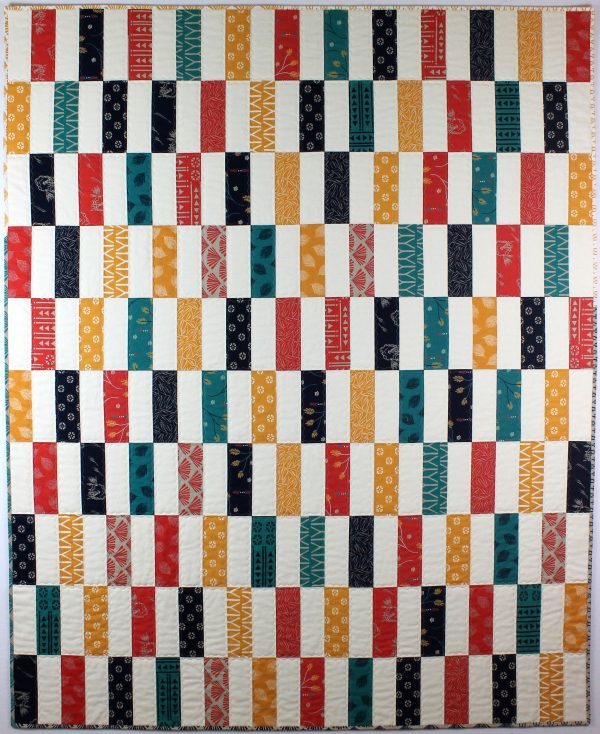 Difficulty level

Beginner

Techniques

patchwork, quilting
What you might also like
11 comments on "Simple Strips Quilt-along Part 4 – Decorative Stitch Machine Quilting"