Business Secrets from Successful Sewpreneur Jessica Abbott
Hello WeAllSew readers! First of all, let me just say that I am thrilled to be here talking with you. When I first came on board as one of Bernina's We All Sew Experts, it was a dream come true for me. I have loved Bernina for as long as I can remember – and being a brand ambassador for them is an honor.
I am the author/editor of The Sewing Rabbit, a blog dedicated to sharing DIY projects and fun sewing articles. I manage a team of 8 creatives, and together we strive to publish fresh new content each week.  Furthermore I am co-editor in chief of STYLO Magazine, and write for companies that include Jo-Ann Fabric & Craft Stores, DIY Network, and Disney's Babble.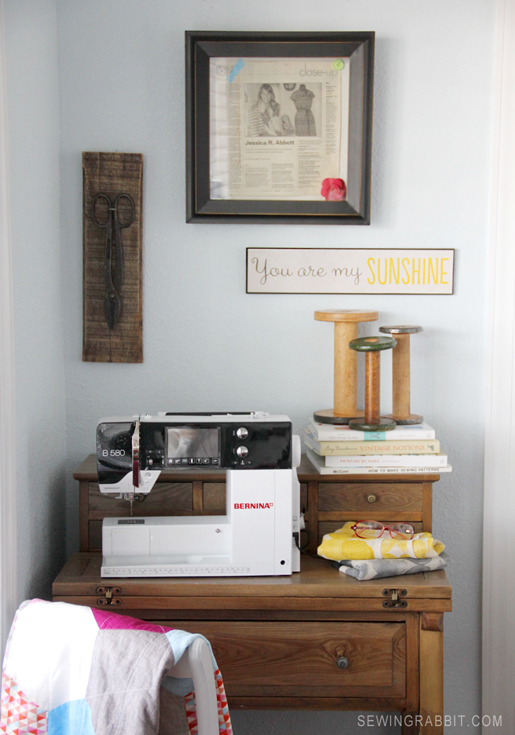 The question every new blogger has:  How does one turn their sewing blog into a profitable business?
Blogging can be an interesting trade. I often equate the first few years of blogging to an internship. There are hurdles you must pass along the way as you discover yourself and find where your passion lies. It all comes down to this…
Know yourself and have a goal.
When I first started blogging, I was all over the place. Still learning what gave me joy when it came to sewing. Turns out, I am NOT a quilter – lol. But it took time to discover my strengths and weaknesses. I needed to open up an Etsy Shop for myself, only to discover that I hated making custom orders. Do you want to make and sell sewing patterns? Do you want to purely blog and make money off of advertisements? Do you want to work with companies? Publish a book? Know your goal – and make it the number one focus in your vision.
Don't be afraid to say NO.
It can be one of the hardest words to say. Especially when a company is offering you free product, or contracts that don't suit your personal needs. Saying NO is ok, in fact – it is more than ok. It can show that you value yourself and your work more than "free product" or "social media promotion." Know your worth, and stand up for what your goals are. I am not saying all 'free work' is bad, just make sure it aligns with your end game before accepting.
Take Inventory.
If you want to blog for money, then you need to take inventory every now and then so you know how to proceed. See what blog posts are resonating with your readers, see what blog posts have the highest pageviews/traffic, and base some future blog post ideas on that feedback. This also goes hand in hand with Series, giveaways, or brand promotion. What did you enjoy doing? If you loved selling handmade products – do more of that! If you loved collaborating with a certain brand, reach out to them again! Don't keep guessing and grabbing at straws, figure out what works for you and your readers – and move forward.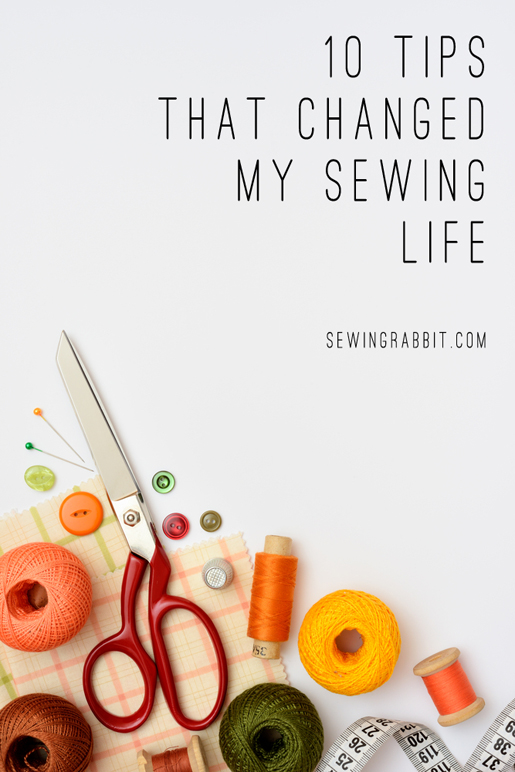 10 sewing tips I learned that changed my life
Don't give it all away for free
This is probably the biggest mistake I see new sewing blogs make – and I was guilty of myself. If you give it all away for free, then guess what – your readers more than likely aren't going to want to pay for anything in the future. (I know what you are saying – but free product drives traffic to the website!) That is short-term goal thinking. You need to think long-term, and you want readers who value you. Some of the biggest sewing bloggers out there give just about nothing away for free – but the readers don't even realize that because their content is still incredible.
If you DO decide to go the free DIY route – make sure it is quality content. People are on the other end of that screen, spending their hard earned money on fabric to replicate your DIY. Don't disappoint them. And know that your future blog income will probably not be in selling product, but rather in traffic/pageviews for sidebar ads.   The Sewing Rabbit falls into this category based on the trajectory of how the blog started. Because of that, I need to hit very high pageviews numbers each month in order to make money purely blogging. I offset that income by working with companies contractually for content, which has actually become my personal passion. I thrive off of pushing myself to new limits with these collaborations. Affiliate links can also be a way to monetize if the brand is in your wheelhouse.
It's ok not to post every single day of the week.
Don't kill yourself! Your family and your sanity still need to come first.  The sewing rabbit puts out a lot of amazing content, but I couldn't do it without my team. And even at home, I have help with babysitters and schooling for the kids. With the slew of sewing content being put forth daily by thousands of sewing bloggers, it can be easy to feel the overwhelming urge to just put out more (and more and more). Quantity over quality.  But guess what, posting every day can make you get lost in the crowd. Rather post a few AMAZING projects with stand-out photography a couple of times each month – and you will STAND OUT in an otherwise saturated crowd.
Social Media is your friend.
My number one traffic driver is Pinterest. And with that, comes new pageviews and readers every single day. It is ok to go through your old content, things that new followers might not have seen before – and repin, or repost your work. That old post will be new to somebody, and bring more traffic than otherwise expected. Don't let it get lost in your backpages. Refresh it, and remind people of how awesome you were last year.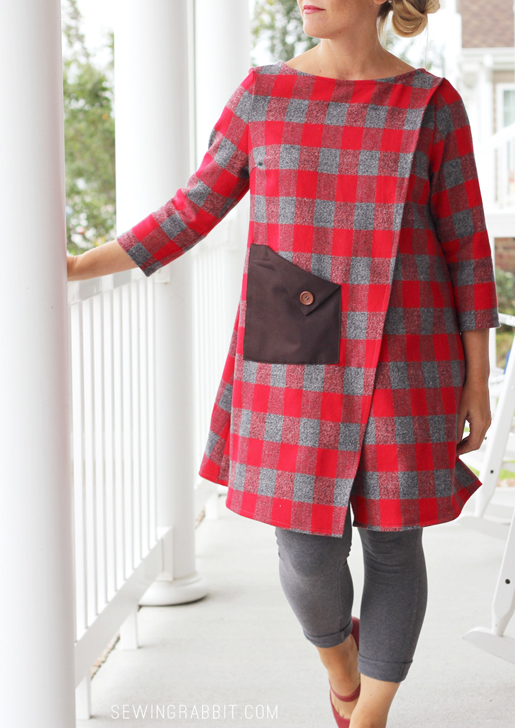 Lastly—the money aspect:
If sidebar ads is your goal – Sign up with an Ad Network.
You will do much better monetarily speaking if you sign up with an ad network. Google is fantastic, but ad networks strive to bring quality companies that are relevant to your blog's focus that pay a higher click through rate. Do your research, ask some friends, and apply for the ad network that you feel is the right fit for you! Furthermore, consider working as an affiliate for companies that align with your brand.
If working with companies is your goal – don't be afraid to reach out!
Get your media kit together, and start "cold calling" companies via e-mail. Or better yet, go old school and pick up the phone! Its not about the size of your blog, because guess what – most of these companies don't need your pageviews anymore. It is about what you can bring to the table. Your blog is the new commercial advertising, thanks to Social Media and perpetuity. You'll never know until you try. And keep trying. And then once you have a pitch that gets accepted, don't be afraid to let them know your quote. You and your time is worth it. I ask myself this question – is this worth the time needed to spend away from my family? Find the number that makes that ok for the supplies, hours needed to complete the project, photography, editing and more – and send the quote. If you aren't scared to hit send, you didn't ask for enough.
If selling handmade product is your goal – then do your research.
Look around and study the companies that you admire, and see what they are doing. Follow them on Social Media, truly study their shop model. Look at their reviews and see what their customers have to say. Poke around to see what makes them successful. And then take a number and jump on in!
Network.
Attend a blog conference, join a sewing focused Facebook group, and start following and commenting on some of your favorite blogger's Instagram feeds. Some of my best work has been through collaborations with other sewing bloggers. I have also made some of my best friends because of it, and nothing could be better than that.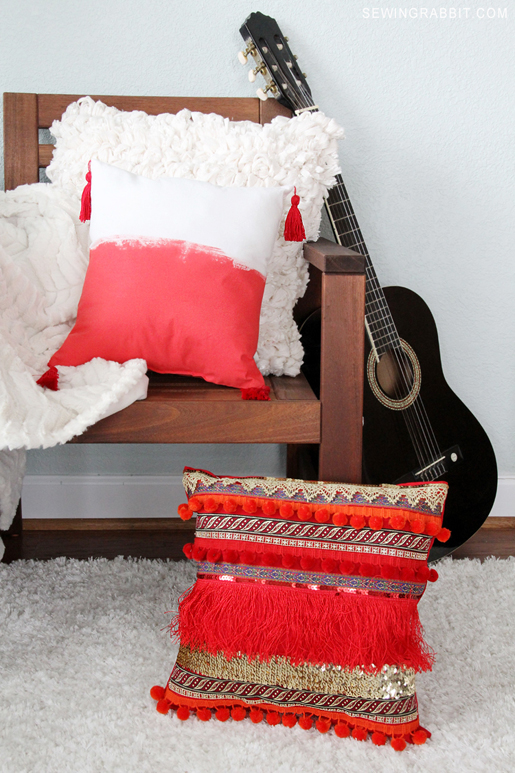 Bohemian Inspired Valentine Ribbon Pillow DIY
Just know – with all things in life there will be failure.
Blog life is a twisty turny road, and not everything is going to be a huge success. So long as your road continues to curve in an upwards motion – then I think you are doing alright.
What you might also like