Classic Button Up Shirt Sew-Along – Part 1
For this sew-along, I will be showing you my tried-and-true method for constructing a tailored classic button front shirt. A tailored shirt, especially a solid white one is an essential wardrobe staple. It practically goes with everything. It's one of those pieces in your closet that you'll never regret owing. And it's so rewarding to sew your own.
In this sew-along, you will learn to sew:
a collar
a collar band
a non-darted front (generally, because you can always make adjustments)
a topstitched pocket
separate sleeves
cuffs with a continuous plackets
a double yoke
front bands with buttonholes
shaped hemlines
Picking a pattern: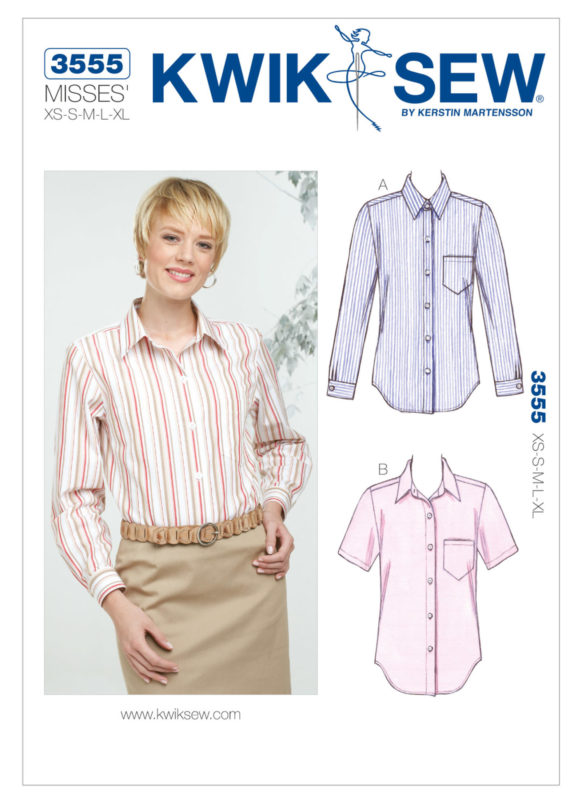 I'm using Kwik Sew Pattern #3555, view A.  If you require a larger size, use Kwik Sew Pattern #3586, view A for plus size.  I selected this pattern because it's beautifully drafted and uses industry suggested seam allowances, so that there are no seam allowances that will require trimming.
Selecting a Size:
In order to pick a size, use the measurements for the fullest point of your bust that is printed on the front pattern piece. Based on your own measurements, you may have to modify the pattern. I lengthened my front and back pieces by one inch.
Selecting Fabric:
To make a shirt, I would suggest shirting, cotton or a cotton-blend if you are a beginner. It's a lot easier to work with. For my fabric, I'm using a white stretch cotton poplin. I like for my shirt fabric to have a small amount of "give" for comfort. You can also use other fabrics such as silk or silk-like fabrics, rayon & blends, chambray or broadcloth.
Sewing Tip: Always prewash your fabric to eliminate shrinkage of your finished garment. Overlock the cut edge of your fabric prior to prewashing to prevent fraying.
Collecting materials needed:
Materials to Sew a Classic Button Up Shirt
Sewing Pattern: Kwik Sew #3555
Size 12 Universal or Sharp Sewing Machine Needles
Fabric
Interfacing
Buttons
Matching thread
Sewing Shears or Rotary Cutter and Cutting Mat
Pins
Seam ripper
Small, sharp-point scissors for trimming seams
Point turner
Tailor's chalk or erasable marker
Pressing cloth
Sewing machine (I'm using BERNINA 350 PE)
Serger (I'm using BERNINA 1300 MDC)
Optional Supplies:
Sleeve board
Pressing ham
Seam roll
Point presser/Clapper
Simflex Expanding Buttonhole Gauge
Button hole cutter
Selecting Interfacing:
When choosing interfacing, ALWAYS test your interfacing with the fabric you will be using for the feel that you want. My fabric is a cotton poplin with stretch. I am using a weft fusible interfacing because it is lightweight and has enough stretch to match my fabric, but also gives enough firmness in areas like the collar and cuffs.
After you've cut out your pattern pieces, made any necessary adjustments or modifications, you're ready to layout and cut your fabric.
Sewing Tip: For fabric that is almost identical on the right and wrong sides, use your tailor's chalk or erasable marker to mark the wrong sides.
After cutting out all of your pattern pieces and transferring markings and clipping your notches, interface all necessary pieces.
Sewing the Fronts:
Construction Note: This pattern uses ¼" seam allowances throughout.
The pocket for this pattern is optional. I'm using mine and sewing it on the left side of the shirt front. Interface the top edge of the pocket on the wrong side. This creates the pocket facing. Overcast the top edge. Using the fold line, fold the pocket facing to the right side and stitch the side seams using a ¼" seam allowance.
Sewing Tip: I use a straight stitch as a guide line for hemming.
Fold facing to the wrong side, poke out the corners. Fold under seam allowances and press.
Stitch close to edge of the facing. I'm using my BERNINA Blindstitch #5 foot for edgestitching and a 3mm stitch length.
Pin the pocket to the front of the left side at the placement mark. I always make marks in corners so that I will know exactly where to pivot.
Using Blindstitch foot #5, edgestitch close to the edge to sew on pocket. For tips on topstitching, click to find Six Tips for Perfect Topstitching here at WeAllSew.
To reinforce the corners, stitch a triangle starting 1/4″ from the edge.
For the fronts, use small notches to indicate the foldline at top and bottom.
On the fronts, fold the facing on the fold line to the RIGHT SIDE. This is a preference for me. I like for my facing to be sewn this way to give it the illusion that it's a separate pattern piece sewn on.
Using the blindstitch foot, edgestitch close to the edge of the facing.
Repeat on the other side.
In the next lesson, we'll sew the back and the collar.
Difficulty level

Intermediate

Time to Complete

Weekend

Projects

fashion, shirts

Seasons

all seasons

Techniques

serger, sewing, sewing a seam
Used Products
What you might also like
11 comments on "Classic Button Up Shirt Sew-Along – Part 1"