Do You Pre-Wash Fabric?
Do you wash your cotton quilting fabrics before you start a project? This question is asked frequently at my workshops. My answer is yes, but washing fabric is a personal preference. I was taught as a young girl in the 4-H program to always wash my fabrics before starting projects.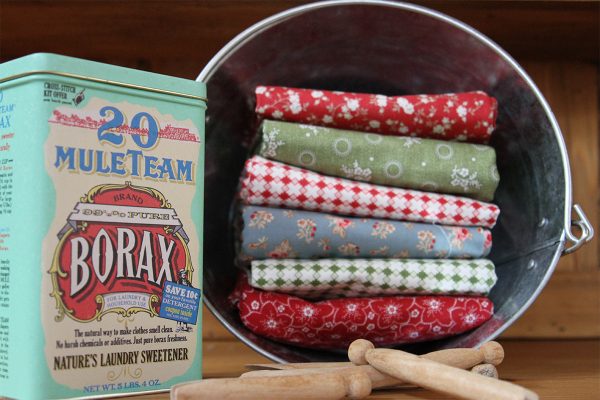 The quality fabrics sold in quilt shops contain excess dyes and chemicals. I certainly don't want to take the chance of a dark fabric bleeding onto a light fabric once the quilt is completed and washed. Along with the dyes, various chemicals are used to produce fabric. Formaldehyde is used to give the fibers stability. Bleaches are used to whiten the fibers. Chemical stiffeners are used to help with the weaving of the fabrics. More chemicals are used to relax the fabric after dying.
Fabrics can have quite a journey before they arrive at your favorite quilt shop. Most have been manufactured in another country. They travel in a container on a ship and then sit on a dock. The fabrics end up in a warehouse before being shipped to your local store.
Sometimes you may meet a friendly cat or dog on staff at a quilt shop. I love animals, but some members of my family are highly allergic to cats and dogs. Washing my fabric is a must. First stop is the laundry room when I bring home fabrics.
Fabrics shrink differently. Some of the shrinking occurs when the chemicals in the fabrics are released and the fabric relaxes. If you are using fabrics from more than one manufacture, the fabrics may crinkle or pucker when you wash your quilt after completion.
I wash my fabrics with like colors. I put a dye catcher sheet in with every load. There are several manufactures of these dye catchers. They can be found in the laundry section of your local store. I am always amazed at the colors of dye that are on each sheet after washing the fabric.
If I am feeling very ambitious, I will serge the edges of my fabric before washing. This will eliminate the fabrics from tangling together. Smaller pieces of fabric can be washed in a lingerie bag. Once washed I give my fabrics a good shake to remove wrinkles and air dry. I don't have a clothesline. The fabrics are usually outside all over my patio furniture. With a good steam iron, fabrics should press out nicely and are ready to be cut. If you prefer you can spray starch your fabrics when ironing.
Washing your fabrics may seem like more work in the beginning. There is always the excitement of new fabrics just waiting to be cut for a new project. A little work in the beginning might prevent an unwanted surprise in the end. See you in the laundry room!
Techniques

sewing
What you might also like
9 comments on "Do You Pre-Wash Fabric?"