Don't Be Afraid to Upgrade Your Machine
My New Machine
I have been sewing on a BERNINA 215 for over 15 years. While I have never had a problem meeting any of my sewing needs with it, I will admit to thinking that some additional features could come in handy upon occasion (like a little more precision buttonholer). After thinking about it for a long time, I finally decided to upgrade my machine. There were a ton of different options to choose from, but I finally decided on a B 790 PLUS. I have never done machine embroidery, and I thought it might be fun to try. Over the next few weeks, I'm going to share some of my favorite features of my new B 790 and how I learned to get over my initial fear of the machine.
I was excited to get my new machine, but I wasn't prepared for how intimidating it would be. I have been sewing for the better part of 40 years. This particular sewing machine, however, has more options than my first two computers combined, lol. It was kind of like going from a Model T to a Ferrari.  I really wanted to take my Ferrari out and see what it could do, but I was afraid of damaging it. After all, it was a substantial investment.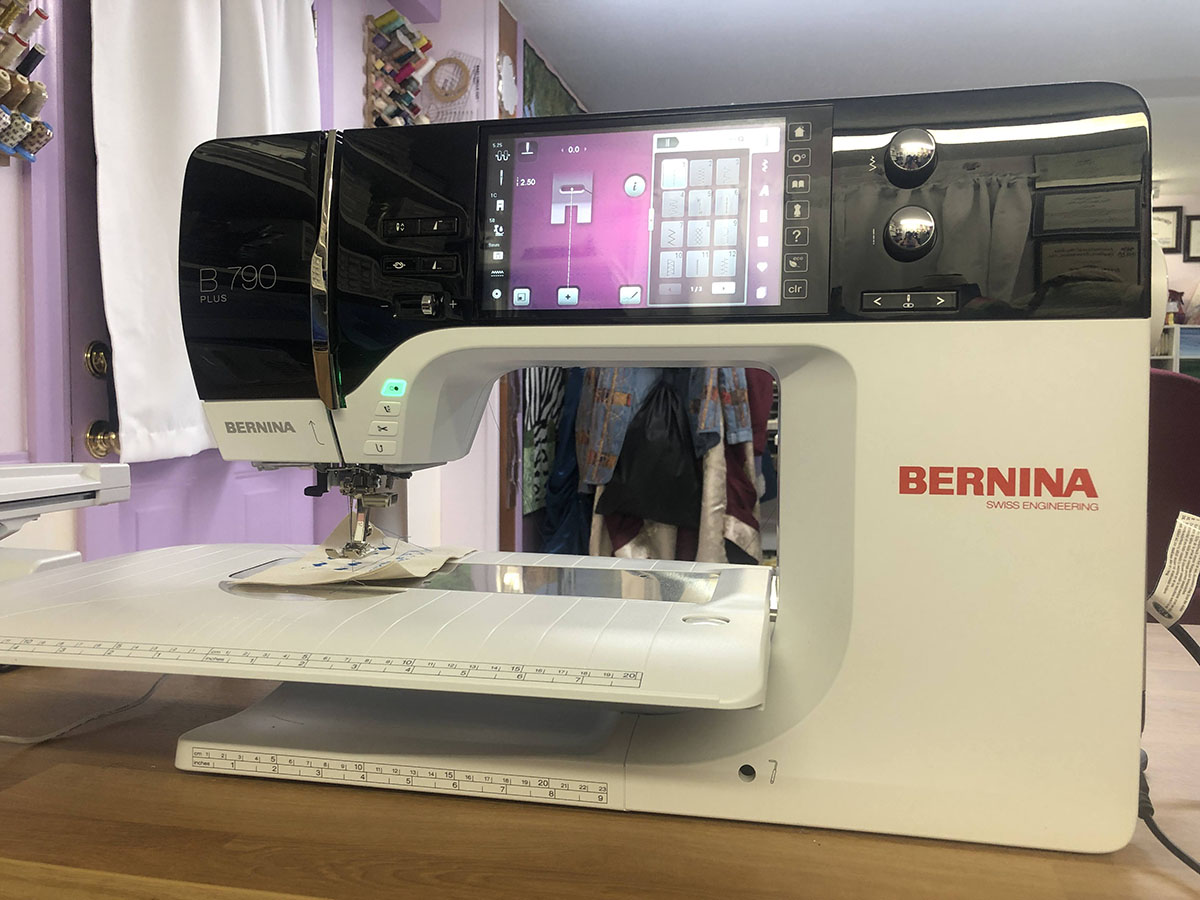 Getting Acquainted
For the first few days, I just looked at it on the desk I had built just for it. After about three days, I decided to bite the bullet and try a few simple things. The first thing I discovered was that I could personalize it. I'm really into purple, so I was excited to find out that I could change the color of the display, and purple was an option. I could even change the message when it first came on to say, "Hello Kris".  (I know not sewing-related, but still cool!).
The next thing I discovered is that it has built-in features that make it difficult, if not impossible, to damage the machine. I love this. One of my fears, with a computerized display, was that I would change the settings by mistake and do something I couldn't fix.
The B 790 will give you a red check mark if something is not right. For instance, to do a zig-zag stitch, you need to change the stitch plate to the wide hole. If you forget to change it, or you don't select the wide hole plate on the screen, the B 790 will remind you. It does the same with both feet and needles to make sure that you not only don't damage the machine but that you get the best possible results for your project. This feature has made experimenting with my machine considerably less stressful and a lot more fun.
Cool New (to me) Features
Bobbin Feature
One of the first things that I discovered that was different from my 215 was the bobbin. The bobbin for the B 790 has little silver dots on one side. This allows the machine to let you know when the bobbin is getting empty. I love this feature. I can't tell you how many times I have chain sewn dozens of quilt blocks together or thought I had, only to discover I had run out of bobbin thread.
The other cool thing about this is that it gives you a guide for inserting the bobbin. As long as you remember to put the silver dots facing in, you will always have the bobbin in correctly. You will know if you forget and try to put it in backward, as you will feel some resistance. If you ever feel resistance trying to do something on your machine, you are probably trying to put it in backward. (Never force anything to fit.) This handy feature is also on several of the 4 and 5 series models.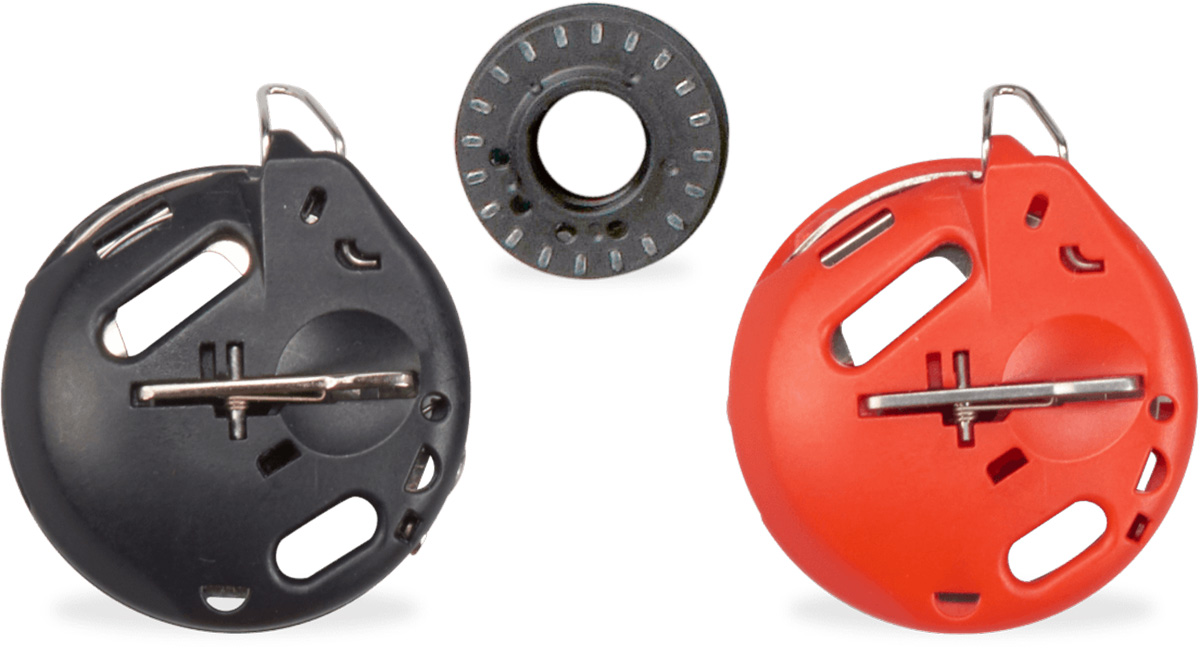 Tie-Off Feature
Once I started feeling a little more confident that I couldn't seriously mess up my machine, I started exploring the menu for features that were not available on my 215. The first one I discovered was the tie off feature. I'm used to just hitting the reverse button to secure stitches. This works well but can get a little bulky on fine fabrics.
The tie off feature offers two different options, one that goes a little side to side and the other that makes the stitches closer together to start. The latter is particularly useful for fine fabric, as you don't get thread build up at the start.  You don't even need to press a button to use this feature. Once it is set up it will automatically engage every time you start stitching after you have either used the needle threader or the thread cutter. You can easily change between tie off options and/or turn it off depending on your preferences. You can also program it to automatically tie off, cut the thread, and then raise the presser foot when you touch the pattern end button. (Like the bobbin feature this feature is also available on several of the 4 and 5 series models.)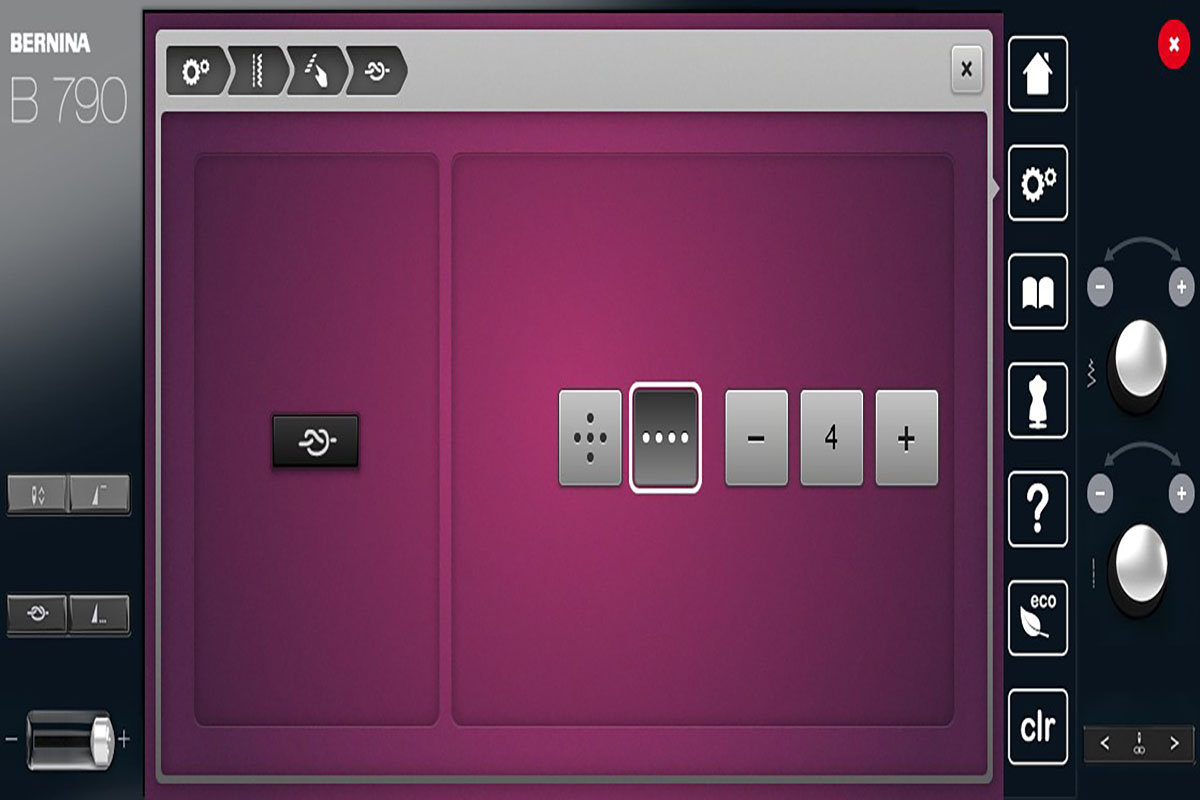 Hover Foot Feature
The next feature I discovered was the hover option for the presser foot. I love this feature. If the B 790 did nothing else different than the 215, it would be worth it for just this feature. It automatically raises the hopping foot just slightly when you stop with the needle down allowing you to easily pivot whatever you are sewing, or to add/line up another piece of fabric when you are chain piecing. You can easily set the hover at ½ or full. I personally prefer the ½ as it just slightly raises the foot. (You can also find this feature on the B 770 QE Plus, B 770 QE, B 740, B 735, B 590, and B 570 QE.)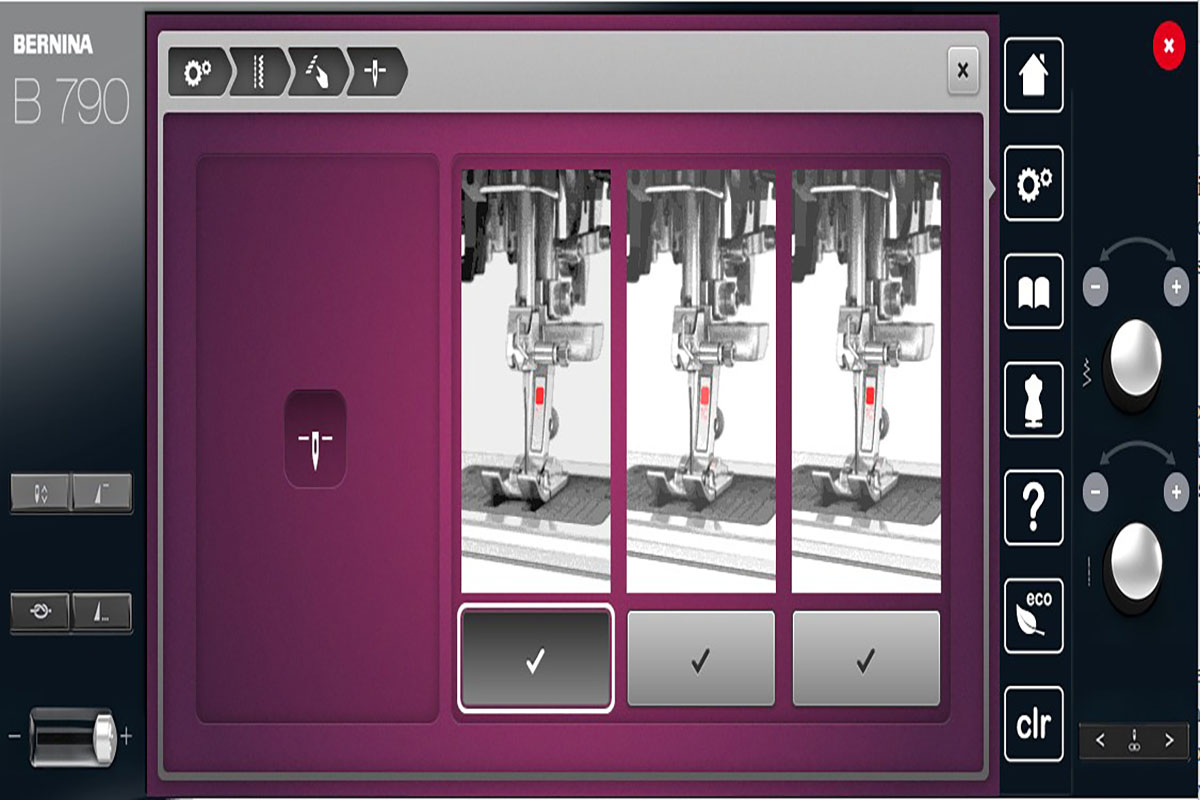 Foot Control Feature
I originally started out sewing on an old sewing machine that belonged to my mother and it had a feature that if you tapped on the foot pedal, it rotated the needle ½ a revolution. I.e. if it was up, it would go down, if it was down, it would go up. When I switched to my 215, it didn't have this feature. Because I loved how much better the stitch quality was, and the incredible variety of feet options available, I learned to live without it. The B 790 however, not only has this option available, but it also has several other options you can program the foot pedal to do. The default setting is to raise or lower the needle with the heel of the foot control is depressed, but you can also set it to tie-off and/or cut the thread instead. (This feature is also available on the B 770 QE Plus, B 770QE, B 590, B 570 QE, and B 480.)
Additional Resources when Upgrading Your Machine
After getting over my initial fears, I wish I had upgraded my machine years ago. I've been learning a lot about this machine just by playing and experimenting, but there are tons of resources available through BERNINA, if you need or want additional help. I highly recommend taking advantage of the mastery classes offered by your dealership. These are a great way to become more familiar with both your dealer and your machine. If your dealership is not conveniently located, or you're like me and your question always comes up outside business hours, check out the abundance of helpful videos on the BERNINA International YouTube channel, and of course, the WeAllSew Blog.
These are just a few of the many awesome features of the B 790 PLUS. Check back shortly to see my post on how to "Let Your Machine Help You Learn" to become more familiar with display navigation and how to use it to get the most out of your machine.
Difficulty level

all levels
Used Products
What you might also like
6 comments on "Don't Be Afraid to Upgrade Your Machine"