Holly Jolly Ornament Tutorial
Happy holidays from BERNINA Ambassador Joanne Sharpe. Joanne is an artist and teacher with a specialty in mixed media art from upstate New York. Look for her new book "The Art of Whimsical Stitching" (Interweave) coming in April 2016.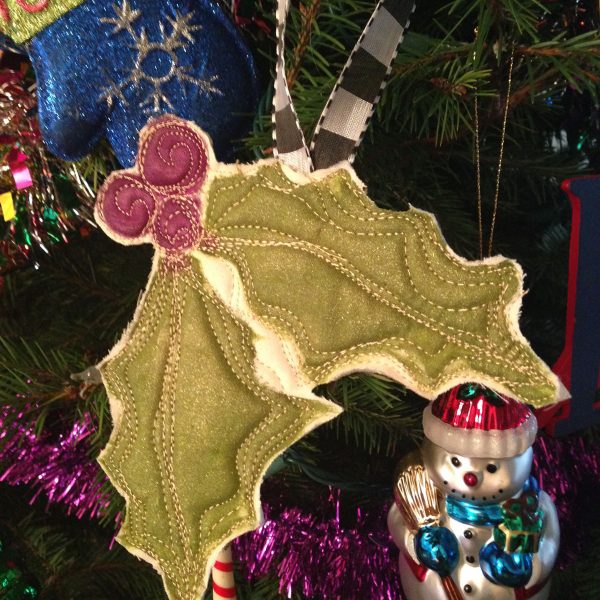 Oh how I love to make art with my BERNINA! Enjoy this Holly Jolly Ornament tutorial to create simple, and adorable hand made fabric ornaments with a little bit of paint and free motion stitching. These "holly jolly" ornaments make a fun gift tag on a gift, and then can be reused each year as a holiday decoration. Don't be afraid to pick up a brush to make whimsical shapes to add texture and embellish with free-motion stitching on your machine. This is an easy project that can be completed in one afternoon. Handmade holidays are the best!
MATERIALS:
Fabric paint in greens and reds—I use So Soft by DecoArt available at craft stores
Fabric paintbrushes (I use Tulip brand)
White/natural muslin fabric (18″ x 24″ will make about 8 ornaments)
Soft and Stable batting 18″ x 24″ (I use ByAnnie brand)
Green batik or patterned fabric for backing
Disappearing ink fabric marker
Quilting template plastic (optional to make template)
Decorative ribbon
Scissors for fabric and applique
Metallic thread (I use Floriani-color gold)
Sewing machine
Holly Jolly Ornament Pattern downloaded and printed: Holly Jolly Ornament Pattern
Make your Holly Jolly!
Instructions to make a Holly Jolly Ornament: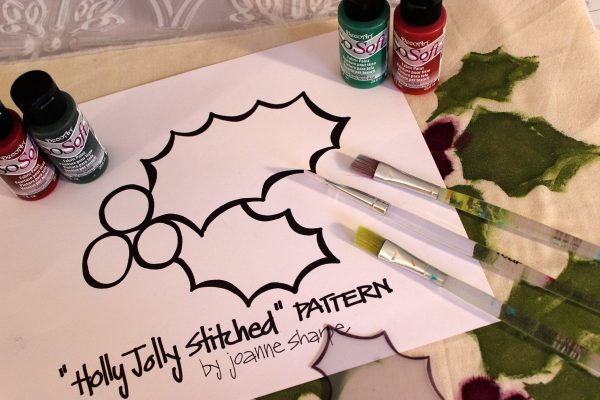 1. Make your holly pattern.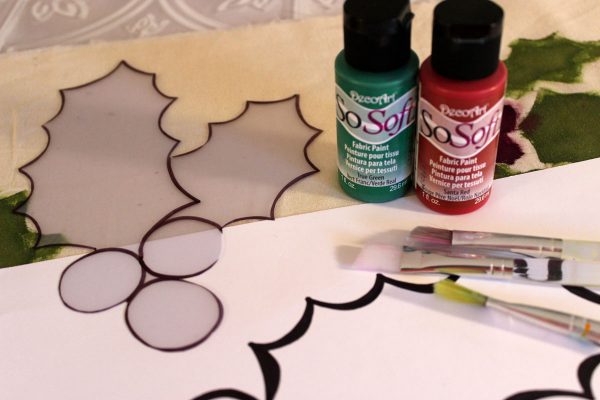 Print out the pattern, or if you're really brave, draw your own free hand holly with berries. If desired, make a reusable template from quilting plastic by tracing the design onto the plastic with a permanent marker (like a Sharpie) and cut out.
2. Trace the pattern on to the fabric.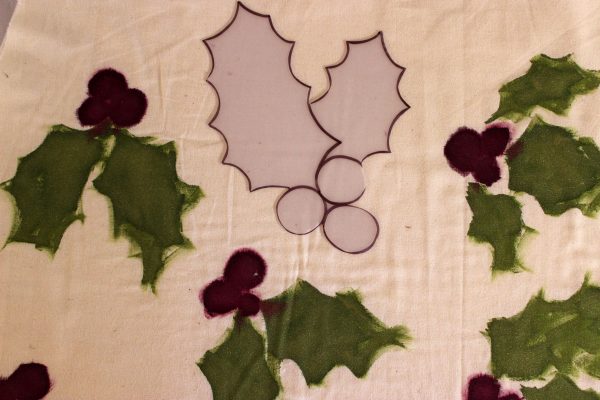 Place your Soft and Stable batting under your muslin fabric. Use the paper or plastic template and trace the shape multiple times filling up the surface, fitting in as many as you'd like.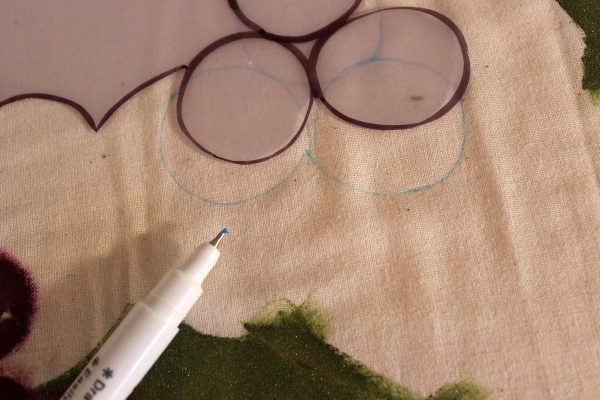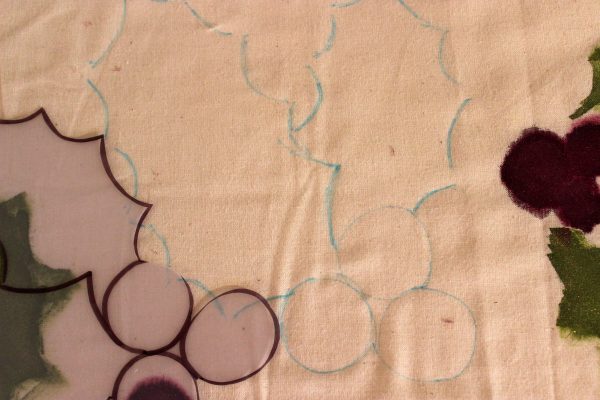 Trace with a disappearing ink fabric pen that will vanish when you add paint over the lines.
3. Paint the fabric shapes.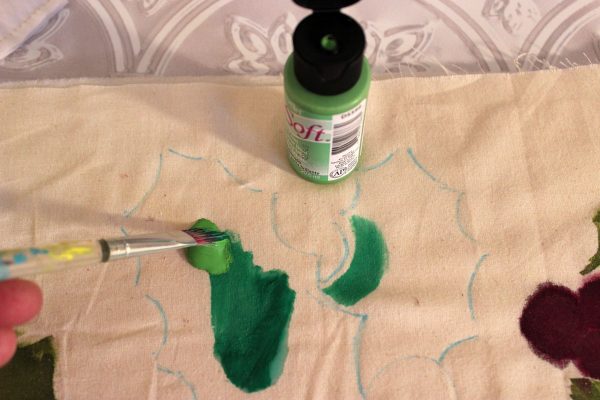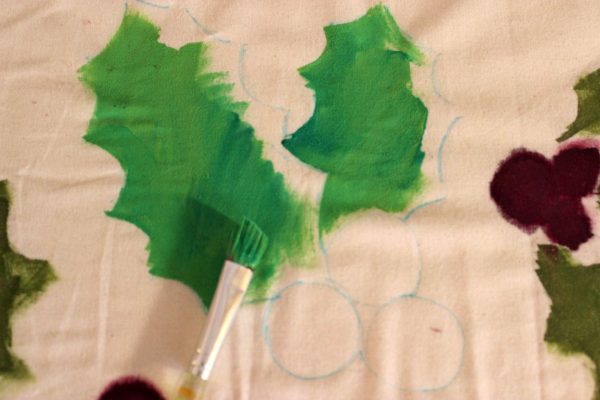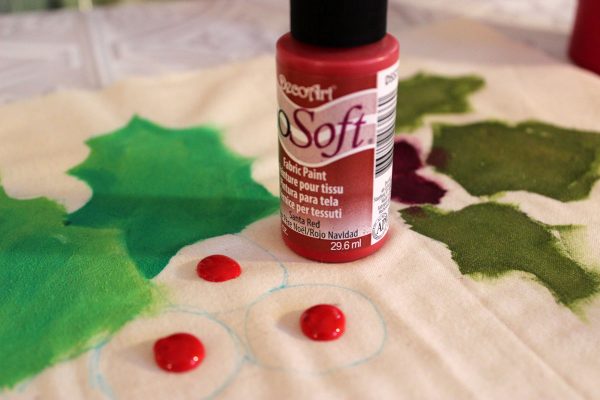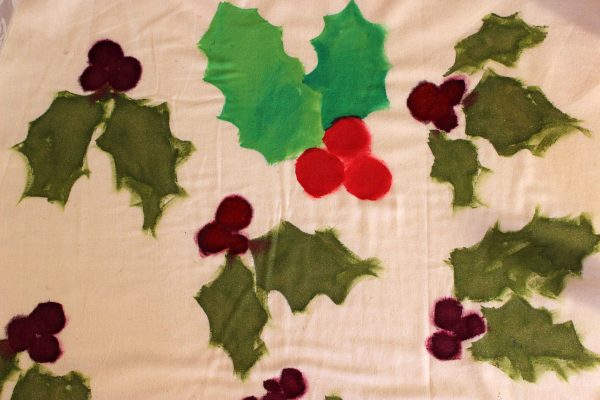 Choose your favorite reds and greens for the holly leaves and berries. Loosely paint the shapes (they don't have to be perfect) that you traced on the muslin and allow to dry completely before you go near your sewing machine.
4. Cut your all over pattern.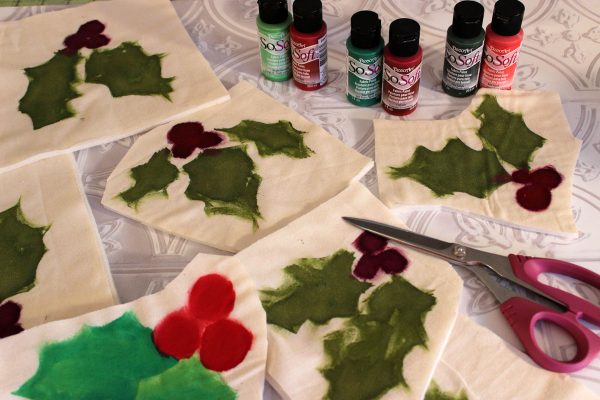 Rough cut around each shape leaving about 2″ around the painted image.
5. Add the backing.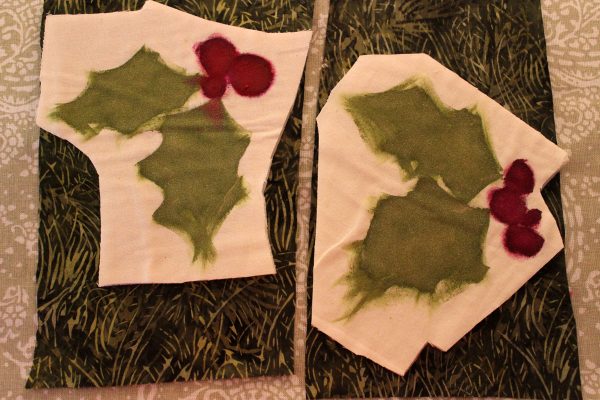 Rough cut green fabric for the backing of each piece, with about 2″ of fabric extending around the entire shape. Take the "sandwich" over to your sewing machine.
6. Stitch your shapes.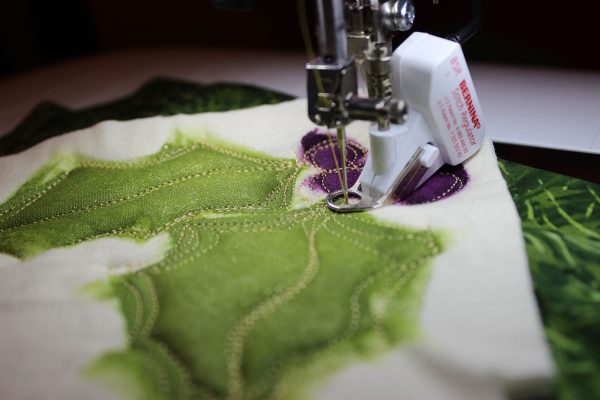 This is the fun part! Think of your gold thread as a colored pen to draw the details and outline of the holly shape. With the BERNINA Stitch Regulator, or your desired method of free-motion stitching, sew and follow the shape of the holly leaves and berries. Use 2-3 loose, "sketchy" thread lines so that the piece looks more artistic and intentional, not like you were frozen in fear to draw over your painting with free motion sewing! Here's the secret, this is why you painted multiple pieces.
7. Cut out the holly.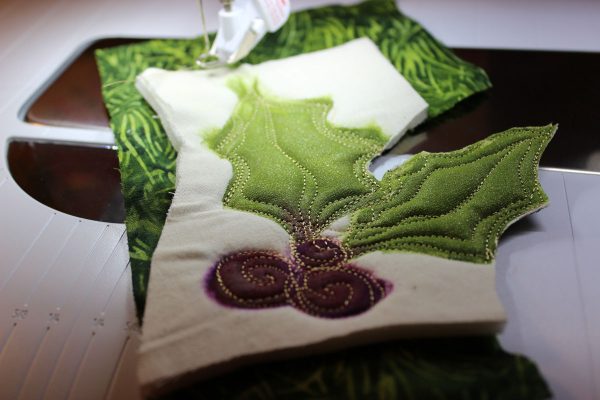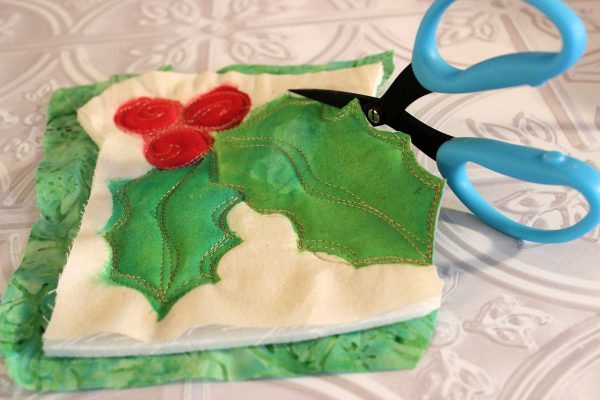 When the stitching is complete, use your best, sharp applique scissors to fussy cut the holly shape at the stitching line leaving a nice raw edge.
8. Add a decorative ribbon hanger.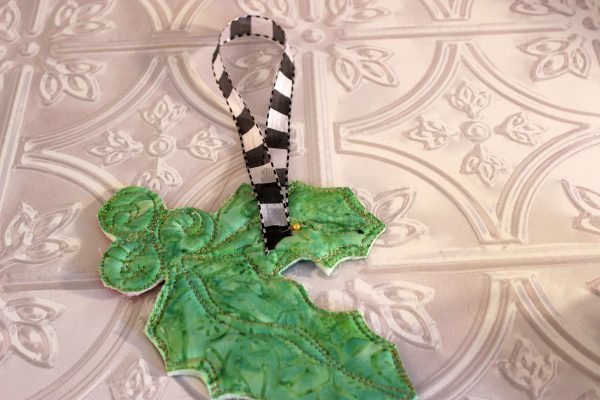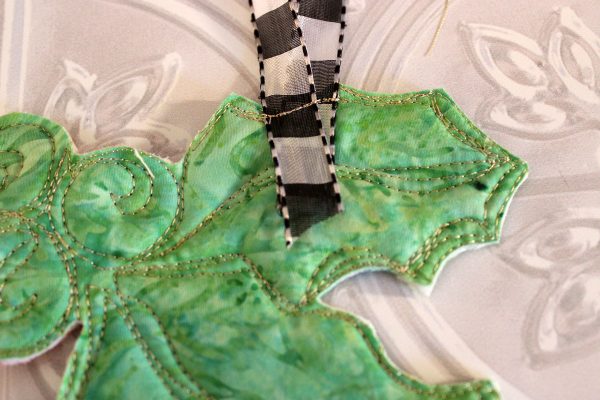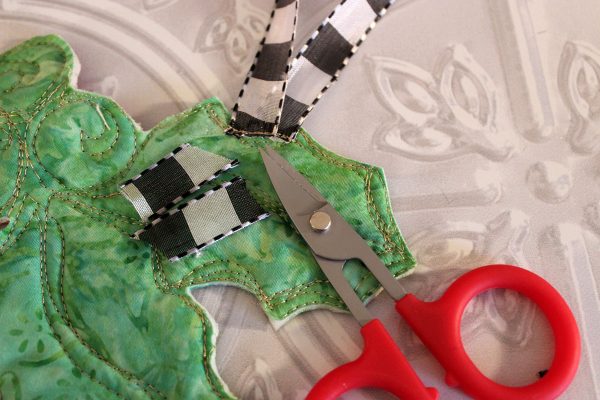 To add a "hanger" use a ribbon on the back of the piece to be sewn over the existing line of stitching. Trim the ribbon tight and close to the stitching line, as you would on an applique piece. I found this leaves a clean line in the shape of the piece and hangs the lightweight shape nicely.
Adorn a package and reuse in Holiday décor. What a simple, gratifying project to sew up for the special folks on your gift list. Celebrate the season with your creativity and BERNINA magic!
Our December 11 Gift For You
Today's gift is a red BERNINA Roller Backpack to one awesome WeAllSew fan. All you have to do is post a comment below answering the following question:
What ornament what you sew with Joanne's technique?
A winner will be chosen at random on December 12, 2015 and announced the following week!
Good luck!
Congratulations to our WeAllSew reader "kathryn", the winner of the December 11 gift. Enjoy!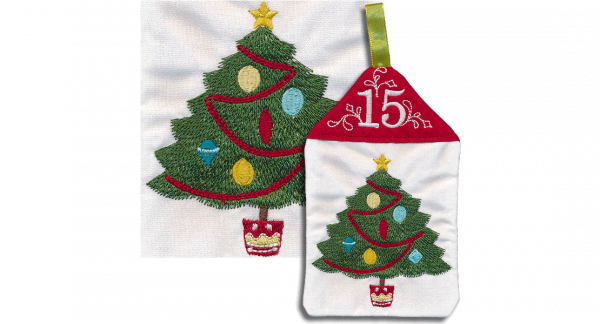 Projects

home décor

Techniques

free-motion quilting, quilting
What you might also like
75 comments on "Holly Jolly Ornament Tutorial"