How To Sew English Paper Pieced Hexagons
English Paper Piecing (sometimes referred to simply as EPP) is a very old hand sewing technique using paper templates to stabilize fabric and create a very accurate shapes. You can paper piece many different shapes, but the most popular by far is the hexagon. It's easy when you get the hang of it, and because this is hand-sewing it is a great project to pack up and take along; you can EPP virtually anywhere, in front of the TV, at a picnic, on a long car ride, and even on a bus or train.
Ready to learn some EPP techniques? Be careful, once you are bitten by the EPP bug, it's hard to stop! Just ask Rebecca – check out her huge hoard of hexi's at Hugs Are Fun!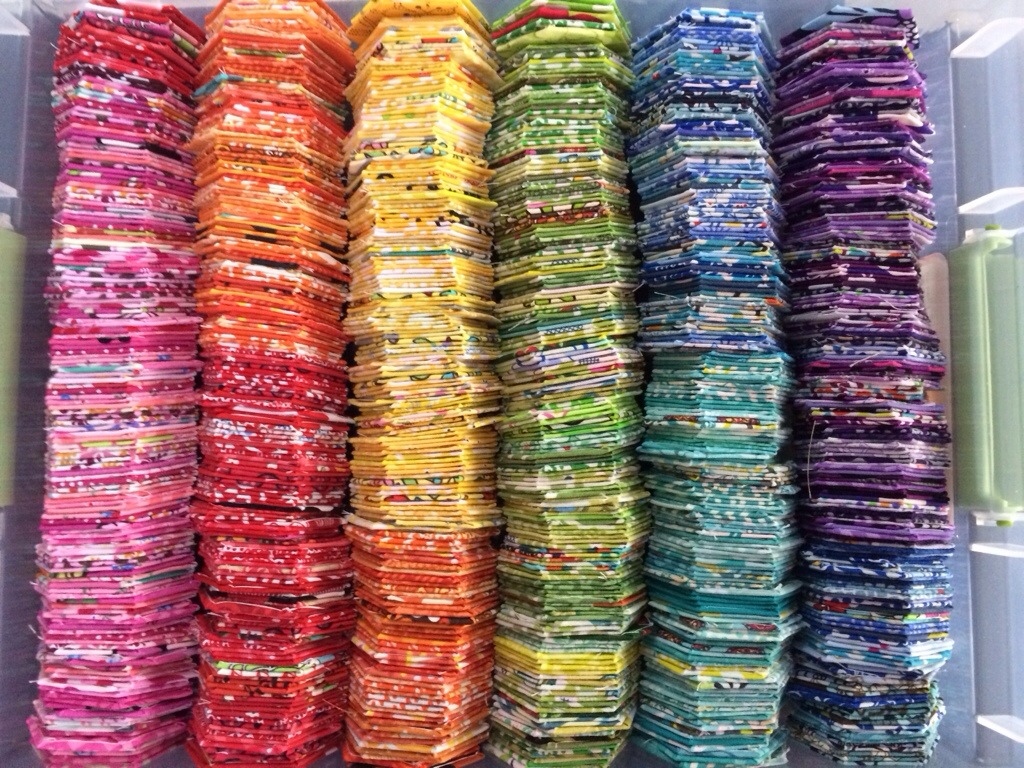 How-To's
The basic technique for paper piecing hexagons includes using a paper template (you can find links to FREE templates at the bottom of this post, and you can also buy pre-cut paper templates by searching online) and securing the template to a scrap of fabric, basting the fabric around the paper template, and finally hand sewing finished hexagons together to form a pattern. There are many ways to get to the finished product, for instance these tutorials include securing the paper template to the fabric with pins, paperclips, and stitches – but I've also used a glue stick which works for me. Once you learn the basic technique, find which way works best for you!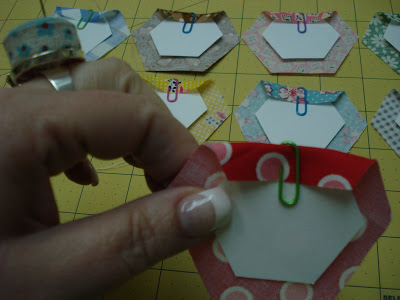 Check out Lori Holt's method of paper piecing hexagons which includes using paperclips to help secure the paper pattern to the fabric: Hexie Paper Piecing Tutorial at A Bee In My Bonnet.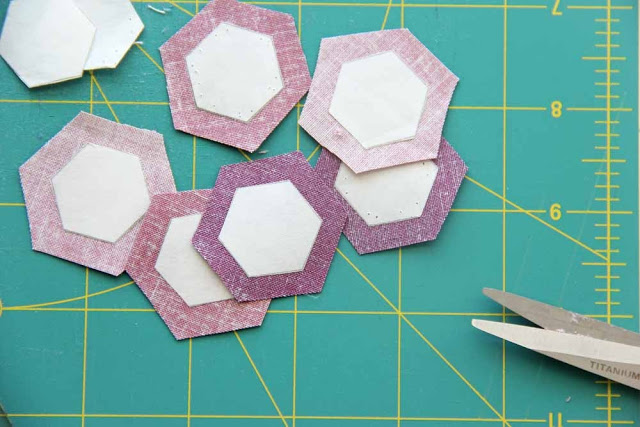 Vanessa from V and Co likes to use freezer paper to secure her paper templates, find out how she does it in her post, tips for small hexagon paper piecing.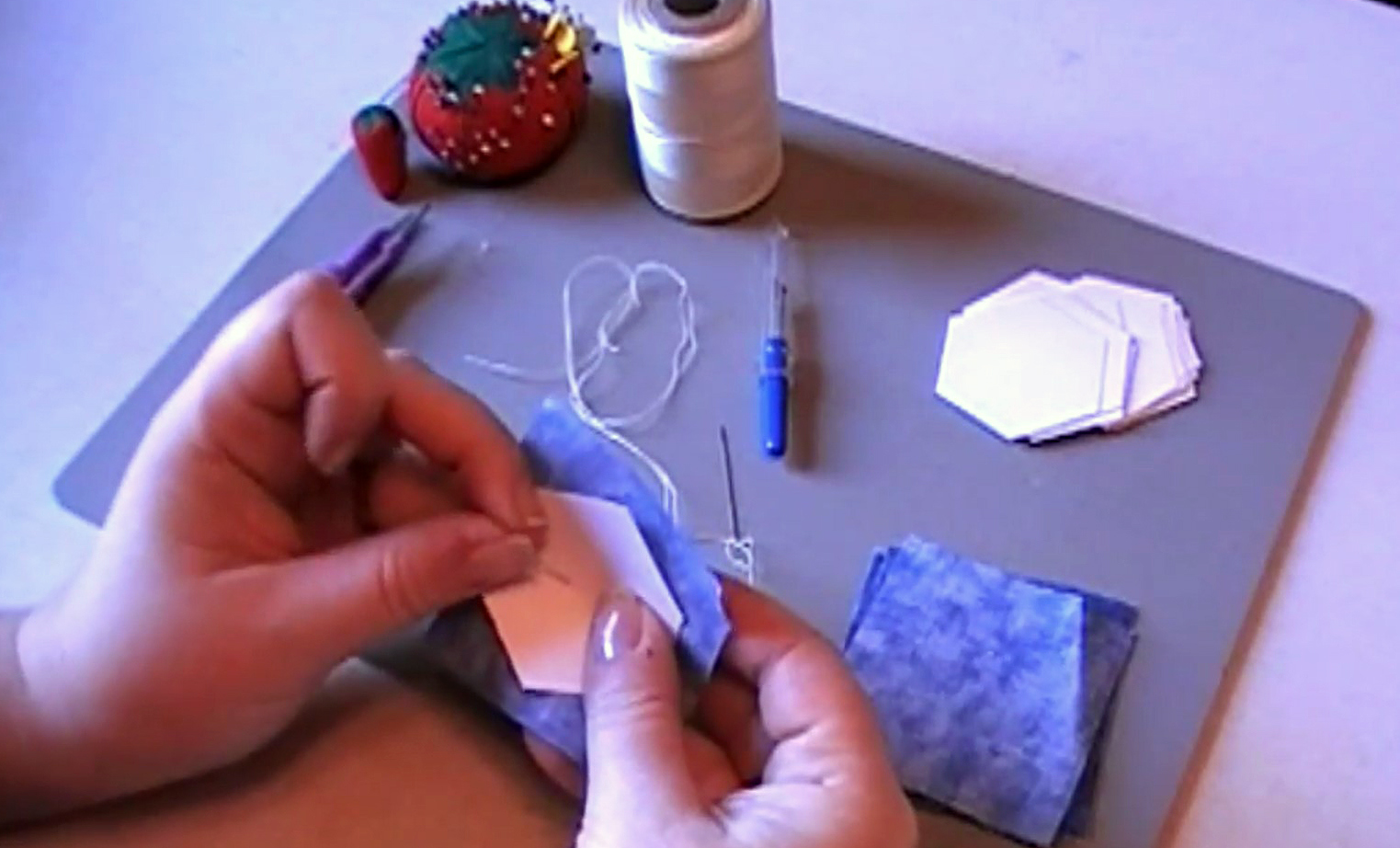 Katherine uses a pin to stabilize her paper pattern, see exactly how she bastes a hexagon in her video tutorial, English Paper Piecing – Thread Basting Hexagons.
Once you have a stack of basted hexagons it's time to start stitching them together! There are a few different methods for sewing the pieces together as well; some people leave the paper pattern pieces in until the pieces are all sewn together, and some people like to take them out first. Try both and see which method works best for you.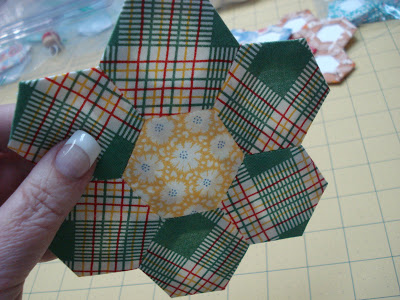 See how Lori Holt makes a flower out of English Paper Pieced hexagons in her tutorial at A Bee In My Bonnet.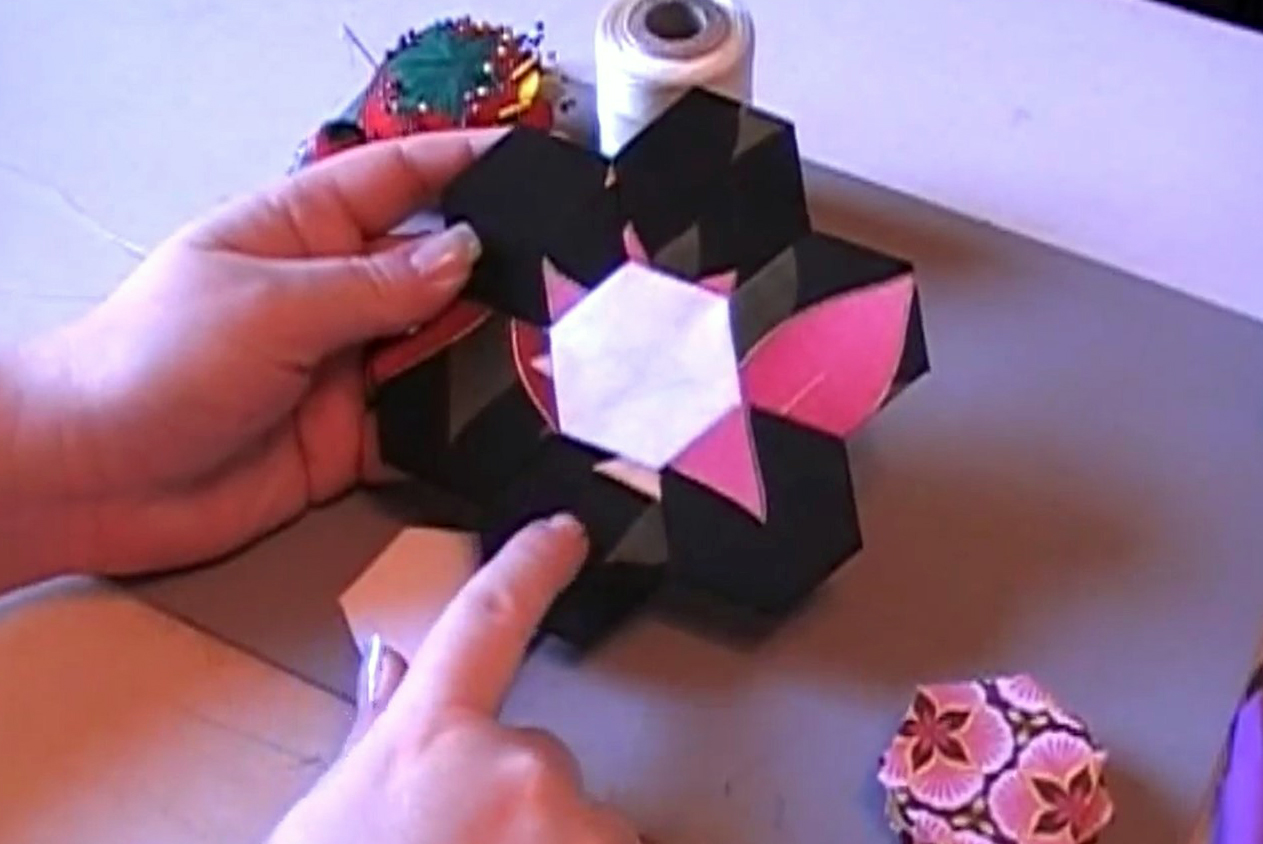 Watch Katherine's video for how to stitch an English Paper Pieced flower in her video tutorial, Sewing Hexagons Together.
Once you start stitching hexagons together, the possibilities are endless. Use shapes to sew as applique accents on all sorts of projects just like these!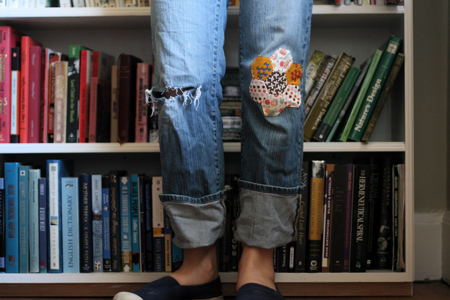 Create patches for clothing with English Paper Pieced hexagons! Project idea from Melissa's post at Sew Mama Sew!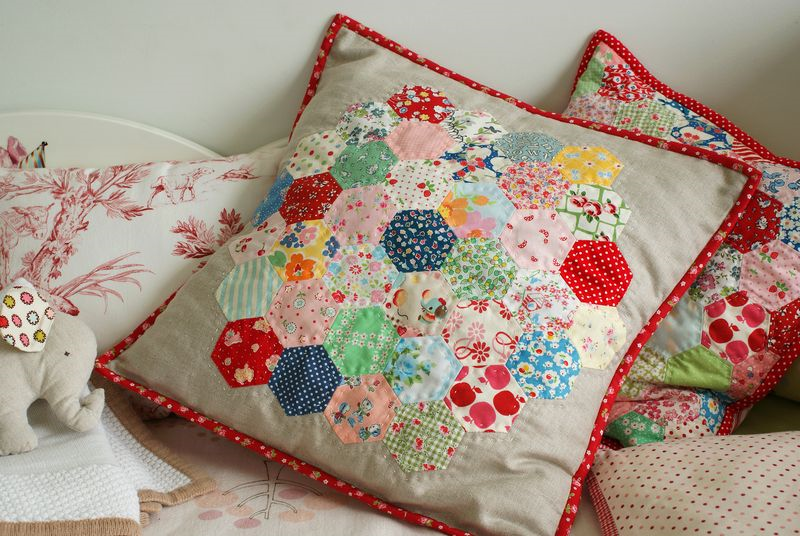 Make a pretty hexagon pillow like this one from Amy at Nana Company.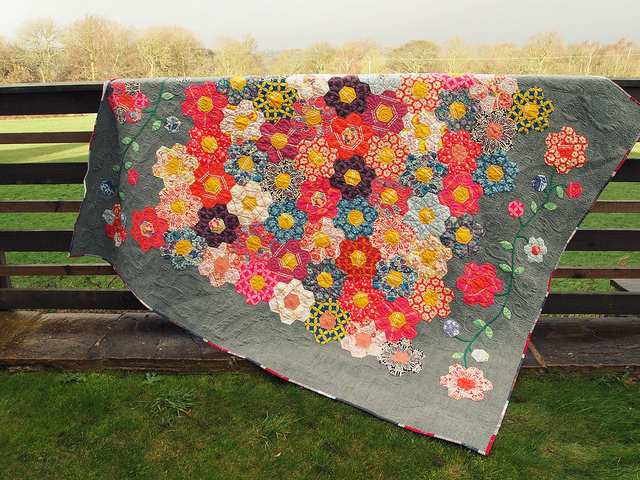 Or sprinkle hexagon flowers across a quilt like this beautiful hexagon flower quilt from Monkey Do.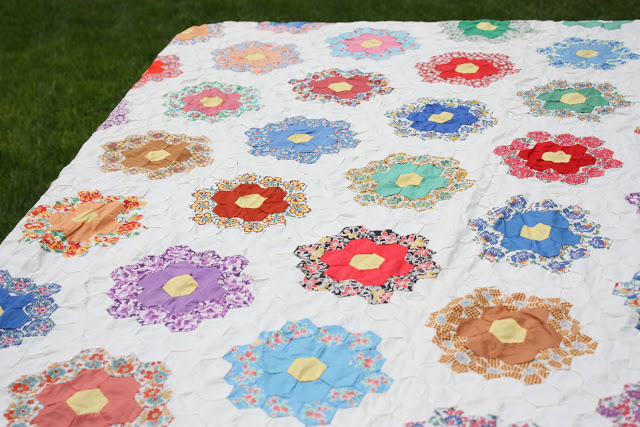 You can also go nuts and keep sewing hexagons together to create a whole patchwork piece! Check out this beautiful vintage grandmother's flower quilt made with English Paper Pieced hexagons at Diary of a Quilter.
If you are totally into EPP, you might want to put together your own travel kit to take your paper pieced hexagons on the road. You can set your EPP sewing kit up your own way, and pretty much any container will do.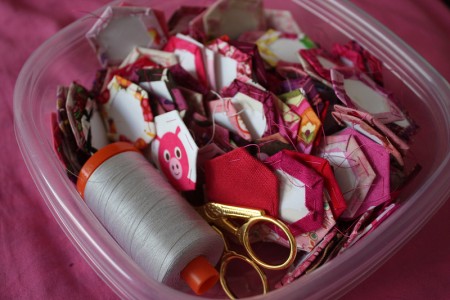 Check out the kit above from Rose Smoke, and also take a look at these nifty EPP sewing kits from Pam, Cath, and Just a Bit Frayed.
While you're busy churning out those hexagons, keep these projects in mind to help keep you going.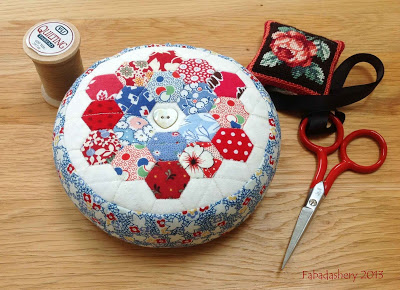 Make a pretty English Paper Pieced pincushion with this tutorial from Fabadashery.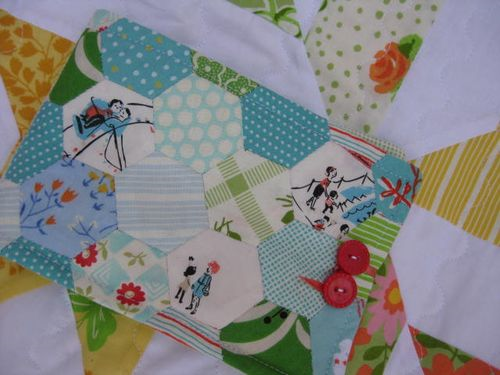 Turn your hexagons into a sweet little pouch filled with pockets to keep your EPP organized as you sew with this tutorial from Comfort Stitching.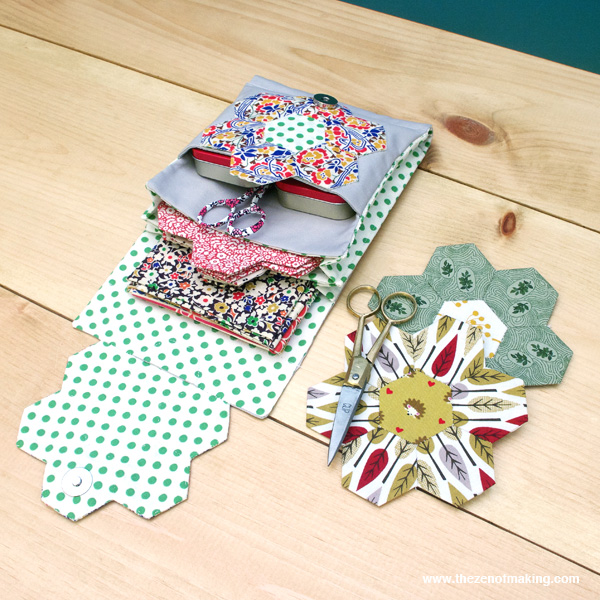 Make this sweet travel sewing kit out of English Paper Pieced hexagons with this tutorial from The Zen of Making.
And at last, if you'd like to find some free paper templates to try your very own EPP hexagons, here are a few links. Find a free downloadable template for larger hexagon pieces at My Poppet. Download 1″ and 1.5″ patterns from Texas Freckles. Browse a few different projects and pattern sizes for EPP hexagons at Moxy Ideas.
No matter if you are just beginning your EPP journey or if you've been stitching EPP hexagons for ages, we'd love to see your projects! Share your English Paper Pieced hexagons with us at our Facebook Fan Page or at Instagram along with the hashtags #EPP and #berninausa!
Happy hexagons!
Techniques

sewing
What you might also like