Pretty Upcycled Vintage Hankie Scarf Pattern Give-Away
Of all vintage linens, I think hankies must have the best stories. Just think about it – tucked into pockets and purses they went everywhere, while other linens – towels, sheets, doilies – were relegated to bed, bath, and dining rooms, or stayed hidden in linen closets and cedar chests. 
I have a box of handkerchiefs, mostly from my grandmother and three great-aunts, along with a few of my own that I've collected here and there over the years. All sizes and types – from dainty never-been-used 8″ squares with delicate laces and embroidery to sturdy 11″ squares of cotton and linen, some with lace edgings. My favorites are the cotton squares printed with floral and geometric designs. Or maybe those with intricate applique and embroidery – such craftsmanship! And then there are those with handmade edgings; as a tatter, I'm always on the lookout for any sort of tatted linens. (Sadly, I have no hankies with tatted edgings.)
For years I've been toying with the idea of putting them on display, but how? and where? There's not much room in my cozy cottage. Then there was Pinterest…. so many ideas! (If you don't know what I'm talking about, go to www.pinterest.com and type "vintage hankie" in the search box.) I finally settled on a scarf… meanwhile, the handkerchiefs waited in their box until I went looking for my box of vintage gloves in search of a pair to wear to a Mad Men party earlier this month. Right about that time Betsy at Indygo Junction asked if we'd like to participate in a pattern give-away… which coincidentally included a pattern for vintage hankie scarfs. Hmm… it's almost Easter and I have nothing to wear… I think it's time to make that scarf I've been planning, don't you? 
Step 1) Read through the instructions; I decided on the long scarf.
Step 2) Pull an assortment of same-size hankies from the box. Imagine their stories…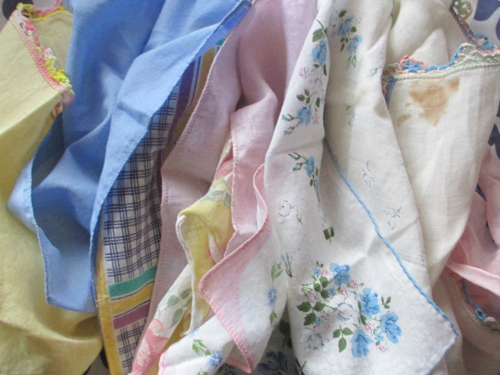 Step 3) Audition hankies to see which play nicely together. I had about the same number of prints and solids, so mostly alternated between the two and then wrote down the sequence so I wouldn't forget.
Step 4) Clean and press them. When pressing, I used a new not-a-starch product, Flatter, that I found in the pop-up shop at SewDown Portland. Similar to Best Press, but a different formula. They both smell lovely 🙂
Step 5) All of my hankies were in good condition except one… a lace-edged linen square with a big dark stain in one corner. I hadn't been able to remove it when I tried in the past, so with nothing to lose I decided to try bleach gel. What's the worst that could happen? It might dissolve the linen as well as remove the stain. I applied the gel and the stain got a little lighter… I left for about 20 minutes and checked again. The stain was nearly gone! Alas, so was some of the linen.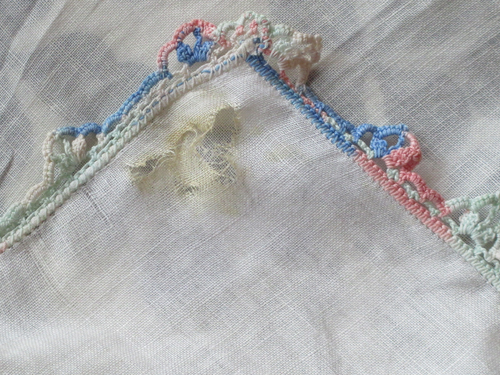 So back to plan A: Remove the lace from that edge, trim away 2″ of linen, then reapply the lace when I join the hankies.
Step 6) Read the instructions again and put the scarf together. To match the fine hankie fabric I used Mettler 60-weight cotton embroidery/darning thread in the needle and bobbin, with a size 70 Universal needle (a Microtex Sharp would have worked well, too.) For my presser foot I selected one of my favorites – Clear Foot #34 – as it has a flat sole for holding the fabric layers in place, but because it's clear I was able to easily see where my hankie edges overlapped.
And here is the finished scarf! Lots of options for incorporating it into my spring/summer wardrobe.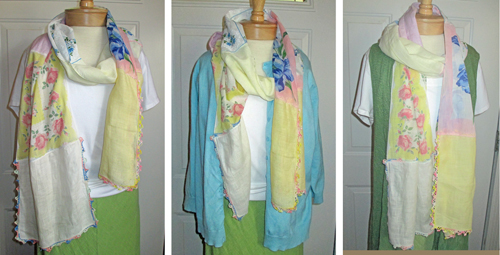 In addition to the Hankie Scarves pattern I used, Indygo Junction has over two dozen other downloadable e-patterns available, including more vintage hankie and notions projects.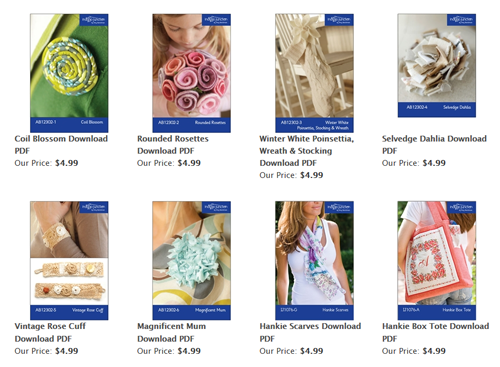 And now… it's time for the give-away! Leave a comment below telling us about a way you've used vintage linens in a project, and we'll include you in a drawing for a free Hankie Scarves pattern from Indygo Junction. PLUS a $25 gift certificate for additional pattern downloads! We'll have a random drawing Wednesday night, 11:59 p.m. Central to select a winner. Good luck, everyone! Jo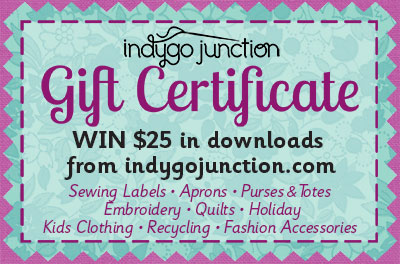 What you might also like
4 comments on "Pretty Upcycled Vintage Hankie Scarf Pattern Give-Away"